15,16/10/11 - Malaucene, FRA, VENTOUX TRIAL CLASSIC

Usually, we are not in the habit of covering the Vintage's competitions, but we made an exception for this opportunity. We could not ignore an event with 4 world champions: Giles Burgat, Thierry Michaud, Bernie Schreiber and Yrio Vesterinen.
As many top riders in the eighties : Pascal Couturier, Philippe Berlatier, Bernard Cordonnier, Michel Traini.
Or in the seventies: Charles Coutard, Jaime Subira', Manual Soler , Danilo Galeazzi, Giovanni Tosco.
We are talking about the twelfth edition of the two-day event "Ventoux Trial Classic", held at Malaucene, in Provence, South of France. A competition with 340 entries, spared in three classes", red, blue and yellow, according to the different skills.
A competition for teams, each of them formed by three riders. No single results. An international competition, with riders, both males and females, coming all around the globe, all of them mounting strictly motorcycles with twin-shock , drum brakes and old technologies.
A world that in many countries is becoming a more and more consistent reality. Once only in Great Britain there were vintage's competition with more than 100 riders. Nowadays even in France and Spain the "classic" trial reaches an average number of entries round 150. Around these ones the spares' producers are booming. Factories now shut down, have still lead roles , thanks to the finicking re building of every minimum detail of the bikes belonging to that time.
Works of amateurs but also of professional dealers, who spotted a possible business. Among the 340 riders of the "Ventoux" we found everything. From the young's to the older's. From the champion to the novice. A gentlemen's world: riders laugh and joke as happened in the past.
We forget for a while the journalist role moving to the more appreciated rider role. The chance came from Giulio Mauri, ex-journalist, who set up a team with his partner in producing the book Trial Made in Italy, Spanish Valenti Fontsere'. Obviously the team name was TRIAL MADE IN ITALY. Mauri found three Guzzi Stornello 4 stroke, that at the time, were made by Colombari. Our adventure was a success. We topped our class, populated by 45 teams. Having never ridden a Guzzi before, I lived a fantastic and unforgettable experience.
In our opinion, a particular praise is deserved by the ex top riders mentioned above. It is necessary a lot of humbleness and keenness to put themselves in discussion again, after years of no practise , risking to be beaten - and so happened, alas – by those's were their fan in the past.
After the event we made a quick interview to Bernie Schreiber. We will publish it in the next days.
Congratulations also to the organizers for having found the right formula to avoid possible heavy-tailed. Three different loops to face in different order according to your category. Eighteen sections in total, entered in the same order by the same class riders. Only in two sections of the first day we had to wait some minutes. Compliments!
Short video is coming… in the week.


Non ci occupiamo di moto d'epoca normalmente, ma in quest'occasione abbiamo volutamente fatto un'eccezione. Non si poteva ignorare una gara in cui avrebbero partecipato 4 campioni del mondo: Giles Burgat, Thierry Michaud, Bernie Schreiber e Yrio Vesterinen.
Altrettanti top rider anni 80: Pascal Couturier, Philippe Berlatier, Bernard Cordonnier , Michel Traini.
O anni 70: Charles Coutard, Jaime Subira', Manual Soler,Danilo Galeazzi, Giovanni Tosco.
. Si e' trattato della 2 giorni "Ventoux Trial Classic", con partenza a Malaucene, in Provenza, nel sud della Francia, giunta alla 12-esima edizione. Una gara che ha raccolto 340 piloti, suddivisi in tre categorie: rossi, blu e gialli, a seconda del livello.
Una gara a squadre, ognuna composta da tre piloti. Nessuna classifica individuale. Una gara internazionale, con piloti e pilotesse provenienti da tutto il mondo, tutti rigorosamente alla guida di moto con 2 ammortizzatori, con freni a tamburo e tecnologie datate.
Un mondo che da noi non ha ancora sfondato, ma che in altre nazioni rappresenta una realta' sempre piu' grande. Un tempo solo l'Inghilterra poteva vantare gare con piu' di cento partenti, ora anche Francia e Spagna vivono il trial "classico" con numeri da spavento: medie di 150 partecipanti.
Intorno a loro, si allarga a vista d'occhio la cerchia di produttori di ricambi. Marche che hanno chiuso i battenti da tempo, sono ancora protagoniste, grazie alla ricostruzione minuziosa di ogni particolare dei mezzi dell'epoca. Opera di appassionati, ma anche di commercianti che hanno fiutato il filone business. Nei 340 piloti del Ventoux, c'e' di tutto, Dal giovane al vecchio. Dal campione al neofita. Un ambiente di gentlemen, si ride e si scherza come un tempo lontano.
Abbiamo voluto dimenticare il ruolo di giornalisti, almeno parzialmente, per indossare i panni di gareggianti. L'occasione ghiotta ci e' stata offerta da Giulio Mauri, ex del mondo delle penne, che ha assemblato un team, con lo spagnolo Valenti Fontsere', suo partner nel redigere il volume "Trial made in Italy". Ed e' proprio stato questo il nome della squadra: TRIAL MADE IN ITALY. Mauri si e' anche prodigato per cercare le moto: tre Guzzi Stornello, di quelle inventate dal famoso Colombari. E' stata un'avventura vincente.
Primo posto fra i 45 team della nostra categoria! Personalmente, non avendo mai guidato prima una Guzzi 4 tempi da Trial, e' stata un'esperienza indimenticabile.
Ma non siamo stata l'unica compagine italiana a salire sul gradino piu' alto del podio. Nella categoria piu' importante, la rossa, Aldo Allione, Alberto Deyme e Sabino Gilardini, hanno fatto il vuoto per il secondo anno consecutivo.
Un elogio particolare ci sentiamo di doverlo fare agli ex top rider, quelli citati sopra. Ci vuole tanta umiltà e passione per rimettersi in discussione, dopo anni di inattivita', e rischiare di venire battuti (cosi' e' stato, ahime') da quelli che un tempo erano i loro tifosi. A gara terminata abbiamo fatto due parole con Bernie Schreiber. Nei prossimi giorni pubblicheremo l'intervista.
Tanto di cappello, e' doveroso, riconoscerlo all'azzeccata formula adottata dall'organizzazione per evitare possibili code. Tre giri differenti da affrontare in ordine differente a seconda della categoria. Diciotto le zone totali, che i piloti della stessa categoria affrontavano nello stesso ordine. Solo in due zone al primo giorno ci e' toccato attendere qualche minuto. Complimenti!

CLASSIFICHE/RESULTS:
ROUGES
------
BLEUES
------
JAUNES
Giles Burgat, world champion in 1981, exatly 30 years ago, that was the main reason of this revival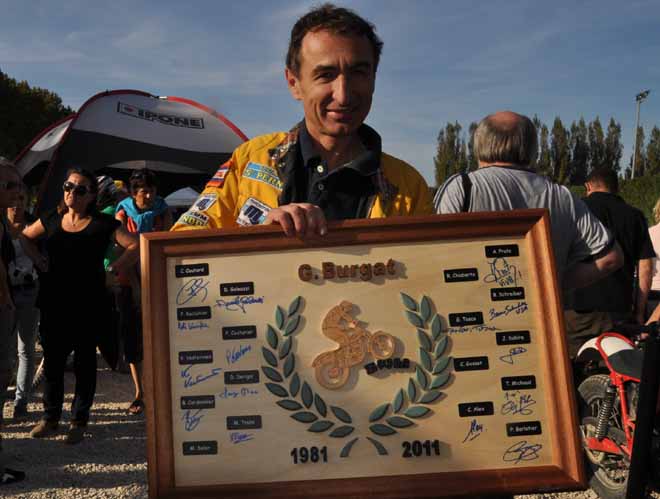 Bernie Schreiber, world champion in 1979, with one of his daughters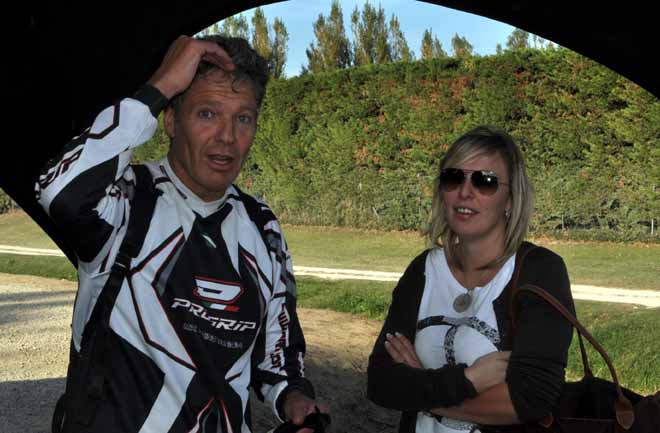 Schreiber, Yrio Vesterinen (world champ. in 1976,77 and 78), Burgat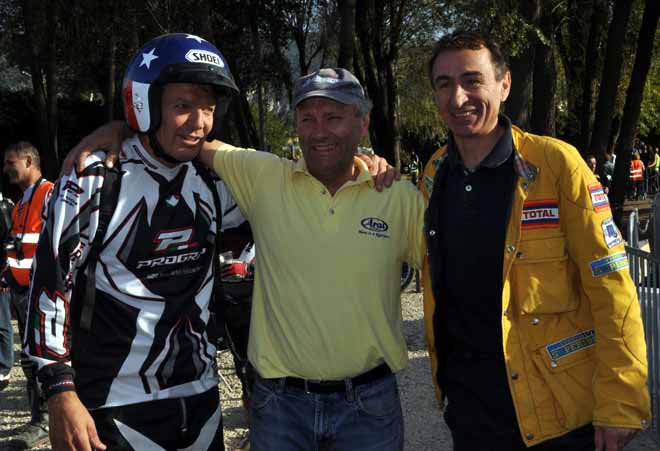 Jaime Subira' and Manuel Soler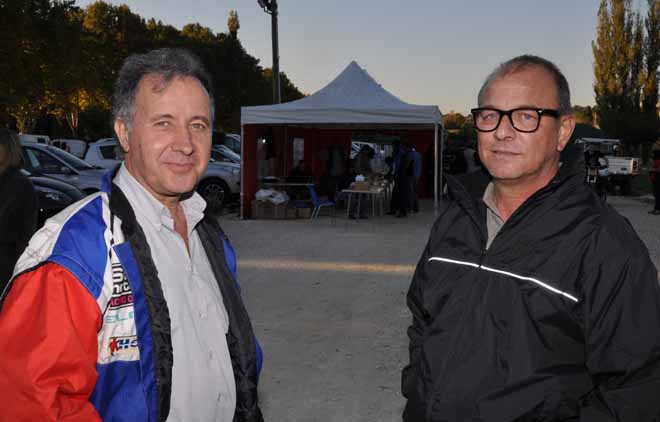 Piero Kuciukian and Pascal Couturier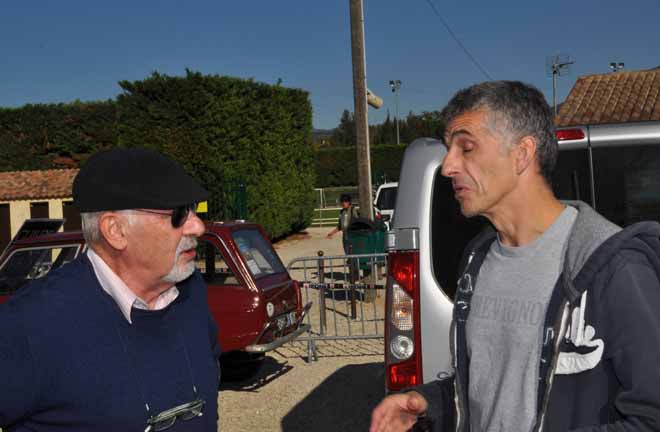 Valenti Fontsere' and Claude Coutard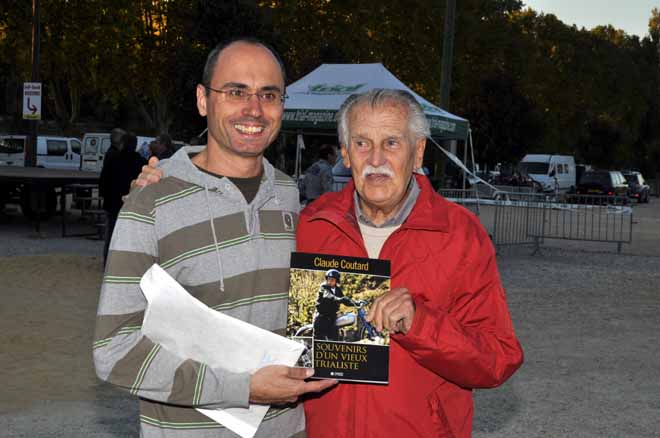 Giulio Mauri, Danilo Galeazzi, Couturier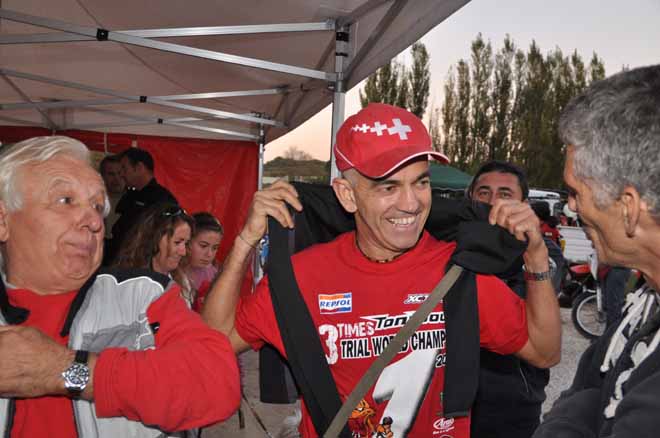 Bernard Cordonnier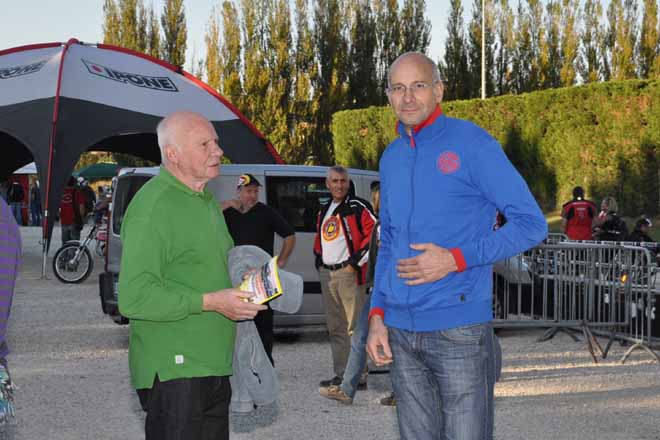 Couturier,Michael Traini',Burgat,Charles Coutard, Claude Peugeot, Schreiber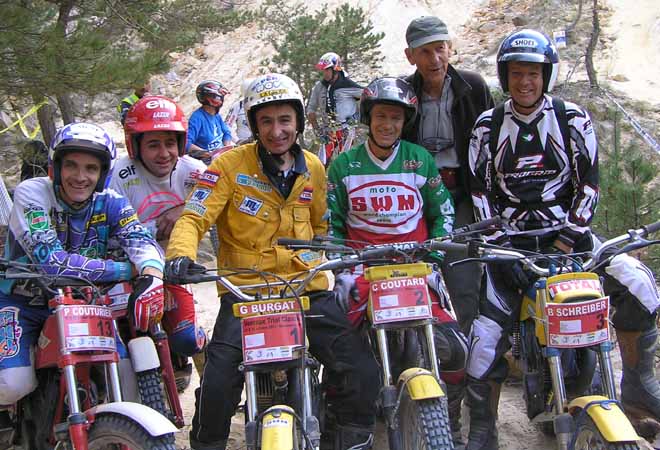 the president of the club organizer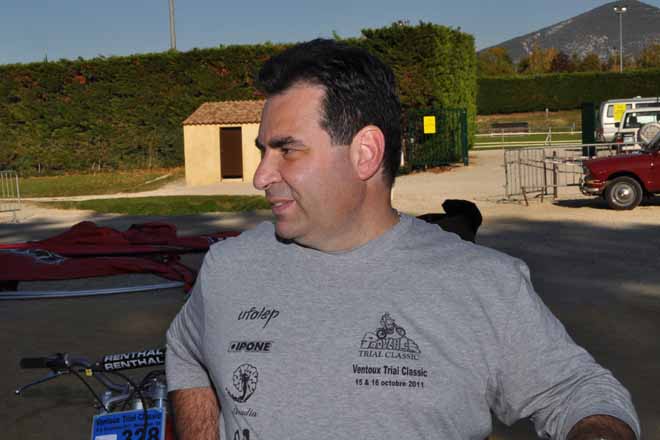 Jean Caillou and his Honda 306 cc, ridden by Whaley at the time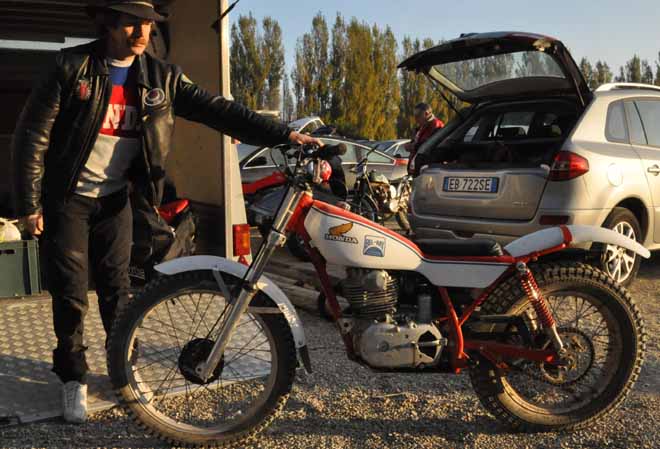 TRIAL MADE IN ITALY team. Fontere' total points 1(1+0), Mauri p. 31(22+8), Mario Candellone p. 14(5+9)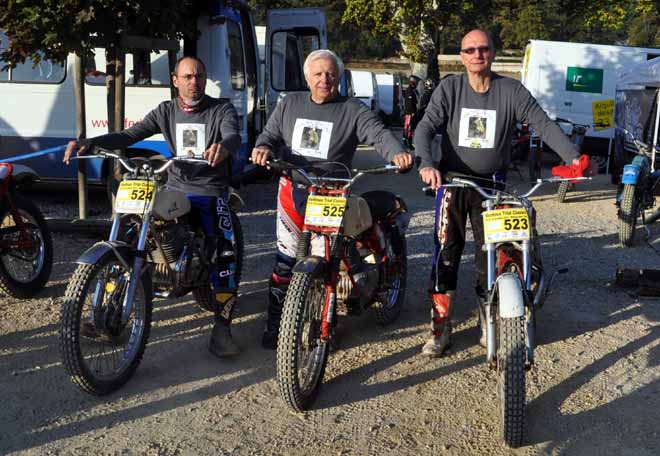 Aldo Allione, DRAGONE ROSSO team, winner in Red Class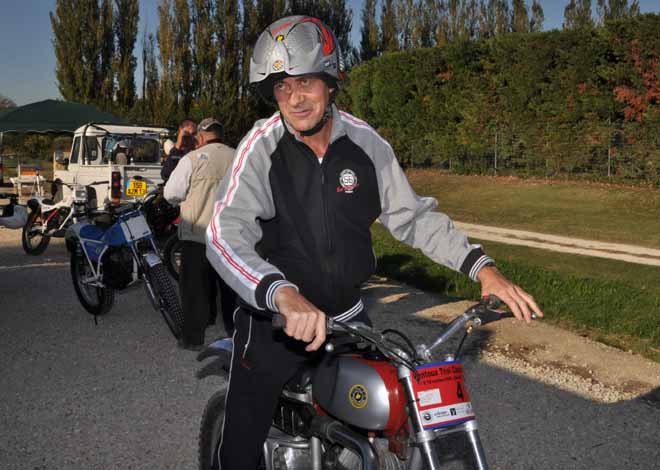 Sabino Gilardini, DRAGONE ROSSO team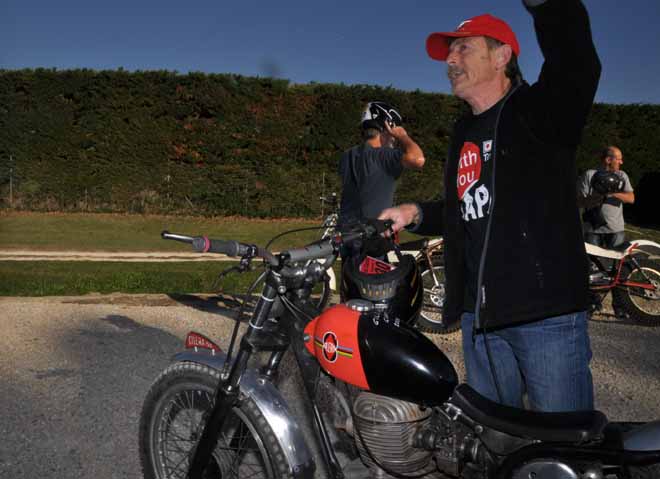 Burgat, Traini',Cordonnier,Coutard, Vesterinen, Schreiber, Adrien Prato', Couturier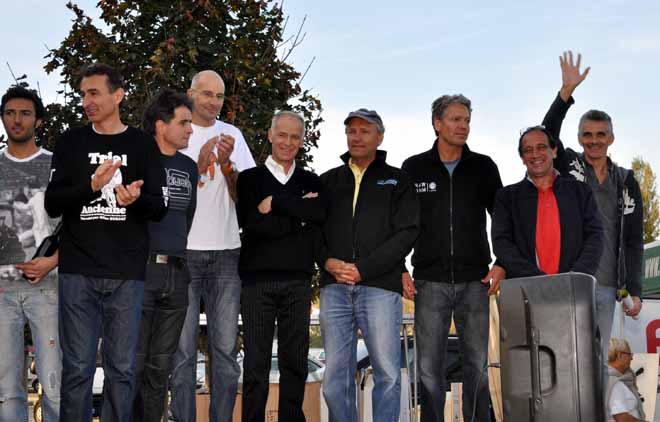 Candellone, Mauri, Fontsere' at the prize-giving