07/05/12 - SCOTTISH six days trial - DAY ONE FIVE RIDERS SHARE LEAD AT START OF 2012 SSDT
The 101st edition of the Scottish Six Days Trial (SSDT) is underway and is already set up for another enthralling week-long battle in the Highlands with five riders currently sharing the lead, each on zero marks, at the end of the opening day.

Last year's winner James Dabill (Beta) is amongst three previous victors who are tied at the top of the leader board after a relatively easy first day for the front-runners. Dabill is locked in a five-way fight with 2010 winner Alexz Wigg (Gas Gas), five times SSDT winner Dougie Lampkin (Gas Gas), Richard Sadler (Sherco) and Jordi Pascuet (JotaGas) who has made a dream start for the new Spanish brand on its SSDT debut.

Monday dawned with blue skies, but with an almost winter chill in the air as the traditional lone piper led the first rider, Jamie Reid (Ossa) down the starting ramp at 7.30am sharp to signal the beginning of the 2012 SSDT proper. The 276 strong field then filtered their way out of the parc-ferme in the West End car park, Fort Wiliam before making the short trip north on the A82 to the first group of sections at Leanachen. Here the sizeable crowds that had gathered were treated to two tricky opening hazards that began the sporting process of finding this year's winner.

Ian Austlemuhle (Beta) who was on his early day, was amongst the many competitors who were pleased to find that the normally tough sections at Blackwater were kinder than usual as he completed day one for just a single mark. Michael Brown (Gas Gas), Ricky Wiggins (Gas Gas), Dan Thorpe (Gas Gas), Tom Sagar (Montesa) and Jordi Picola (Gas Gas) were the other riders who matched Ian's opening day total to keep themselves very much in contention with five days still to ride.

James Lampkin (Beta) dropped a dab in the final group of the day at Lagnaha to take his daily tally to two marks, to equal the score recorded by Ben Hemingway (Beta) John Shirt (Gas Gas), Adam Norris (Beta), Ross Danby (JotaGas), Juan Knight (Gas Gas) and seventeen year old newcomer Bradley Cox (Beta). Just behind this gaggle, three more riders finished the day on three marks, those being Jack Challoner (Beta), Sam Haslam (Gas Gas) and George Morton (Beta). In fact no less than 35 riders recorded single figure totals today to create a packed and exciting initial leader board. After today's relatively leisurely 65-mile long course and kind opening sections, tomorrow the remaining riders will face their second longest tour of the week as they will need to cover 103 miles to complete day two of the 2012 SSDT. With perhaps a tougher proposition in store, who knows what the top order will look like in 24 hours time?

The SSDT is organised by the Edinburgh & District Motor Club. EventScotland is continuing to support the event this year as part of its national funding programme. There are 275 competitors taking part in this year's event between 7th and 12th May. The SSDT is free for spectators to watch on all days. The official event programme, containing routes and spectating opportunities along with a range of interesting articles and additional information, is available to purchase in and around Fort William. It is available to buy online and further details can be found on the event's website at www.ssdt.org.
photos and news kindly sent by Andy
--------------------------------------------------------------------
In cinque girano a zero al primo giorno della Scottish
Dei 7 italiani presenti il migliore e' Michele Bosi al 89-esimo posto. Seguono, verso il fondo, ma e' comunque onorevole finire, credeteci, Matteo Vacca 230-esimo, Sara Trentini 241-esima, Pietro Cinotto (261), Roberto Vacca (266), Carlo Fabbri (271), Michele Cinotto (274).

--------------------------------------------------------------------
--------> CLASSIFICHE/RESULTS:
--------------------------------------------------------------------
the Start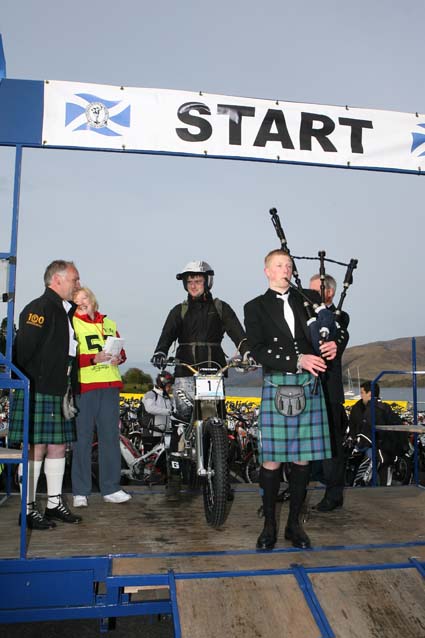 Jordi Pascuet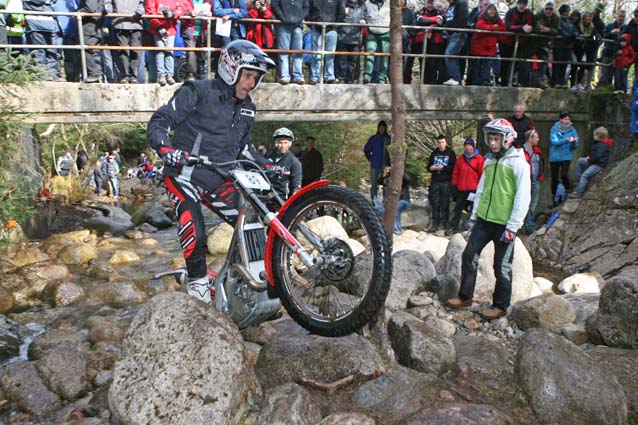 James Dabill