08/05/12 - SCOTTISH six days trial - PASCUET AND LAMPKIN MOVE CLEAR OF THE PACK
After yesterday's five-rider congestion at the top of the leader board, day two of the 2012 Scottish Six Days Trial (SSDT) has produced two clear front-runners in the form of Jordi Pascuet (JotaGas) and Dougie Lampkin (Gas Gas) who both remained clean for the second day in a row. Whilst today's route was both longer and tougher than yesterday, once again the riders reported that the sections had ridden easier than usual, even for the early runners.

Dan Clark (Beta) and Chris Pearson (Sherco) were the only other two riders to remain clean today with Dan Thorpe (Gas Gas) being the next best on a single dab. Thorpe is now tied on two marks with last year's SSDT winner James Dabill (Beta) on the overall leader board, after Dabill parted with two dabs today. Of the five initial leaders Alexz Wigg (Gas Gas) faired the worst today, as his tally roseĀ to eight marks.

Seventeen-year-old SSDT first timer Bradley Cox (Beta) continues to impress, losing only six marks today he continues to head the newcomers class and holds a remarkable 16th place in the overall results. Emma Bristow (Ossa) further extended her lead in the female category after another solid showing today, which was also the case for John Shirt (Gas Gas) who currently holds top spot in the Over 40 class. Michael Fothergill (Montesa) has the honour of being the best placed Scottish rider at this stage of the competition.

Tuesday began with heavy cloud shrouding the hills around Fort William with signs of the overnight rain still laying on the ground. The riders started their day with the long road ride north along the A82 to the opening three sections at Laggan Locks. Unfortunately this route was soon to become blocked as a fatal road traffic incident, totally unrelated to the SSDT, forced the A82 to be closed for several hours.

A contingency plan was immediately put into place to re-route the remaining riders who had not passed this point already, and to record the appropriate time delay for those whose passage had been affected by this incident. A further safeguard to prevent the late running of riders was also put into action, this removed the penultimate group of four sections from today's revised route, reducing the total to 26 hazards for the day.

Tomorrow will see the 2012 SSDT reach its midpoint, with the riders facing a full 30 sections plus an 81-mile excursion that will take them out to Spean Bridge and Fersit ahead of them making the long hill crossing that will eventually bring them out in Kinlochleven before heading for home.

The SSDT is organised by the Edinburgh & District Motor Club. EventScotland is continuing to support the event this year as part of its national funding programme. There are 275 competitors taking part in this year's event between 7th and 12th May. The SSDT is free for spectators to watch on all days. The official event programme, containing routes and spectating opportunities along with a range of interesting articles and additional information, is available to purchase in and around Fort William. It is available to buy online and further details can be found on the event's website at www.ssdt.org.
photos and news kindly sent by Andy and Jake Miller
--------------------------------------------------------------------
Ancora senza penalita' Pascuet e Lampkin
Michele Bosi risale al 75-esimo posto. Gli altri italiani sono piu' indietro. Sara Trentini e' 229-esima. Matteo Vacca si trova al 243-esimo posto, quindi Pietro Cinotto (260) Roberto Vacca (262) e Carlo Fabbri (265).

--------------------------------------------------------------------
--------> CLASSIFICHE/RESULTS:
--------------------------------------------------------------------
Jordi Pascuet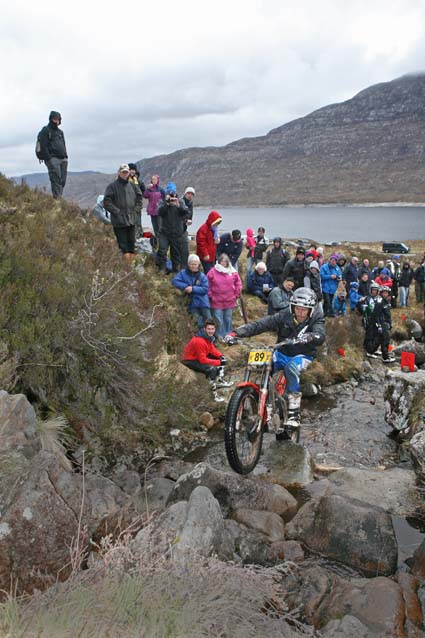 Dougie Lampkin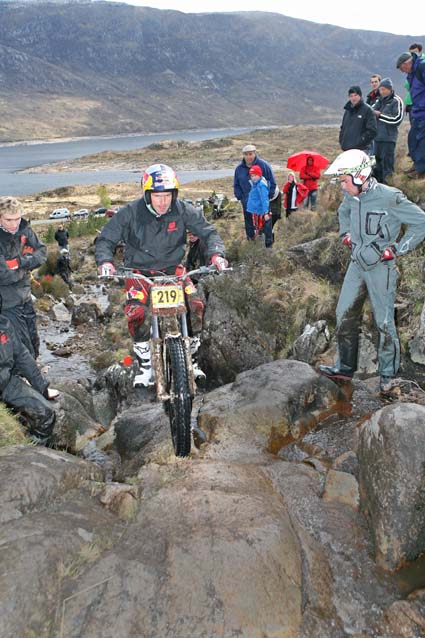 Emma Bristow