06/09/12, European Championship: round 6, Zelhem, HOL

The 2012 UEM Trials Championship is going to close down in the next weekend in the Dutch town of Zelhem, close to German borders, with two days rich of competitions. On a full artificial terrain, closed circuit, the organisers brought many rocks even buying them abroad, from an other famous venue in Germany. All the sections were fitted in a restricted area, easily reachable by the public.

On Saturday on the scene, the very young riders and the women. For them it is the third round. Spanish Jaime Busto (Beta) is a hair's breadth away the title, having in his pocket two wins in the previous two rounds. More difficult to image the other podium positions. Equal chances go to Italian Gabriele Giarba (Beta), German Franz Xavier Kadlec, and British Iwan Roberts (Beta), all of them quite brilliant until now.

Among the Women, if the world queen, Spanish Laia Sanz(Gas Gas), won't have recovered from his lately injury, we will probably watch again the eternal British duel between Becky Cook (Beta) and Emma Bristow (Ossa)

In the day after the already champion Italian Matteo Grattarola (Gas Gas) will try to equal the record made only by Joan Pons in 1992, at the first UEM Trials Championship: six wins in six rounds. Behind him the fight for the runner-up position looks to be an Italian and Ossa affair: Daniele Maurino against Matteo Poli , the players.

To Italian Francesco Cabrini (Beta) is sufficient to finish in thirteenth place to become champion in the Junior class and knowing that in this season he has never arrived below the fourth place, we can reasonable bet on him for the Junior title. Uncertain the assignation of the second place : more chances to Norwegian Sverre Lundvold (Gas Gas) , 6 points clear of the other Italian, Pietro Petrangeli (Beta), twice winner this year.

In the Over 40 class the situation is quite complicated. Because only the 3 best results are taking count, the leader, Dutch Marc Reit (Beta), who entered all the five rounds, can not let win his rival, present only in other 3 events , Finnish Tommi Ahvala (Gas Gas) . In this case both would have 3 wins in their basket and the rule ratifies that it is the last result to take into consideration. Consequently Ahvala would be the champion.

---------------------------------------------------------------------------------------------


Il Campionato di Trial UEM 2012 chiudera' I battenti il prossimo weekend nella cittadina olandese di Zelhem, vicino al confine tedesco, con 2 giorni ricchi di gare. Su zone completamente costruite ed in un circuito chiuso, gli organizzatori hanno addirittura fatto arrivare dei pietroni dalla Germania, da un posto molto conosciuto per altri mondiali disputatisi. Almeno ne giovera' il pubblico, perche' tutta la gara e' in uno spazio ristretto.

Sabato di scena I giovanissimi e le donne. Per loro si tratta della terza prova. Lo spagnolo Jaime Busto (Beta) e' ad un passo dal titolo, avendo nel paniere 2 vittorie in altrettante gare. Piu' difficile il pronostico per il resto del podio. Buone possibilita' le hanno sia il nostro Gabriele Giarba (Beta), il tedesco Franz Xavier Kadlec, come l'inglese Iwan Roberts (Beta), tutti decisamente brillanti fino ad oggi.

Tra le donne, se la regina mondiale, Laia Sanz(Gas Gas), non si sara' ancora ristabilita dal recente infortunio, probabilmente assisteremo all'ennesimo duello inglese tra Becky Cook (Beta) ad Emma Bristow (Ossa)

Il giorno dopo il nostro fresco campione Matteo Grattarola (Gas Gas) tentera' di egualiare il record detenuto da Joan Pons nel 1992, al primo Campionato Europeo: sei vittorie in sei gare. Alle sue spalle la battaglia per la piazza d'onore sembra un affare italiano e della Ossa : Daniele Maurino se lo giochera' con Matteo Poli

All'azzurro Francesco Cabrini (Beta) sara' sufficiente finire 13-esimo per diventare campione nella classe Junior e sapendo che in questa stagione non e' mai sceso sotto il quarto posto, possiamo ragionevolmente scommettere su di lui per il titolo Junior. Incerta l'assegnazione del secondo posto: qualche probabilita' in piu' per il norvegese Sverre Lundvold (Gas Gas) , per i 6 punti in piu' rispetto alla maglia azzurra, Pietro Petrangeli (Beta).

Nella classe Over 40 la situazione e' piu' complessa. Poiche' contano solo 3 risultati, il leader, l'olandese Marc Reit (Beta), che ha partecipato a tutte le gare, non puo' permettersi di lasciare vincere il suo rivale, presente solo a 3 prove, il finlandese Tommi Ahvala (Gas Gas) . Infatti in questo caso entrambi avrebbero 3 vittorie nel loro sacco, ma il regolamento favorisce il risultato dell'ultima prova. Dunque campione sarebbe Ahvala.
---------------------------------------------------------------------------------------
CAMPIONATO/OVERALL STANDINGS:
EUROPE
--
JUNIOR
--
OVER 40
--
YOUTH
--
WOMEN
--
---------------------------------------------------------------------------------------
Matteo Grattarola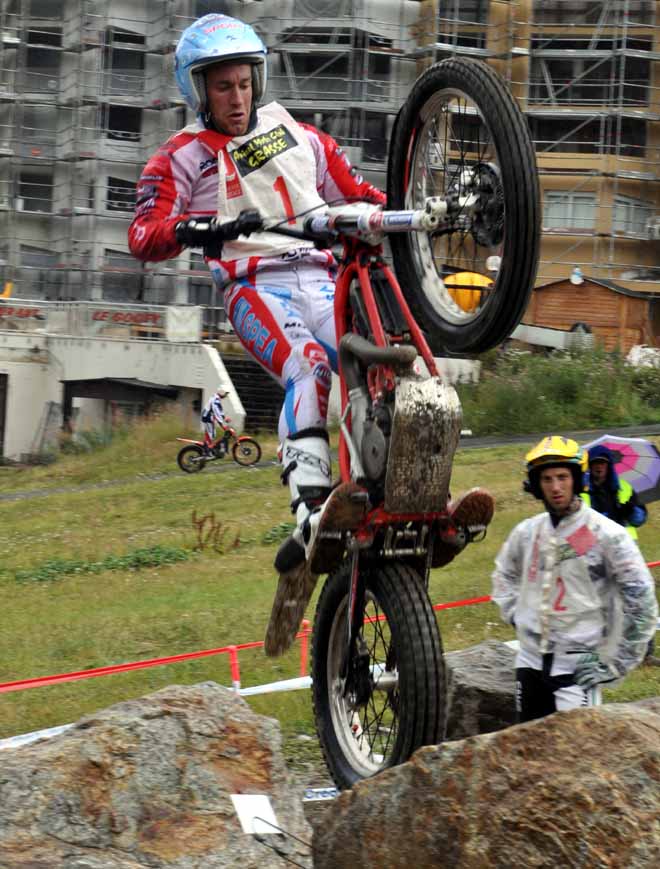 Francesco Cabrini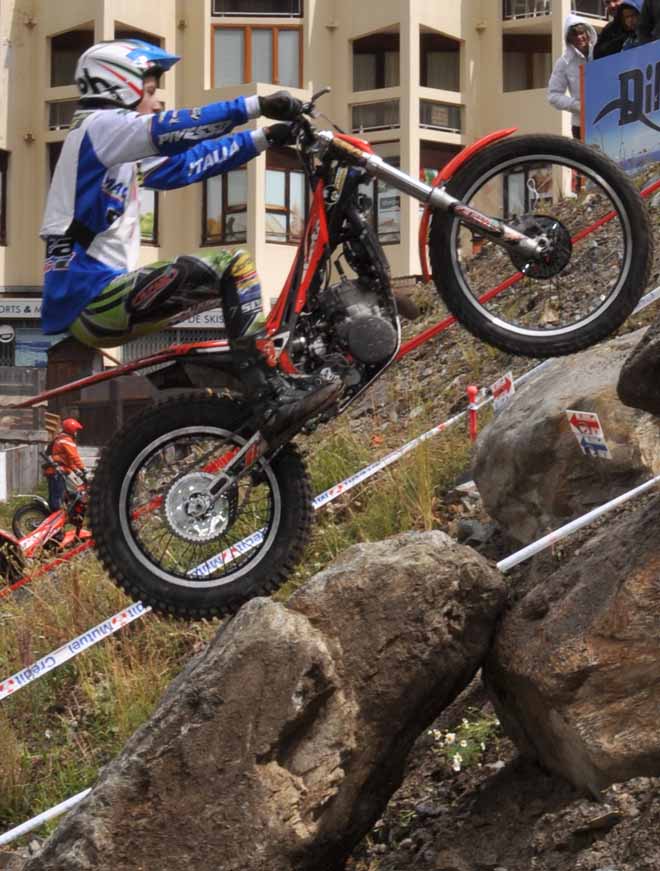 Marco Reit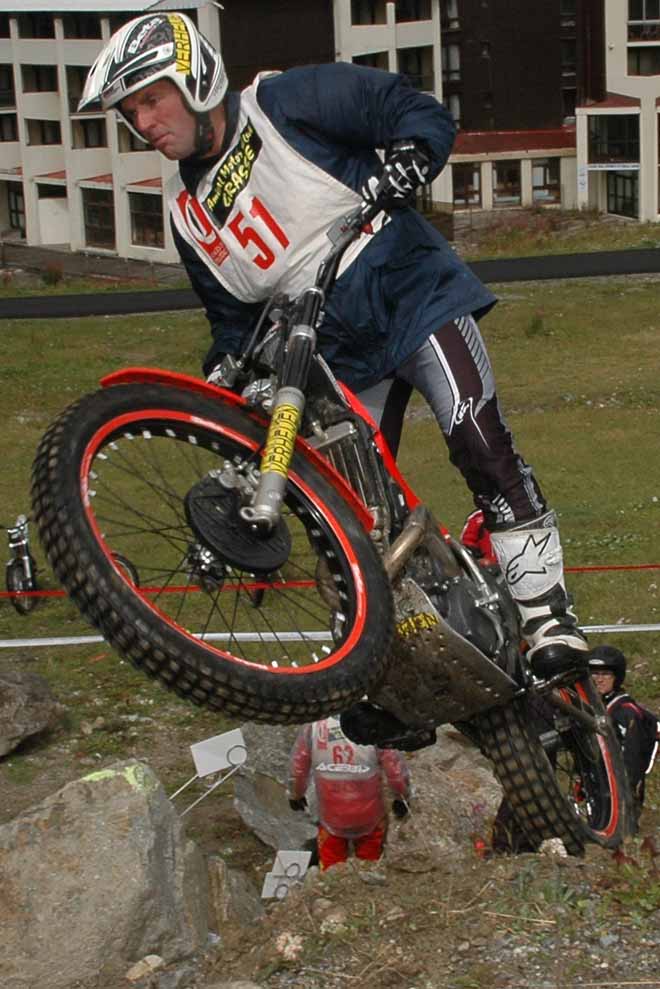 Jaime Busto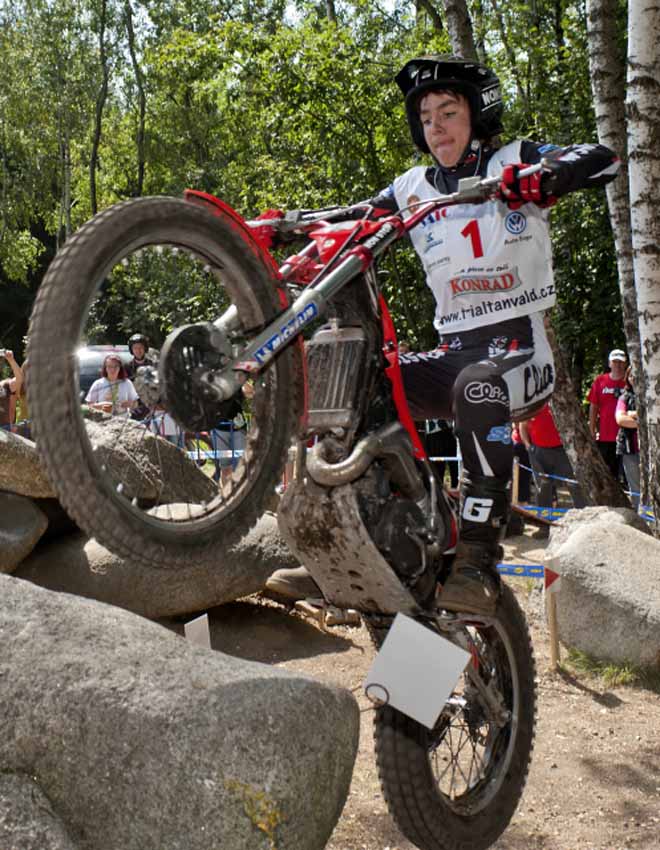 Becky Cook