23/03/13 - Bou claims an historic seventh title in a row

In front of a capacity crowdToni Bou – Repsol Montesa claimed an historic seventh FIM Indoor / X-Trial World Championship as he stormed to an emphatic victory in Bielefeld, Germany at the penultimate round of the current series. Bou was in simply stunning form and reconfirmed the advantage he has over his rivals at this moment in time by losing just a single mark during the Trial, which was in fact actually a time penalty and not a foot fault.Adam Raga – Gas Gas was delighted to be back on the podium in second place, whilst Jeroni Fajardo – Beta reignited his campaign by taking third position on the night.

Britain's James Dabill – Beta was the lone wild card entrant alongside the eight permanent protagonists and eventually ended up in a solid fourth position despite having the difficult task of being the first man out in qualification. The German course offered a very different challenge for the riders with an array of unique hazards themed to represent the local region. Dabill's qualification total of ten marks looked respectful and turned out to be good enough to put him in the six man semi-final, on only his second showing in the series this year.

Matteo Grattarola – Gas Gas, Alexandre Ferrer – Sherco and Jack Challoner – Beta were the three riders to be eliminated. Challoner was well off the pace, but both Grattarola and Ferrer missed the cut by only a single mark. Fajardo was the last to make it through, however he was to lose out on a tie-break against Dabill to decide who would ride first in the semi-final. At the sharp end Takahisa Fujinami – Repsol Montesa once again showed his pedigree despite his increasing years, dropping only one mark through the five qualifying hazards. Bou, Raga and Albert Cabestany – Sherco were all faultless on their initial outings and endured a tense triple tie decider to determine the later running order. Cabestany was to come off best in this three-way scrap, Raga was next and Bou found himself in an uncustomary third spot at this stage in proceedings.

Despite his unusual starting position in the semi-final it was very much business as usual for Bou as he quickly began to open up a healthy lead over his challengers by cleaning both the logs and the over sized house sections. Dabill emerged as Toni's nearest rival early on, but was to fade as the Trial wore on. Cabestany in contrast put his progress in doubt as he failed at only the second hazard, a mistake that would ultimately rule him out of the final and leave him in a disappointing fifth spot. He now trails Raga by a single point going into the final round, as these two fierce rivals once again look to fight it out to be runner up in the definitive rankings.

Fujinami could not maintain his early momentum and ended the night in a distant sixth place. Dabill was the only non-Spanish rider in the final, but soon found himself out of podium contention as he notched up three fives in the final four sections. Bou's ride on the house section in the reverse direction was the ride of the season. Here he mistimed the massive double step at his first attempt, before he then reverse back down to the arena floor - feet up - before bringing the house down as he climbed to the summit with relative ease on his second go. After this defining moment Bou's victory and his seventh successive title was never in doubt. Although twelve marks behind Toni, Raga managed to snatch second place from Fajardo to set up a tense climax in Nice, France next month. Just four points now separates Adam, Albert and Jeroni as they head to the final French round, with all three Spanish riders in with a shout of becoming vice World champion. However they might become the side show as Bou looks to sign off in style and maintain his 100% winning record through to the end.

news and photos by Jake Miller (FIM Press
---------------------------------------------------------------------------------------

Settimo titolo indoor per Bou: e' storia!

Toni Bou, Repsol Montesa vince la penultima prova disputata nel palazzetto di Bielefeld, Germania, con un solo punto, ma non per un piede a terra, per il tempo! La matematica lo conferma iridato per la settima volta. Sul podio Adam Raga – Gas Gas, davanti a Jeroni Fajardo, Beta

Ancora una prestazione degna di nota del nostro Matteo Grattarola, Gas Gas,: primo degli esclusi dalla semifinale, quindi in settima posizione, davanti a Ferrer ed a Challoner. In campionato scavalca Challoner e vede Ferrer piu' vicino...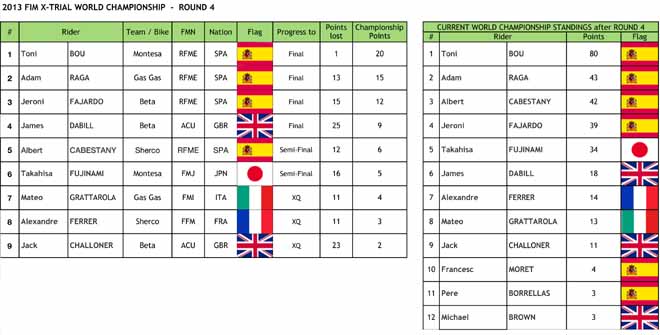 Toni Bou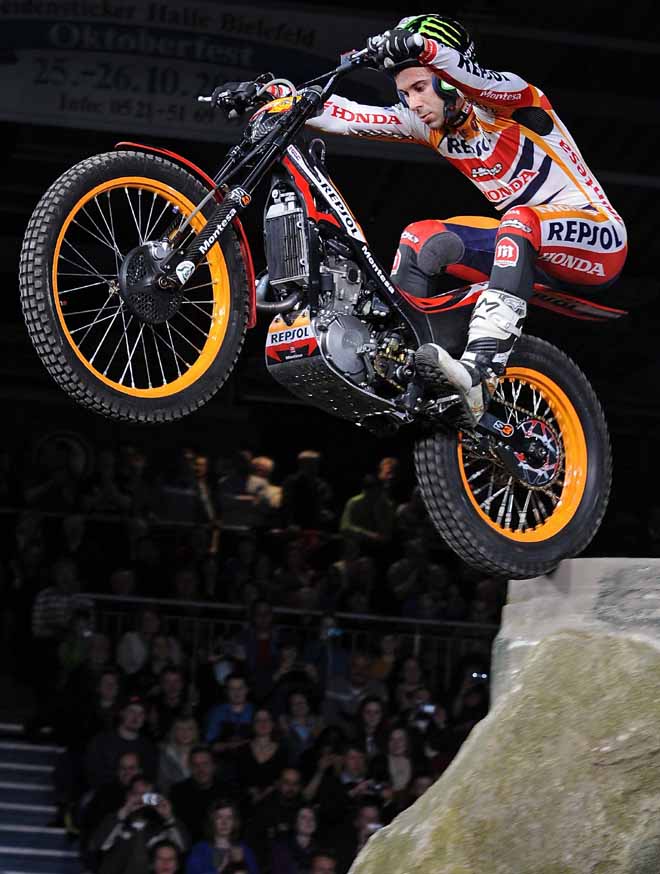 Adam Raga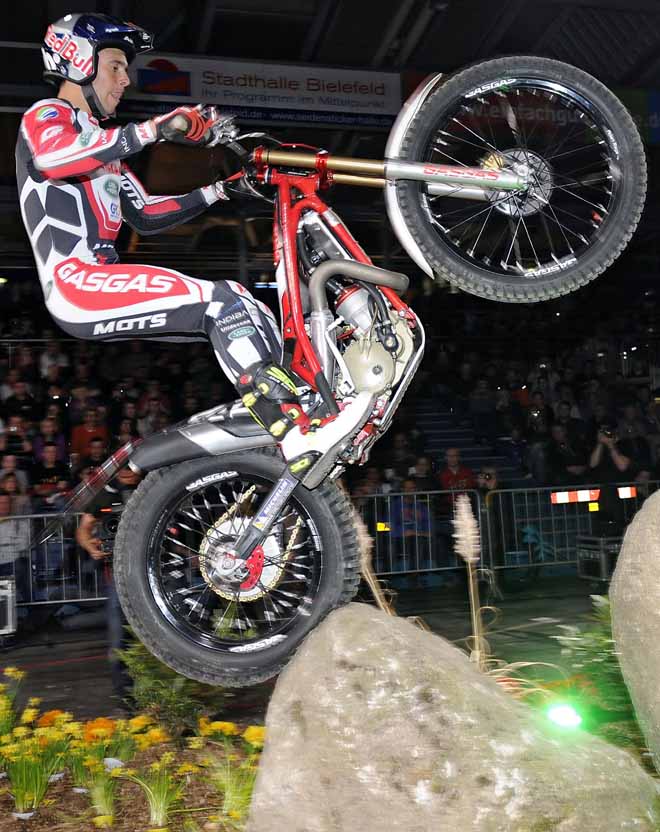 Jeroni Fajardo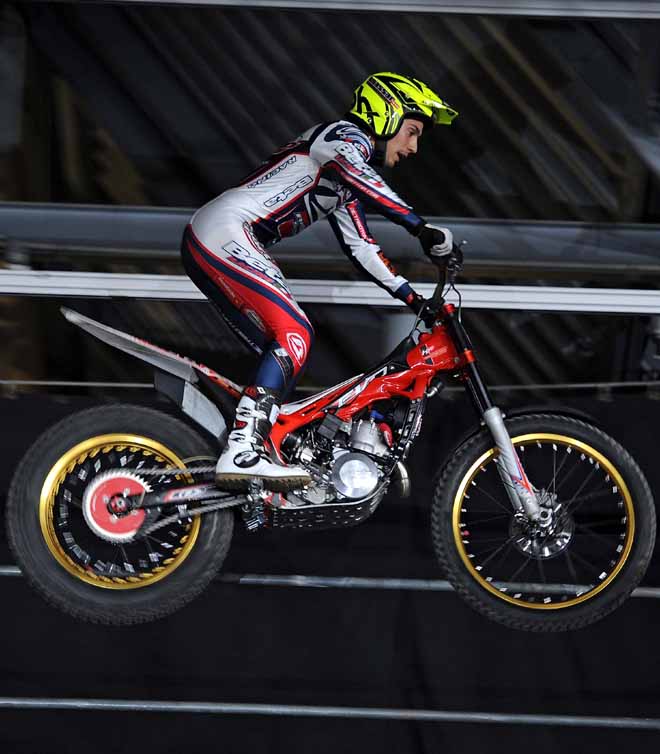 James Dabill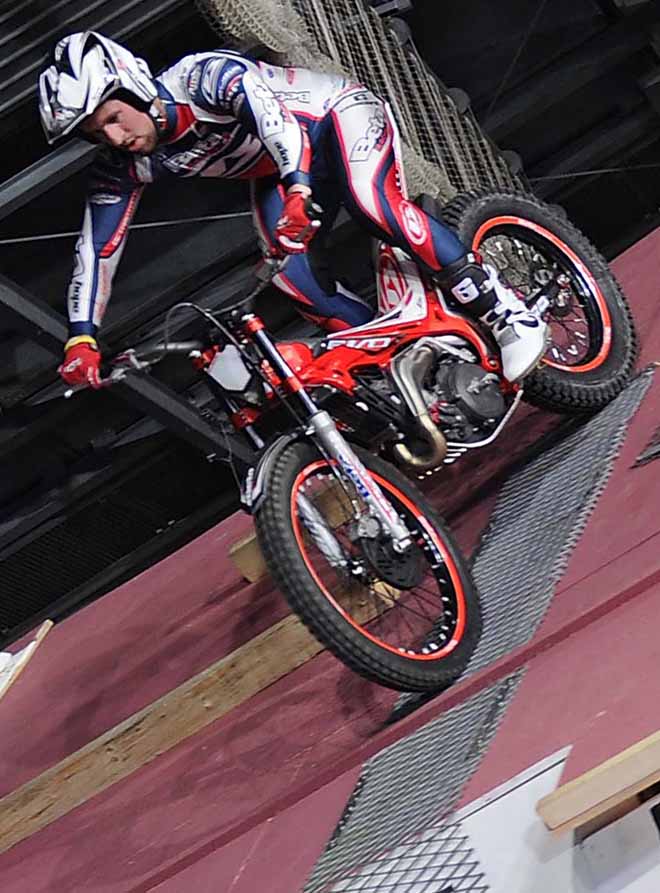 Albert Cabestany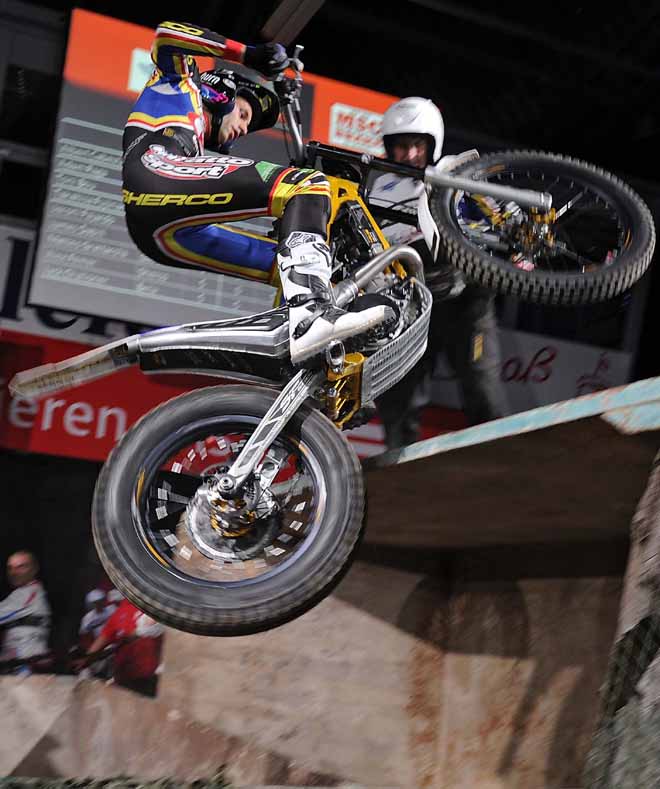 Takahisa Fujinami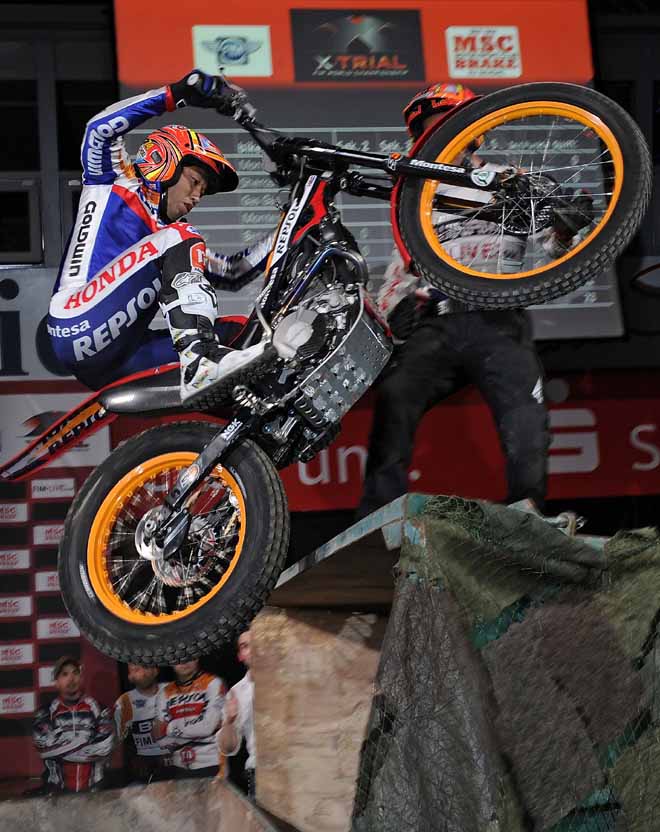 Matteo Grattarola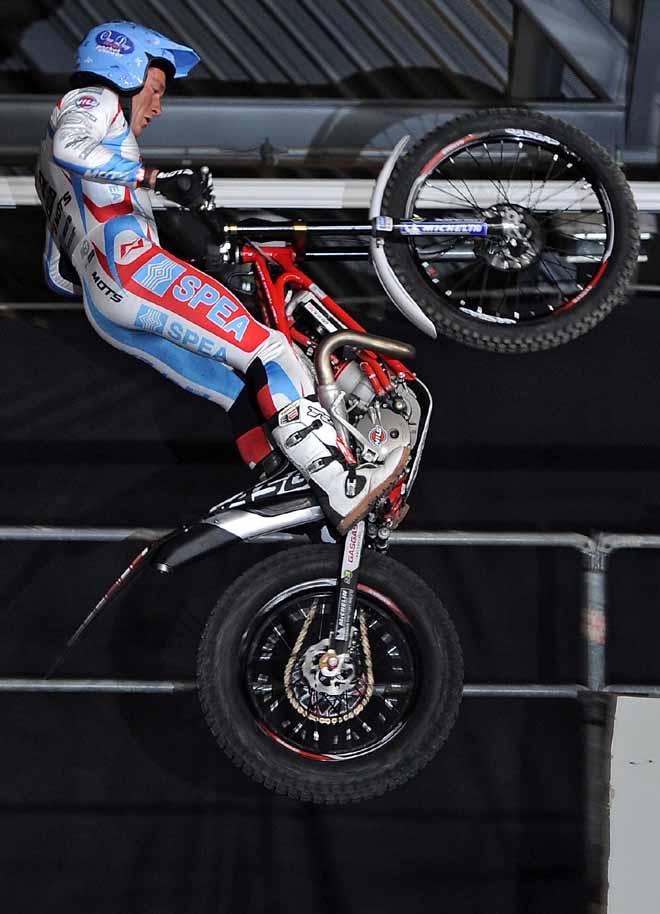 Alexandre Ferrer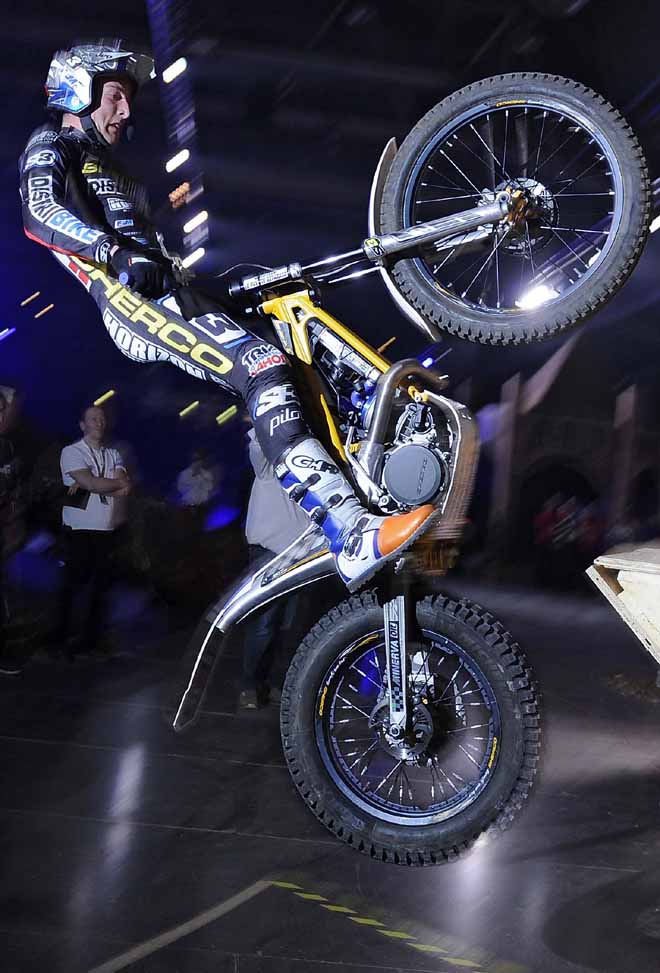 Jack Challoner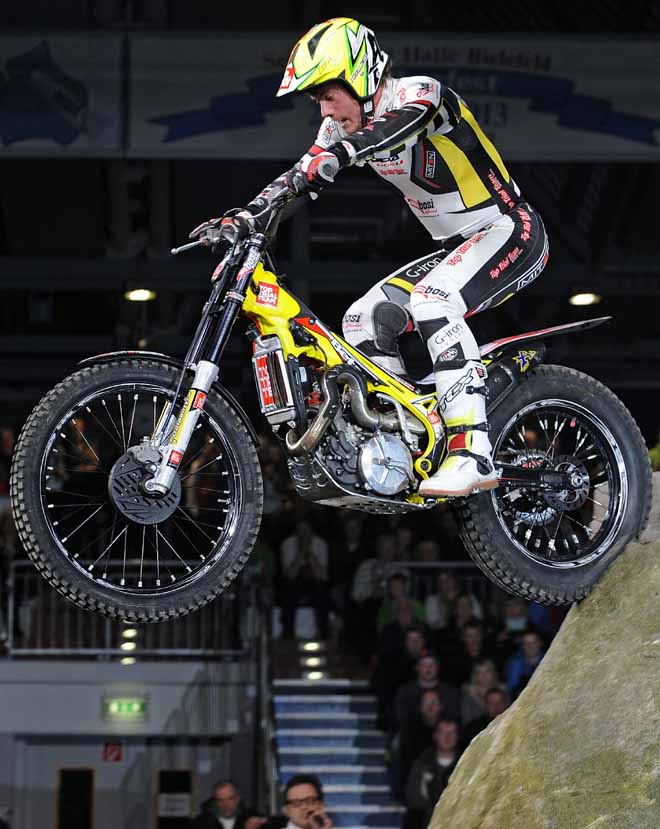 ---------------------------------------------------------------------------------------
press releases ---- comunicati stampa
---------------------------------------------------------------------------------------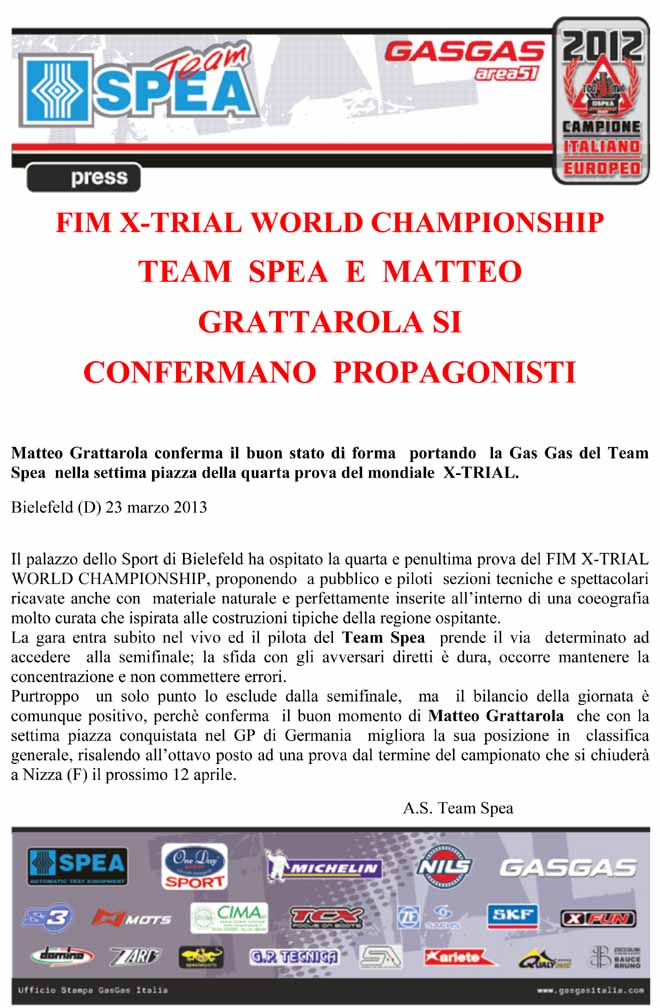 ---------------------------------------------------------------------------------------
---------------------------------------------------------------------------------------