10/03/13 - Bou romps to victory in Malaga

Toni Bou – Repsol Montesa moved to within touching distance of securing an incredible seven successive FIM Indoor / X-Trial World Championship when he romped to a convincing victory at the third round of the current series held in the Spanish city of Malaga. Although eventual runner up Albert Cabestany – Sherco remained in contact during qualification, Bou then move well clear of his rivals to give himself a real chance of wrapping up the title at the penultimate round in Germany in a couple of weeks time. Bou's team mate Takahisa Fujinami – Repsol Montesa completed the podium, as Adam Raga – Gas Gas failed to find the form he had shown at the previous round in Barcelona and could only place fourth on the night.

Wild card riders Francesc Moret – Gas Gas and Pere Borrellas – Gas Gas opened up qualification and acquitted themselves reasonably well as they secured seventh and eighth places respectively after their spirited performances through the initial five sections and a tie-break hazard. These two Spanish youngsters out rode their permanent counterparts as France's Alexandre Ferrer – Sherco and Britain Jack Challoner – Beta also had to endure a tie decider to determine the last two places of the evening. Ferrer came of worst and was classified in tenth spot, Challoner taking ninth.

Italy's Matteo Grattarola – Gas Gas joined the more expected five qualifiers, those being Bou, Cabestany, Fujinami, Raga and Jeroni Fajardo – Beta, the latter who had a night to forget. Grattarola sneaked into the six-man semi-final thanks to him having recorded the best time in a three way tie break with the two Spanish wild card riders. However Matteo was not to progress to the final and finished in sixth position just two marks behind Fajardo who endured his worst result of the campaign to date. This has dropped the Beta rider to fifth in the championship standings, nine points behind Cabestany, two points less than Fujinami and one point short of Raga after three out of the scheduled five rounds.

Bou began his domination of the third round and set up his third win of the series from the first moment of the semifinal. His win over Cabestany in the dual race was decisive and began to open up an advantage that was to increase section by section as the evening came to a close. Only a five in the blue mini skip hazard was to blot an otherwise faultless showing from Bou. His clean in the second hazard of the semi-final was unmatched, as all his rivals failed at the difficult undercut step, where he crested it with relative ease.

With Toni way out in front, the fight now was for the other two rostrum places. Both Cabestany and Fujinami had their moments to claim a clear second position, but in the end Albert was to take the runners up spot thanks to his better qualification position as the two of them tied on twenty-nine marks apiece. Although Takahisa was demoted to third, the veteran campaigner was just pleased to be on the podium for the second round in a row. Bou now holds a twenty-four point lead over Cabestany as the series heads to penultimate event in Bielefeld, Germany on 23rd March, where Toni is almost certain to seal the 2013 FIM X-Trial World Championship with a round to spare.

news and photos by Jake Miller (FIM Press
---------------------------------------------------------------------------------------

Bou conquista anche Malaga

Toni Bou, Repsol Montesa strappa una vittoria schiacciante riportando solo 8 punti di penalità nella terza prova del mondiale X-Trial. Albert Cabestany – Sherco, al secondo posto è staccato di ben 21 punti! Nuovamente sul podio Takahisa Fujinami, Repsol Montesa

Grande prestazione del nostro portacolori,Matteo Grattarola, Gas Gas, che riesce a qualificarsi per la semi-finale e conclude al sesto posto!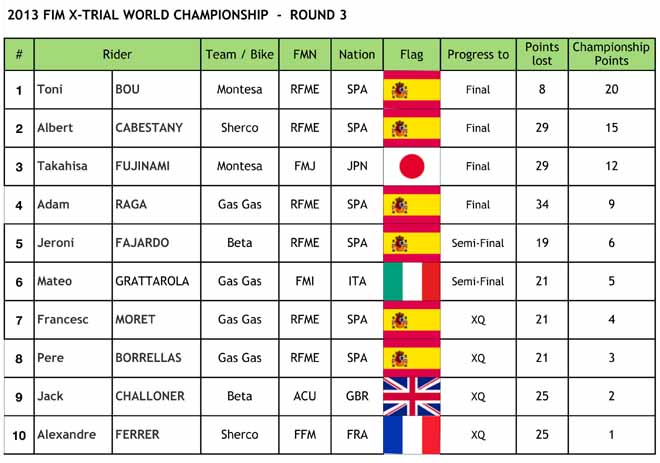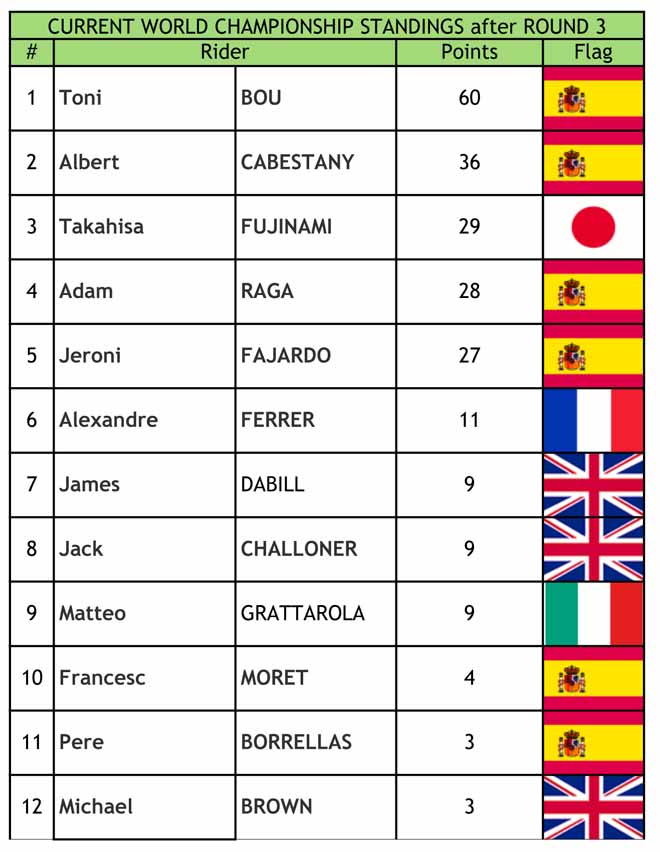 Toni Bou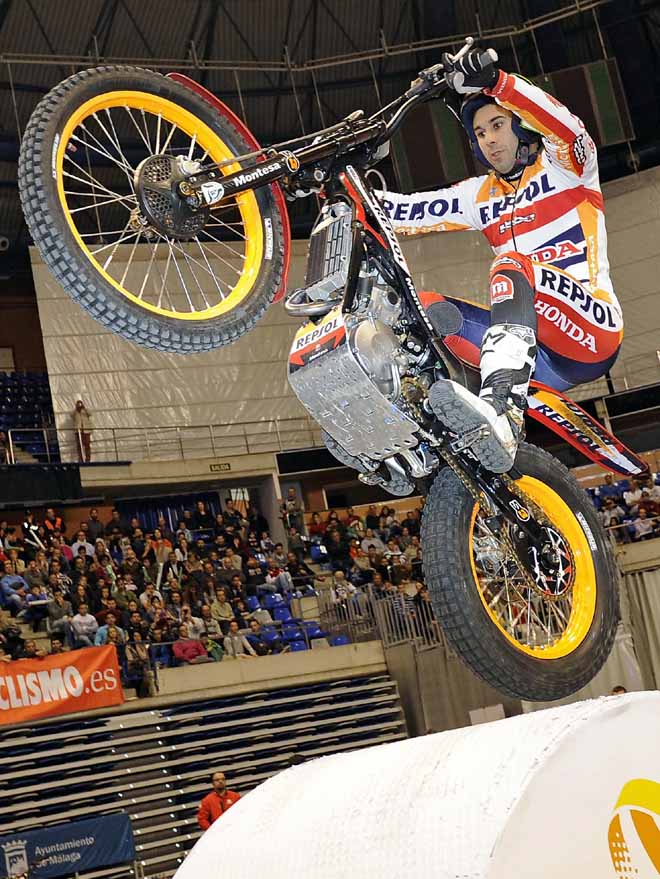 Albert Cabestany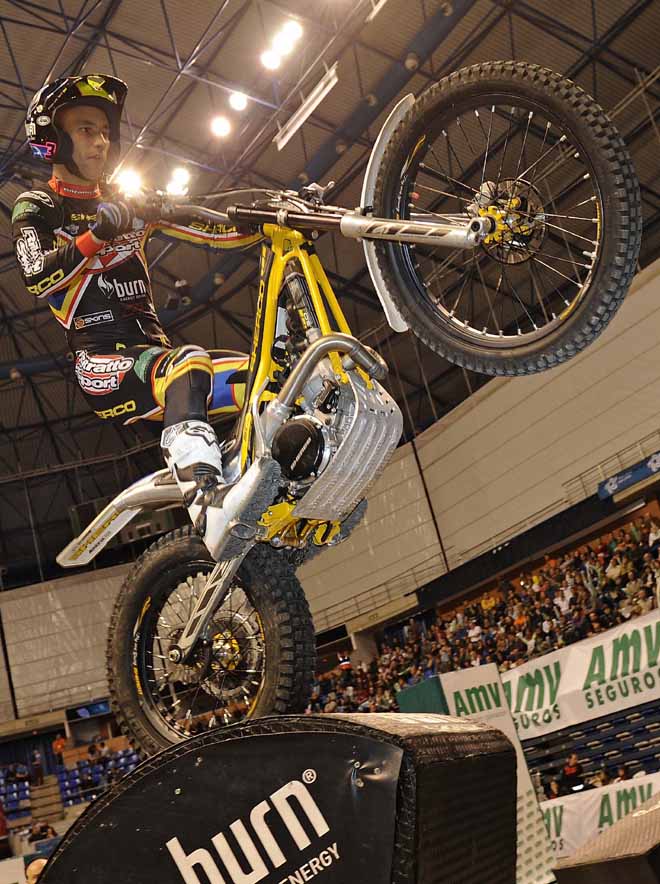 Takahisa Fujinami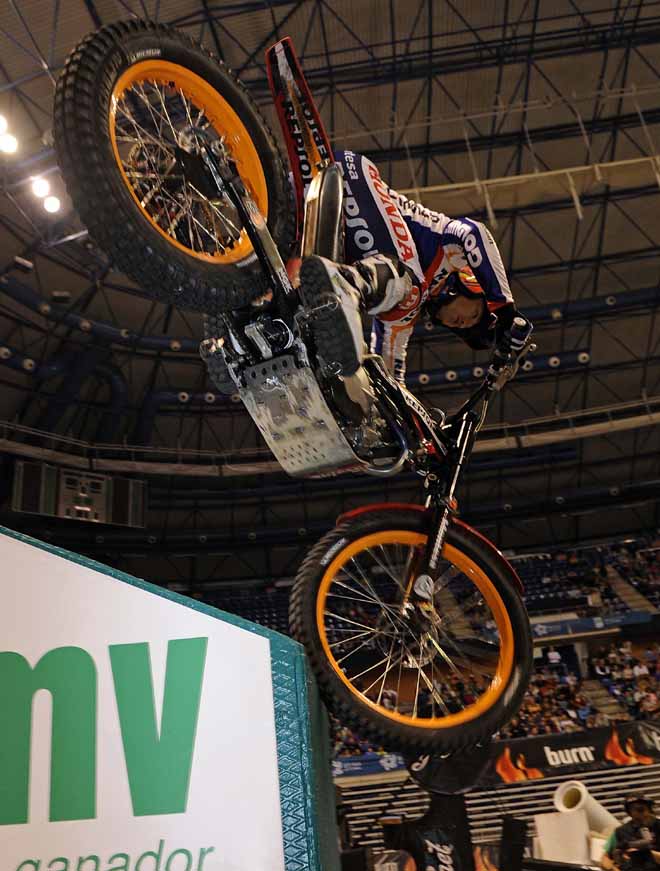 Adam Raga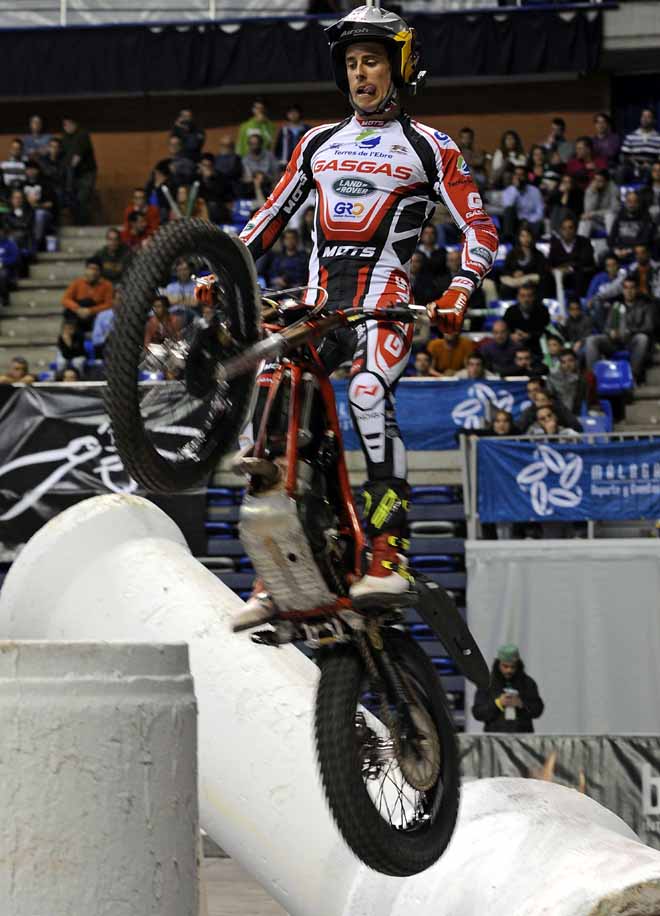 Jeroni Fajardo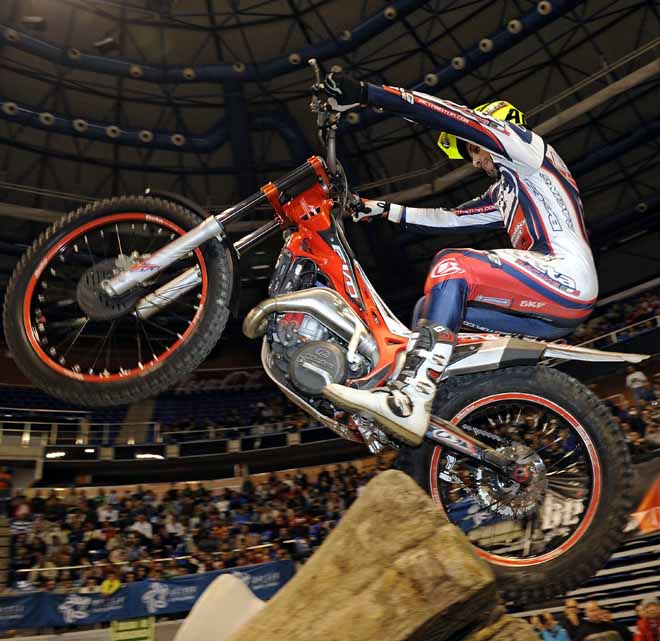 Matteo Grattarola
Francesc Moret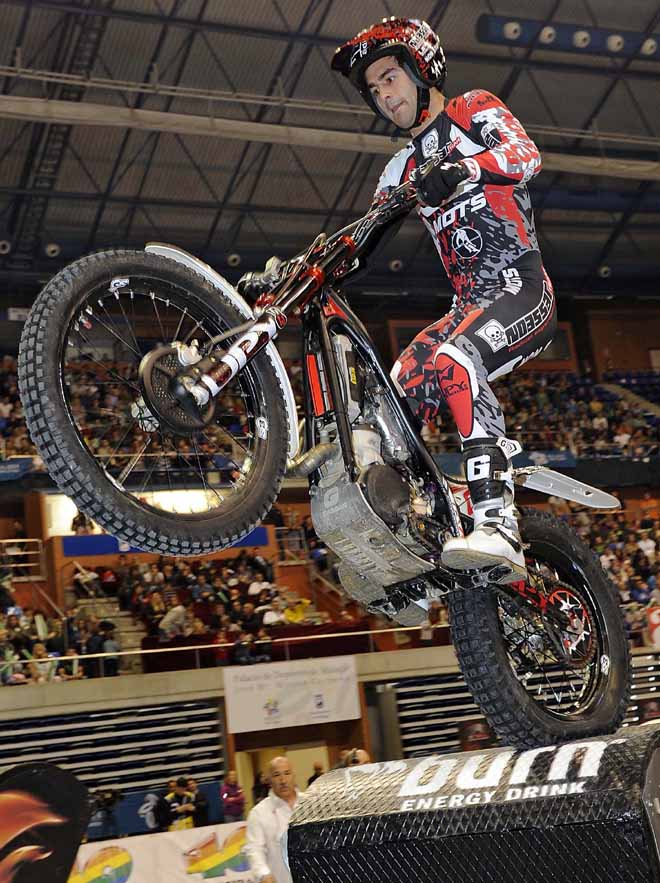 Pere Borrellas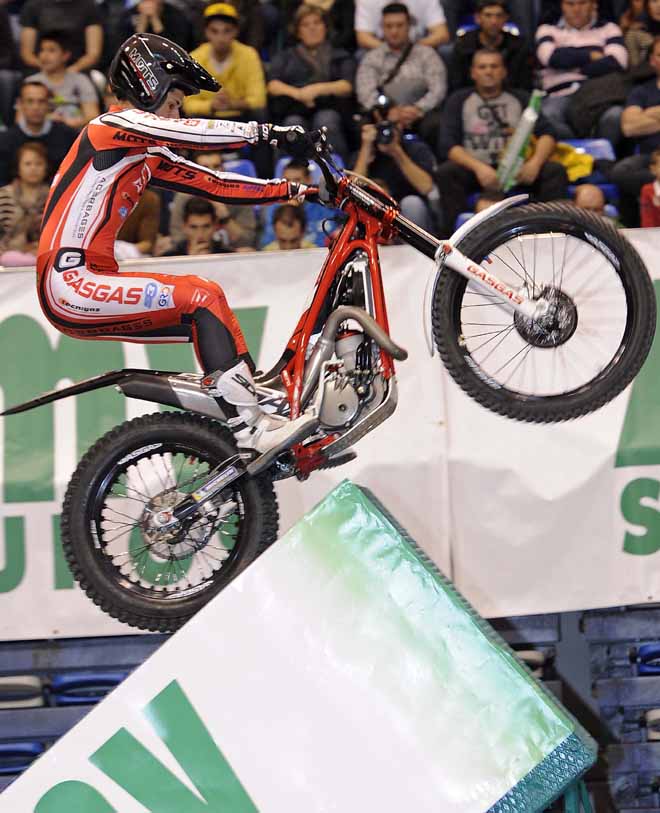 Jack Challoner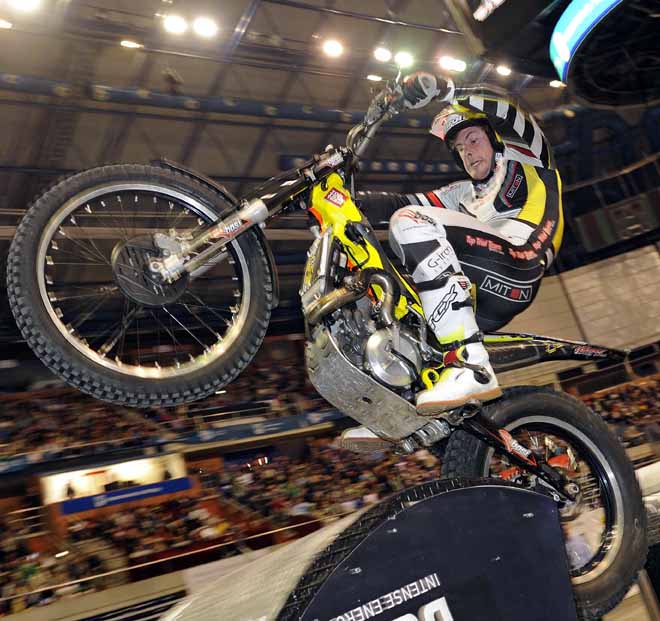 Alexandre Ferrer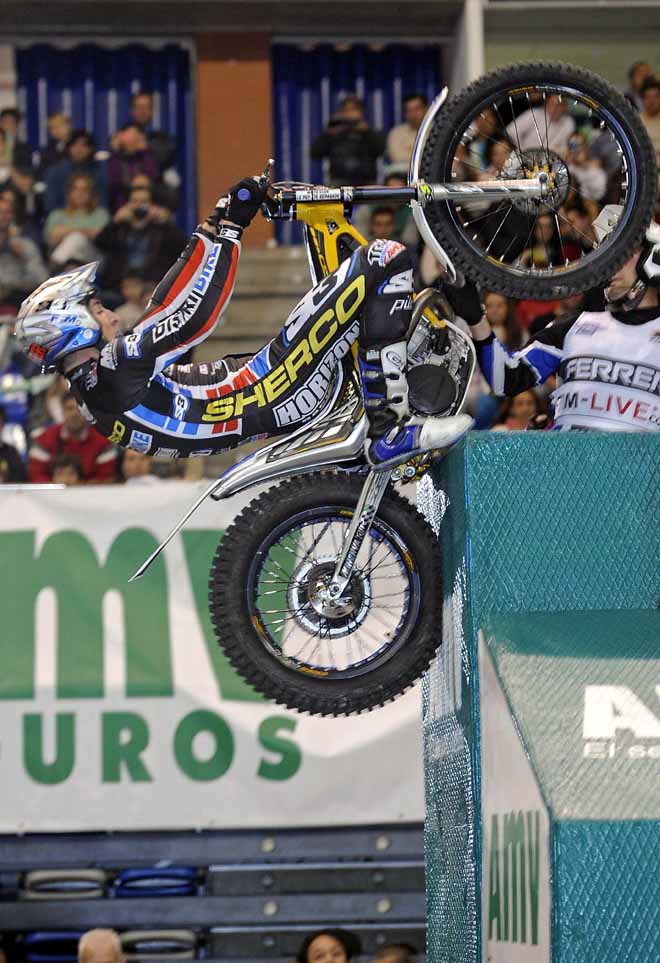 ---------------------------------------------------------------------------------------
press releases ---- comunicati stampa
---------------------------------------------------------------------------------------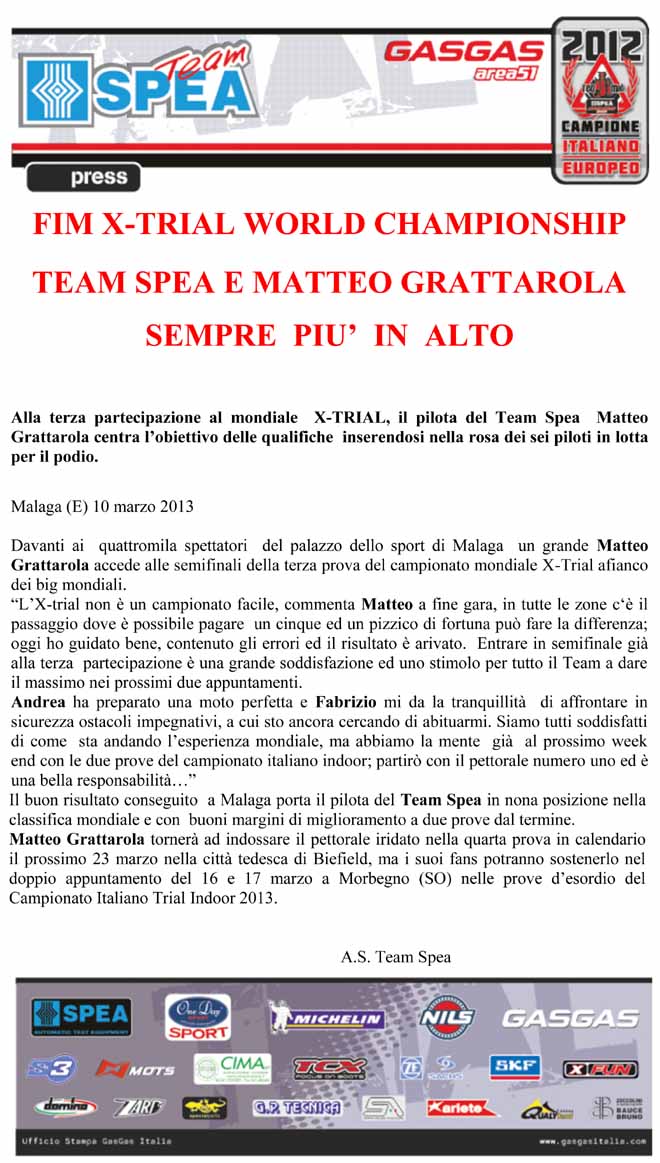 ---------------------------------------------------------------------------------------
---------------------------------------------------------------------------------------