01/09/13 - FIM World Champ.: Isola 2000, FRA

Bou won and clinched his seven consecutive title!

Toni Bou – Repsol Montesa came good at the end to win today's closing event of the 2013 FIM Trial World Championship and in doing so wrapped up his seventh successive outdoor title to draw level with joint record holder Jordi Tarres and Dougie Lampkin. The title fight went right to the wire with Adam Raga – Gas Gas once again attacking the defending champion like he had done just twenty-four hours earlier. However despite Raga's brave efforts he was to finish third on the day, just a single mark behind today's runner-up Albert Cabestany – Sherco, as his last lap dash to beat the threatening rain failed to pay off.

It was actually James Dabill – Beta who led on lap one, the British rider pulling four marks clear of Raga and Jeroni Fajardo – Beta, whilst Bou was in fourth place at this stage two marks further back. Dabill was to lose the lead on lap two and eventually finish fifth as he failed to match his opening lap performance. Raga was quick to pick up the mantle, but now had Bou for company as the two main championship rivals ended lap two in first and second positions respectively.

Second place would have been sufficient for Bou to take the title, however things were about to change as Raga gambled on a fast last lap in an attempt to beat the rain that never really happened. Two fives for Raga as he rushed for home cost him dearly and ultimately stopped his last hope of snatching the title away from Bou. In contrast Bou rode calm and calculated on his closing lap, which would win him the Trial and his seventh straight crown. Cabestany also took advantage of the situation to claim second spot on the day and fourth in the championship as Takahisa Fujinami – Repsol Montesa slipped from third to fifth in the standings as he finished in sixth position for the second day running. Fajardo was also a winner on the day as his fourth spot proved sufficient for him to move up to third in the final championship table.

Pol Tarres – Sherco rounded out his 2013 Junior campaign with his fourth win of the season to confirm his runners-up spot in the final rankings. He recorded a single mark victory over his Spanish compatriot and already crowned Junior class champion Jorge Casales – Gas Gas. Cedric Tempier – Sherco gave the home fans something to cheer about as he claimed the last podium place just five marks behind Casales. This was the fourth time that the French rider had been on the rostrum this year. Belgium's Maxime Warenghien – Sherco finished his season with a fourth position, whilst Francesc Moret – Gas Gas secured third place overall despite only coming home in fifth spot today. This was one place higher than Jack Sheppard – Beta who ended up fourth in the general standings after having been the early series leader.

It was business as usual in the Youth class for the already crowned champion Quentin Carles de Caudemberg – Beta as he notched up his eighth win, this time on home turf. He had to come from behind once again on this occasion to beat Declan Bullock – Beta, who recorded his best ever result by finishing as runner-up after surrendering the initial lead. Italy's Gabriele Giarba – Beta continued his consistent form to take the last podium place on the day and to end up as runner-up in the series. Kenny Thomas – Beta snatched third place in the championship table away from Bradley Cox – Beta as he placed fourth on the final day, whilst Cox could only manage sixth position this time out.

Laia Sanz – Montesa completed a perfect return to the FIM Women's Trial World Championship when she followed up yesterday's win with her second victory of the weekend earlier today. Her back to back wins at the French Grand Prix held at Isola 2000 has now set up a tense finale next Friday, when Sanz will have the chance to clinch her thirteenth title if she can make it three wins from three starts. Once again Emma Bristow – Sherco was forced to play the bridesmaid despite pushing the reigning champion throughout the whole day. Bristow finished just five marks behind her arch rival and well clear of her British compatriot and early series leader Rebekah Cook – Beta.

Sanz will compete in the final round of the 2013 FIM Women's Trial World Championship before then immediately heading off to contest the last round of the 2013 Maxxis FIM Women's Enduro World Cup next weekend, with her having a good chance of taking both titles as she did in 2012.

With all the men's individual titles now decided, the attention will turn to next weekend's team competition, when a variety of countries will battle it out at the season closing FIM Trial des Nations event in La Chatre, France, which will also host the final round of the 2013 Women's Trial World Championship next Friday.La Chatre, France, which will also host the final round of the 2013 Women's Trial World Championship next Friday.
------------------------------------------------------------------------------------------

Bou si prende il settebello!

Bou vince gara e titolo , il settimo consecutivo, ma solo all'ultimo giro dopo un'avvincente battaglia con Raga. Leggete motosprint martedi' prox.
------------------------------------------------------------------------------------------
CLASSIFICHE/RESULTS:
WORLD PRO
--
JUNIOR
--
OPEN
--
YOUTH
--
WOMEN
--
------------------------------------------------------------------------------------------
CAMPIONATO/OVERALL STANDINGS:
WORLD PRO
--
JUNIOR
--
OPEN
--
YOUTH
--
WOMEN
--
FACTORIES
--
------------------------------------------------------------------------------------------
1. Toni Bou
2. Albert Cabestany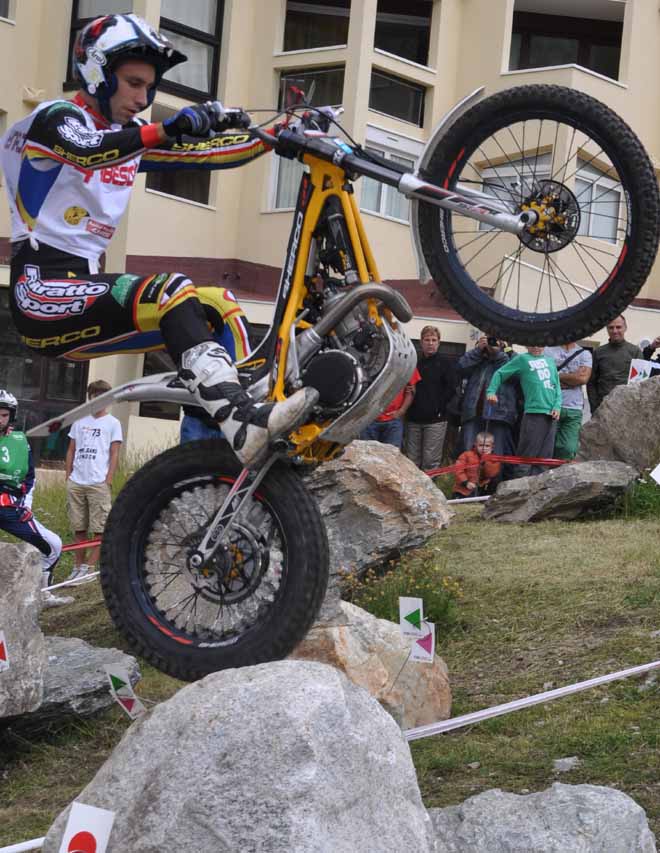 3. Adam Raga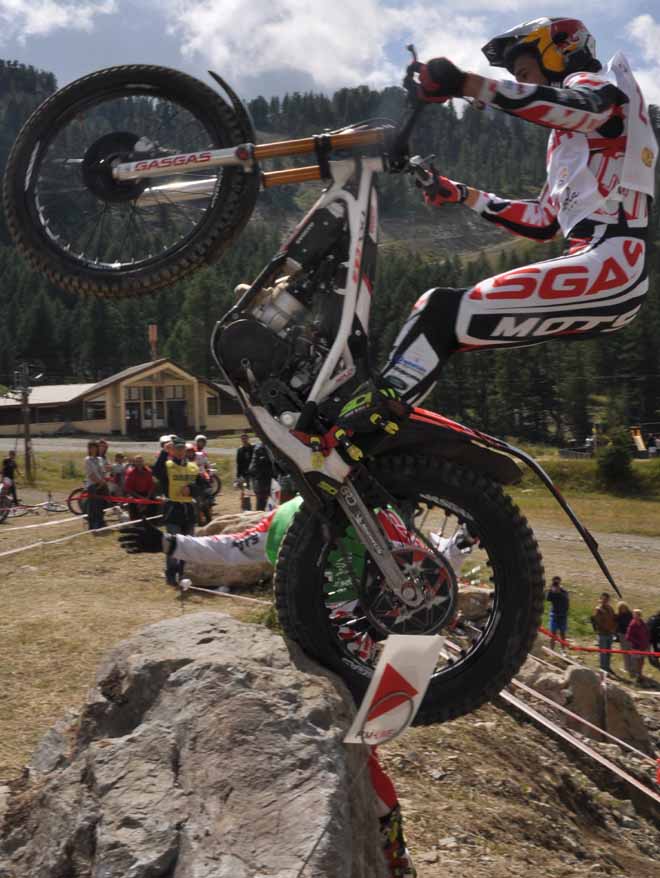 4. Jeroni Fajardo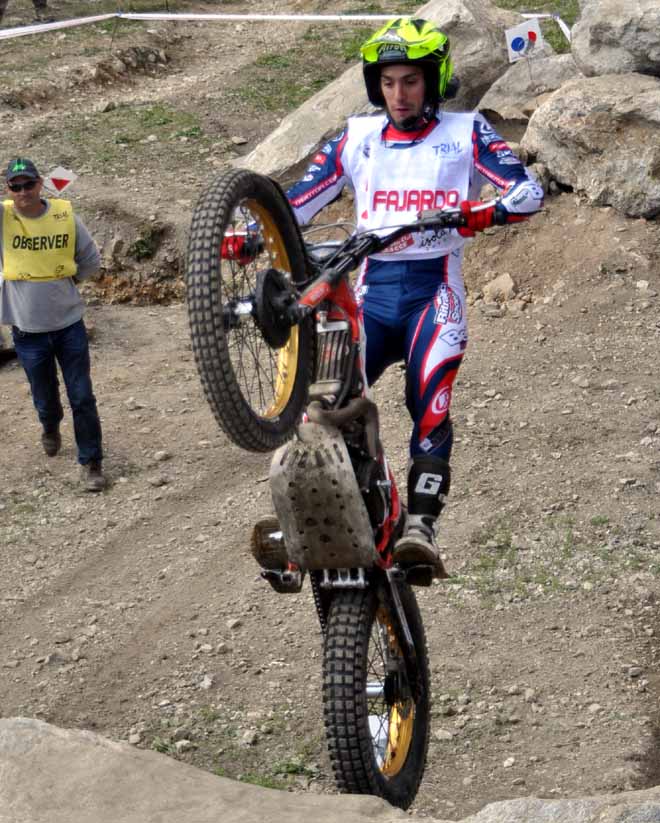 5. James Dabill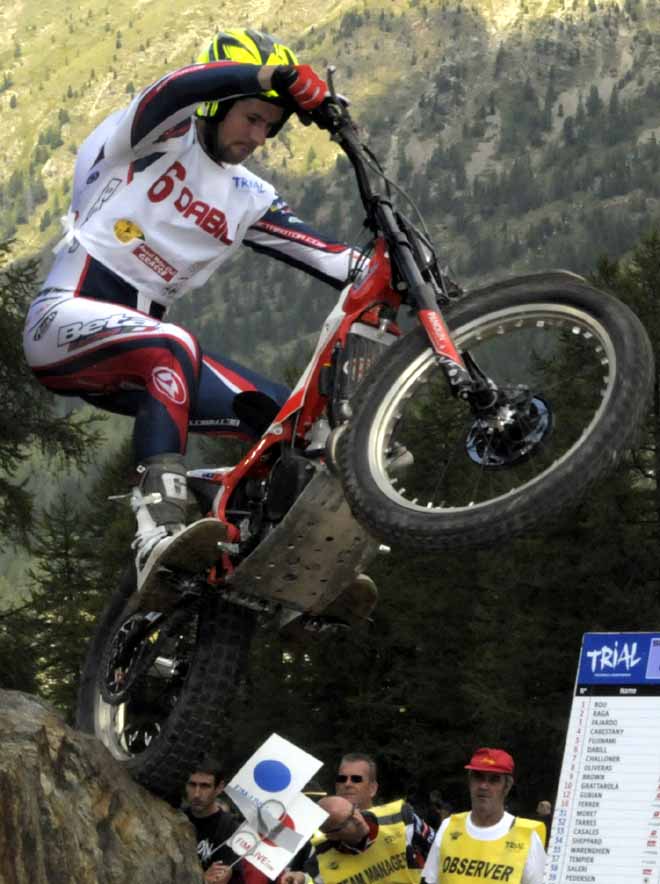 6. Takahisa Fujinami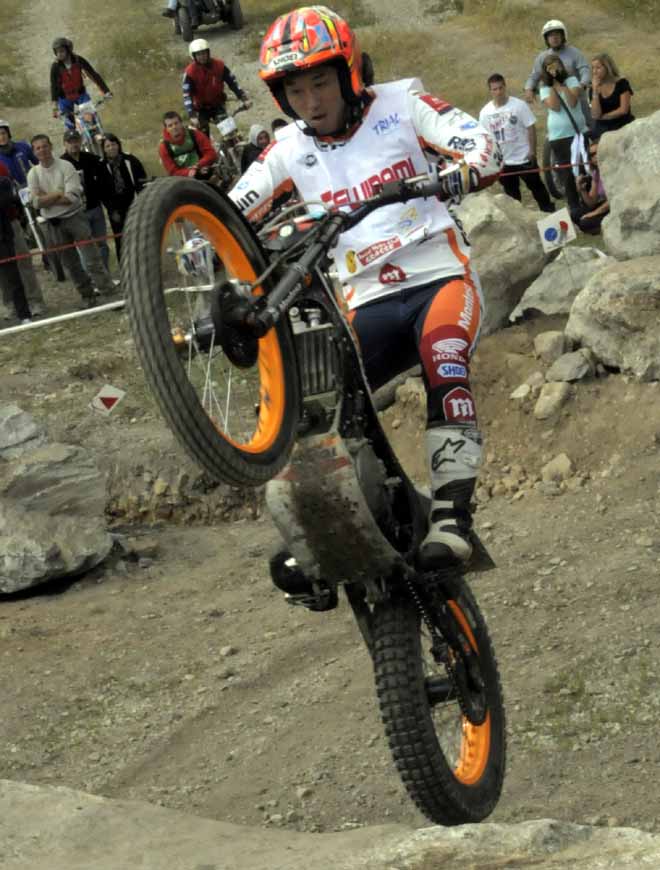 7. Michael Brown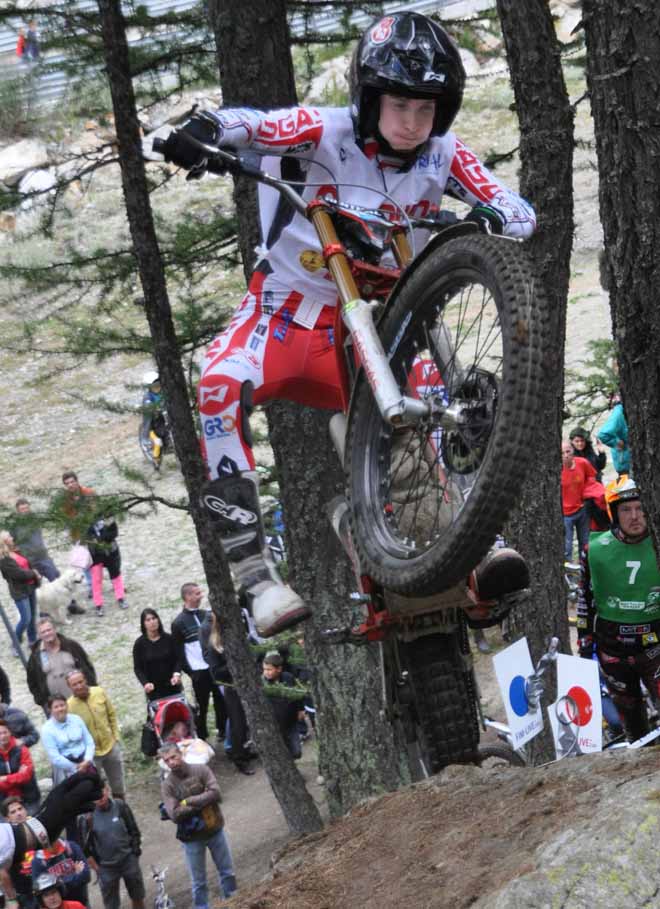 8. Loris Gubian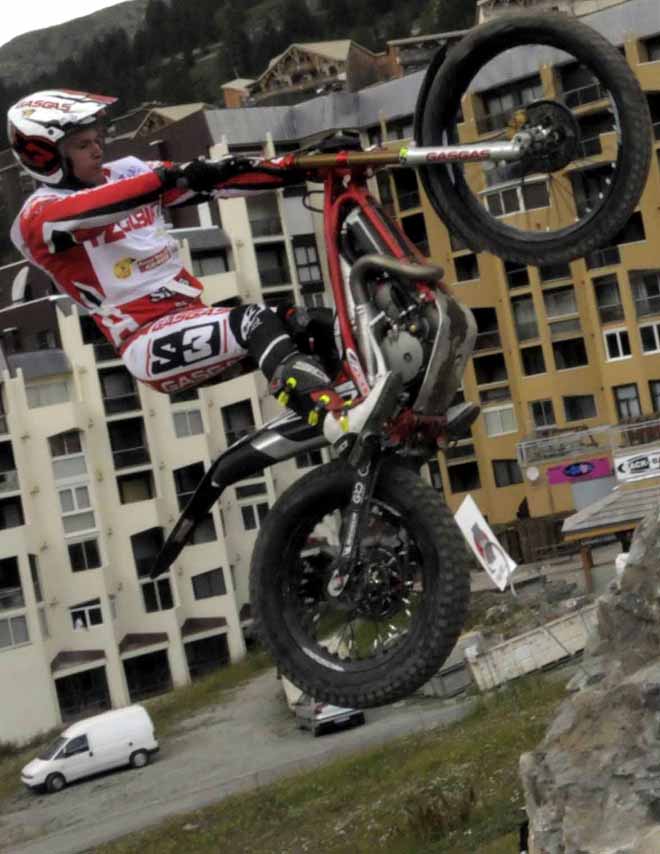 9. Alexandre Ferrer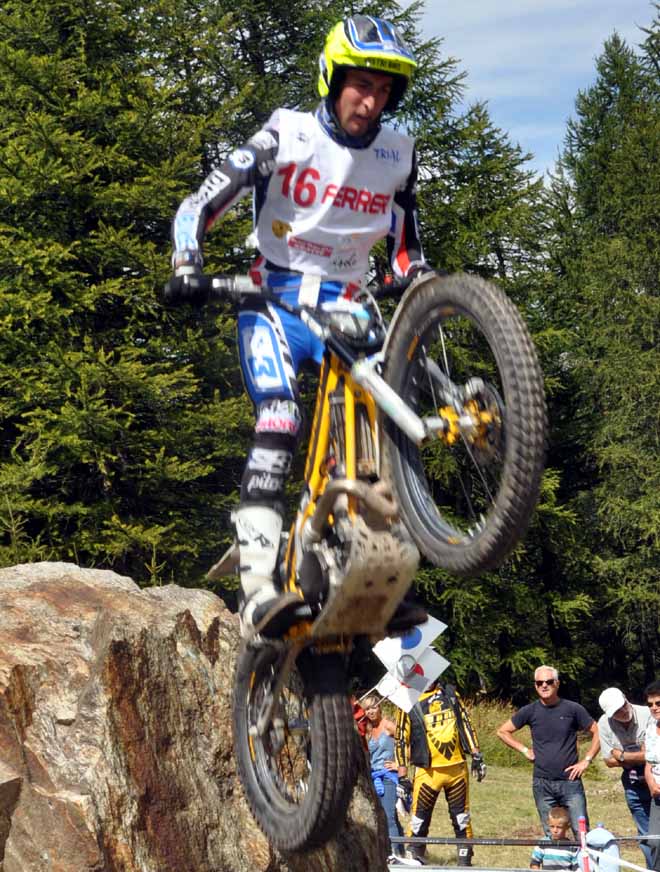 10. Matteo Grattarola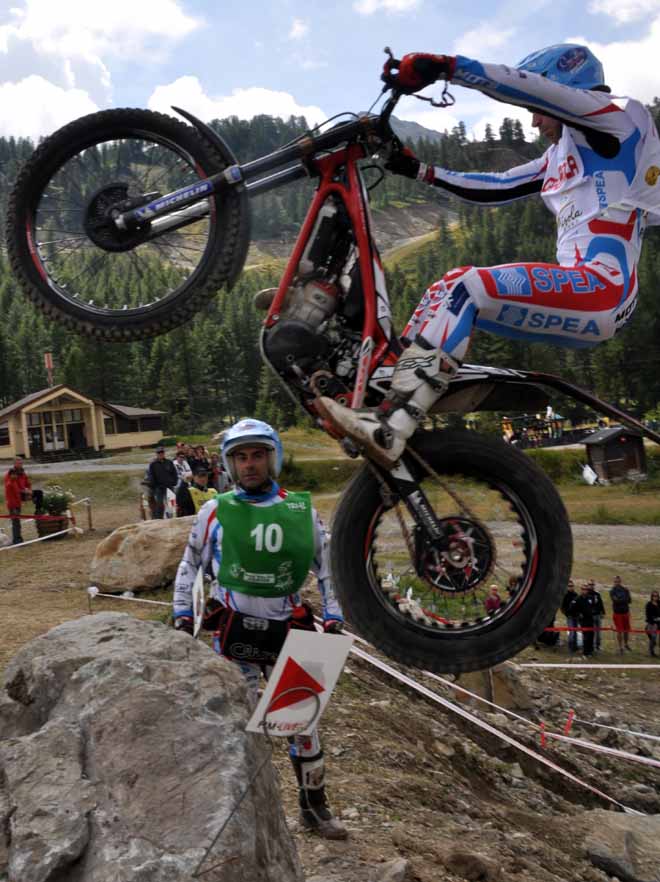 11. Eddie Karlsson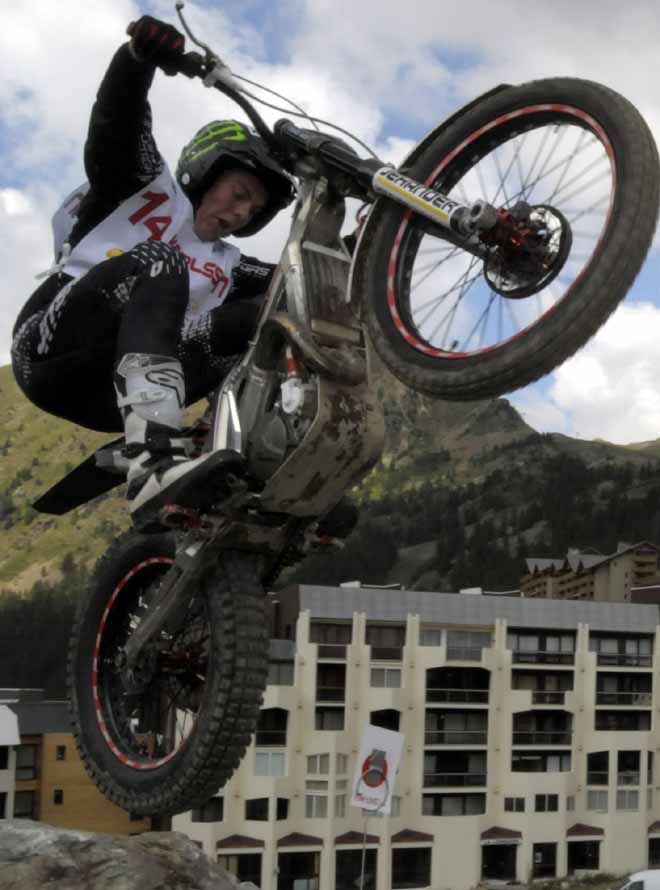 12. Jack Challoner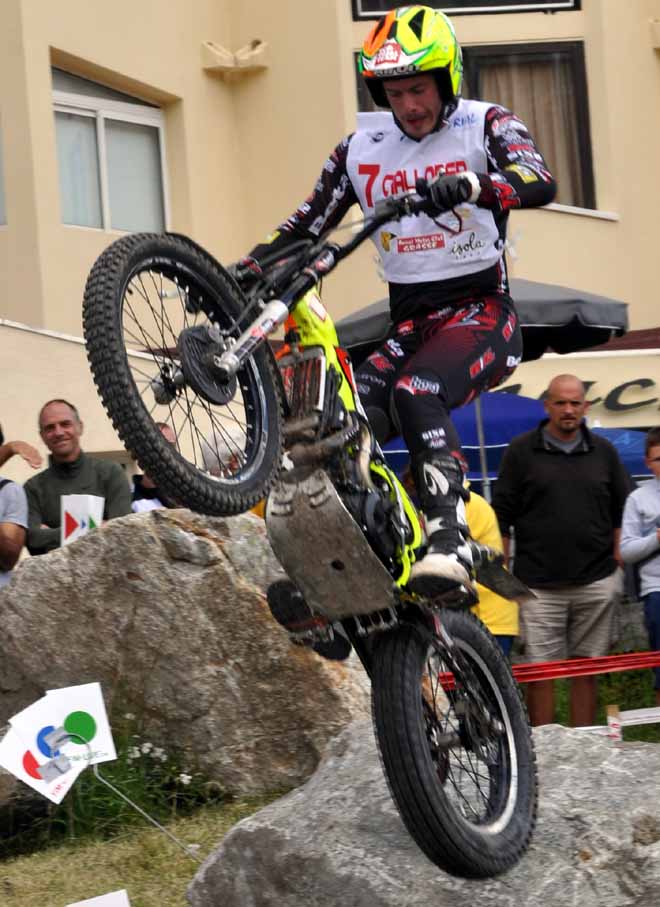 13. Pere Borellas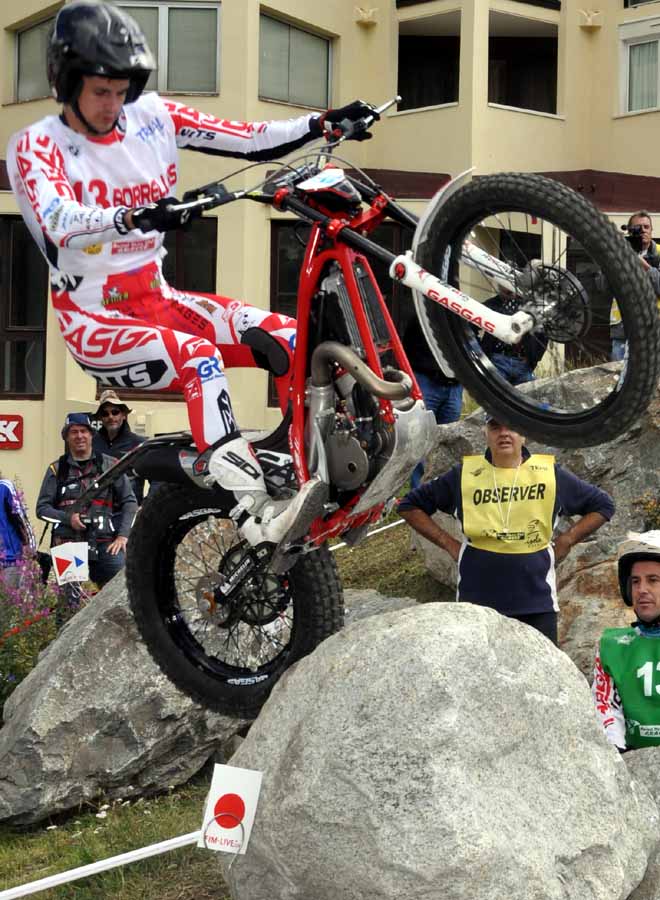 ---------------------------------------------------------------------------------------
press releases ---- comunicati stampa
---------------------------------------------------------------------------------------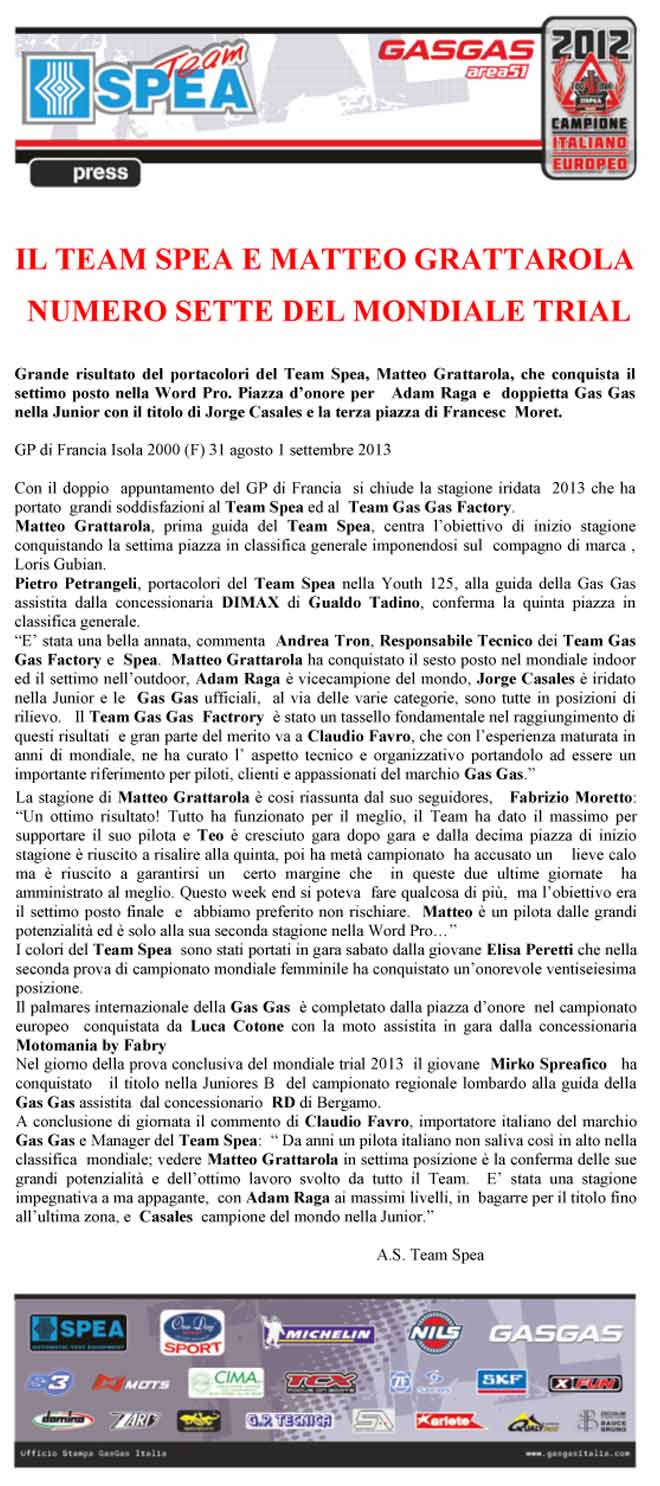 Matteo Grattarola a Isola 2000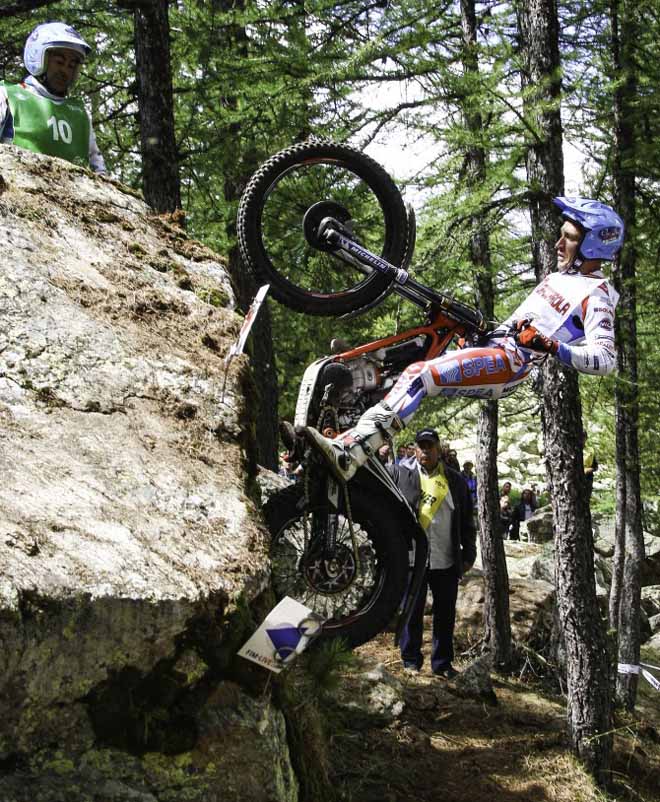 ---------------------------------------------------------------------------------------
---------------------------------------------------------------------------------------