13/09/14 - FIM World Champ.: St.Julia de Loria, AND

Bristow wins to become the new champion

Emma Bristow – Sherco showed no sign of nerves today as she became the 2014 FIM Women's Trial World Champion. Bristow is only the third winner of the series and has brought to an end the six year run of Laia Sanz with the Spanish rider last losing the title to Iris Kramer back in 2007. With Sanz absent from this year's campaign, the pressure was most definitely on Emma to step up to take the crown having been the runner-up in the championship for the previous seasons. Rebekah Cook – Beta put up a brave fight against her compatriot, and her win last Sunday in Spain forced today's last day showdown.

Unlike last weekend when being in the spotlight looked to take its toll on Bristow, today the Sherco teamster was both cool and confident and deservedly ran out a relatively easy winner on the day to wrap up the title in good style. Emma posted a clean opening lap of ten sections, which were all located on the steep mountainsides that define the small principality of Andorra. Cook was Emma's nearest rival after lap one, just four marks back with the Spanish gathering of Mireia Conde – Beta, Alba Villegas – Sherco and Sandra Gomez – Ossa also in close contention.

Under bright blue skies and with the temperature rising as the day wore on, Bristow controlled the competition from out front, parting with two dabs on her second lap around the ten kilometre course which was a test in itself for many of the female riders, with the ultimate champion rounding out her day with a three mark loss on the third and final lap to win the Trial and to claim the title. Unfortunately for Cook her all-out attack to snatch the championship away from Bristow was to cruelly cost her second place on the day by a single mark, but was still enough for her to claim the runners up spot in the series. Gomez ended the day in second place to claim third place in the final rankings.

Ina Wilde – Gas Gas signed off her 2014 campaign with her equal best result to date, her fourth place came as she finished just one mark behind Cook, but although the young Germany rider ended strongly she still finished sixth in the closing rankings. After a good first lap Villegas would eventually slip down the order to fifth at the end of the Trial. Elisabet Solera – Gas Gas achieved her highest ever result as she placed sixth in Andorra, and was only four marks away from a podium placing which shows just how fierce the competition was amongst the record entry of forty seven female riders.

In contrast to Solera, Theresa Bauml – Ossa suffered her worst showing of the campaign as she slotted into seventh place on twenty marks. Despite this relatively poor result the teenage protagonist from Germany still ended fifth overall in the general standings. Conde, Berta Abellan – Sherco and Sarah Bauer – Sherco completed today's closely packed top ten respectively, with just over twenty marks separating first to tenth spots. Checking the final general standings, Solera, Britain's Katy Sunter – Gas Gas, Italy's Sara Trentini – Ossa and Maria Giro – Beta from Spain finished seventh, eighth, ninth and tenth respectively overall in the 2014 FIM Women's Trial World Championship.

Whilst all the female competitors deserve credit for their incredible exploits throughout the year, the day and the season firmly belonged to Bristow, as finally she claimed the prize she has worked so long and hard for. With one crown in the bag, Emma now has the opportunity and the belief to go on to win more in the future, so welcome and long live the new Queen of Women's Trial, namely Emma Bristow.

photos and news by Jake Miller (FIM press)


------------------------------------------------------------------------------------------

La Bristow vince e si aggiudica il titolo

Emma Bristow – Sherco ha retto benissimo la pressione ed e' diventata campionessa mondiale del 2014 FIM Women's Championship. Infatti si era presentata con due vittorie ed un secondo posto in vantaggio rispetto alla rivale, connazionale Rebekah Cook – Beta, che invece aveva al suo attivo, due secondi ed una vittoria. Ma ironia della sorte, se fosse stata battuta dalla Cook neanche il secondo posto le avrebbe permesso di incoronarsi campione. A parita' di punteggio e di risultati, vale la regola che i piu' recenti contano di piu', quindi per Emma contava un solo risultato: la vittoria!

La Bristow e' solo la terza campionessa in questa classe dominata da Laia Sanz, ora piu' interessata ad altro, con l'interruzione del 2007 in cui il titolo e' andato ad Iris Kramer. Dietro Emma si e' piazzata la spagnola Sandra Gomez – Ossa, che cosi' e' andata ad occupare la terza piazza in campionato, davanti a Mireia Conde – Beta.

Ma il successo e' proprio nel numero di donne alla partenza : piu' di 40! Purtroppo le nostre 2 portacolori non sono riuscite ad entrare in zona punti. Progressi per Elisa Peretti - Gas Gas, che ha battuto agli zeri la piu' quotata Sara Trentini - Ossa, ancora sofferente dell'incidente alla mano.
------------------------------------------------------------------------------------------
CLASSIFICHE/RESULTS:
WOMEN
--
------------------------------------------------------------------------------------------
CAMPIONATO/FINAL STANDINGS:
WOMEN
--
------------------------------------------------------------------------------------------
1. Emma Bristow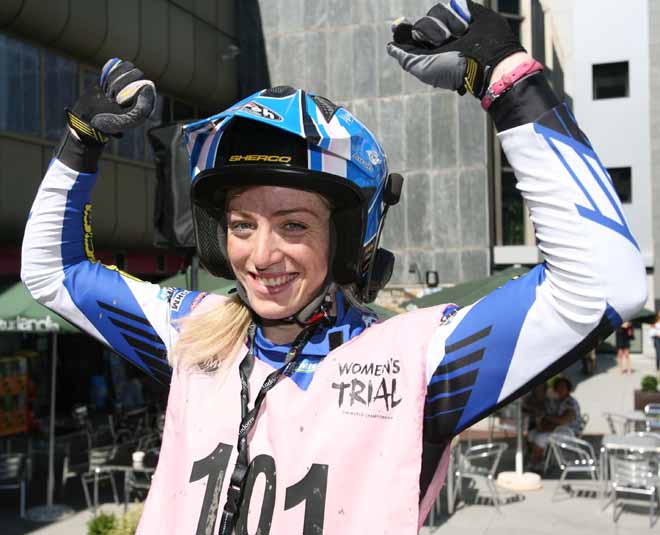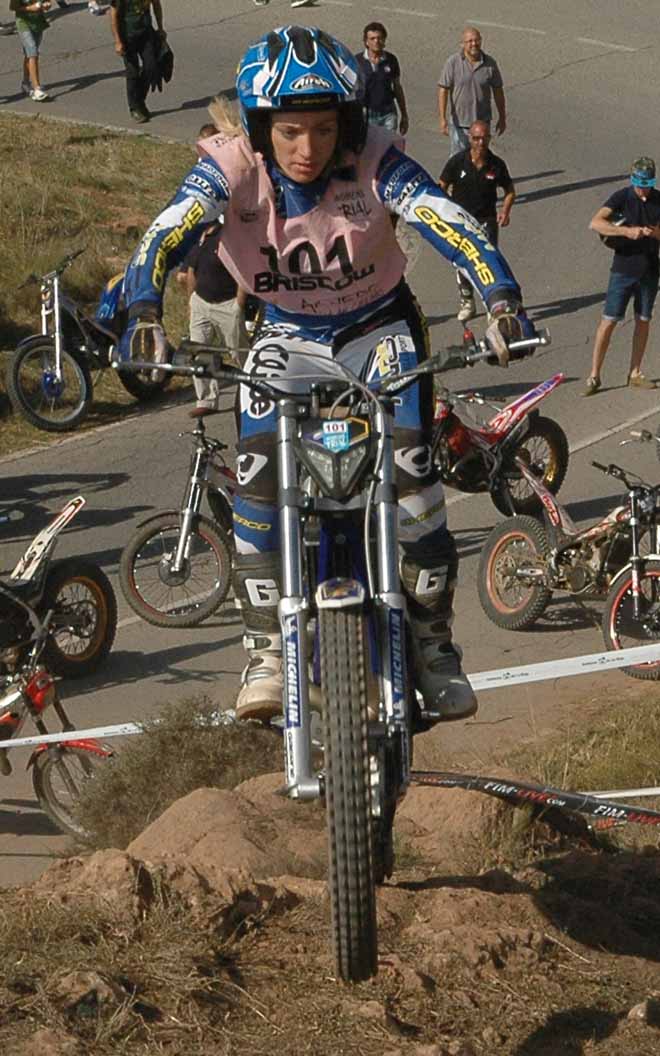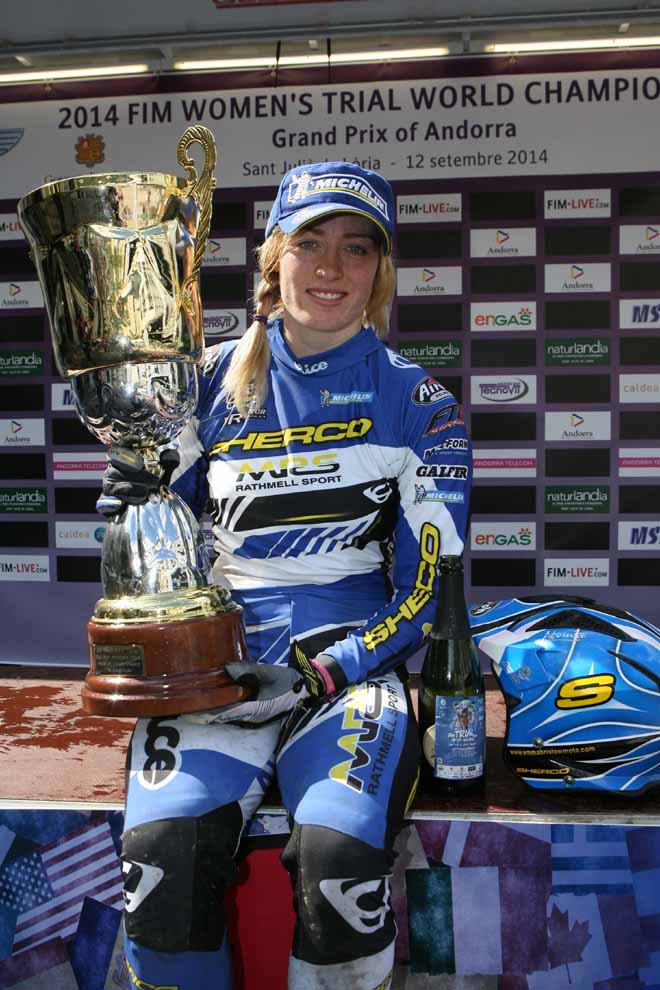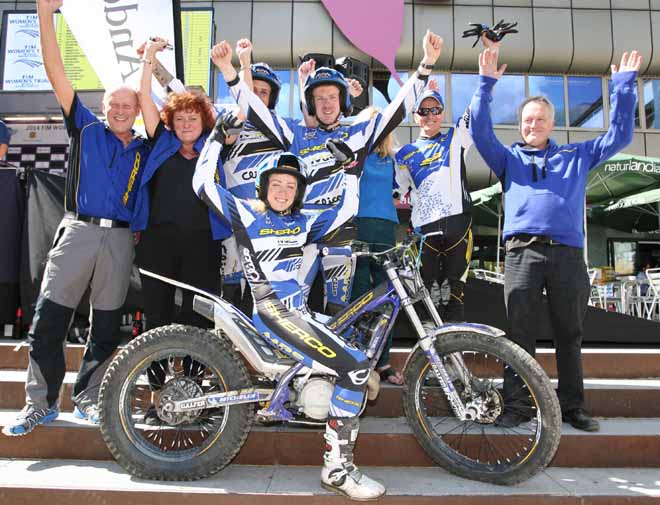 2. Becky Cook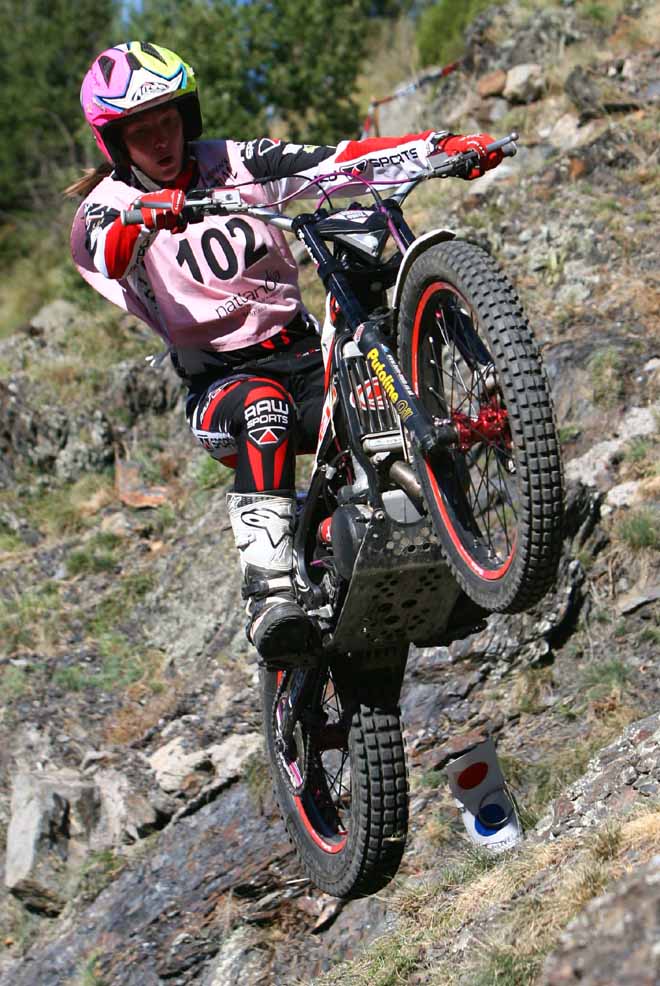 3. Sandra Gomez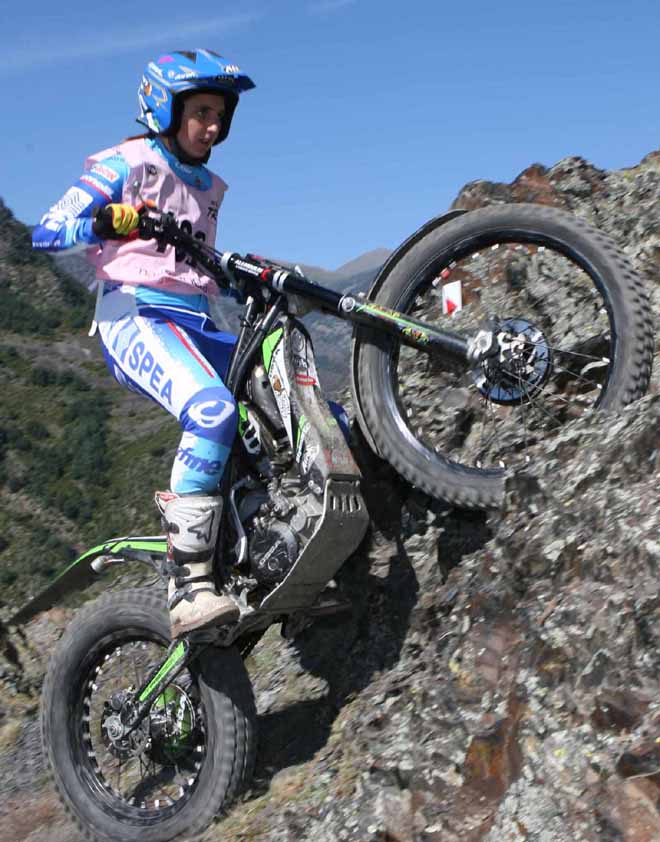 4. Mireia Conde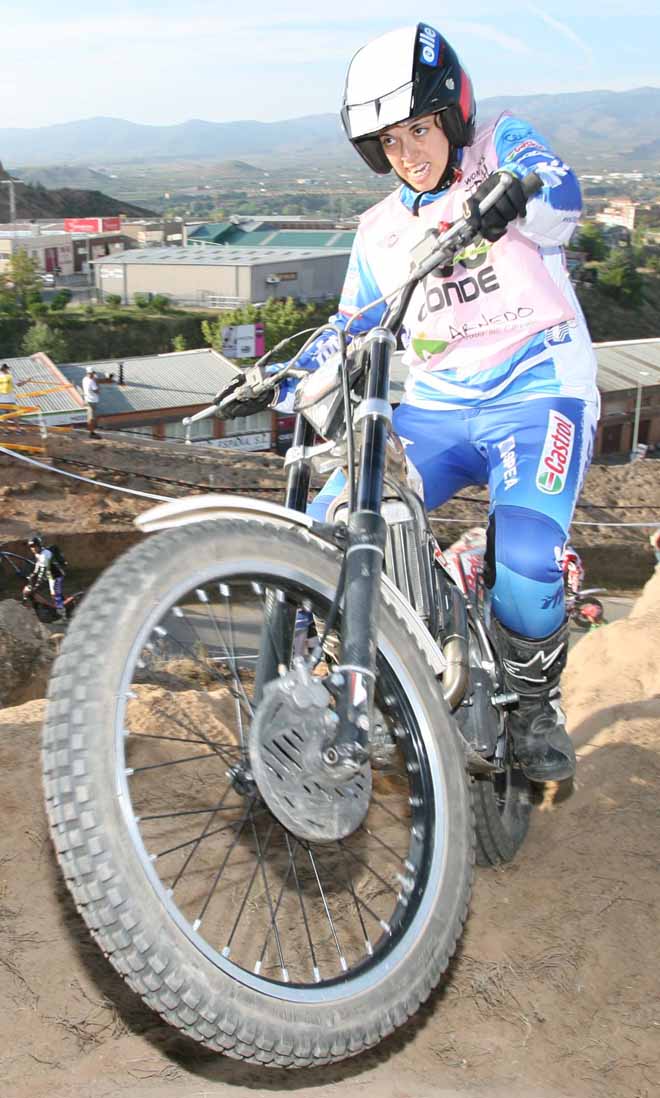 5. Theresa Bauml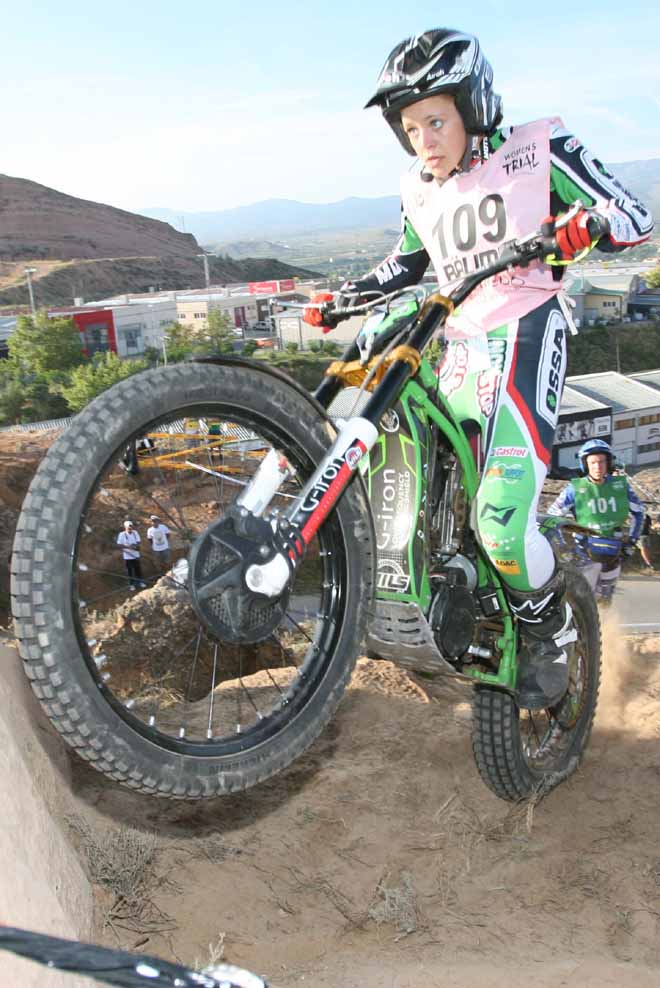 6. Ina Wilde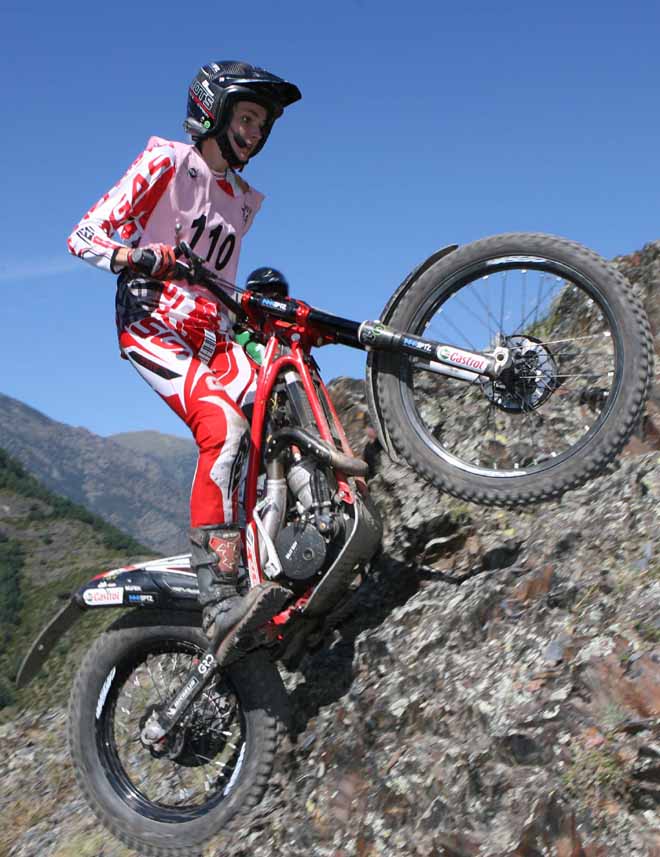 ...
10. Sara Trentini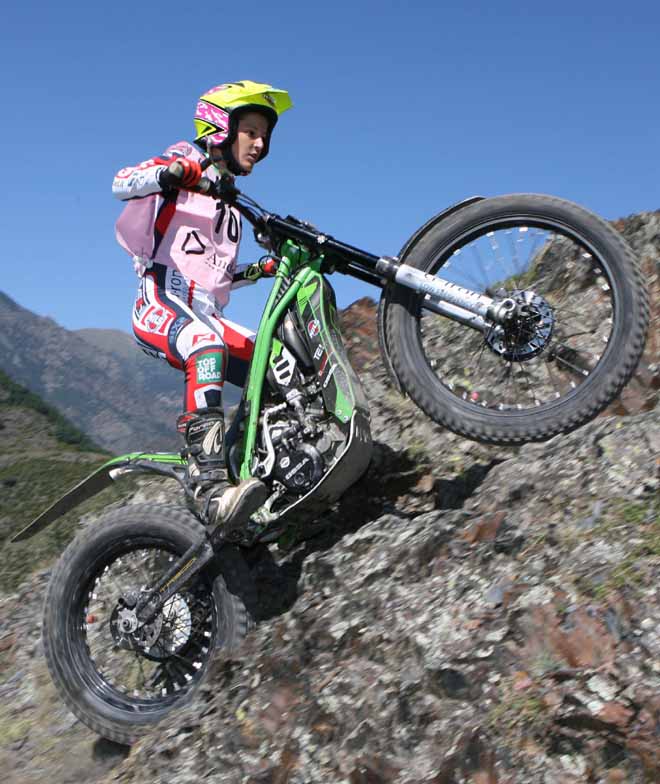 ---------------------------------------------------------------------------------------
press releases ---- comunicati stampa
---------------------------------------------------------------------------------------