20/12/15 - JOTAGAS 300 JT 2016 model tested

JOTAGAS S.L. (JGAS) is brand new in the motorcycling market. It was created in 2010 , but the bike wanted by seven time world champion Jordi Tarres, was officially presented only at Milano's exhibition at the end of 2011. In its sportive palmares there is the European Championship conquered by Swedish Eddie Karslsson in 2013. The plants are now based in Olot, near Barcelona. There are four capacities for the Trials modes: 300cc, 280cc, 250cc, 125cc.

The bike comes with a double beam Integrated fuel tank frame with side shock in plain view , which make the brand immediately recognizable . Quite pleasing the combination gray - red . The fuel supply is traditional with carburetor, that is Dellorto PHBL 26 in the version tested, but it is available the Kehin, too . The forks are Tech 39 mm , mono is Olle , rims are Morad and tires Michelin , the rear is the X11.

For the 2016 model, there are few modifications on gear , reducing tolerances and submitting a new selector . Then the quality of the fork legs has improved because in the past they tended to fade and now they have another treatment. The setting (of forks) is also changed . Still , the mapping is more aggressive . The cylinder is still racing , but the squish decreased . The drain oil from the crankcase has now a cap , rather than the Allen key of 5. The swinging arm is new, too.

Our test took place in an authorized area, belonging to BM Racing in Bricherasio in a partly cloudy day, with temperatures between 5 and 8 degrees. The model we tested is the 300 cc.

It always makes its effect to see the mono-shock so close at hand, but do not frighten, riding, it does not any discomfort. The setting with the handlebars slightly bent forward is excellent. The kick-off lever is long enough to let the rider start it very easily and this is not to be underestimated, especially in difficult sections or "tough" mountain trial , when it is necessary to restart the engine in critical condition. It started well and the clutch is quite soft, calibrated for amateur use. In fact the whole bike has been designed for an average user that represents 90% of the customers of our specialty.

Nothing prevents any demanding impassioned, to opt for the racing kit, that is a carburettor Kehin and other lighter hardware. A kind of countertrend to the other competitors, that ultimately tends to launch on the market increasingly sophisticated bikes, whose benefits are really appreciated by few people. Here the power is sufficient for trying the virtuosity you can see in the pictures, as long as you get a little confidence with the work of the mono, which tends to give a delayed response than the traditional ones, resulting in the need to anticipate the movement. On the other hand, as the obstacle is overcome you feel a reassuring stability and neutral behaviour. The choice of mono-preload, as we were noted by the importer, Stefano Sigot, present throughout the duration of the test, was designed more for an amateur user. It is possible to have greater reactivity acting on the spring.

With this adjustment the behavior in going up a stream with small size stones is very easy. The bumps are absorbed well and the bike does not jump too much. The front end is light enough to address the bike where you want. The declared total weight is 64 kg! Excellent braking system with easy access to the rear lever. The beam steering is in line with the competitors, and so oriented to modern ridings, where instead of extreme curves, hopping is preferred. The very thin frame in the central zone and the absolute lack of saddle facilitates any movement of the body, able to recover balance and grip. The retail price is 6800 euro without registration. Versions also imported are 250 (6400 €) and 280 (6600 €) but the best selling model is the one we tested.


------------------------------------------------------------------------------------------

Provata la JOTAGAS 300 JT modello 2016

JOTAGAS S.L. ( JGAS ) è un nome decisamente nuovo nel mercato motociclistico . E 'stato creato nel 2010 , ma la moto voluta dal campione del mondo sette volte Jordi Tarres , è stata presentata ufficialmente solo alla mostra di Milano alla fine del 2011. Nel suo palmares sportivo c'è il campionato europeo conquistato dello svedese Eddie Karlsson nel 2013. Gli stabilimenti fanno ora base ad Olot, vicino a Barcellona. L'azienda è in mano a Pibernat, uno dei soci fondatori della prima Gas Gas. I modelli da Trial vengono prodotti in 4 cilindrate: 300cc , 280cc , 250cc , 125cc .

La moto si presenta con un telaio doppio trave in alluminio con serbatoio incorporato e caratteristico mono ammortizzatore laterale in bella vista, che rendono immediatamente riconoscibile il marchio. Gradevole l'accostamento grigio-rosso. L'alimentazione è a carburatore con, nella versione provata, il Dellorto PHBL 26 , ma a richiesta è disponibile il Kehin . Le forcelle sono le Tech da 39 mm, il mono è Olle, i cerchi Morad , le gomme Michelin, X11 la posteriore.

Per il modello 2016, ci sono stati interventi sul cambio, riducendo le tolleranze e presentando un nuovo selettore. Poi è migliorata la qualità delle forcelle i cui steli prima tendevano a sbiadirsi mentre ora hanno un altro trattamento, ed è cambiata anche la taratura. Ancora, la centralina ha una mappa più aggressiva. Il cilindro è sempre racing, ma è diminuito lo squish. Lo scolo dell'olio dal carter ha ora un tappo, anzichè la brugola da 5. Nuovo anche il forcellone.

La nostra prova si è svolta nell'area autorizzata di BM Racing a Bricherasio in una giornata parzialmente nuvolosa, con temperature fra i 5 e gli 8 gradi. Il modello da noi testato è quello di 300 cc.

Fa sempre il suo effetto vedere il mono-ammortizzatore così a portata di mano, ma non deve spaventare, nella guida, non da alcun fastidio. L'impostazione con il manubrio leggermente piegato in avanti è ottima. La leva di accensione abbastanza lunga permette di mettere in moto molto agevolmente e questo non è da sottovalutare, specie se nel trial agonistico o motoalpinismo "spinto", si deve riavviare il motore in condizioni critiche. Parte bene e la frizione è abbastanza morbida, tarata per un uso amatoriale. In effetti un po' tutta la moto è stata concepita per l'utente medio basso che rappresenta poi il 90% della clientela della nostra specialità.

Nulla vieta all'appassionato più esigente, optare per il kit racing, ovvero un carburatore Kehin ed altra bulloneria più leggera. Una sorta di controtendenza rispetto alla concorrenza che tende ultimamente a lanciare sul mercato moto sempre più sofisticate, di cui poi ben pochi riescono realmente ad apprezzarne le doti. Qui la potenza è sufficiente anche per tentare i virtuosismi che vedete nelle foto, a patto di acquisire un po' di confidenza con il lavoro del mono, tendente a dare una risposta ritardata rispetto a quelli tradizionali, con conseguente necessità di anticiparne il movimento. Per contro, ad ostacolo superato si avverte una rassicurante stabilità con comportamento neutro. La scelta del precarico, come ci ha fatto notare l'importatore Stefano Sigot, presente per tutta la durata della prova, è stata pensata sempre per un utenza amatoriale. Si può avere maggiore reattività agendo sulla molla.

Con questa regolazione il comportamento nella risalita di un ruscello con sassi di piccola dimensione è risultato molto agevole. Le asperità vengono ben assorbite e la moto non salta troppo. L'avantreno è sufficientemente leggero per indirizzare la moto dove si vuole. Il peso complessivo dichiarato è 64 kg! Ottimo il sistema frenante con facile accesso alla leva del posteriore. Il raggio di sterzo è in linea con le concorrenti, quindi orientato a guide moderne, dove alle curve estreme, viene prediletto lo spostamento. Il telaio molto esile nella zona centrale e l'assoluta mancanza di sella facilitano qualunque spostamento del corpo, atto a recuperare equilibrio ed aderenza. Il prezzo al pubblico e' di euro 6800 senza immatricolazione. Sono omologate anche le versioni 250 (6400 €) e 280 (6600 €) ma il modello più richiesto rimane quello da noi provato.


------------------------------------------------------------------------------------------
------------------------------------------------------------------------------------------
Roberto Forneris, Stefano Sigot (importatore), Alessio Serafini (tester), Mario Candellone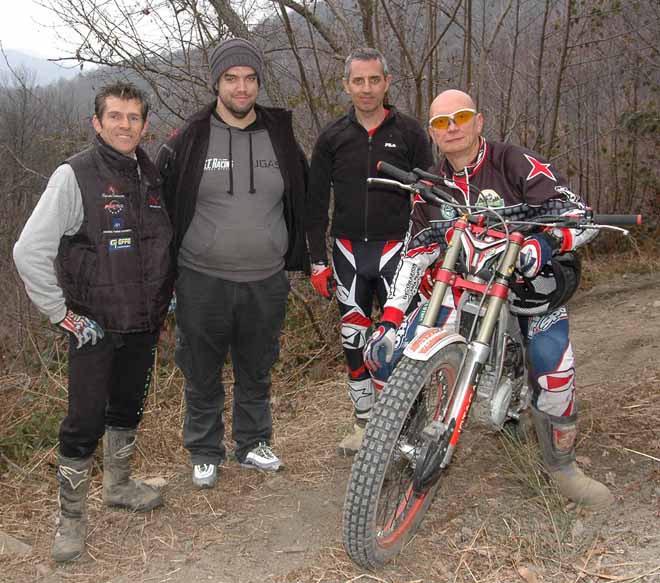 where we tested it: Bricherasio, BM Racing terrain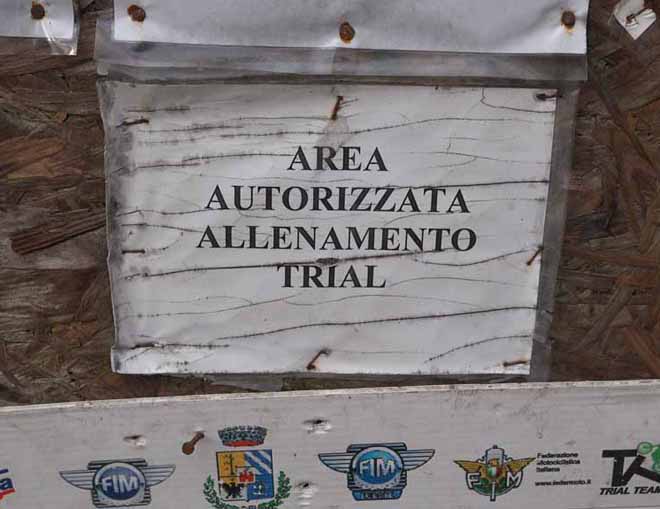 the photografer and , sometimes, film-maker, Agnese Andrione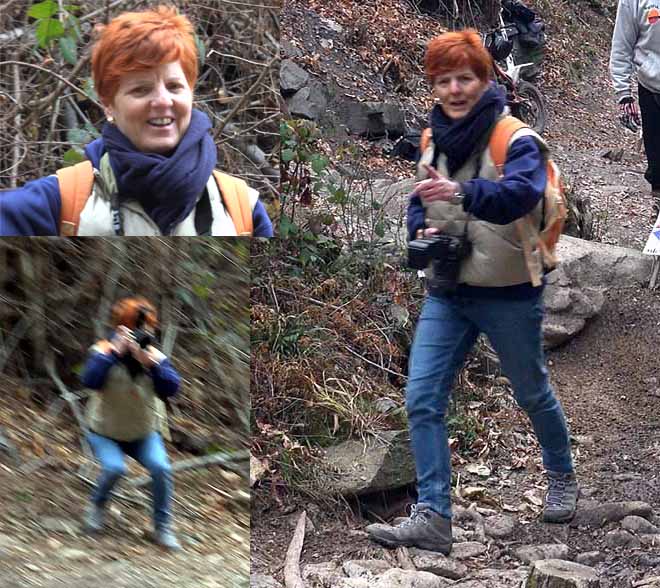 JOTAGAS 300 JT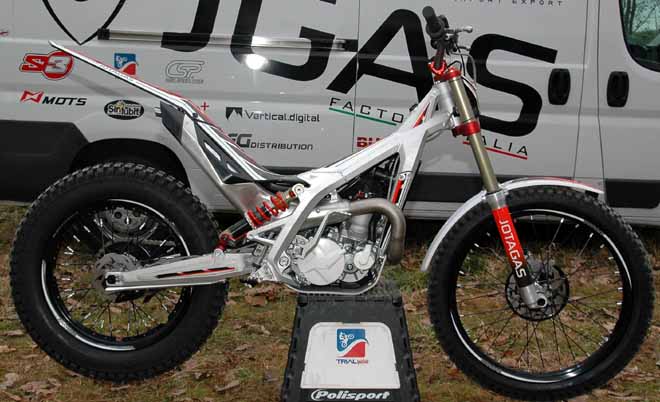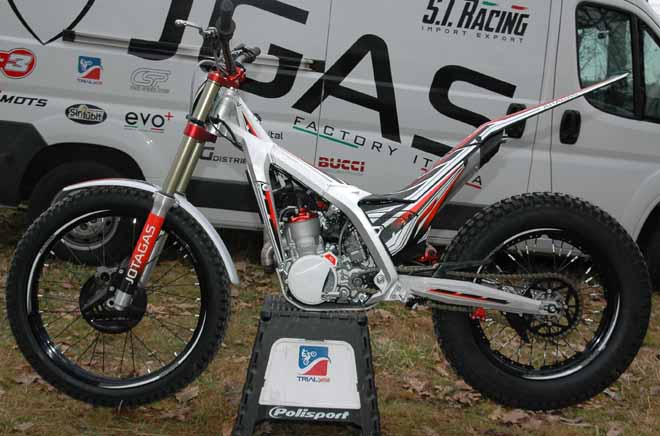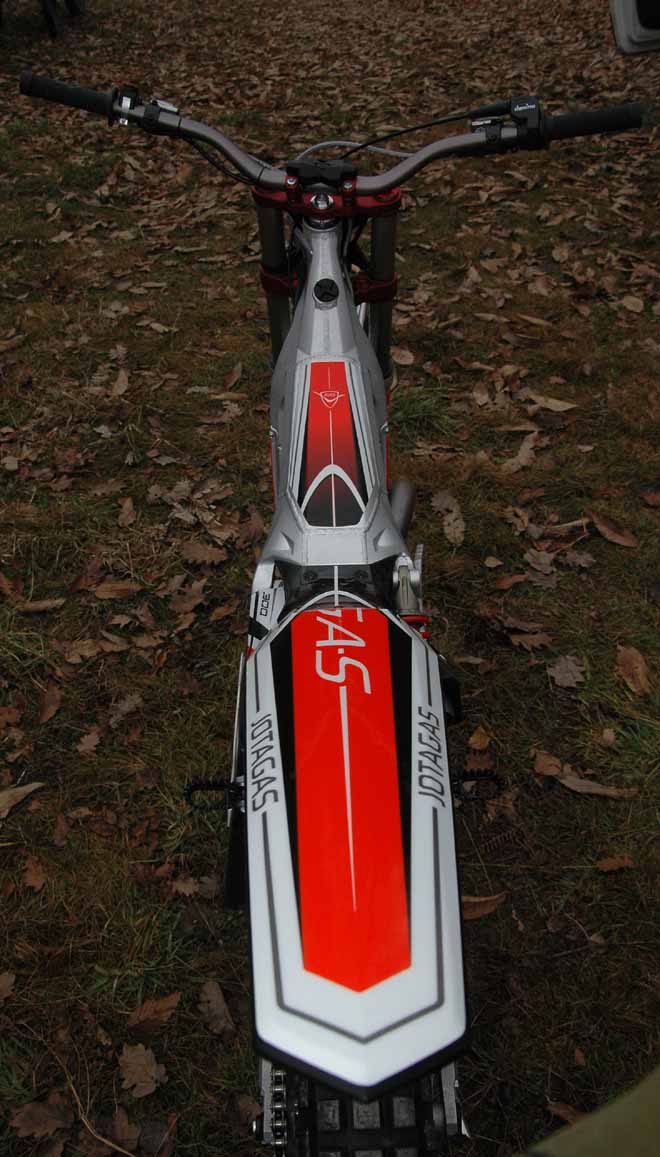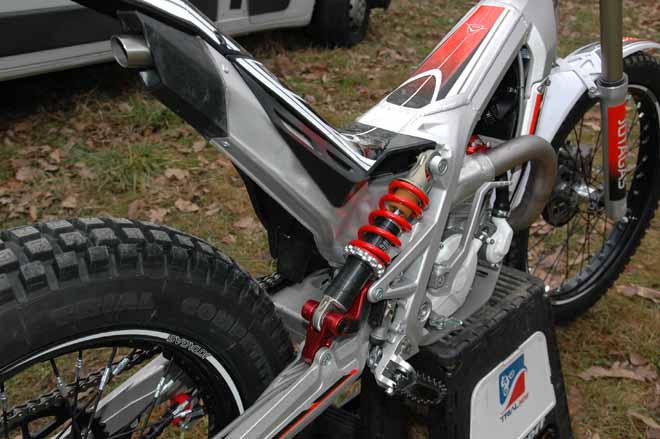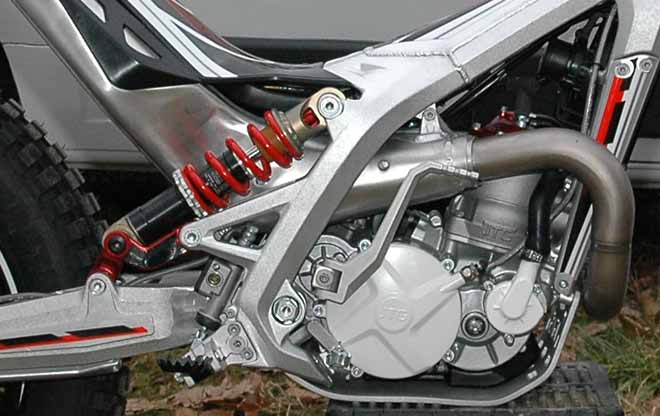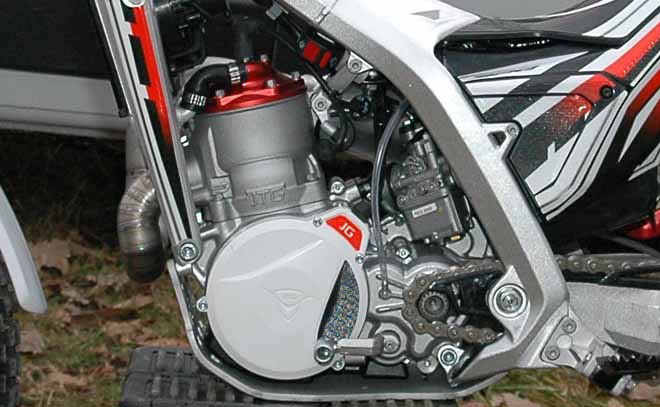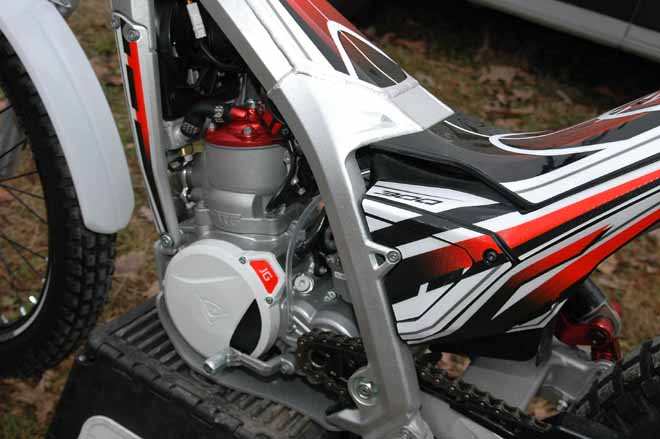 Alessio Serafini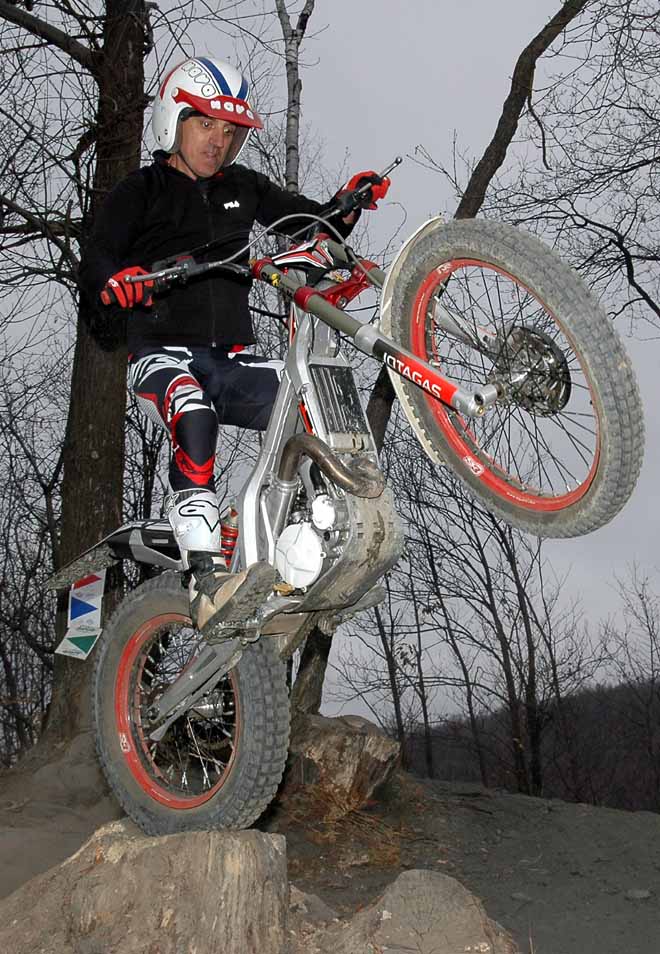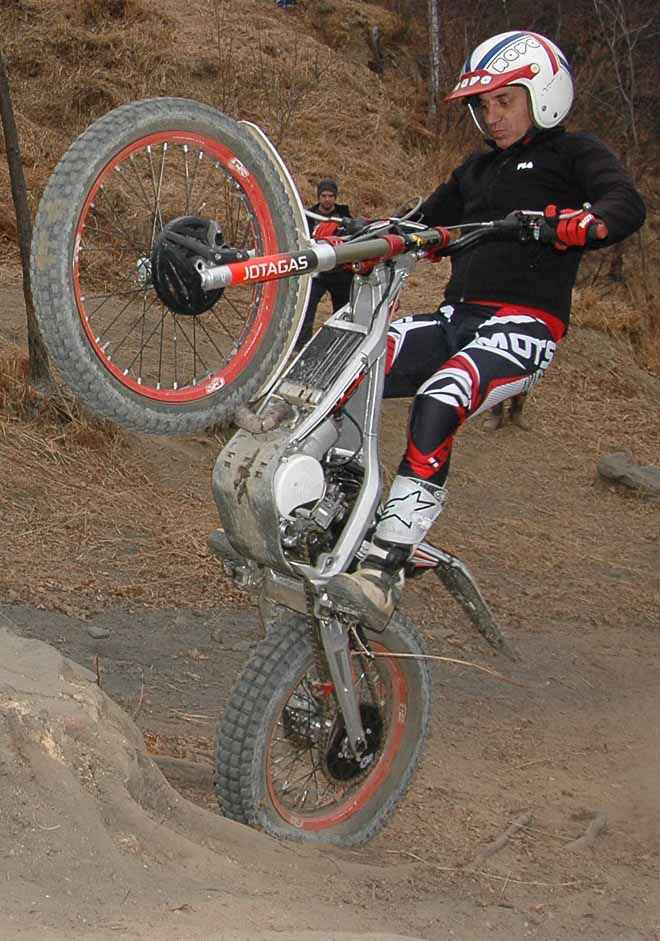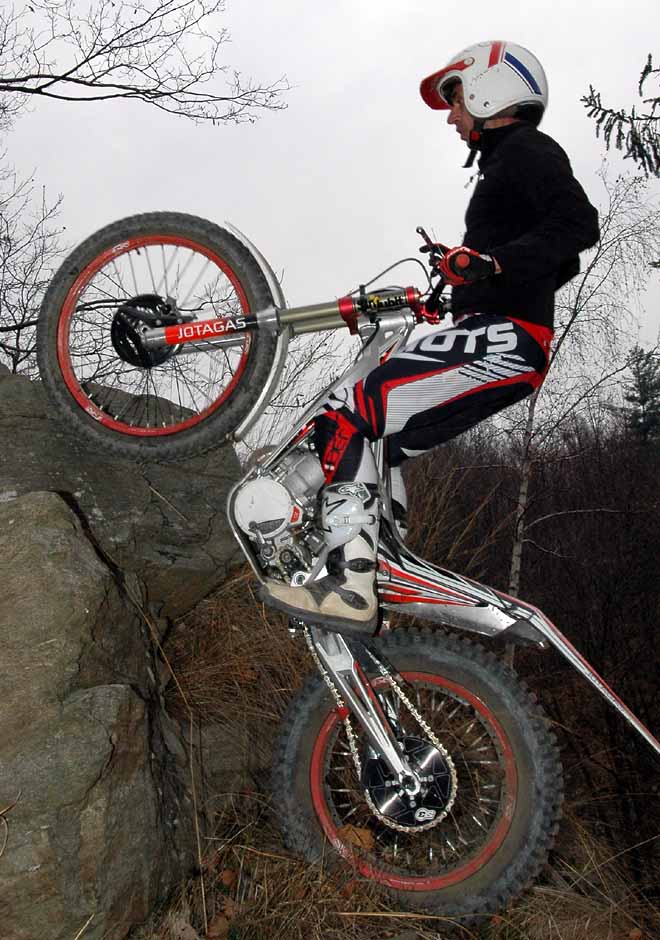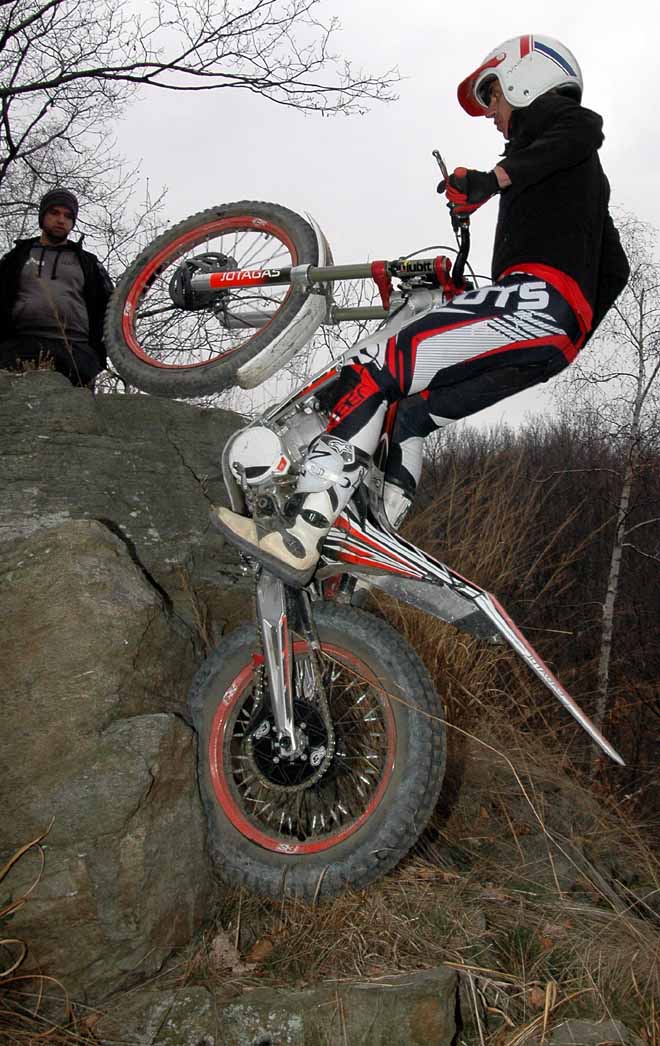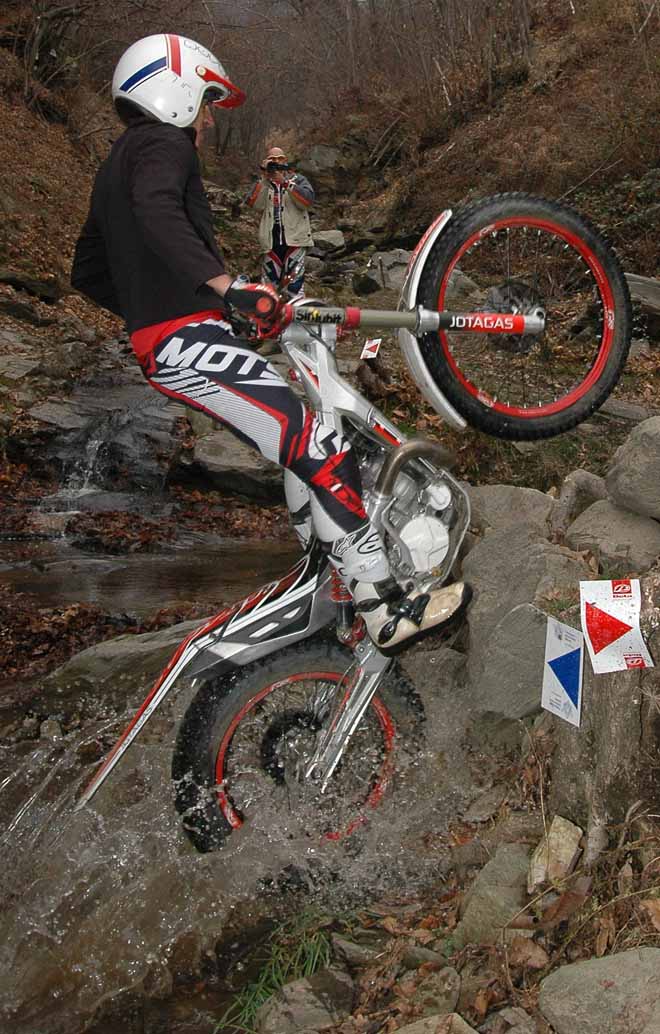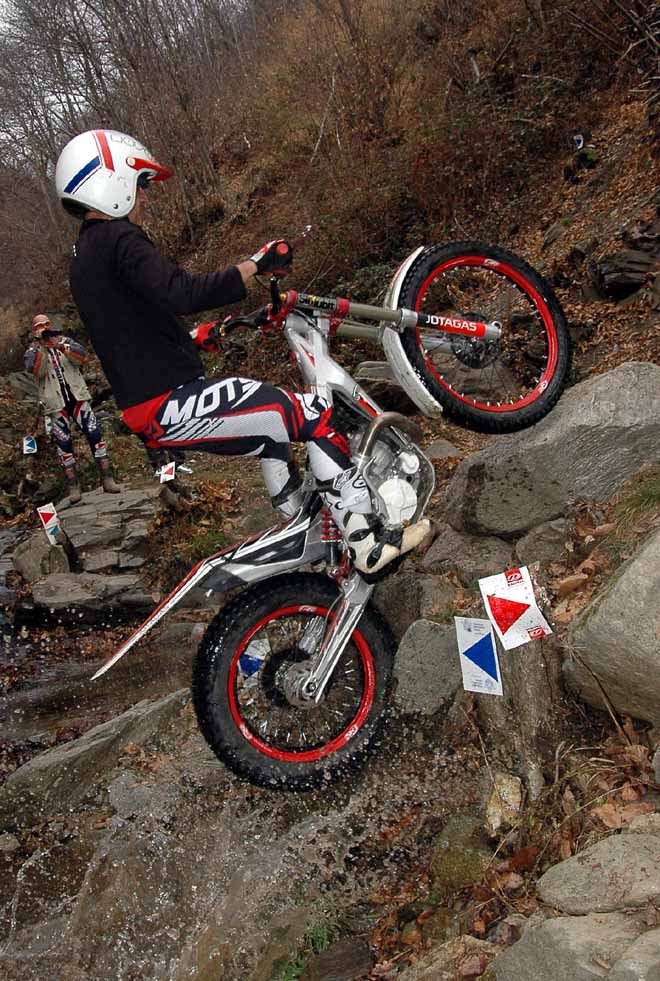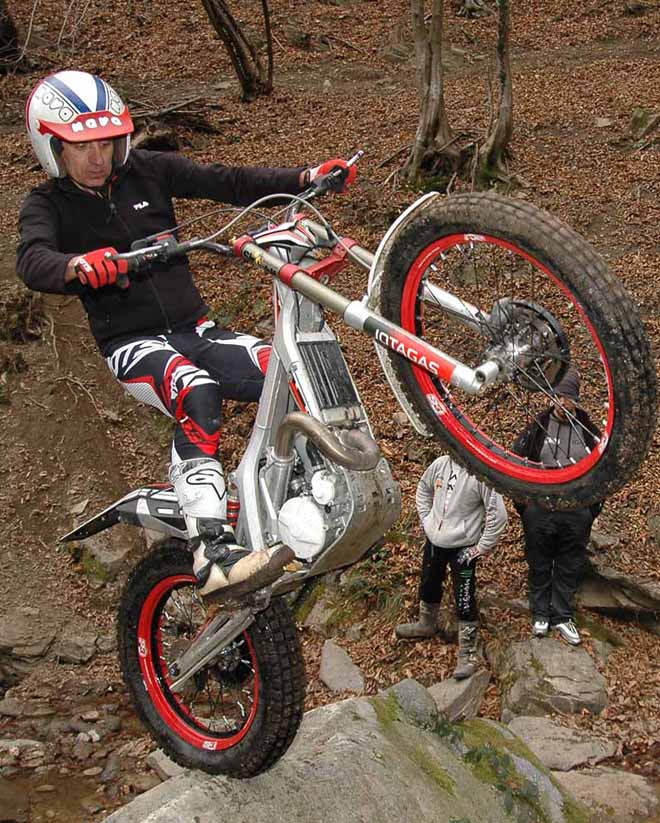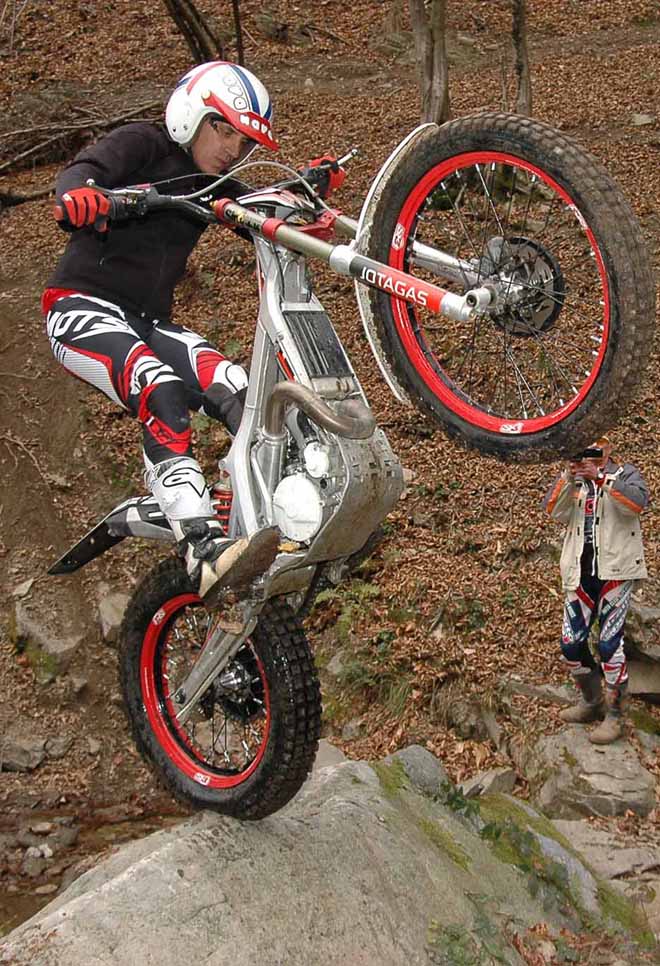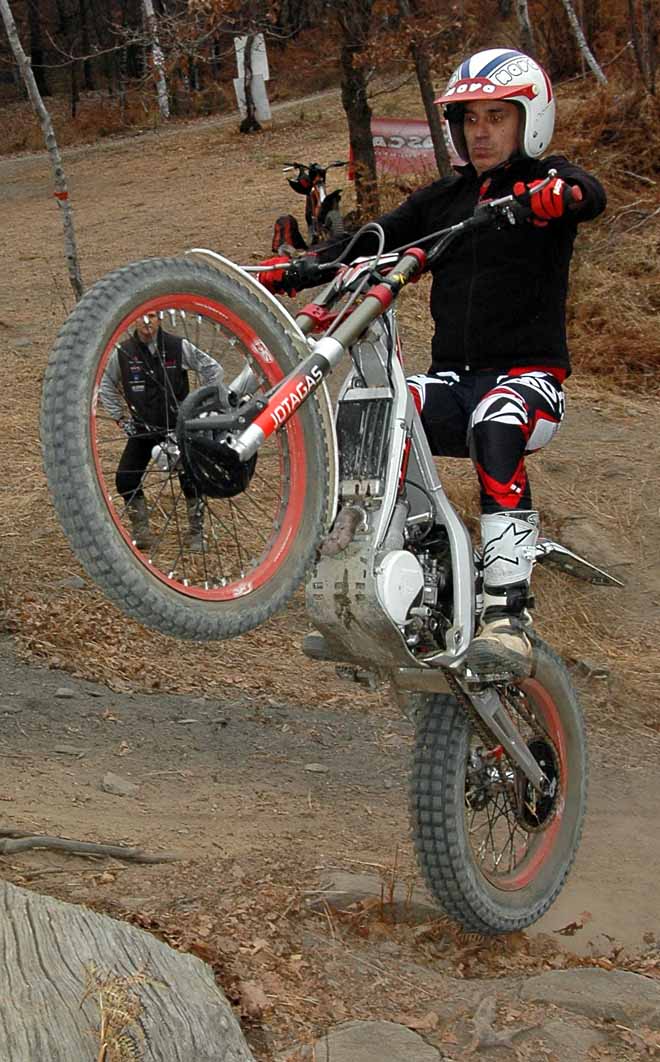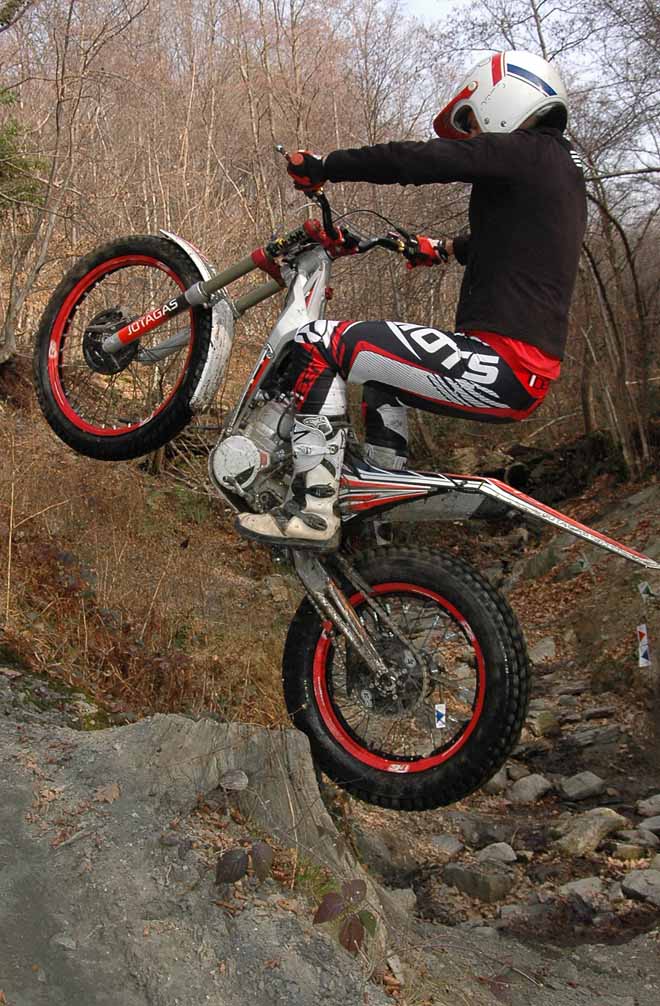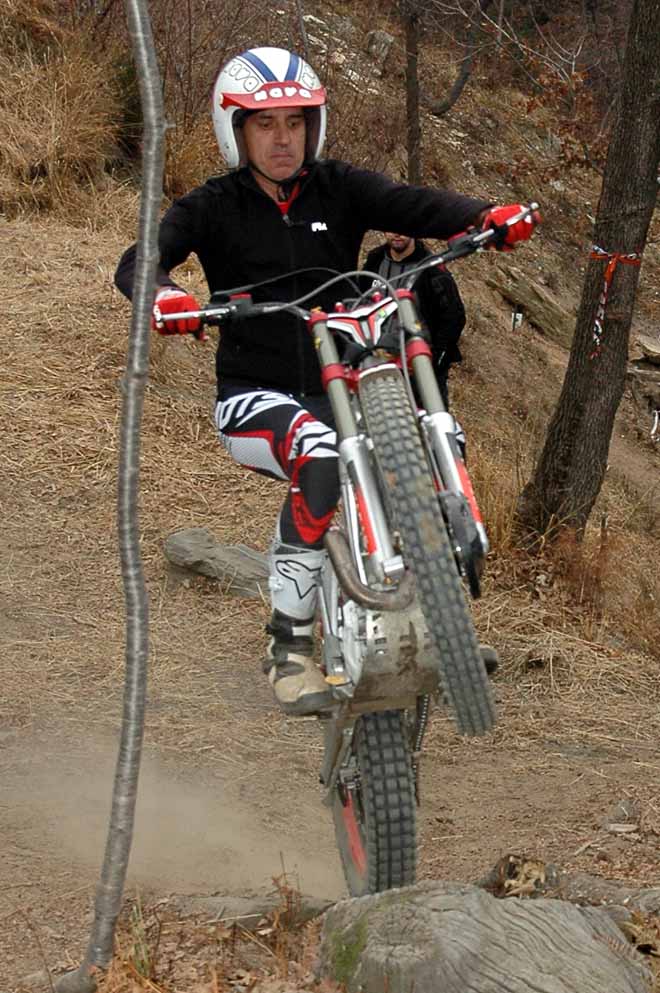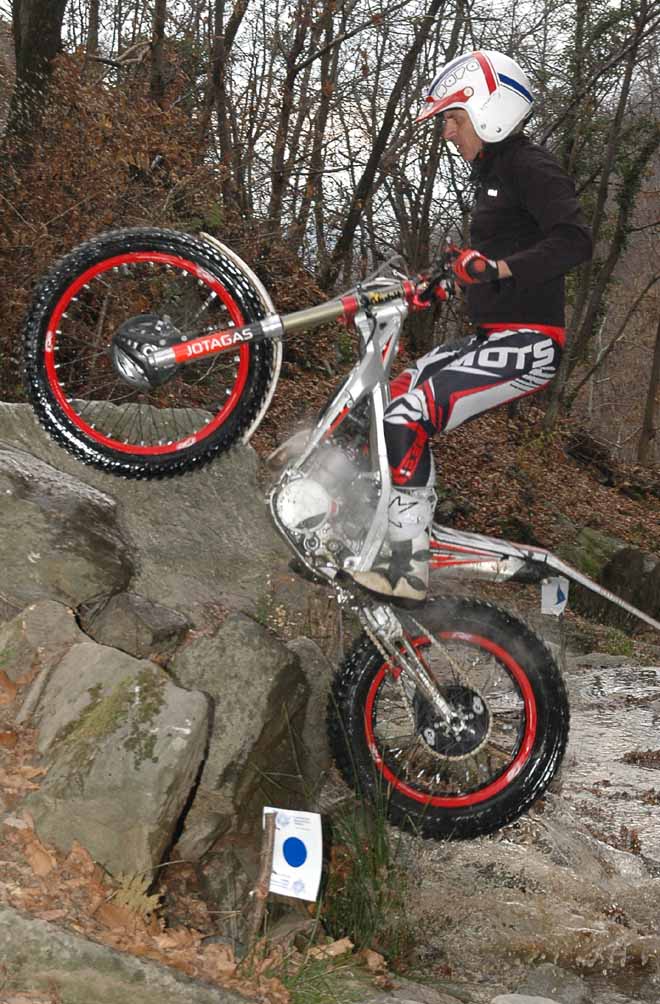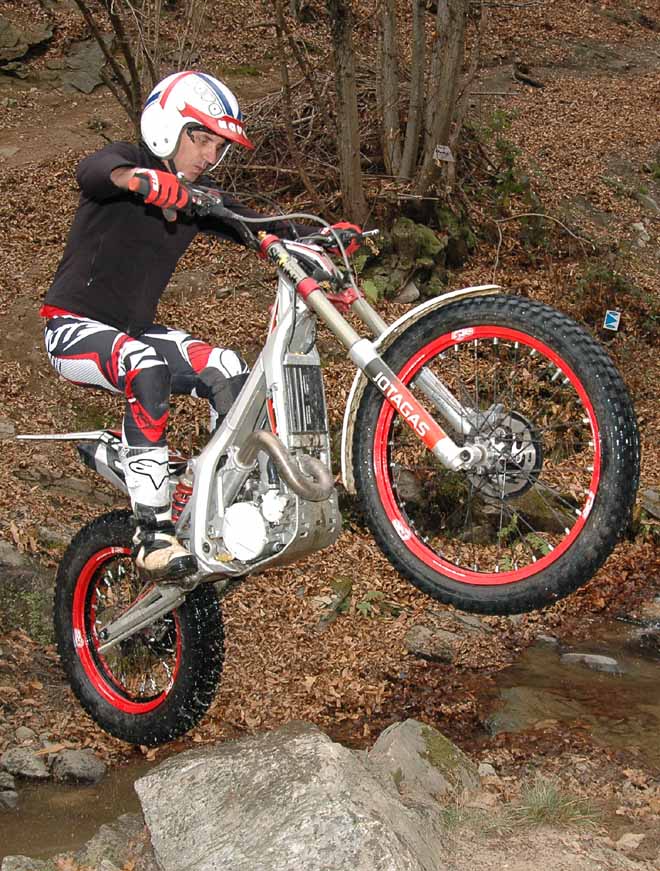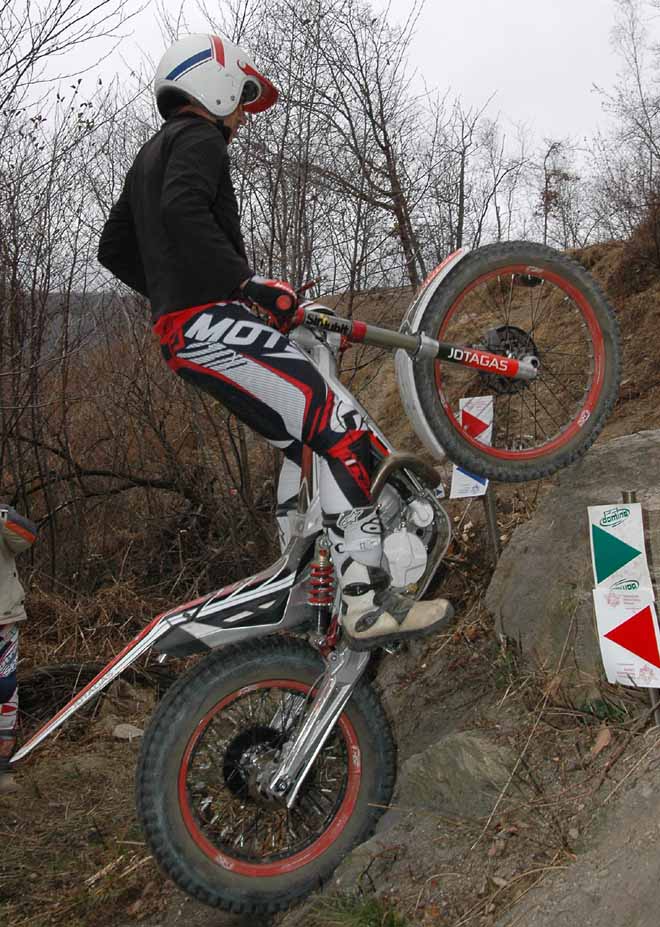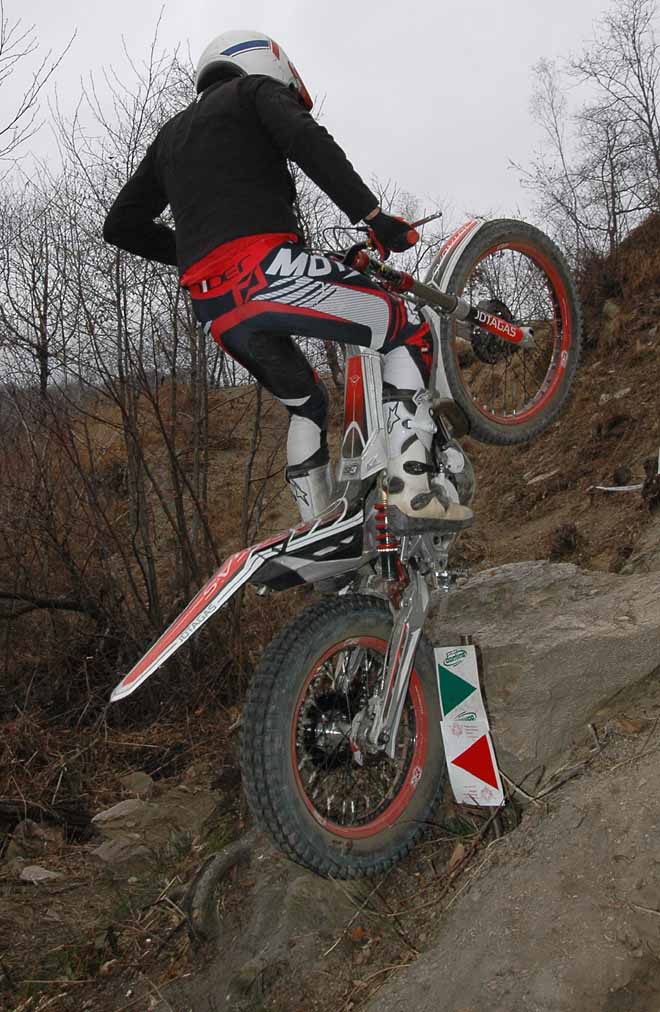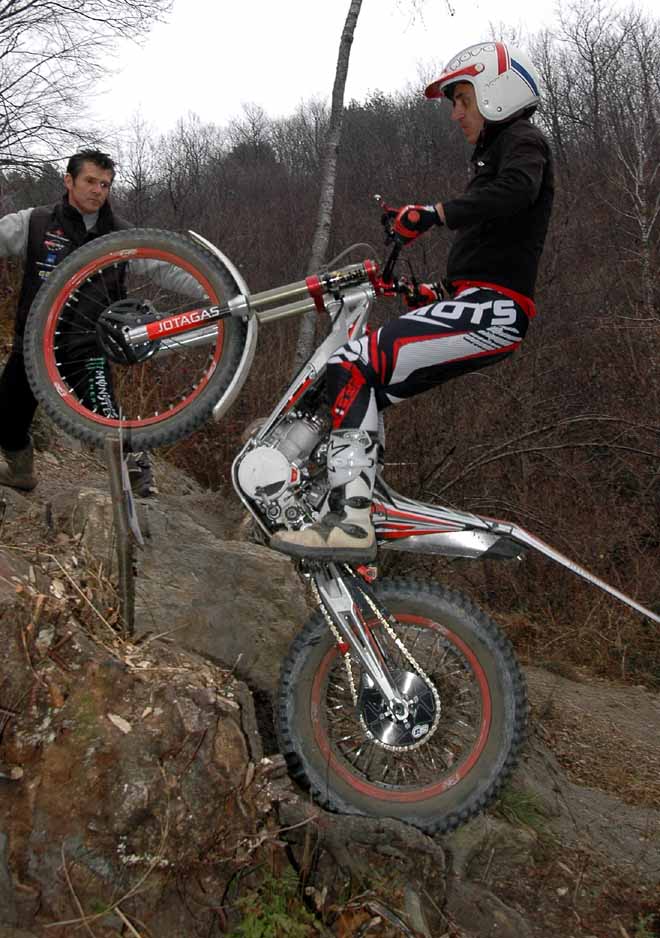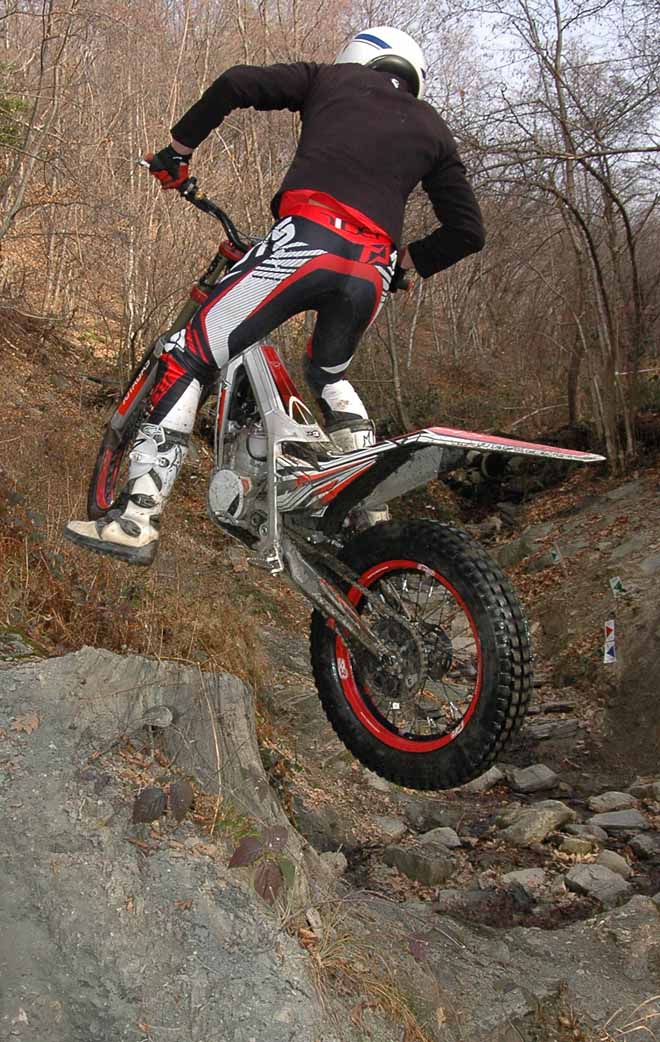 Mario Candellone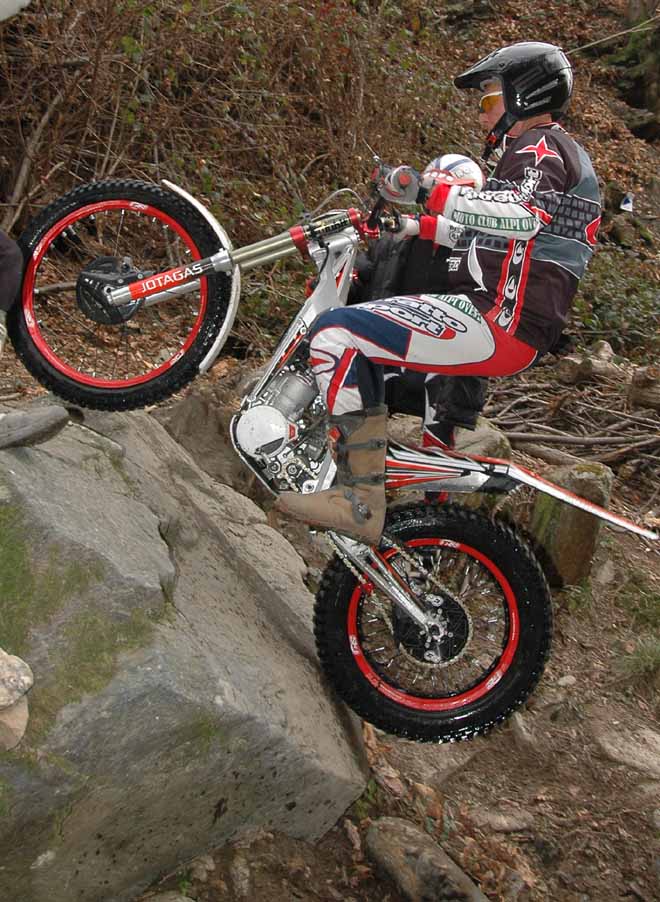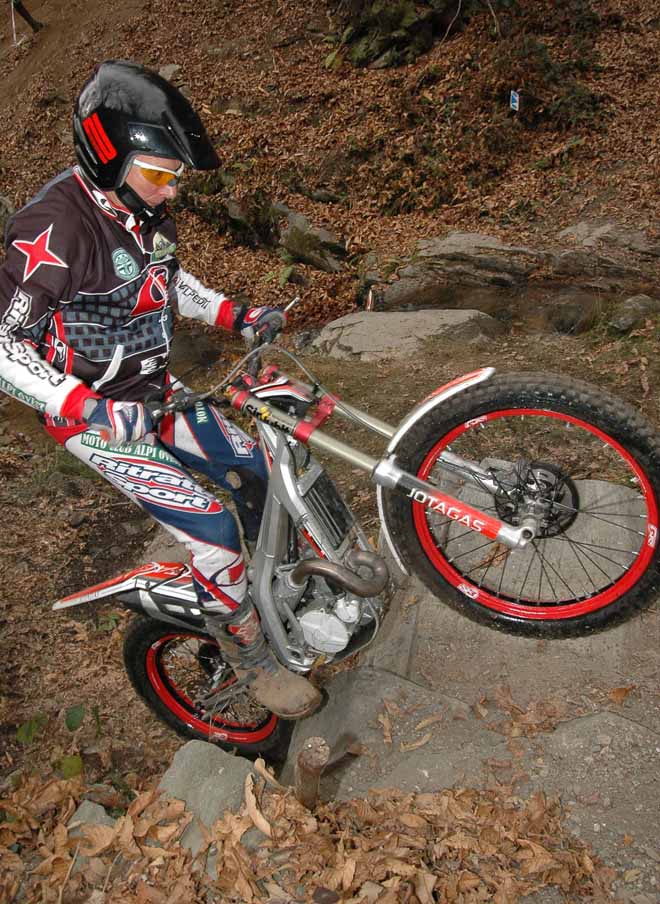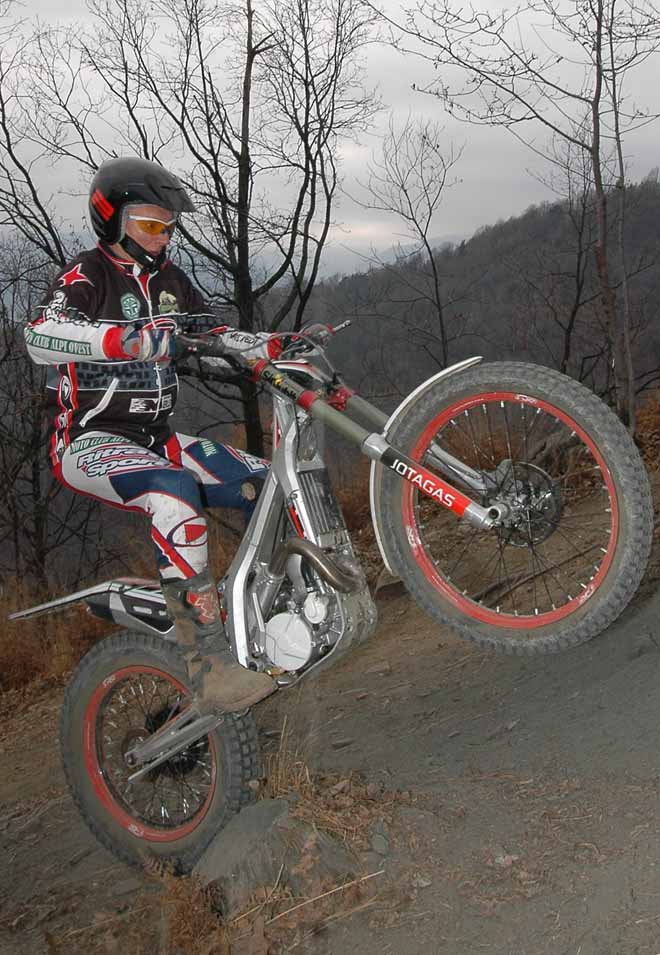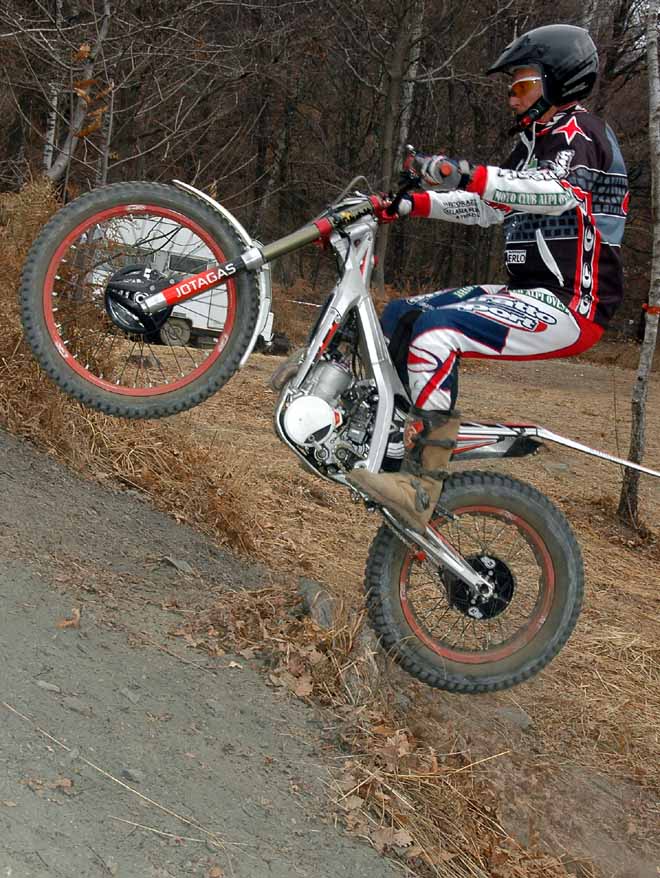 ------------------------------------------------------------------------------------------
| | |
| --- | --- |
| | JOTAGAS 300 JT |
| motore / engine | 2 tempiraffreddato liquido / 2-stroke liquid cooling |
| cilindrata / displacement | 302 |
| alesaggio x corsa / bore x stroke | 80 x 60 |
| accensione / ignition | HIDRIA CDI digital |
| alimentazione / fuel supply | carburatore DELL'ORTO PHBL26 |
| lubrificazione / lubrification | miscela 1%/mix oil/gasoline 1% |
| frizione / clutch | comando idraulico/hydraulic control |
| trasmissione / trasmission | 5 marce/speed |
| telaio / frame | doppio trave in alluminio con sospensione laterale e serbatoio integrato |
| forcelle / forks | idraulica TECH 39 mm, ritorno regolabile in smorzamento e compressione / adjustable compression and rebound |
| mono / monoshock | Olle' regolabile nel precarico molla e nel freno idraulico in estensione e compressione / adjustable compression and rebound |
| cerchi / rims | MORAD |
| gomma anter. / front tyre | MICHELIN comp. 2,75 x 21 |
| gomma post. / rear tyre | MICHELIN X11 4,00 x 18 |
| freno anter. / front brake | disc 185 mm |
| freno poster. / rear brake | disc 150 mm |
| serbatoio / tank | litri 2,7 |
| peso a secco / dry weight | 64 kg |
| interasse / wheelbase | 1340 mm |
| altezza sella / seat height | 650 mm |
------------------------------------------------------------------------------------------