06/11/19 - Milano's exhibition on the Trial point of view

November time stands for exhibition time: the Milan Show is always a regular event to see all the bikes of the coming year, even if often already anticipated in the season. From tomorrow until Sunday 10th, the 77th edition of the International Cycle and Motorcycle Exhibition will be open to the public at Rho Fiera. What to see from the strictly trialistic point of view?

The Gas Gas-Torrot stand, although present in the guide because it was printed before the last decisions, does not exist. From the recent KTM-Gas Gas agreement, a Gas Gas Trialgp 300 appeared, "discovered" at the end of the official presentation of the new season with a balance sheet of the one just ended. You can see it in the photo below, it probably won't be on display at the KTM stand, also because they wouldn't know yet what to say to the public, since everything is still being decided on the future. The KTM is located in Hall 13, I85.

The Honda Montesa, world champion, is located in pavilion 22 and 24, O48 and O58 stands with adjacent Redmoto stand where the brand new Cota 301RR can be admired in two colors, gray and red - we tested it in Spain, do not miss the next issues of Motosprint - and some small restyling at 260 Cota, Repsol and Four Ride.

The Beta stand is always impressive: here is at pavilion 13, C86 and C79, present with a rich range of models ranging from electric mini-bikes, to the 300 Evo Factory, competing in the world championship with James Dabill and Benoit Bincaz.

Still quite large the Sherco stand, situated at the same pavilion in the G58 position. The the largest space inside goes to the Enduro models, The Scorpa, as in the past, is immediately behind it. Moreover the models of the two brands have the same motorization and differ only in aesthetics.

In the TRS box, still pav. 13, A74, appears a new mini electric model. Also the electric start is also being implemented on the competition models. It weights about 2.5 kg and the bike will cost round 400 € more.

Finally, there is also the Tenaci Wong, but "guest" of Best Outdoor Production, in pavilion 14, C07K. The creature born from the passion of a Chinese industrialist, features a 200 cc, 4-stroke engine with electric start and long seat. The Piedmontese Daniele De Maria is considering the importation.

What is Fantic Caballero doing? The brand is always the number one among Vintage.... Anyway you can find it at pav. 13, too.
---------------------------------------------------------------------------------------

La Fiera di Milano dal punto di vista del Trial

Tempo di Fiera, quello di Novembre: il Salone di Milano è sempre un appuntamento fisso per vedere tutte insieme le novità dell'anno venturo, anche se spesso già anticipate nella stagione. Da domani fino a domenica 10 a Rho Fiera sarà aperta al pubblico la 77° edizione dell'Esposizione Internazionale Ciclo e Motociclo. Cosa vedere dal punto strettamente trialistico?

Lo stand Gas Gas-Torrot, pur presente nella guida perchè stampata prima delle ultime decisioni, non c'è. Dal recente accordo KTM-Gas Gas, è comparsa una Gas Gas Trialgp 300, "scoperta" al termine della presentazione ufficiale della nuova stagione con bilancio di quella appena terminata. Lo vedete in foto sotto, probabilmente non rimarrà esposta nello stand KTM, anche perchè non si saprebbe cosa dire al pubblico, visto che sul futuro tutto si sta ancora decidendo. La KTM si trova al padiglione 13, I85.

L' Honda Montesa, campione del mondo, si trova al padiglione 22 e 24, O48 e O58 con adiacente lo stand Redmoto dove si può ammirare nelle due colorazioni, grigio e rosso, la nuovissima Cota 301RR – da noi provata in Spagna, non perdete i prossimi numeri di Motosprint - e qualche piccolo restyling alle 260 Cota, Repsol e Four Ride.

Sempre imponente lo stand Beta al pad. 13 C86 e C79, presente con una ricca gamma di modelli che spaziano dai mini elettrici, ai 300 Evo Factory, in gara nel mondiale con James Dabill e Benoit Bincaz.

Anche di discrete dimensioni lo stand Sherco al medesimo padiglione posizione G58, di cui il maggiore spazio va ai modelli da Enduro, La Scorpa come in passato gli è immediatamente alle spalle. Del resto i modelli dei due marchi hanno uguali motorizzazione e differiscono soltanto nell'estetica.

Nel box TRS, ancora pad. 13, A74, ha esordito un nuovo modello mini elettrico e si sta implementando l'avviamento elettrico anche sui modelli da competizione. Si parla di un aumento di peso di 2,5 kg e di spesa intorno ai 400€.

Infine , presente anche la Tenaci Wong, ma "ospite" di Best Outdoor Production, nel padiglione 14, C07K. La creatura nata dalla passione di un industriale cinese, monta un propulsore di 200 cm3, 4 tempi con avviamento elettrico e sella lunga. Ne sta valutando l'importazione il piemontese Daniele De Maria.

Cosa centra la Fantic Caballero? Il Marchio è sempre il numero uno fra le moto Vintage... Anche la Fantic Motor si trova al padiglione 13.
------------------------------------------------------------------------------------------
the process of discovering the new bikes in KTM / la scoperta delle moto nuove alla KTM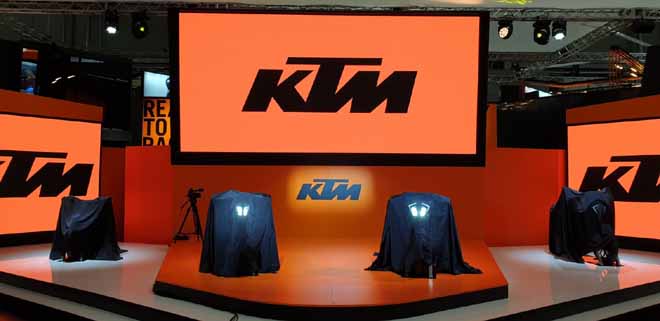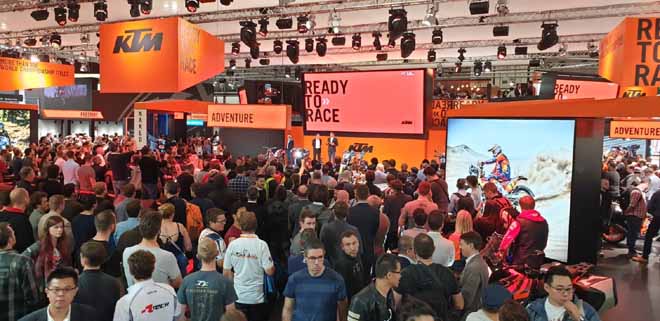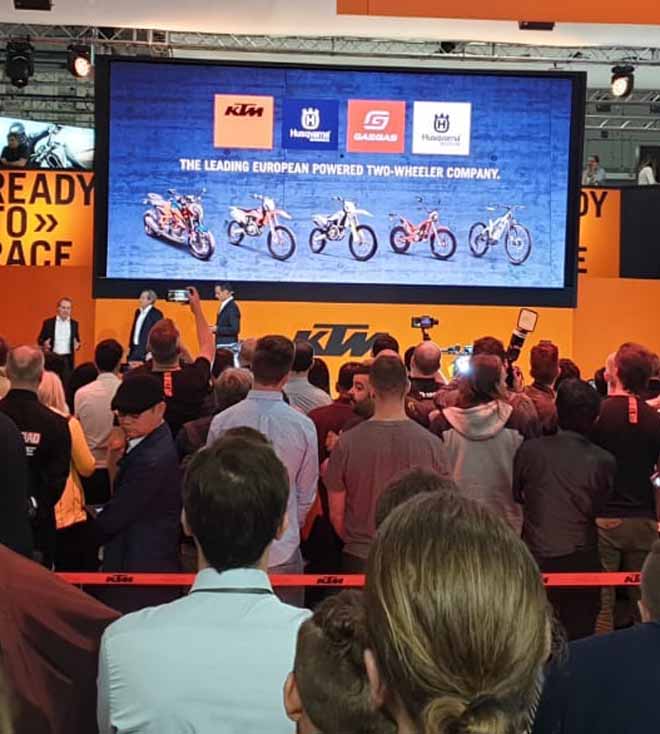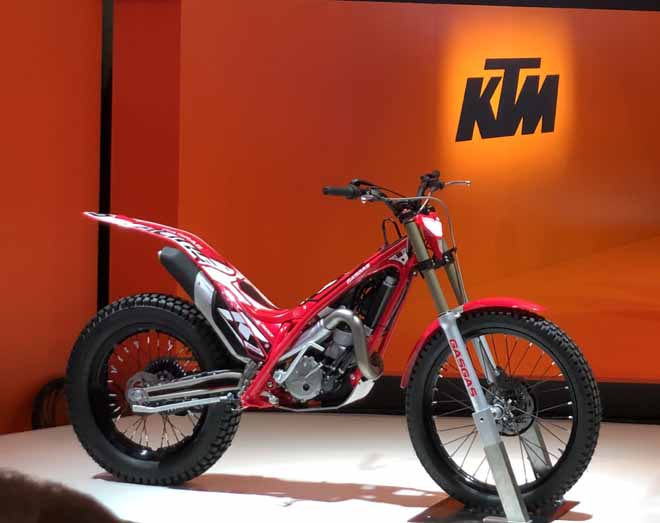 ---------------------------------------------------------------------------------------
Montesa Cota 301 RR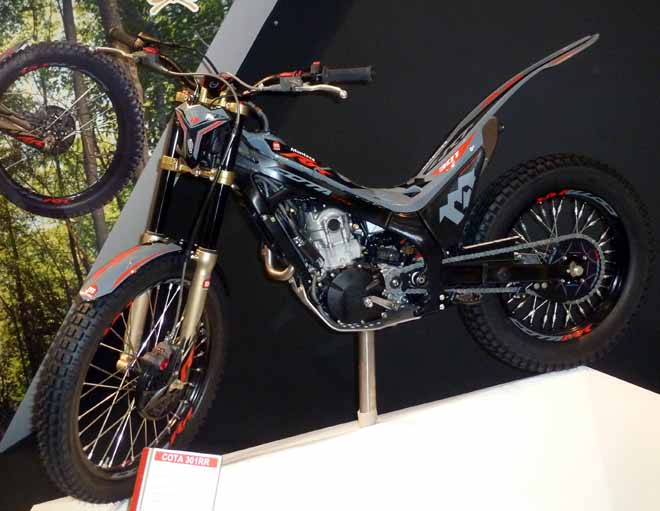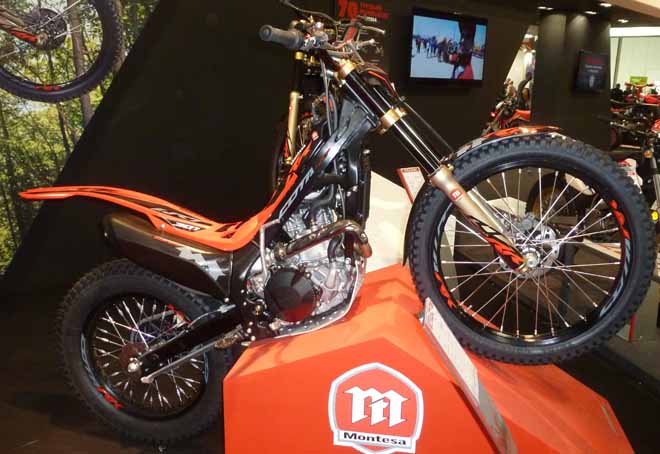 Montesa Cota 260 4RT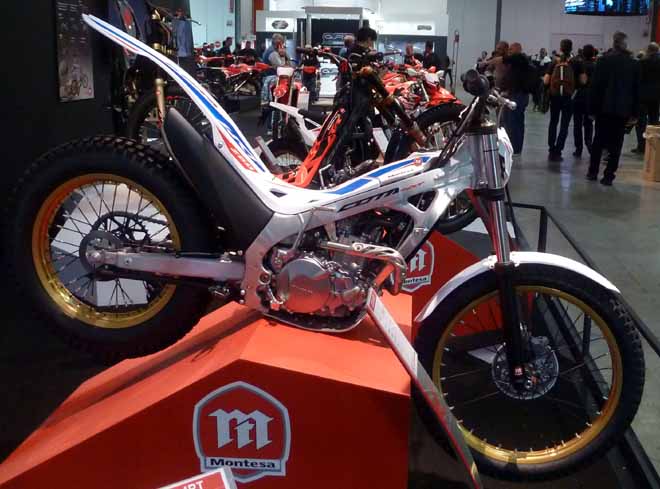 Montesa Cota Repsol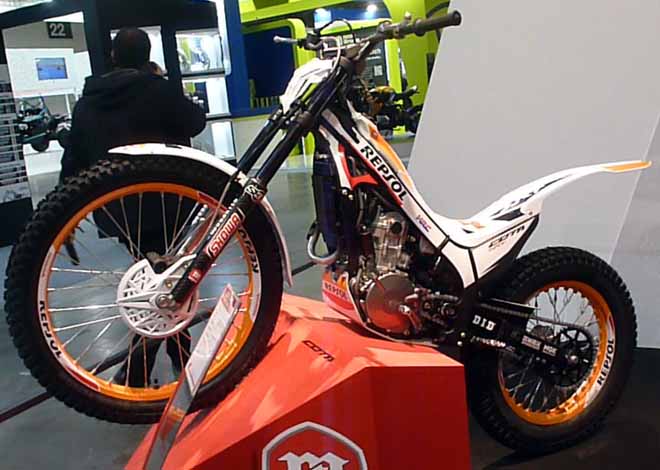 Montesa 4 ride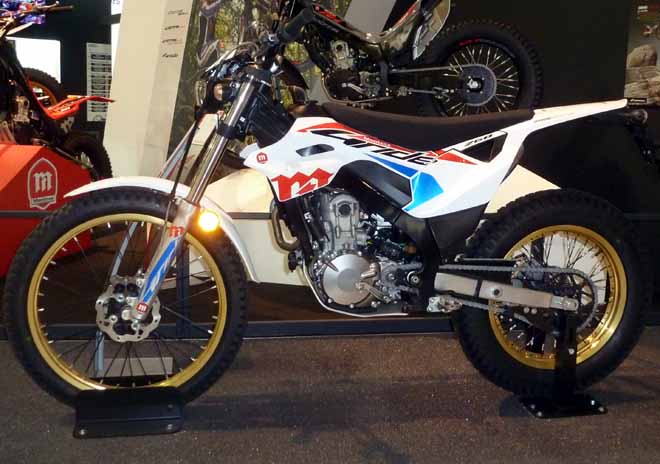 ---------------------------------------------------------------------------------------
Beta Evo 300 2t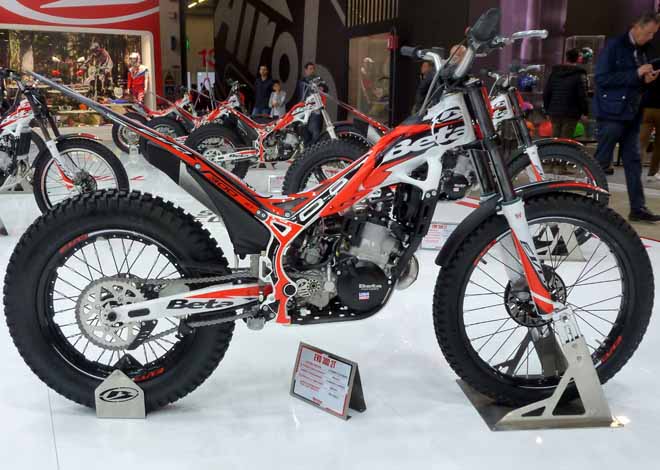 Beta Evo 250 2t
Beta Evo 125 2t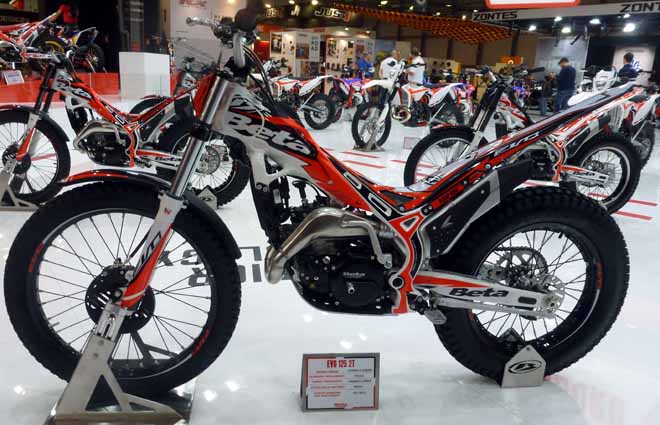 Beta Evo 400 4t
Beta Evo 300 SS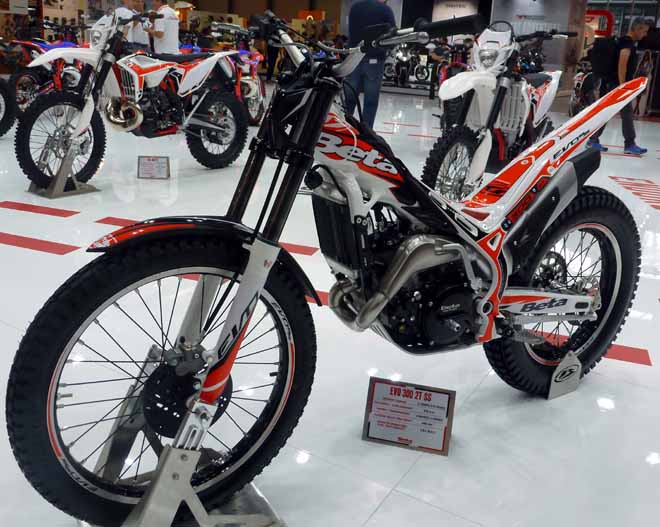 Beta Evo 80 Senior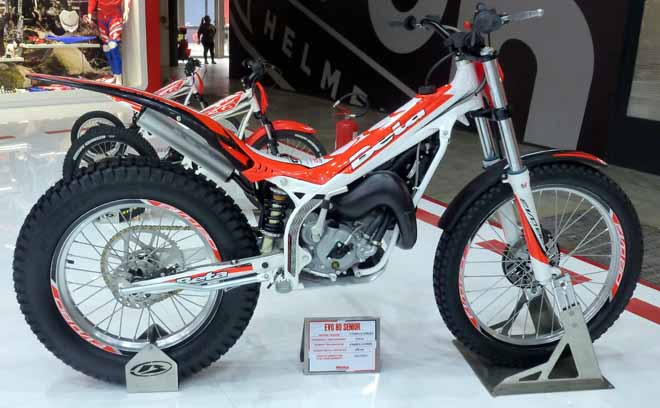 Beta Evo 80 Junior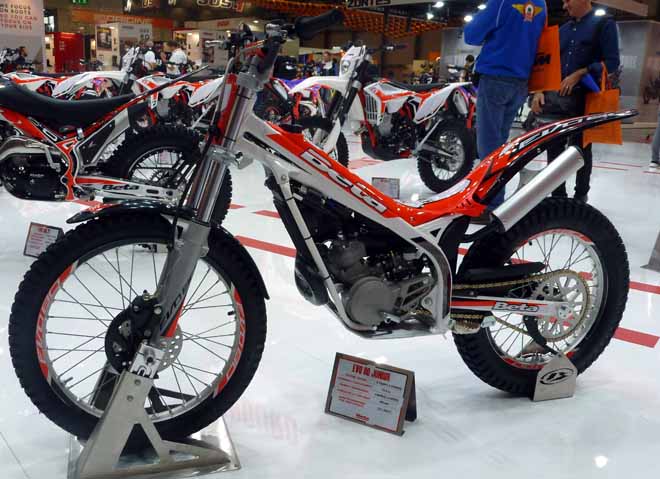 Beta Mini Electric 20"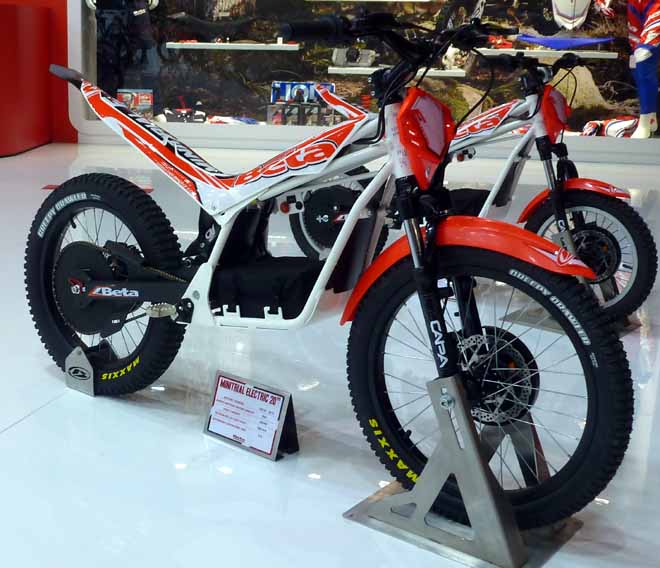 Beta Mini Electric 16"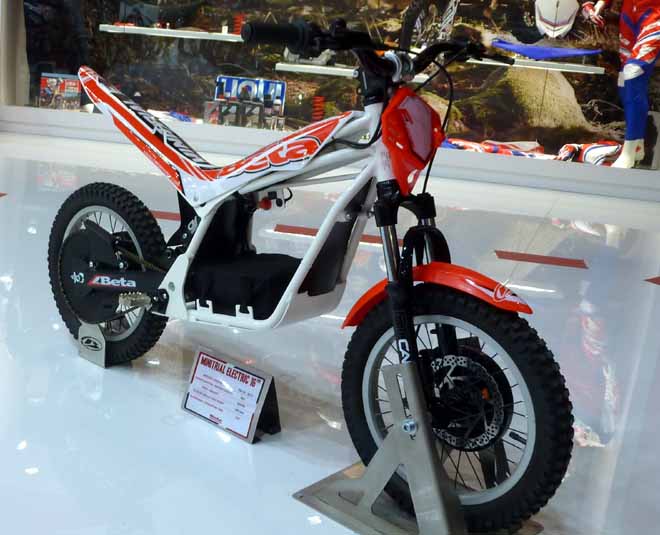 ---------------------------------------------------------------------------------------
TRS 300 ONE Raga Racing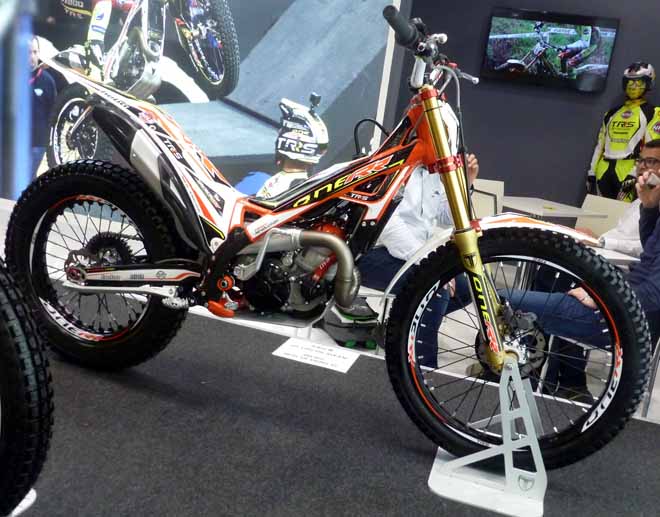 TRS 125 ONE Raga Racing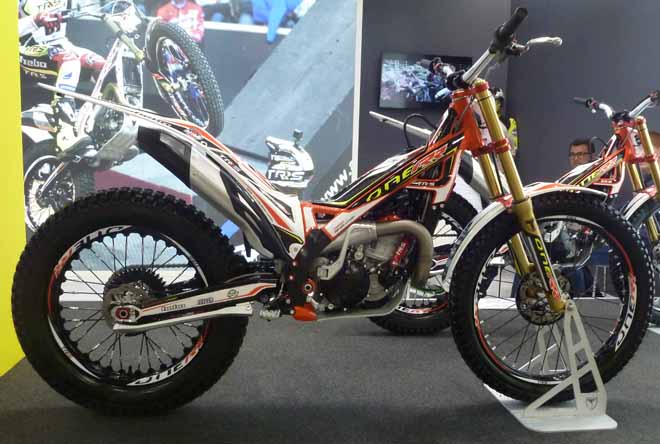 TRS 300 ONE R
TRS X-Track ONE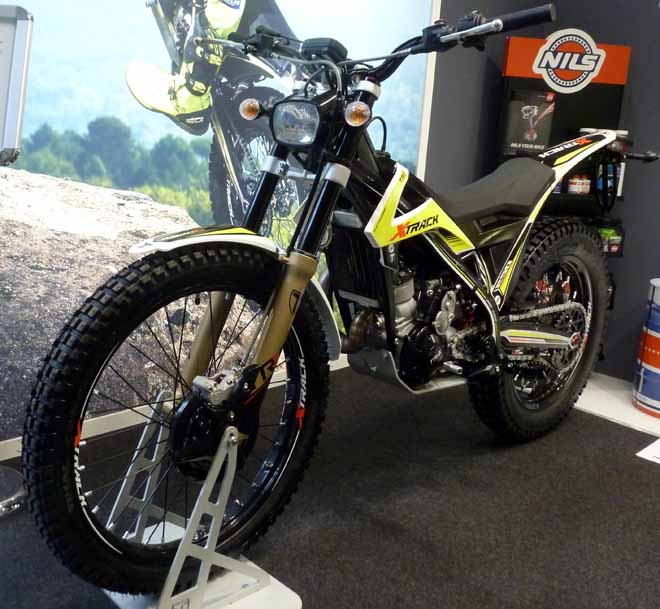 TRS X-Track RR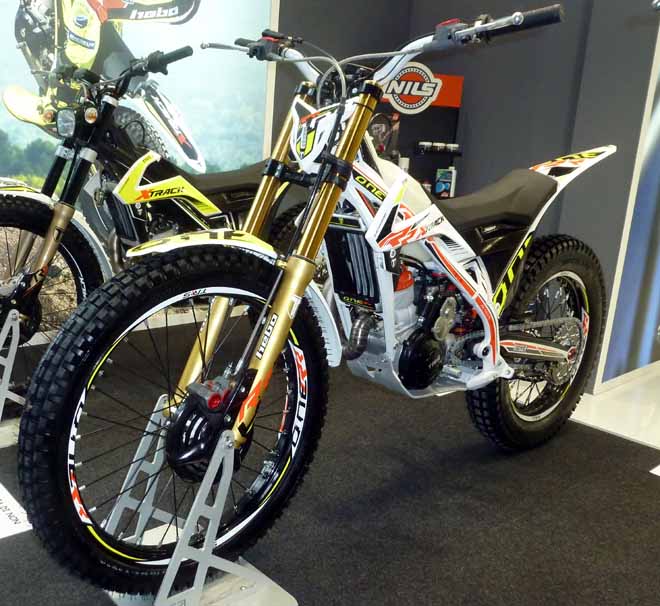 TRS ON-E Kids Electric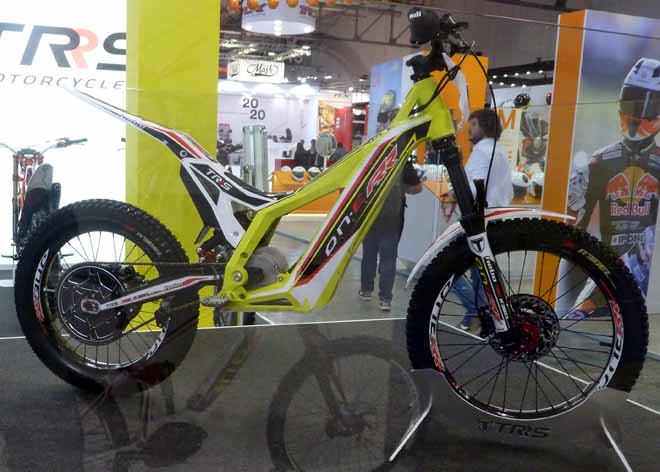 ---------------------------------------------------------------------------------------
Sherco 300 ST-Factory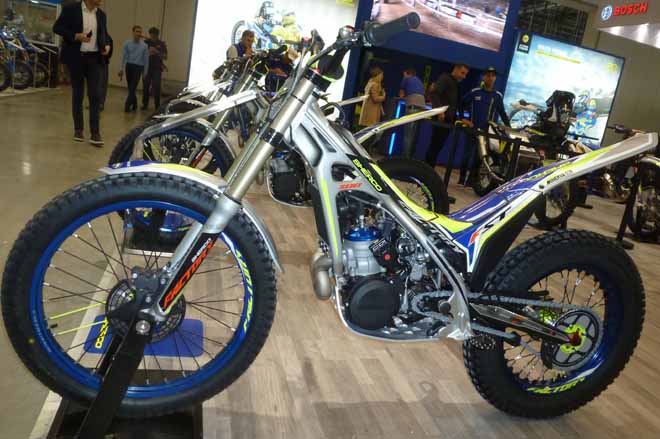 Sherco 125 ST-Factory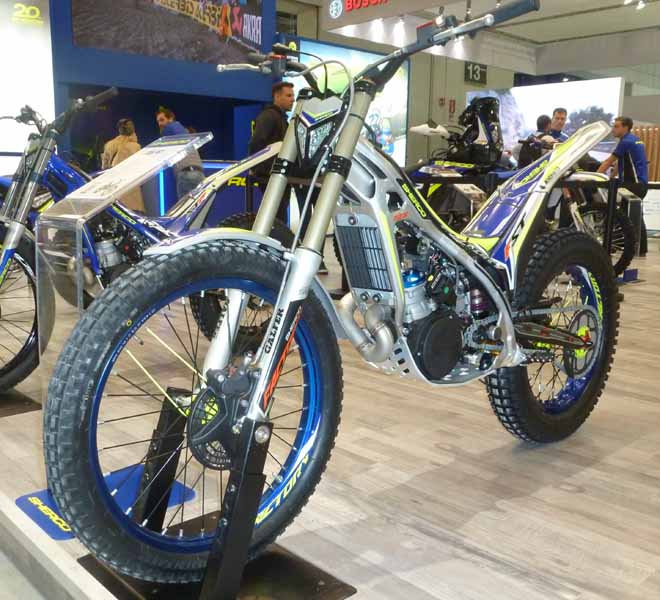 Sherco 250 ST-R
Sherco 125 TY-Classic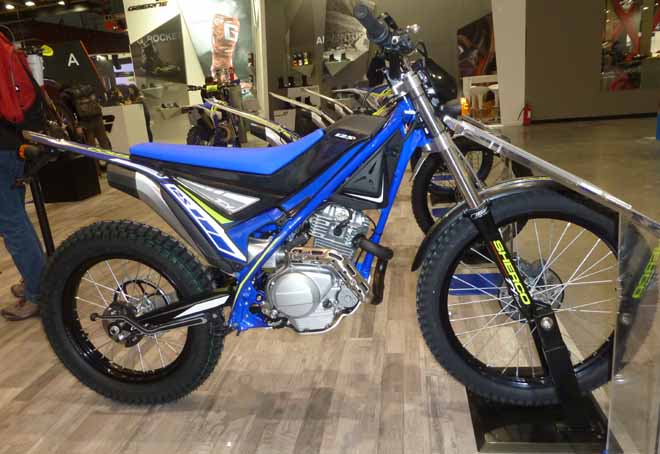 ---------------------------------------------------------------------------------------
Scorpa 300 SC-Factory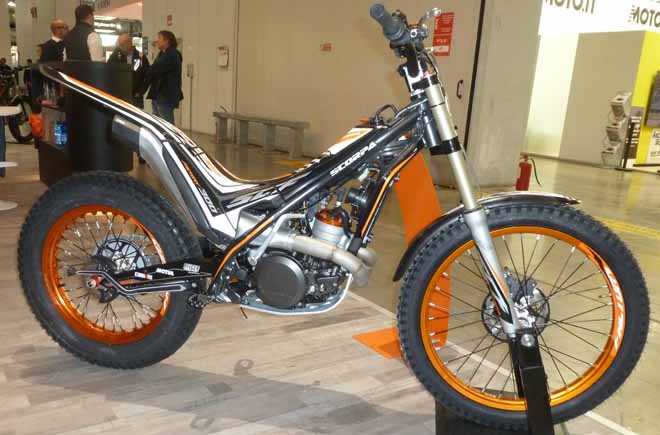 Scorpa 125 SY-Classic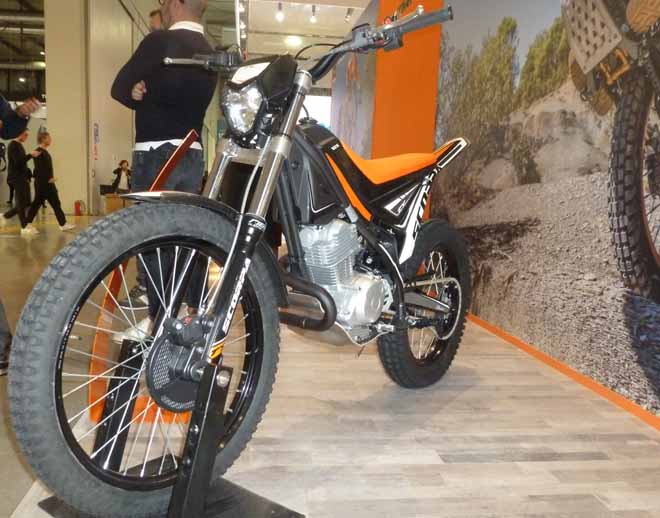 ---------------------------------------------------------------------------------------
Tenaci-Wong TW 200L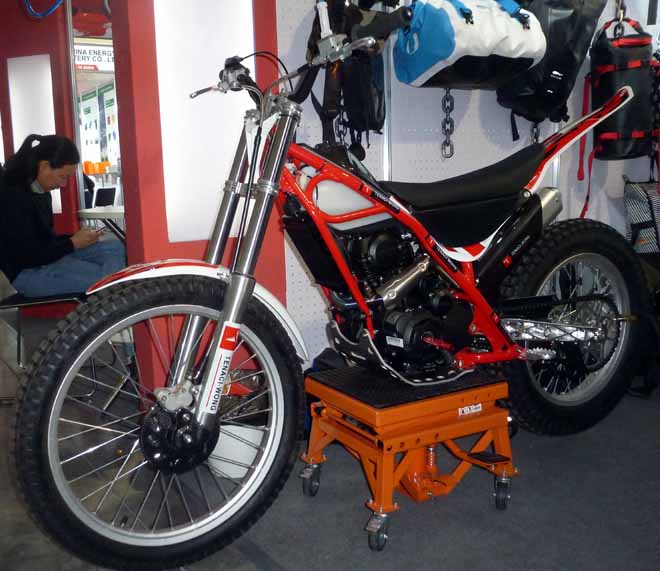 ---------------------------------------------------------------------------------------
Fantic Caballero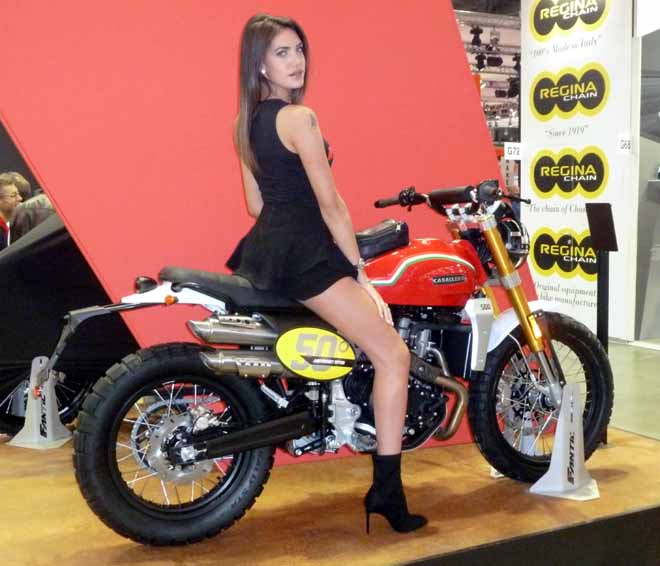 ---------------------------------------------------------------------------------------
press releases ---- comunicati stampa
---------------------------------------------------------------------------------------