23/11/19 - Bou beat regular rival Raga in a demanding Final in Rennes -

Toni Bou (Repsol Honda) continue his reign, extending a ten-point World Championship lead before the mid-winter break in the first X-Trial Rennes. which counted on more than 3,500 spectators, all packed into the Glaz Arena. Following his La Réunion victory over atavic rival Adam Raga (TRRS) a week ago, Bou met again Raga in Final but this time the challenge was more uncertain.

Bou immediately seized the upper hand by completing Section One with a mere two-mark score, following on from Raga who had dropped five with the first of a troubling run of consecutive fiascos. Even Bou found Section Two impossible, but it wasn't long before he was back on the march: gaining seven marks on Raga over Sections Three and Four to all-but confirm his victory. Finishing with a flourish, Bou recorded the only clean of the Final in the closing section, officially opening the party in Rennes.

Jeroni Fajardo took an important third position that ensures his participation in X-Trial Budapest when the Championship gets back underway in January. The veteran enjoyed a successful first outing on the Sherco, battling through a hard-fought Heat One against Jaime Busto and then overcoming his Vertigo teammate Miquel Gelabert in a Consolation Final that went down to tie-break.

Benoit Bincaz (Beta) and Jaime Busto (Vertigo) were the two big names eliminated in Round Two. Home hero Bincaz rallied late on the lap but his deficit from five-mark scores in Sections Two and Three proved insurmountable. Meanwhile Jaime Busto was eliminated after a critical five-mark score in Section Five.

In a close-fought first Round, debutant Toby Martyn (Beta) suffered a baptism of fire after a mechanical problem forced him onto his spare bike. Meanwhile Gabriel Marcelli (Montesa) failed to recapture his promise from the preliminary phase in La Réunion as he bowed out early in a competitive field at X-Trial Rennes, albeit by just two marks.

Toni Bou (1st): " I am very happy with this victory in an event that gradually met a higher and higher level with each passing Round. In Round One I never really felt comfortable, but after switching bikes for Round Two I felt much better, even though it was much harder, and I rode much more effectively and precisely during a very demanding Final."

Adam Raga (2nd): " I was happy with my riding in the second round but the level of the sections in the final was very high. Considering how tough they were in Round Two, to do them in both directions was almost impossible, and I couldn't get through any of them. I am happy because everything gets tougher and I'm another year older, but maintaining the level I showed in the second Round is enough for me to be satisfied."

Jeroni Fajardo (3rd): " I had to tackle a really tough Heat in the second Round, meeting Adam and Jaime, and I didn't feel like I had a particularly strong lap with three fiascos. That said, my two cleans were enough to make it to the Consolation Final against Miquel. And that was the aim, to have a strong X-Trial and see what I could make of it."

The X-Trial World Championship returns in January 2020 with X-Trial Budapes



news and photos by Pere Flores (x-trial.com)

---------------------------------------------------------------------------------------

Bou batte il rivale Raga in una combattuta finale a Rennes

Toni Bou (Repsol Honda) continua il suo dominio, estendendo a 10 i punti mondiali di vantaggio prima della pausa invernale di due mesi al primo X-Trial di Rennes. che ha potuto contare su più di 3,500 spettatori, stipati nella Glaz Arena. Facendo seguito alla vittoria della Réunion sul suo atavico rivale Adam Raga (TRRS) una settimana fa, Bou ha dinuovo incontrato Raga in finale, ma questa volta la sfida è stata meno scontata.

L'invitato Jeroni Fajardo è salito sul podio e questo gli assicura un posto per il prossimo X-Trial a Budapest a gennaio. Alla sua prima uscita con la Sherco ha dovuto combattere ferocemente nella qualifica Heat 1 contro Jaime Busto (Vertigo) e poi vincere la sfida al tie-break col teammate di quest'ultimo, Miquel Gelabert, nella finale di "Consolazione" .

Benoit Bincaz (Beta) e Busto sono stati eliminati alla qialifica Heat 2. Per il debuttante Toby Martyn (Beta) un battesimo caratterizzato da problemi meccanici, mentre a Gabriel Marcelli (Montesa) non è riuscita l'ottima prima fase della Réunion.

Toni Bou (1st): " Sono felice di questa vittoria in una gara andata in crescendo come difficoltà dopo ogni fase. Nella Heat 1 non mi sono trovato a mio agio, così ho sostituito la moto per la Heat 2 ed è subito andata meglio, considerato che le zone erano anche molto più impegnative. Ancora meglio poi in finale. "

Adam Raga (2nd): " Sono contento di come sono andato nelle fasi preliminari ma il livello della finale è stato molto alto. Considerato quanto fossero già dure nella Heat 2 doverle affrontare al contrario è stata un'impresa quasi impossibile. Mi fa piacere comunque che sebbene ogni anno le gare siano più dure e io sia più vecchio, riesco ad essere sempre lì a giocarmela fino all'ultimo. La mia prestazione nella Heat 2 mi ha dato molta soddisfazione."

Jeroni Fajardo (3rd): " E' stata molto dura la Heat 2 in cui ho dovuto giocarmela con Adam e Jaime, e non credevo di aver fatto bene con tre "5" ma grazie a due zeri mi sono guadagnato la finale di consolazione contro Miquel. Felice di provare quanto potessi fare di fronte a un indoor veramente duro."

L' X-Trial World Championship ritorna a gennaio con la gara a Budapest.
------------------------------------------------------------------------------------------
----> RESULTS
------------------------------------------------------------------------------------------
1. Toni Bou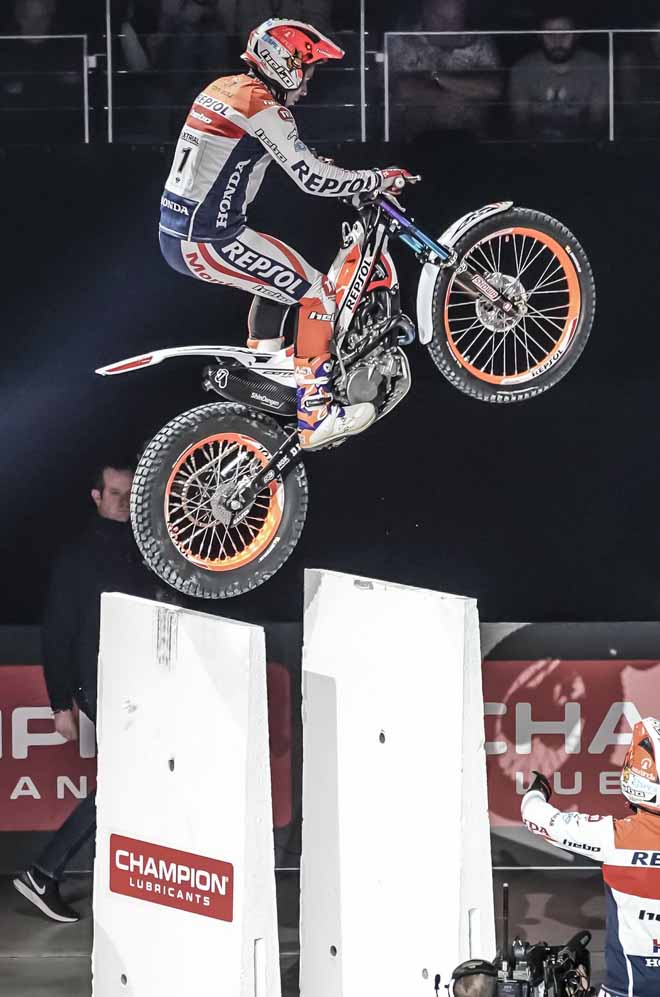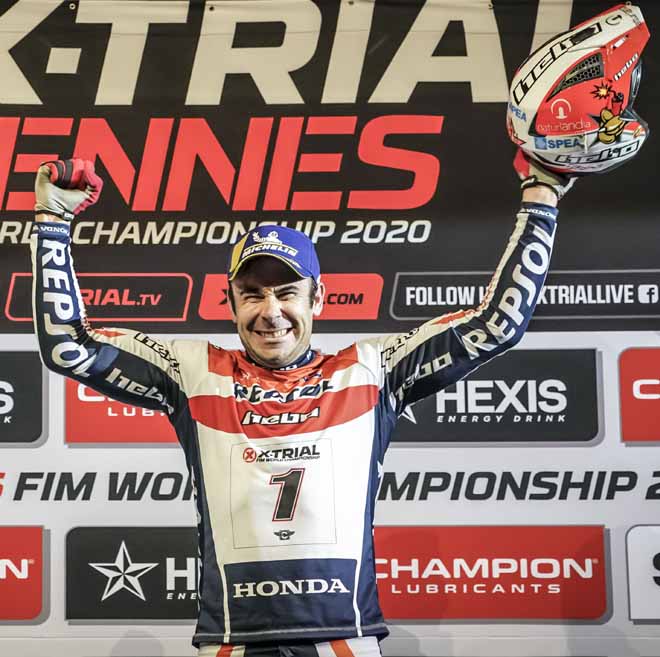 2. Adam Raga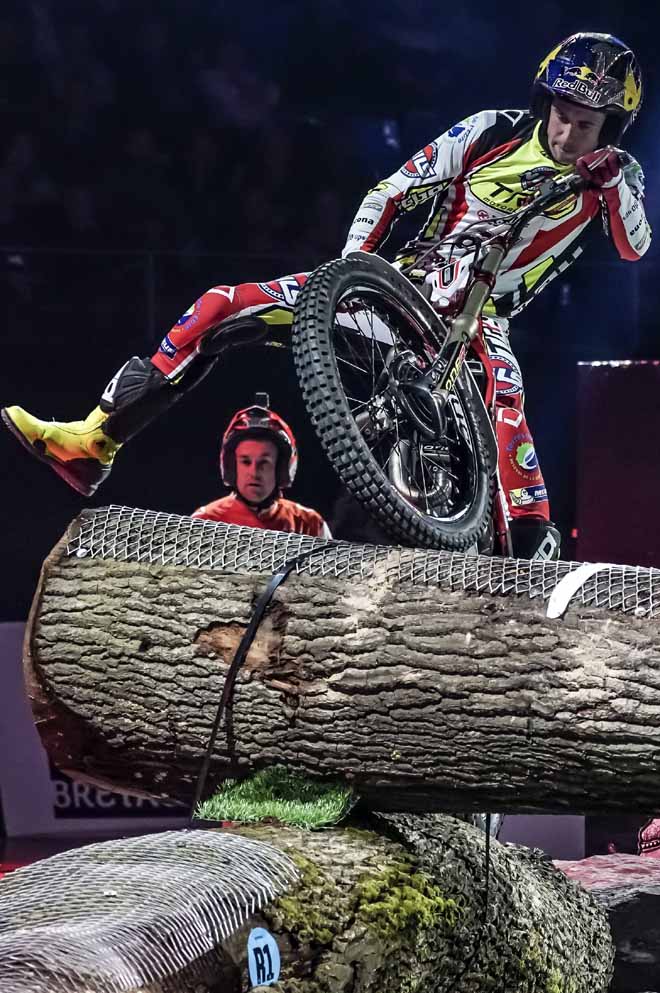 3. Jeroni Fajardo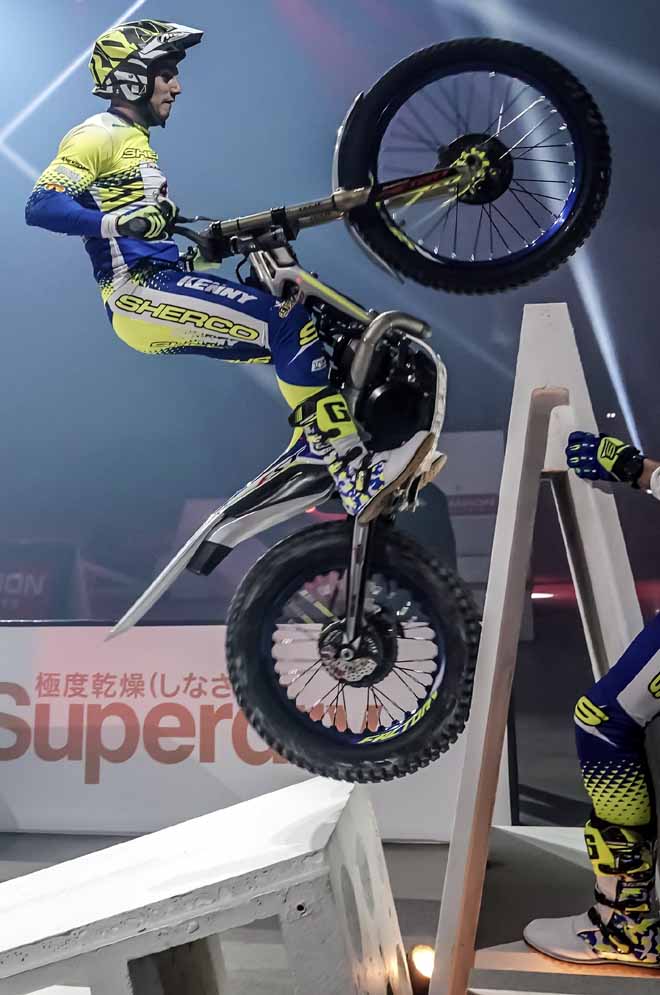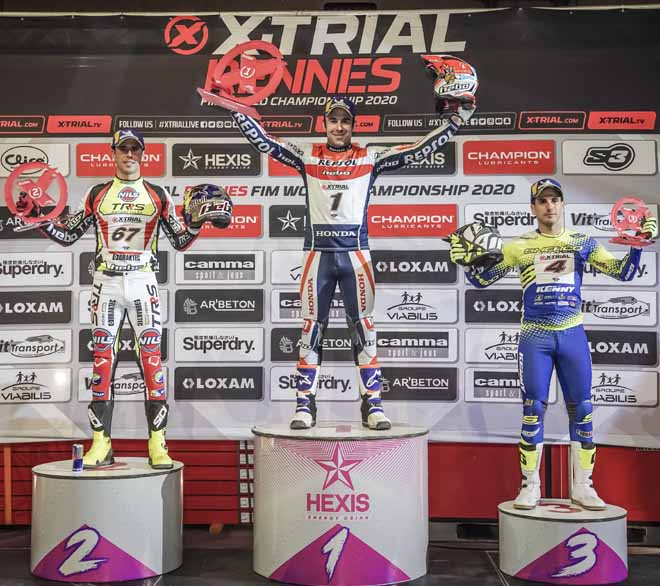 ---------------------------------------------------------------------------------------