10/12/21 - A reinvigorated Repsol Honda Trial Team for 2022

Repsol Honda Team, the most garlanded team in trial history, presents new faces for the forthcoming season: Toni Bou will have Gabriel Marcelli as team-mate while Takahisa Fujinami takes over as Team Manager.

Toni Bou and Gabriel Marcelli will be the Repsol Honda Team duo who will battle for the TrialGP and X-Trial World Championship in 2022. Toni Bou, who has reigned for fifteen years, needs little introduction: the most successful ever sportsman, the trial legend and the point of reference for everyone, will go all out to defend his number one status that has remained intact for a decade-and-a-half. Bou (17/10/1986) will start as both the firm favourite and the man to beat in his sixteenth season with the Repsol Honda Team.

And alongside Toni Bou, young Galician rider Gabriel Marcelli (04/02/2000) will make his debut in the team this year. The rider joins the team after a successful Trial2 career where he was proclaimed world champion in 2019, followed by two solid seasons in TrialGP.

Takahisa Fujinami, new Team Manager

Repsol Honda Team have also reshuffled part of its staff with the incorporation of former rider Takahisa Fujinami as the new team manager. After 26 active seasons in the trial world championship, Fujinami will take up a new role within a structure he knows so well. His competitive experience will be a key factor in this new challenge for the 2004 Trial World Champion.

Toni Bou: "This forthcoming season will be very interesting for all of us. As always, our objectives are to win again the title and we are continuously preparing for it. We will continue the line of work that we have been taking over these years. I would like to welcome Gabriel Marcelli to the team. He is a very good rider and he rode some great trials this year. I'm sure that he will do really well and it will be good for the team. I also wish to congratulate Takahisa Fujinami as the new Team Manager. I'm sure his racing experience will be positive for us."

Gabriel Marcelli:"I am more than happy to join the best trial team in the world. First of all I want to thank all my sponsors who have supported me over the years, especially this last season. From now on maybe there will be more pressure. The fact of joining the Repsol Honda Team gives you more responsibilities, you are in the eyes of everyone... being Toni's team-mate, having such a good team, I think it will bring many great moments and I hope it will be a relationship that lasts for many years. I take over from Takahisa Fujinami, who has set the bar very high all these years. I will try to do my best and show that I am up to it and I trust in the work to get to the top and hopefully be at the top with Toni Bou.

Takahisa Fujinami,Team Manager: "For me it is a great honour to be able to defend, from this point on, the colours of the Repsol Honda Trial Team as Team Manager. It is a great challenge for me, no doubt whatsoever. The team has achieved great success and my intention will be to continue this long streak of titles and to collaborate in making the brand even bigger. In 2022 we are adding a new rider to the team: Gabriel Marcelli. He is a young rider with a promising future. In 2020 he achieved his first podium and in 2021 he finished the season clearly on the rise. With his entry into the Repsol Honda Team we are sure that he will make a great leap forward in his career. He will be the team-mate of our great champion Toni Bou. Toni has won 30 world championship titles and ... what else can you say about someone who has achieved so much? As always, he will be looking to win the TrialGP and X-Trial world championships once again next season, and the whole team will be working to make it possible for another year!


---------------------------------------------------------------------------------------

Un Repsol Honda Trial Team rinvigorito per il 2022

Repsol Honda Team, la squadra più ghirlandata nella storia dei trial, presenta nuovi volti per la prossima stagione: Toni Bou avrà Gabriel Marcelli come compagno di squadra mentre Takahisa Fujinami subentra come Team Manager.

Toni Bou e Gabriel Marcelli saranno il duo del Repsol Honda Team che si batterà per il Campionato del Mondo TrialGP e X-Trial nel 2022. Toni Bou, che regna da quindici anni, ha bisogno di poche presentazioni: lo sportivo di maggior successo di sempre, la leggenda del trial e punto di riferimento per tutti, farà di tutto per difendere il suo status di numero uno che è rimasto intatto per un decennio e mezzo. Bou (17/10/1986) partirà come il favorito e l'uomo da battere nella sua sedicesima stagione con il Repsol Honda Team.

E al fianco di Toni Bou, quest'anno farà il suo debutto in squadra il giovane corridore galiziano Gabriel Marcelli (04/02/2000). Il pilota si unisce al team dopo una carriera di successo in Trial2 dove è stato proclamato campione del mondo nel 2019, seguito da due solide stagioni in TrialGP.

Takahisa Fujinami, nuovo Team Manager

Il team Repsol Honda ha anche rimescolato parte del suo staff con l'incorporazione dell'ex pilota Takahisa Fujinami come nuovo team manager. Dopo 26 stagioni attive nel mondiale trial, Fujinami assumerà un nuovo ruolo all'interno di una struttura che conosce così bene. La sua esperienza agonistica sarà un fattore chiave in questa nuova sfida per il Campione del Mondo di Trial 2004.

Toni Bou: "La prossima stagione sarà molto interessante per tutti noi. Come sempre, i nostri obiettivi sono riconquistare il titolo e ci stiamo continuamente preparando. Continueremo la linea di lavoro che abbiamo intrapreso in questi anni. Vorrei dare il benvenuto nel team Gabriel Marcelli. È un ottimo pilota e ha fatto delle grandi gare quest'anno. Sono sicuro che farà davvero bene e sarà un bene per il team. Desidero anche congratularmi con Takahisa Fujinami come nuovo Team Manager. Sono sicuro che la sua esperienza sportiva sarà positiva per noi."

Gabriel Marcelli:"Sono più che felice di entrare a far parte del miglior team di Trial del mondo. Prima di tutto voglio ringraziare tutti i miei sponsor che mi hanno supportato nel corso degli anni, specialmente in quest'ultima stagione. Da ora in poi forse ci sarà più pressione.Il fatto di entrare nel Team Repsol Honda ti dà più responsabilità, sei agli occhi di tutti... essere compagno di squadra di Toni, avere una squadra così bella, penso che porterà tanti grandi momenti e spero che sarà una relazione che duri per molti anni. Prendo il posto di Takahisa Fujinami, che ha fissato l'asticella molto in alto in tutti questi anni. Cercherò di fare del mio meglio e dimostrare che sono all'altezza e ho fiducia nel lavoro per arrivare al top e, spero, di essere al top con Toni Bou.

Takahisa Fujinami,Team Manager: "Per me è un grande onore poter difendere, da questo momento in poi, i colori del Repsol Honda Trial Team come Team Manager. È una grande sfida per me , senza alcun dubbio. La squadra ha ottenuto un grande successo e la mia intenzione sarà quella di continuare questa lunga serie di titoli e di collaborare per rendere ancora più grande il marchio. Nel 2022 aggiungeremo un nuovo pilota alla squadra: Gabriel Marcelli. È un giovane pilota con un futuro promettente.Nel 2020 ha conquistato il suo primo podio e nel 2021 ha concluso la stagione in netta ascesa. Con il suo ingresso nel Team Repsol Honda siamo sicuri che farà un grande balzo in avanti nella sua carriera. Sarà il compagno di squadra del nostro grande campione Toni Bou. Toni ha vinto 30 titoli mondiali e ... che altro puoi dire di qualcuno che ha ottenuto così tanto? Come sempre, cercherà di vincere il TrialGP e il mondiale X-Trial ancora una volta la prossima stagione e l'intero team lavorerà per renderlo possibile per un altro anno!


------------------------------------------------------------------------------------------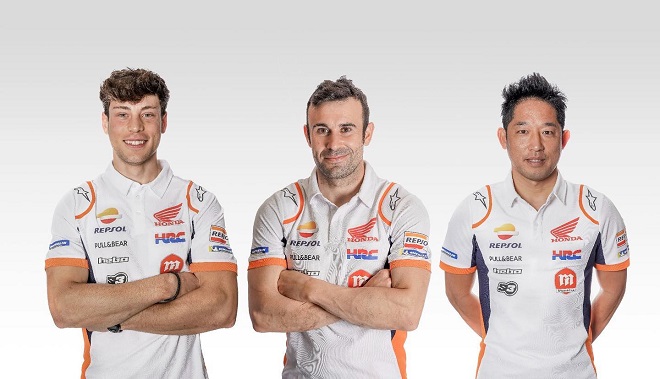 here they are ...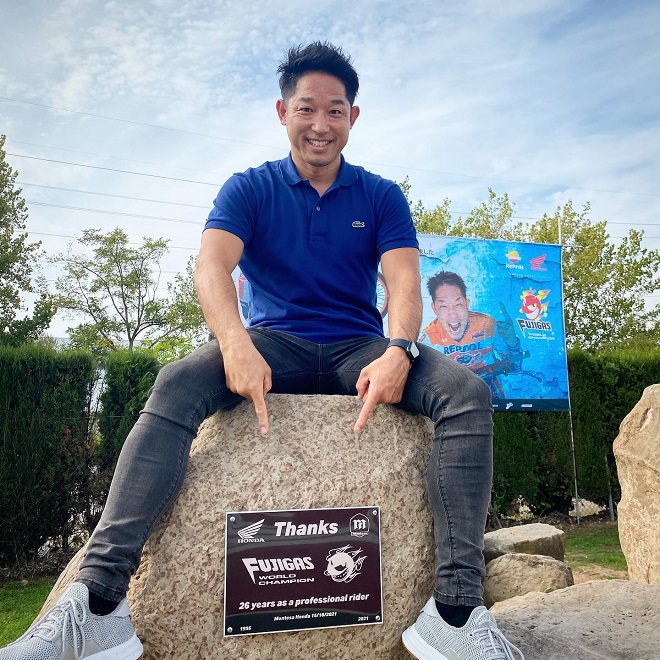 Fujinami after the last world round this year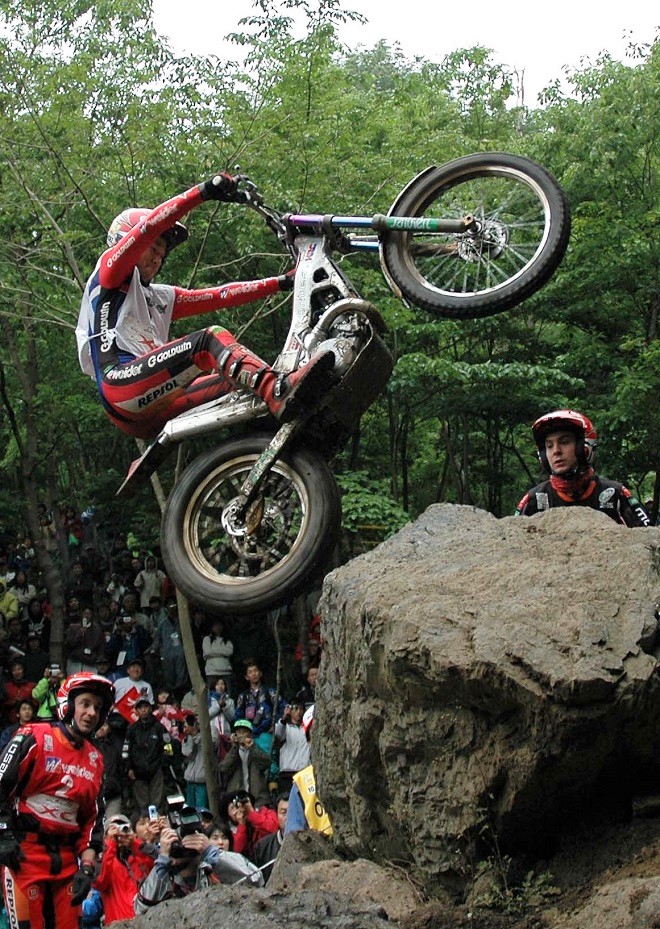 Fuji in Motegi, 2004, the year he became world champion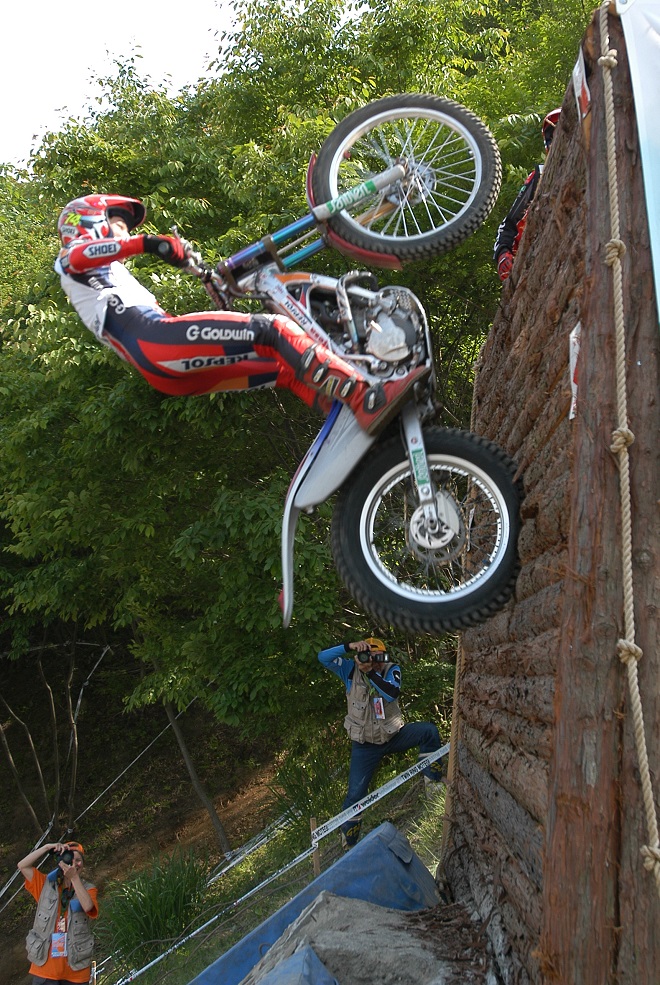 Fuji in Motegi,2005, the year he wore bib numer one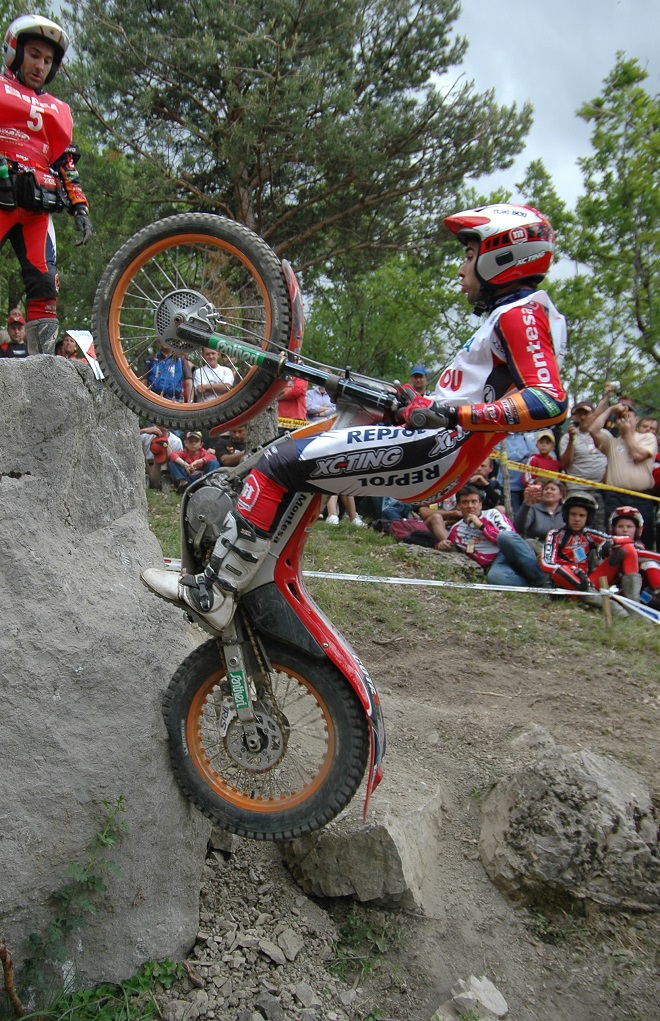 Toni in France,2007, note bib number 5, as that year he won his first W.C.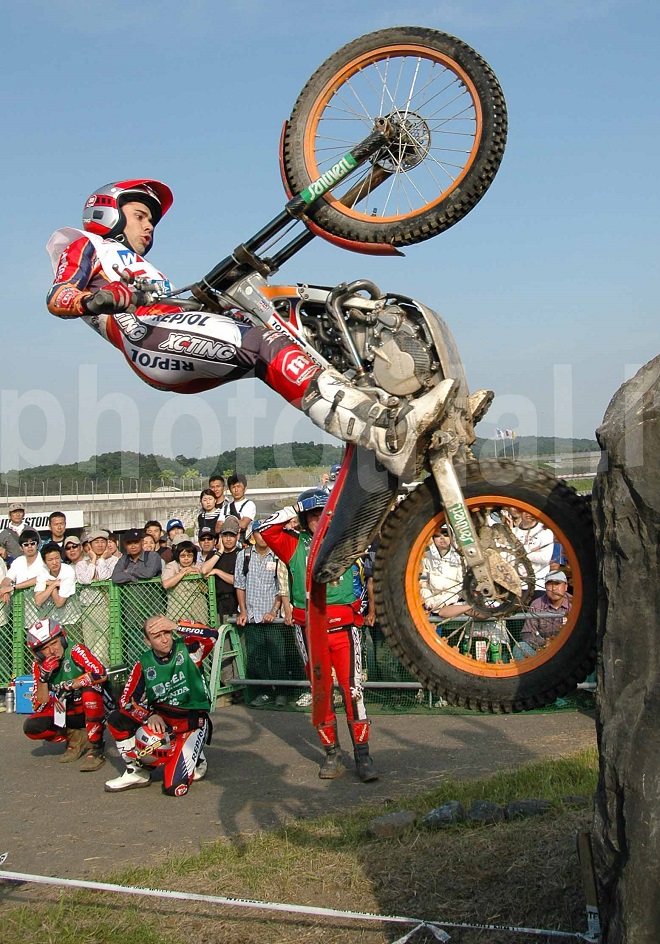 Toni in Motegi, 2007, historic photo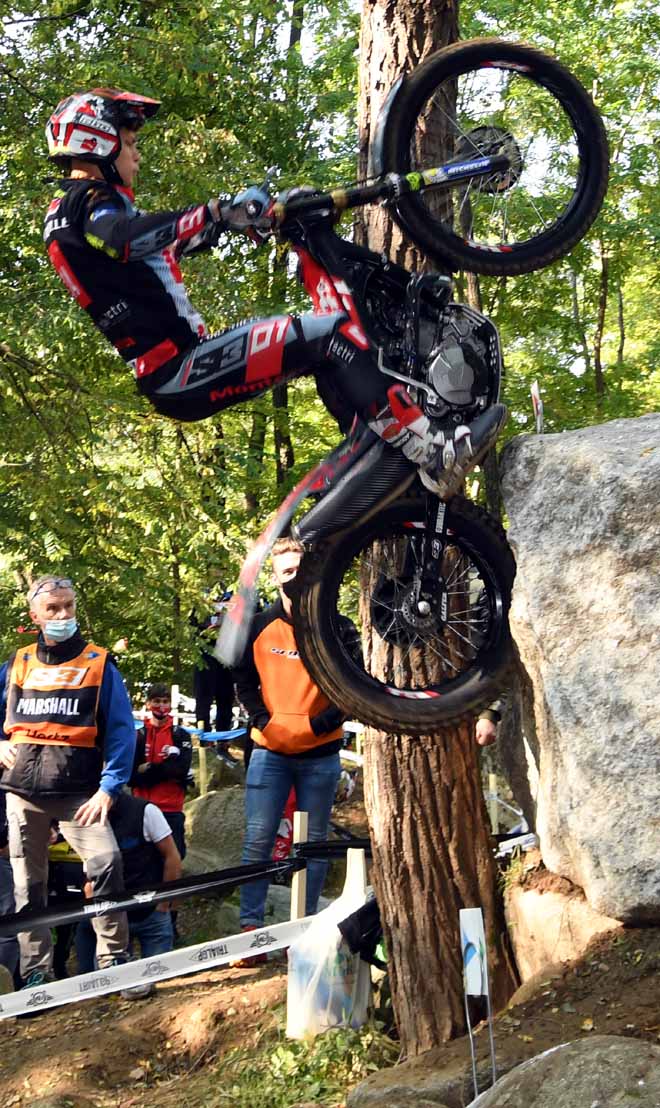 Marcelli in Lazzate, 2020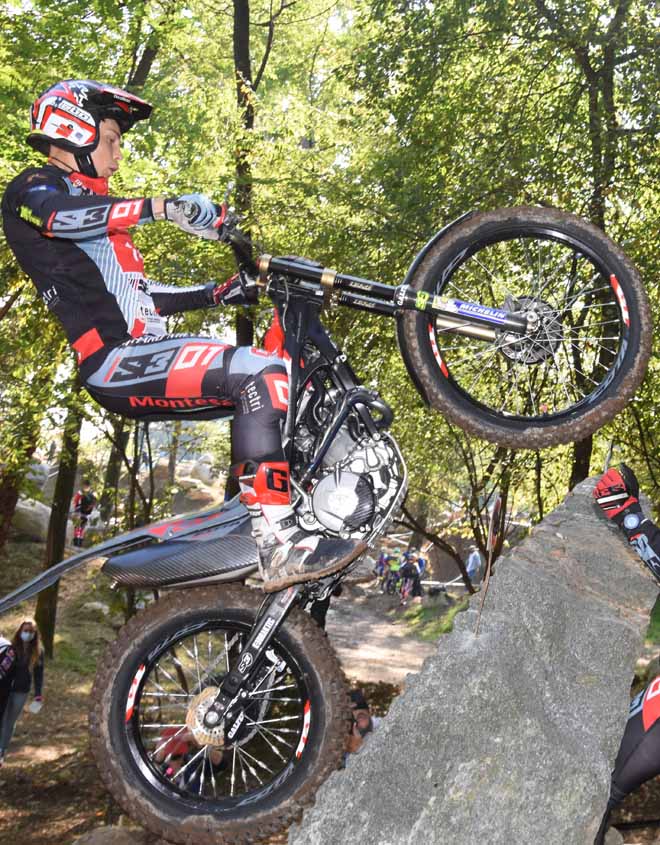 idem
---------------------------------------------------------------------------------------