21/08/21 - BOU FOR A WHILE IN ANDORRA FIRST DAY!

Spanish superstar Toni Bou (Repsol Honda) picked up where he left off in France seven weeks ago by riding to victory on the opening day of the Andorran TrialGP, round four of the 2021 Hertz FIM Trial World Championship – but he was pushed all the way by his long-time rival and compatriot Adam Raga (TRRS).

After two fiercely-contested laps of 12 sections the pair had to be separated on a tie-break with Bou, the reigning champion, getting the decision in the premier TrialGP class after completing the course in a shorter time. In fact, time was Raga's undoing after he parted with one less mark on observation than Bou but collected an additional time penalty which forced the tie-break.

It's been close all season in Trial2 between British riders Toby Martyn (TRRS) and Jack Peace (Sherco). Peace held a narrow series lead heading into the Pyrenean principality by virtue of his victory last time out at Charade but Martyn struck back today to make things all-square at the top of the table. It's so close in this class that Martyn's three-mark winning margin is the biggest of the season following four points-paying days.

Back in action for the first time since the opening round of the year in Italy back in the middle of June, Trial125 threw up another British winner – that's three from three rounds – with Harry Hemingway (Beta) claiming a conclusive victory ahead of class leaders Jack Dance (GASGAS) and Harry Turner (Scorpa).

Trial-E saw Gael Chatagno (Electric Motion) repeat his opening round win from fellow Frenchman Julian Perret by a dominant margin.

The course – based around the town of Sant Julià – was plotted over three distinctive areas with the opening set of sections laid out on a super-steep hill where loose rocks ensured that grip was in short supply. From here the riders moved up into the woods where huge boulders tested their courage to the limit before the lap signed off in a slippery riverbed.

Under a blazing sun, Bou and Raga went toe-to-toe. A single mark on observation in front after the opening lap but two clear once time penalties were taken into account, Bou – who is aiming to make it 15 titles in a row – looked to have his third win of the season in the bag. Raga, however, had other ideas and his second-lap score of 17 was two better than Bou's but the long lap proved to be his downfall and his failure to match his rival's pace across the course cost him dearly.

"Andorra is always very difficult for me," said Bou, "but it's very important and this victory for me is amazing because I didn't have the best feeling today."

Italy's Matteo Grattarola (Beta) continued his impressive run of form after moving back into the class following his Trial2 title last year with a fantastic third-placed finish, albeit 19 marks behind the top two, with Jaime Busto (Vertigo) matching his best finish of the season in fourth ahead of Miquel Gelabert (GASGAS) from Spain.

The battle between Martyn and Peace has been evenly-matched and intense all year with the pair trading wins and second-placed finishes but Martyn held a clear seven-mark advantage over him at the halfway mark. Martyn stayed focussed on lap two and added an extra 10 marks to the nine penalties he had already incurred but Peace rode out of his skin with his second-lap total of six dragging him back into contention.

"Today's been really good and I've been really happy with my riding," said Martyn. "I made a couple of small mistakes but the trial's been quite hard so I was able to pull them back. To be honest I'm just happy to be back on the podium and happy with my riding. Hopefully we can carry it on tomorrow."

Lorenzo Gandola (Beta) – Trial125 champion in 2017 – was second after the opening lap and while the 20-year-old Italian couldn't live with Peace's pace on lap two he continued his ascent up the rankings with another third-placed finish, just four marks further back.

The Spanish pairing of Aniol Gelabert (Beta) and Arnau Farre (Scorpa) completed the top-five in the strongly-supported 31-rider class.

Hemingway was just two marks away from Trial125 victory on the opening day in Tolmezzo and he went one position better in Andorra today with a commanding 13-mark win ahead of Dance – who retains the series lead – and Turner who lost second on a tie-break as Czech rider David Fabien (Beta) and home hero Gaudi Vall Ingles (Sherco) came home fourth and fifth.

"Today was a very good day for me," said Hemingway. "I started off with a really good first lap and I found it really good with the steep bankings and slippery rivers. I was happy with my lines and I rode that bike the way I like to think I can."

Chatagno is proving to be the man to beat in the Trial-E category. A clear winner at last month's first round, he continued to assert his authority with a 19-mark victory over Perret with Spain's Martin Riobo (Electric Motion) – the Trial125 vice-champion in 2018 – a long way behind in third.

"I started well and kept it going," said Chatagno. "I struggled in the water sections a little so I need to improve and I'll keep focussed for the second day but it's always a pleasure to ride in Andorra."

The action resumes tomorrow when the 2021 Hertz FIM Trial World Championship will reach the halfway mark.

photos by Pep Segales/FIM


---------------------------------------------------------------------------------------

BOU ALLUNGA IN ANDORRA MA GRATTAROLA E' ANCORA SUL PODIO!

Toni Bou (Repsol Honda) riesce a vincere il primo giorno a Santa Julia de Loria nel Principato di Andorra, ma un grandissimo Matteo Grattarola (Beta) con un formidabile secondo giro, riesce a risalire di 4 posizioni e agguanta ancora il podio: 3 volte su 4 prove! Era dei tempi di Bosis e Miglio che non si vedeva un italiano ai primi posti al mondiale. Grattarola è ora saldamente al terzo posto.

Secondo in gara e in campionato il solito Adam Raga (TRRS) al quale è sfuggita la vittoria per un soffio. Dopo un primo giro che lo vedeva soccombere al campione in carica per un solo punto (25 a 24) , è riuscito a ribaltare la situazione(17 a 19) , addirittura risultando il migliore come penalità, ma alla pari con Bou aggiungendo i punti per il tempo: 4 per Raga, solo 3 per Bou. Da quest'anno in caso di parità conta l'essere stati più veloci, ancora prima del numero di zeri, di uno, ecc.. Vittoria dunque a Bou.

Nella Trial2 vinta da Toby Martyn ( TRRS) grande prestazione di Lorenzo Gandola (Beta) finito sul podio dopo essere stato secondo per 2/3 di gara. Solo una grande rimonta di Jack Peace (Sherco) lo ha privato della piazza d'onore.

Sempre in Trial2 in zona punti anche Carloalberto Rabino (Beta) all'undicesimo posto e Gianluca Tournour (GASGAS) quindicesimo.

Per ricordare la scomparsa improvvisa di Ivan Feltrin, padre di Valentino Feltrin uno dei giovani parte del progetto Pata Talenti Azzurri della FMI, i piloti italiani hanno corso oggi e lo faranno anche domani con una fascia nera al braccio in segno di lutto. La redazione di Phototrial condivide il dolore di Valentino e dei suoi familiari.


------------------------------------------------------------------------------------------
------------------------------------------------------------------------------------------
------------------------------------------------------------------------------------------
1. Toni BOU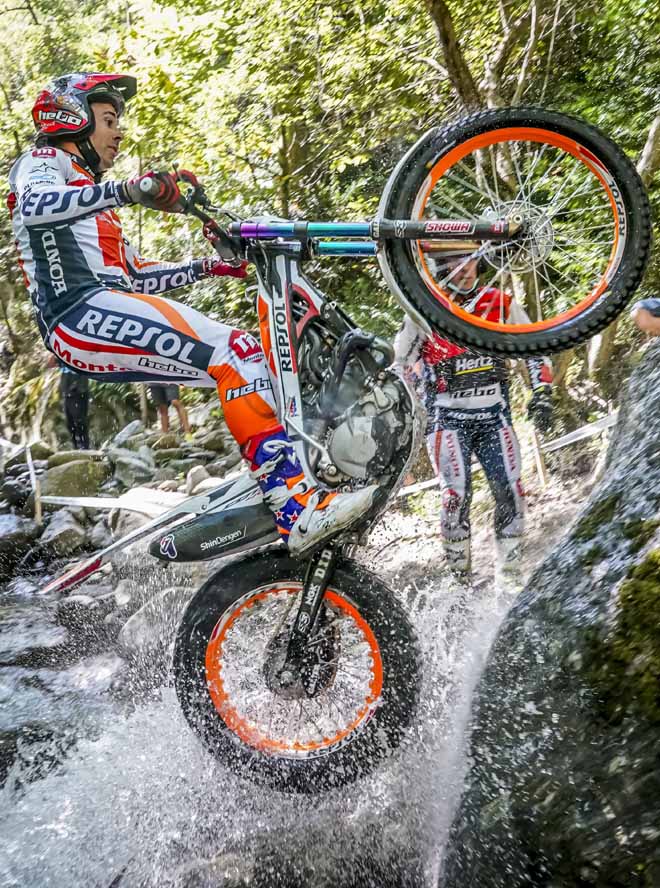 2. Adam RAGA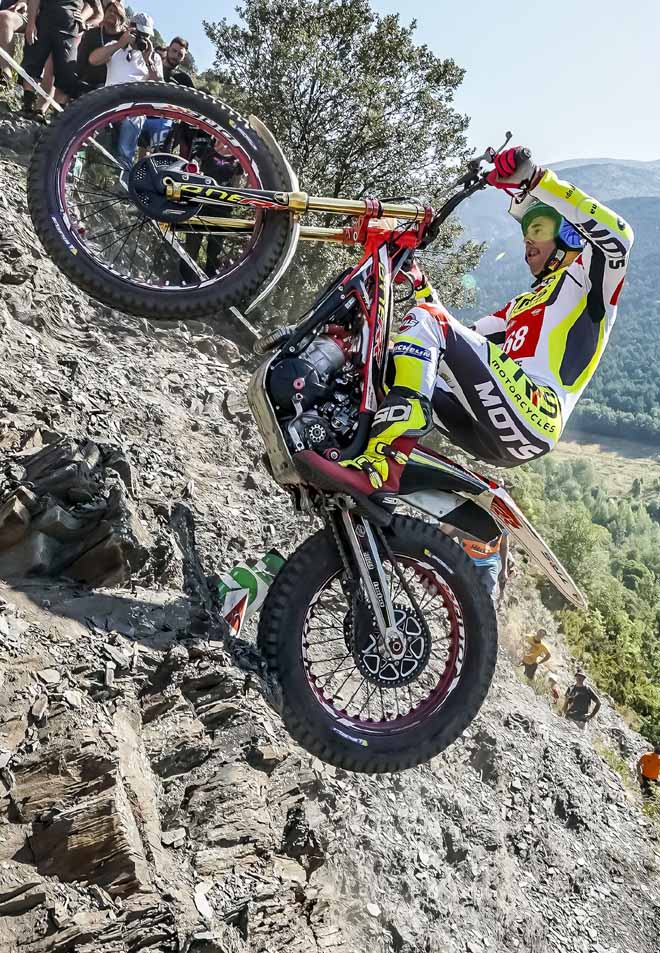 3. Matteo GRATTAROLA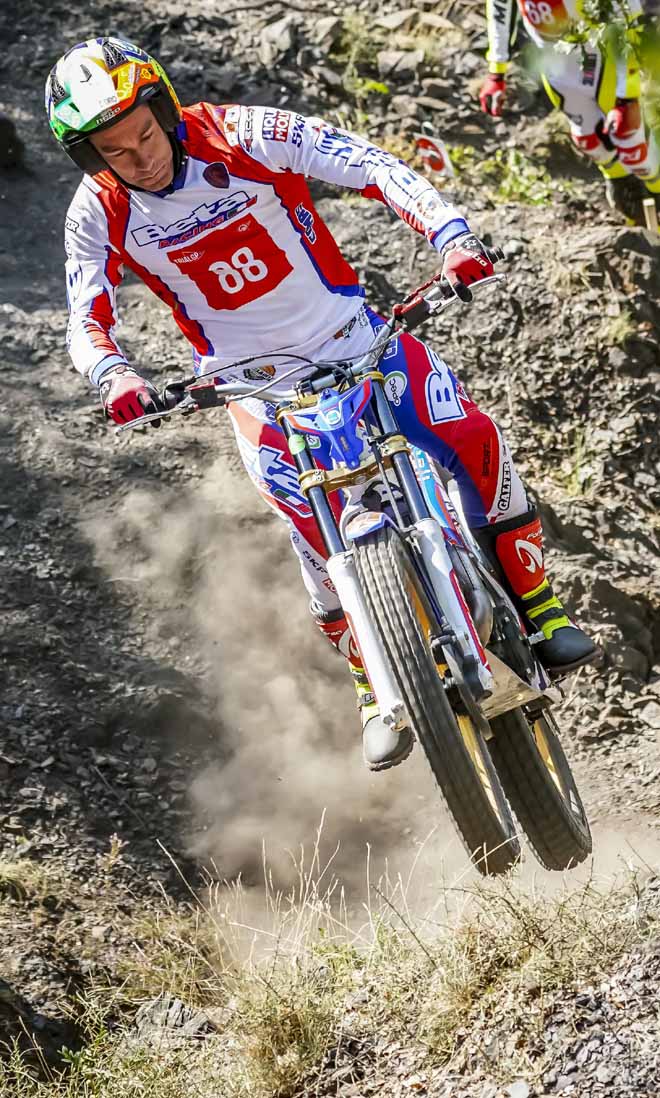 4. Jaime BUSTO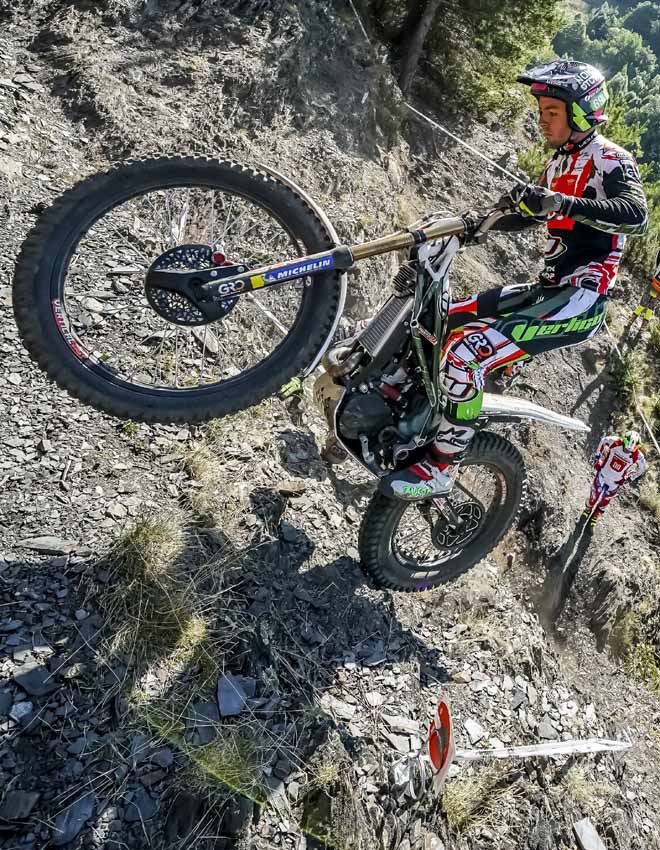 5. Miquel GELABERT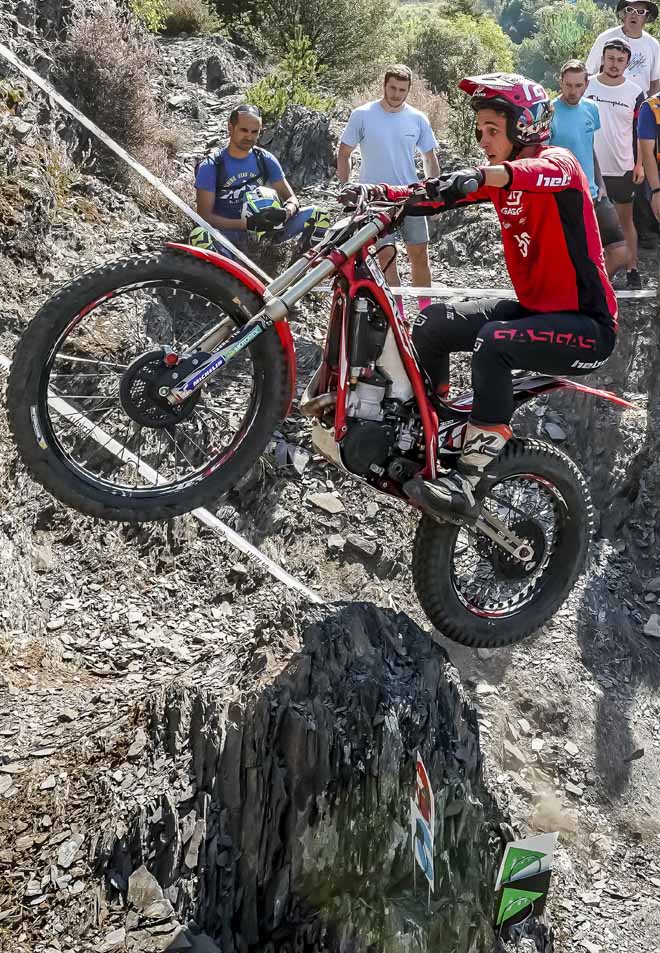 ---------------------------------------------------------------------------------------
press releases ---- comunicati stampa
---------------------------------------------------------------------------------------