12/09/21 - STILL BOU AFTER A WINNING FIGHT WITH BUSTO. TITLE FOR RABINO

Toni Bou (Repsol Honda) strengthened his grip on the 2021 Hertz FIM Trial World Championship with victory on the second day of the Spanish TrialGP – round eight of the series – at Pobladura de las Regueras as Emma Bristow (Sherco) bounced back to top TrialGP Women, Lorenzo Gandola (Beta) claimed a maiden Trial2 win and Andrea Sofia Rabino (Beta) extended her Trial2 Women lead.

On another testing day, Bou was forced to dig deep to fight off the challenge from his fellow Spaniard Jaime Busto (Vertigo) who held a narrow one-mark advantage after the opening lap of 12 sections and was in the driving seat for much of the event.

Bou's toughest test was section eight where a series of huge boulders in a riverbed took two maximum scores from him as Busto went clean at both his attempts. However, no-one is cooler under pressure than the 14-time world champion and Busto, looking to claim just his second top-flight win and the first in TrialGP for the Vertigo factory, wavered in section 11 in the arena area on lap two and collected a maximum that gave Bou a two-mark advantage at close of play.

"I feel incredible," said Bou. "After the mistakes in section eight I thought I had lost but I took my opportunities in sections 11 and 12. I'm very happy but congratulations to Jaime who was riding incredible. This weekend has been very important for the championship."

An expensive first-lap total of 21 proved to be the undoing of Bou's nearest championship rival Adam Raga (TRRS). The Spanish two-time world champion rallied with a score of nine on lap two but the damage was already done and he ended the day in third, although still comfortably ahead of compatriot Gabriel Marcelli (Montesa) who mirrored his Saturday result and Italy's Matteo Grattarola (Beta).

With the title to be decided on September 18 at Gouveia in Portugal – the day before the Trial des Nations – Bou now holds an almost unbeatable 19-point lead ahead of Raga and Busto has consolidated his third place in front of Grattarola.

Britain's Bristow has gone toe-to-toe with Spain's Laia Sanz (GASGAS) all year but lost valuable ground yesterday when she slipped to third – her worst result since 2013. Today she came out swinging and after tying for the lead with Sanz at the halfway mark on four she eased ahead as conditions deteriorated with her second-lap total of five giving her a three-mark winning margin.

The result gives Bristow a one-point lead heading into a winner-takes-all finale in Portugal.

"I was a lot more confident today," said Bristow. "The sections historically ride easier on the second day so I knew there was less margin for error but I kept my feet up a lot more. I had to dig deep and remember how good I am."

Spanish rider Berta Abellan (Vertigo), who beat Bristow yesterday for the first time in a world championship event, was just two marks further adrift in third before a big gap back to France's 2020 Trial2 Women champion Naomi Monnier (Beta) and Spain's Sandra Gomez (TRRS).

Trial2 has been incredibly closely-contested all season and today we saw our fourth winner from eight points-paying days as Gandola (Beta) continued his ascent of the Hertz FIM Trial World Championship ladder.

Trial125 champion in 2017, the Italian rising star took a career-first Trial2 victory on 16 marks, a comfortable six ahead of Pablo Suarez (Montesa) who made it back-to-back second-placed finishes in front of his home fans.

"I'm really happy for the win today," said Gandola. "I didn't have the best day yesterday but I was able to turn it around. I'm over the moon. More importantly for the championship, series leader Toby Martyn (TRRS) finished third and doubled his advantage to eight points with one round to go over fellow British rider Jack Peace (Sherco) who was fifth behind France's Alexandre Ferrer (TRRS) as just one mark separated second to fifth places.

After slipping to second yesterday behind series newcomer Petra Budinova (Sherco) from the Czech Republic, Trial2 Women championship leader Rabino (Beta) from Italy was back on top with a conclusive 10-mark win ahead of Britain's Kaytlyn Adshead (TRRS) who posted a season-best finish of second. Rabino is already winner of the Women 2 Cup having 20 points clear of Italian Sara Trentini (Verigo)

"I'm very happy," said Rabino. "Yesterday was difficult but today the sections were very hard and that suited me." Trentini still holds second in the championship but has struggled all weekend in Spain and another sixth-placed finish – behind Germany's Sophia Ter Jung (TRRS), Budinova and British rider Alicia Robinson (Beta) – has put the title virtually out of reach.

All four championship crowns will be decided this coming Saturday at Gouveia in Portugal.

photos by Pep Segales/FIM


---------------------------------------------------------------------------------------

SEMPRE BOU DOPO UN'AVVINCENTE LOTTA CON BUSTO, GANDOLA VINCENTE, TITOLO PER LA RABINO!

Toni Bou (Repsol Montesa) è sempre più vicino al suo 15° titolo ma oggi ha trovato in Jaime Busto (Vertigo) un tenace avversario capace anche di precederlo al giro di boa di un punto. Poi nel secondo giro il campione ha recuperato fino a vincere con due punti di scarto.

Solo terzo Adam Raga (TRRS), abbastanza staccato dai primi due, segno di aver definitivamente abbandonato la speranza di raggiungere Bou nella classifica provvisoria, che ora lo vede inseguire 19 lunghezze più sotto, ad una prova dal termine in programma sabato alla vigilia del Trial delle Nazioni in Portogallo.

Molto sfortunato Matteo Grattarola (Beta) , ancora quinto, ma quarto come punteggio a cui però si sono dovuti aggiungere i due punti per il tempo, e quindi costretto a dividere la quarta posizione con Gabriel Marcelli e soccombere per la regola di quest'anno: in caso di parità si premia il più veloce.

. Pronta rivincita della campionessa in carica Emma Bristow (Sherco) nei confronti di Laia Sanz (GASGAS) , e nuovo scavalcamento in classifica, ora l'inglese conduce di un punto sulla spagnola. Terza Berta Abellan (Vertigo). Martina Gallieni (TRRS) ripete il decimo posto di ieri.

Primo storico successo per Lorenzo Gandola (Beta) nella Trial2, suggellato da un primo giro fantastico con soli 4 errori e un secondo di saggia amministrazione del vantaggio. Pablo Suarez (Montesa) nuovamente secondo davanti a Toby Martyn (TRRS), saldamente al comando in campionato. Buona prestazione di Carloalberto Rabino (Beta) giunto nono.

Limpido successo di Andrea Sofia Rabino (Beta) nella Women 2 , che significa anche il titolo con una giornata d'anticipo perchè ha ora 20 punti su Sara Trentini (Vertigo), oggi ancora sesta. Se la Trentini dovesse vincere e la Rabino non prendere punti, Rabino può vantare 3 successi contro eventualmente due. Alessia Bacchetta (GASGAS) si è piazzata decima.
------------------------------------------------------------------------------------------
------------------------------------------------------------------------------------------
------------------------------------------------------------------------------------------
1. Toni BOU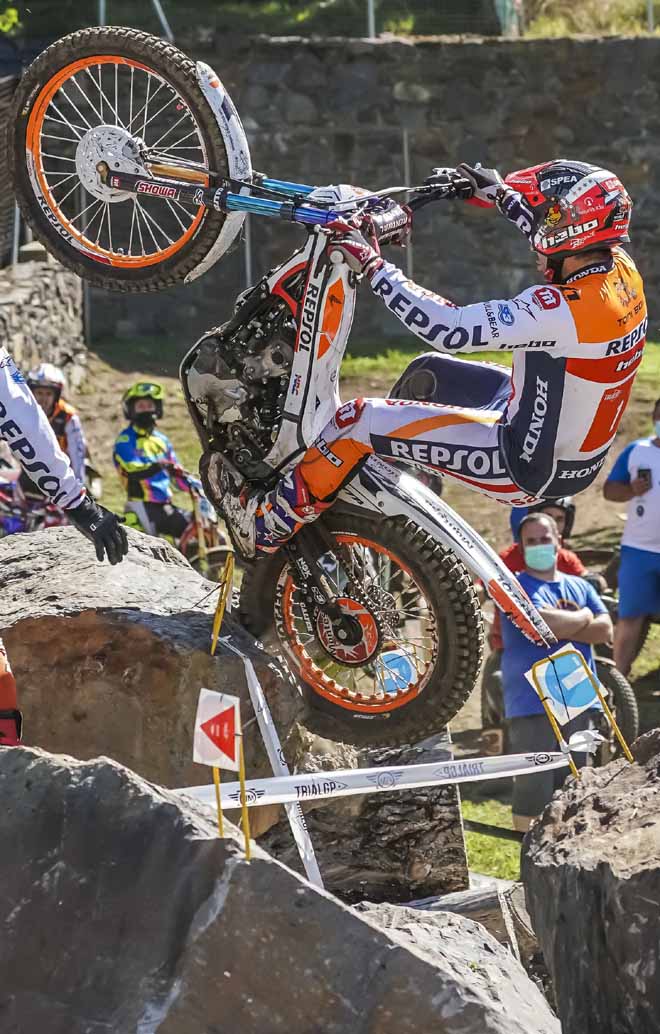 2. Jaime BUSTO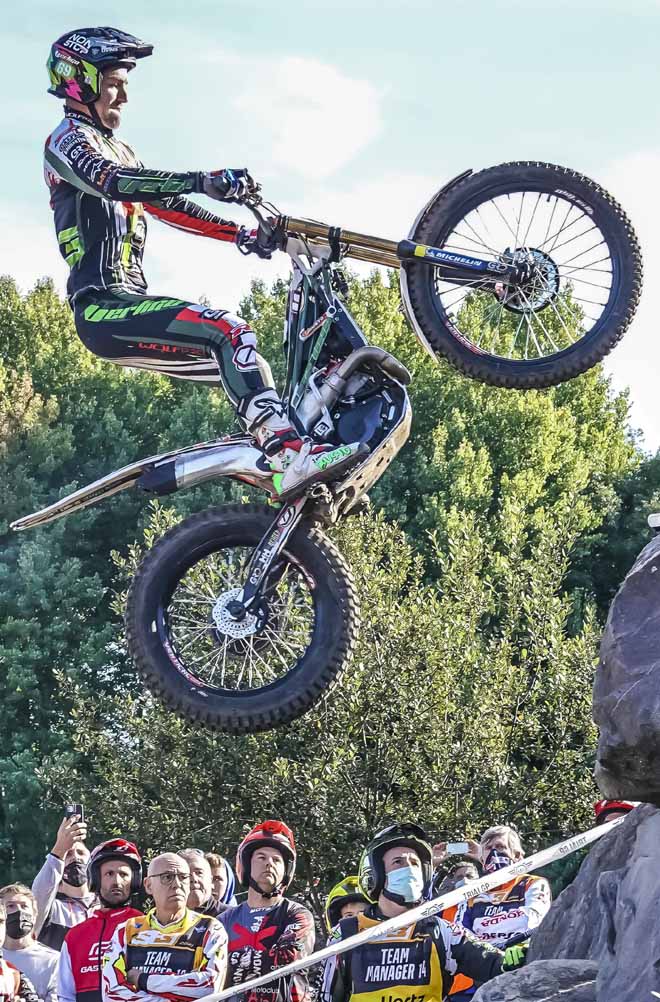 3. Adam RAGA
4. Gabriel MARCELLI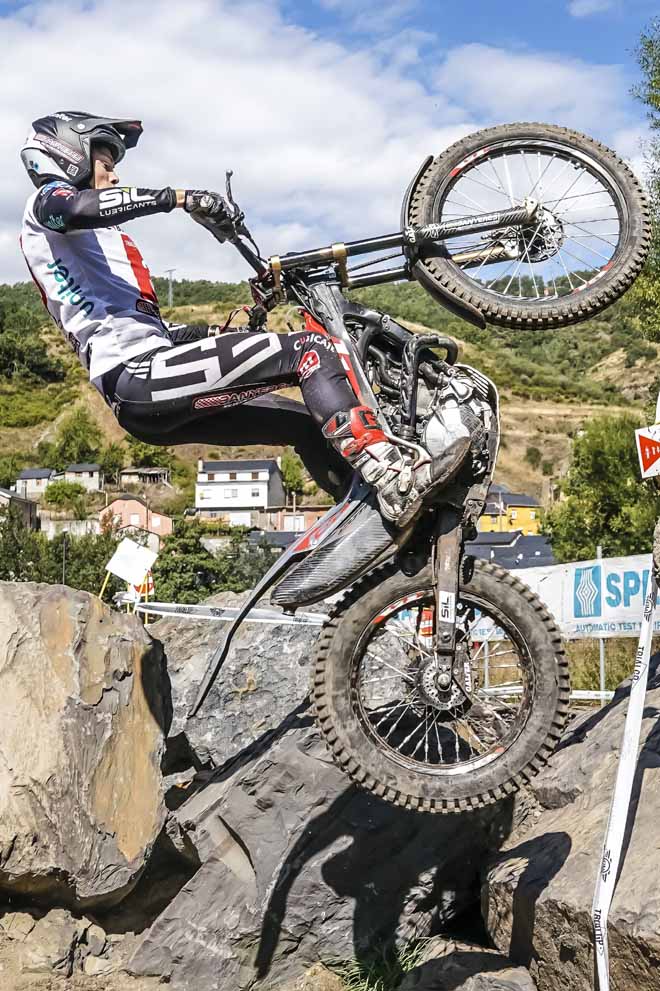 5. Matteo GRATTAROLA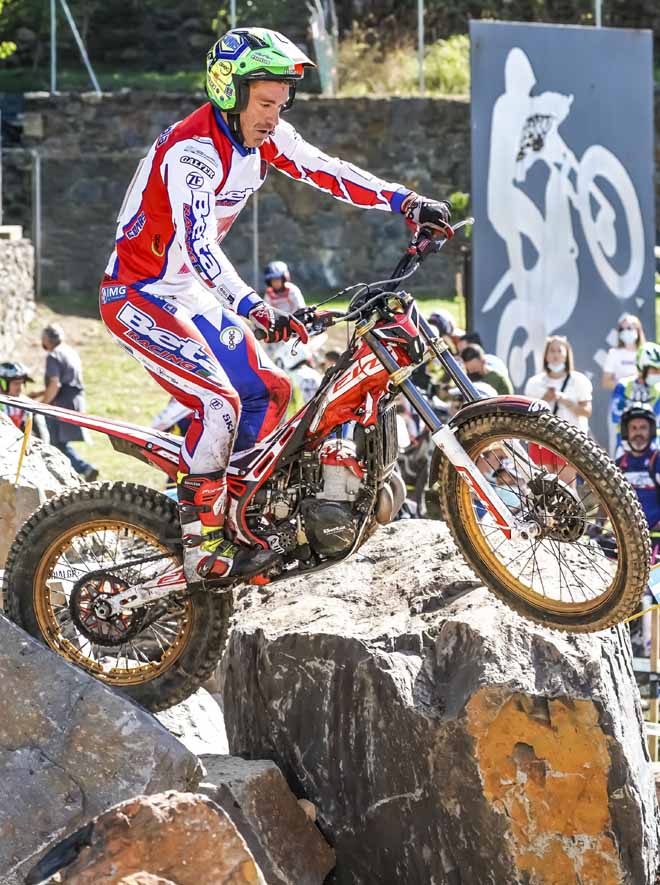 ------------------------------------------------------------------------------------------
1. Emma BRISTOW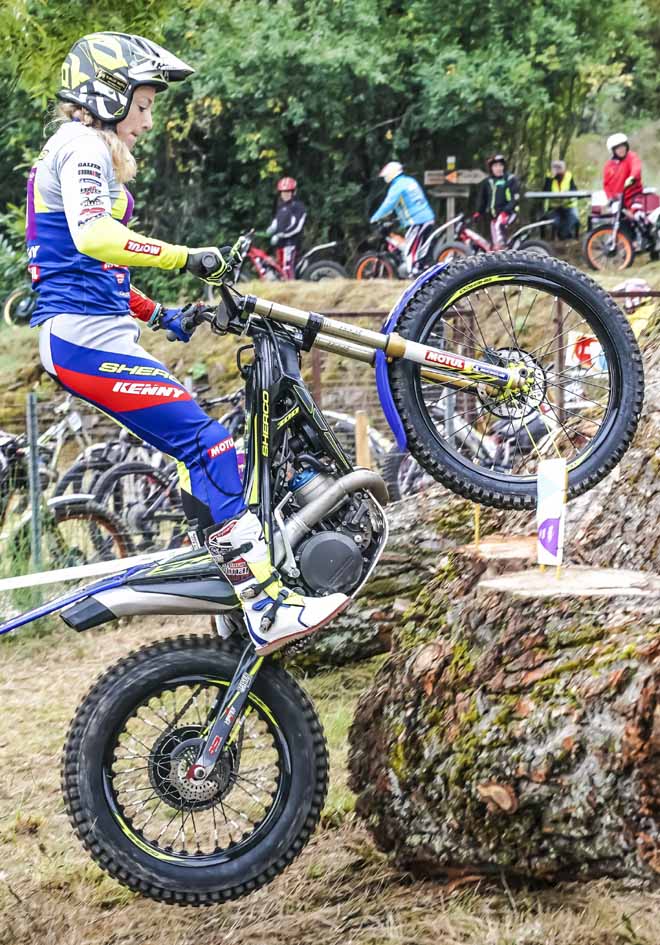 2. Laia SANZ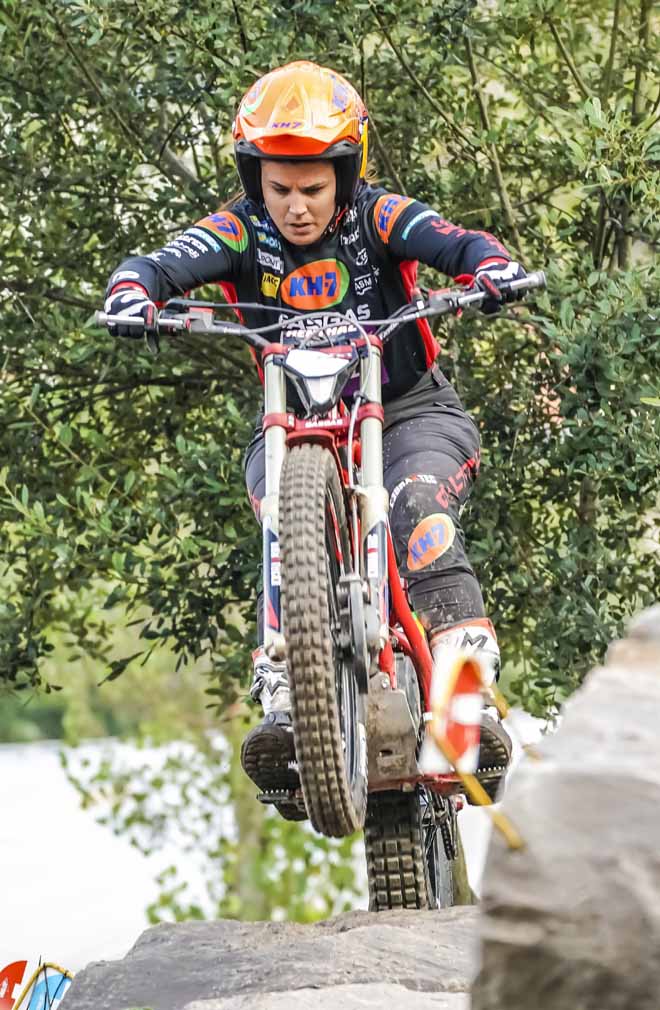 3. Berta ABELLAN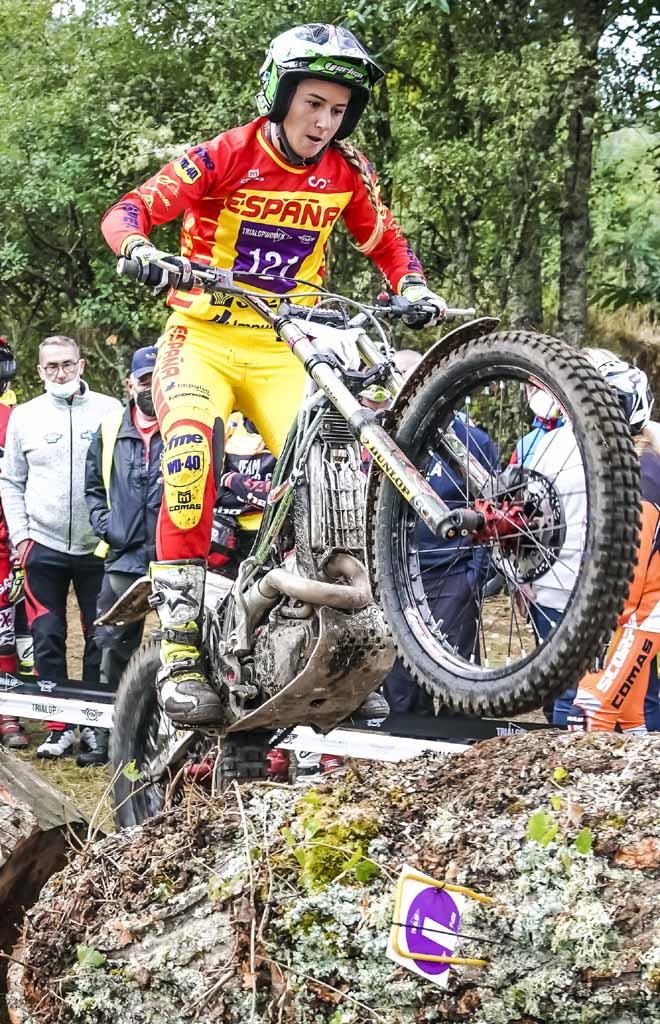 ------------------------------------------------------------------------------------------
1. Lorenzo GANDOLA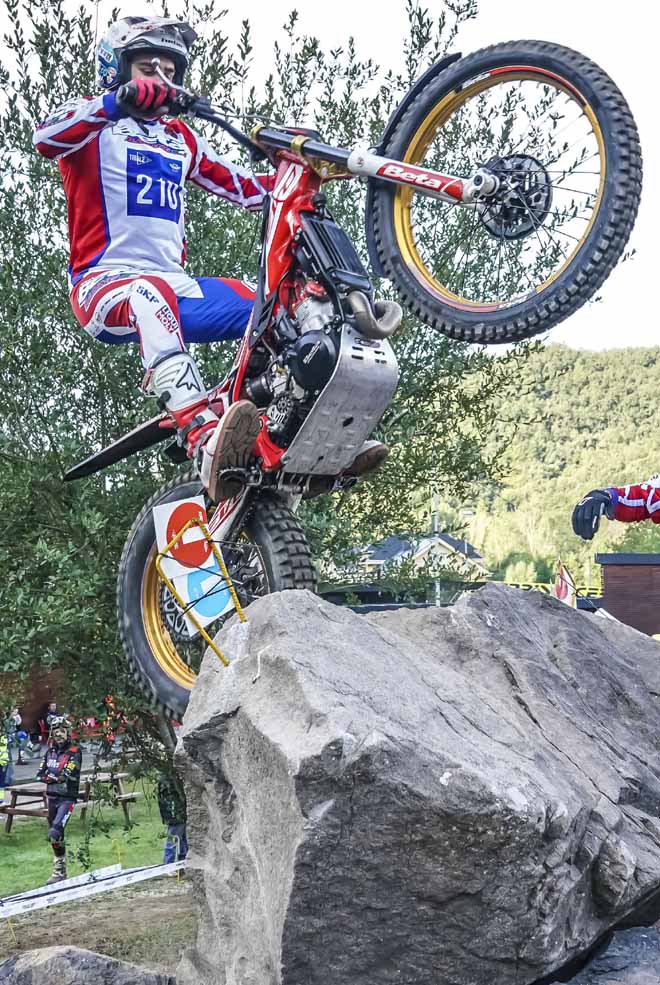 ------------------------------------------------------------------------------------------
1. Andrea Sofia RABINO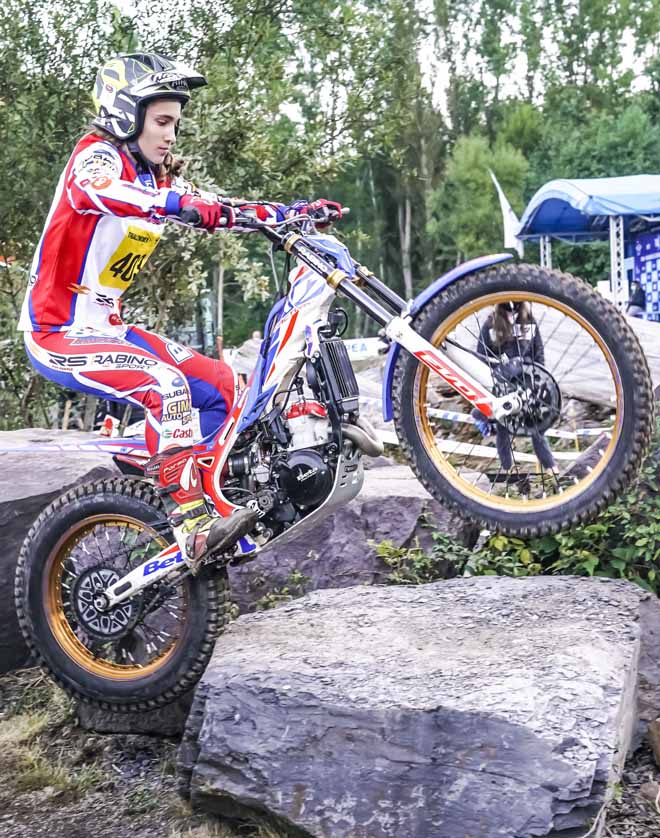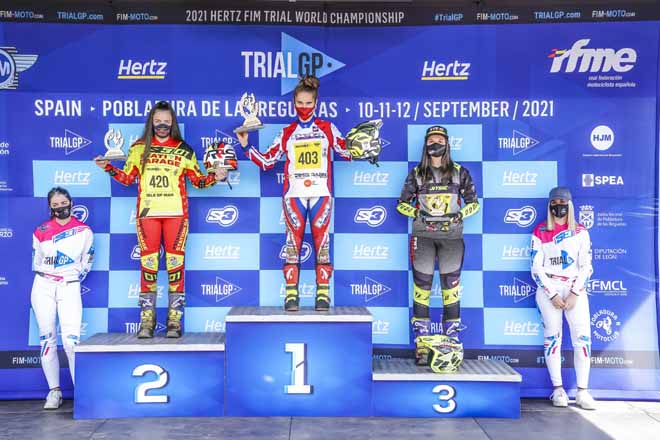 ---------------------------------------------------------------------------------------
press releases ---- comunicati stampa
---------------------------------------------------------------------------------------