26/11/22 - Still a great success for the Trial Costa Brava

Last weekend the 12th edition of the Two Days of Costa Brava took place with more than 400 competitors at the start, all rigorously with bikes with two shock absorbers. Sant Feliu de Guixols was populated by enthusiasts from all over Europe for an event that has carved out a primary role among the so-called classic races but also for Trial in general.

The seaside town located in the middle of the Costa Brava had already been famous for the first international trials starting from 1972, but with the restart of the organizations since 2010, dedicating them exclusively to vintage motorcycles, it has slowly conquered the entire audience of this world.

The secret? More than one. First of all, the date of the end of November without any other coincidence, chosen thanks to the advantage of a favorable climate such as temperatures, and if the risk of rain is always lurking, the organizational skills - we saw first-hand in 2018 - guarantee the dispute in any case at excellent levels.

Secondly, the lack of rules on the rigorous adherence of the motorcycles used to those produced at the time. There are almost original bikes and exaggerated "not compliant", but that's not the point. Well done whoever manages to do well with a truly vintage motorcycle.

People come and have fun because the sections are drawn at the right level and this year they have been even more simplified, reducing the levels to three: yellow, green and blue.

The orientation that the organizers want to give is to focus their attention on the base, on those who guarantee a continued success . In the past several stars of our world have participated, see Dougie Lampkin, Takahisa Fujinami and Matteo Grattarola among these – and it could have been to give greater visibility to their event, now they no longer need it.

The almost entirely off-road loop of 32km inland with the 40 zones (20 for the yellow level and 20 for the green and blue) traced, act as a magnet for those who don't want to miss out every year. And they are also willing to forgive the last two sections, one on the beach and one indoors, which do not suit the context.

The vintage trial phenomenon is still very much held back in Italy, while in other countries, in addition to Spain, France or Great Britain, it is booming. An industry of production of spare parts with online sales has been generated which guarantees everyone the use of these bikes mostly in the late 70s and 80s.

The search for easier races that enhance the riding of the early days of Trial - easily allowed with those bikes of the past, thanks to the presence of flywheels that increased inertia and non-on-off clutches - is what the majority of enthusiasts have wanted.

Not care if tracking easy implies the risk of having more than one rider cleaning the race. It's not the organization that made a mistake, it's the pilot who didn't choose the right category.

We used some photos from the Two Days of the Costa Brava Instagram page.

There is already the date for next year: 18th and 19th November.

---------------------------------------------------------------------------------------

Ancora un grande successo per il Trial Costa Brava

Lo scorso week-end si è corsa la 12-esima edizione della Due Giorni Della Costa Brava con più di 400 concorrenti al via, tutti rigorosamente con moto a due ammortizzatori. Sant Feliu de Guixols si è popolato di appassionati da tutta Europa per un evento che si è ritagliato un ruolo primario tra le gare cosiddette classiche ma anche per il Trial in generale.

La cittadina balneare situata a metà della Costa Brava era già stata famosa per i primi trial internazionali a partire dal 1972, ma con la ripresa delle organizzazioni dal 2010, dedicandosi esclusivamente alle moto d'epoca si è piano piano conquistata la platea intera di questo mondo.

Il segreto? Più di uno. Innanzitutto la data di fine novembre priva di ogni altra concomitanza, scelta grazie al vantaggio di un clima favorevole come temperature, e se il rischio pioggia è sempre in agguato le capacità organizzative – abbiamo toccato con mano nel 2018 - ne garantiscono comunque la disputa a ottimi livelli.

In secondo luogo la mancanza di regole sulla rigorosa aderenza delle moto impiegate a quelle prodotte all'epoca. Ci sono moto quasi originali e "tarocchi" esagerati, ma non è questo il punto. Bravo chi riesce a fare bene con una moto realmente d'epoca.

Le gente viene e si diverte perchè le zone sono tracciate al livello giusto e quest'anno sono state ancora di più semplificate, riducendo a tre i livelli: giallo, verde e blu. L'orientamento che vogliono dare gli organizzatori è di rivolgersi alla base a quelli che garantiscono il continuo successo.

In passato hanno partecipato diverse stelle del nostro mondo, vedi Dougie Lampkin, Takahisa Fujinami e Matteo Grattarola fra questi – e ci poteva stare per dare una maggiore visibilità al loro evento, ora non ne hanno più bisogno.

Il giro quasi interamente fuoristrada di 32km nell'entroterra con le 40 zone (20 per il livello giallo e 20 per il verde e blu) tracciate, fungono da calamita per chi tutti gli anni non vuol mancare. Ed è disposto anche a perdonare le due ultime zone, una sulla spiaggia e una indoor, che poco si addicono al contesto.

Il fenomeno del trial d'epoca è ancora molto frenato da noi, mentre in altre nazioni vedi oltre alla Spagna, la Francia o la Gran Bretagna, è in piena espansione. Si è generata un' industria di produzione di pezzi di ricambio con vendita in rete che garantisce a tutti l'utilizzo di questi mezzi per lo più anni fine '70 e '80.

La ricerca di gare più facili che esaltino la guida degli albori del Trial - facilmente permessa con le moto di una volta, grazie alla presenza di volani che aumentavano l'inerzia e di frizioni non on-off - è quanto voluto da sempre più la maggioranza degli appassionati.

Pazienza se tracciando facile si rischia di avere più di pilota che gira a zero. Non è l'organizzazione che ha sbagliato, è il pilota che non ha scelto la giusta categoria.

Abbiamo utilizzato alcune foto dalla pagina Facebook della Due Giorni della Costa Brava.

C'è già la data dell'anno prossimo: il 18 e 19 novembre.
------------------------------------------------------------------------------------------
----> RESULTS
------------------------------------------------------------------------------------------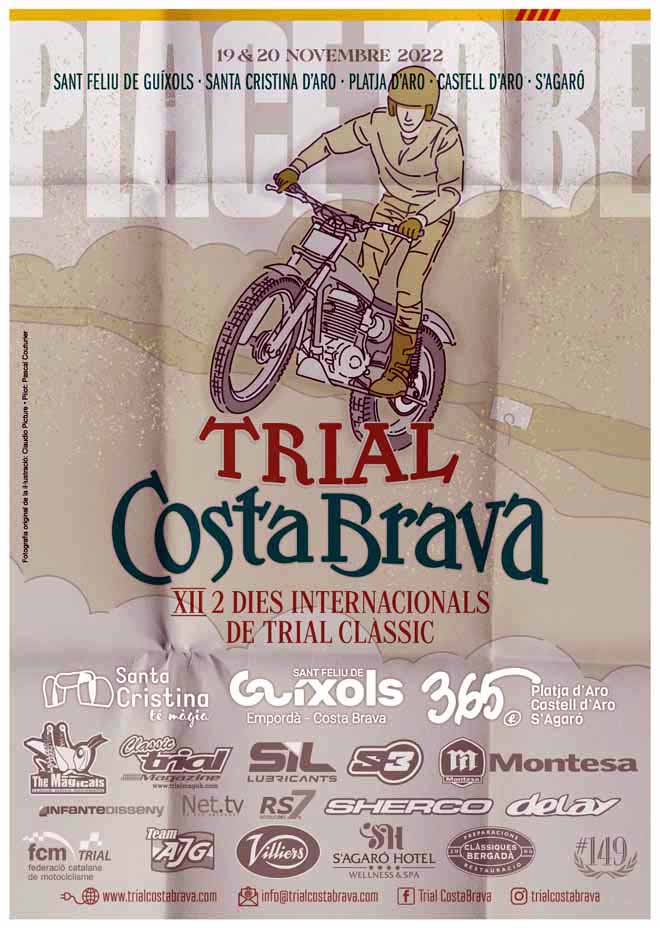 la locandina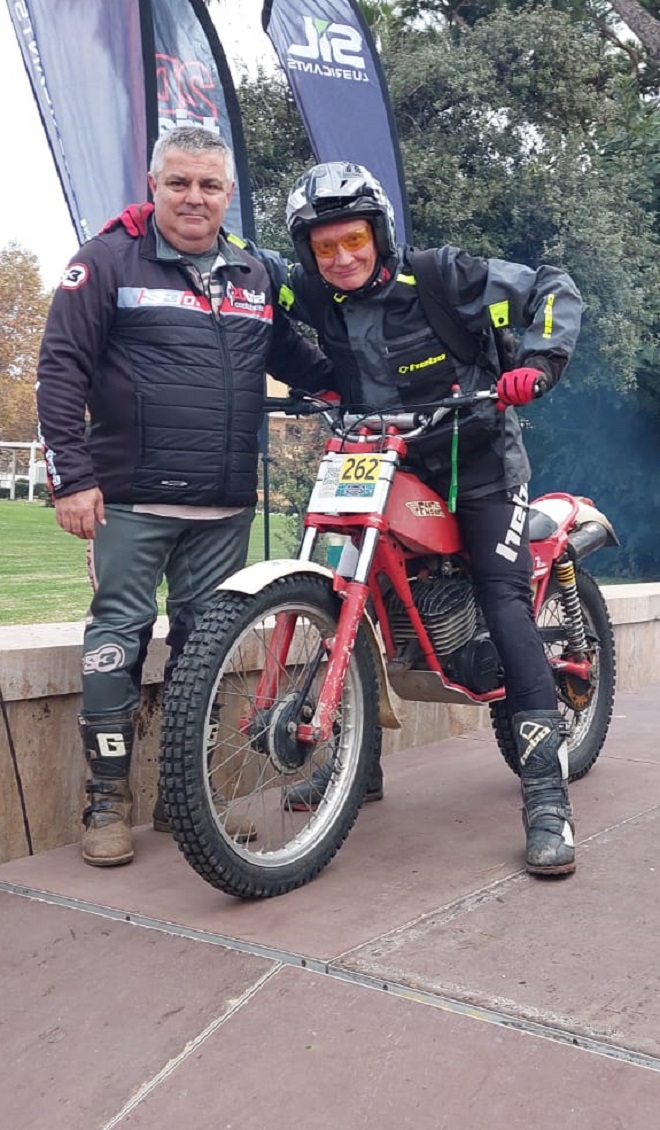 l'autore di queste note con Joan Comas, motore trainante dell'organizzazione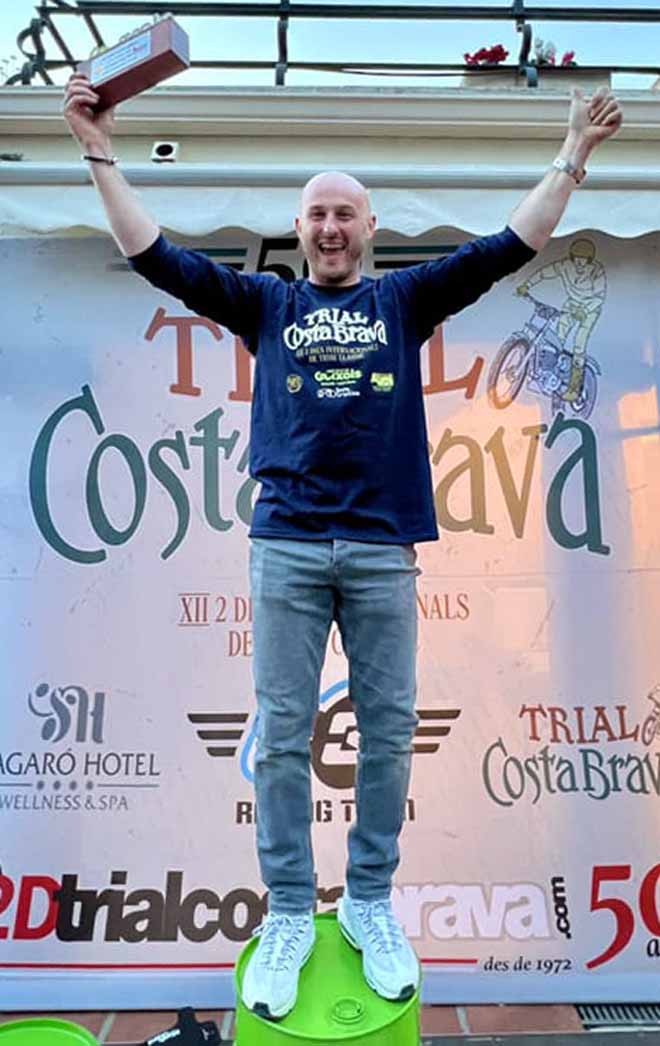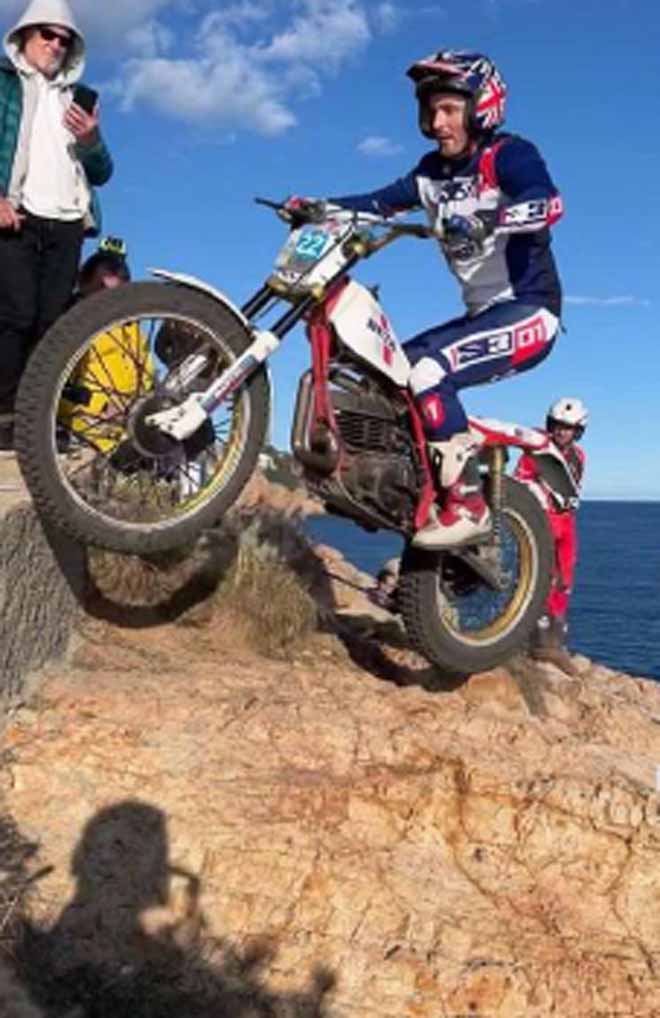 Dan Clark vincitore nel livello massimo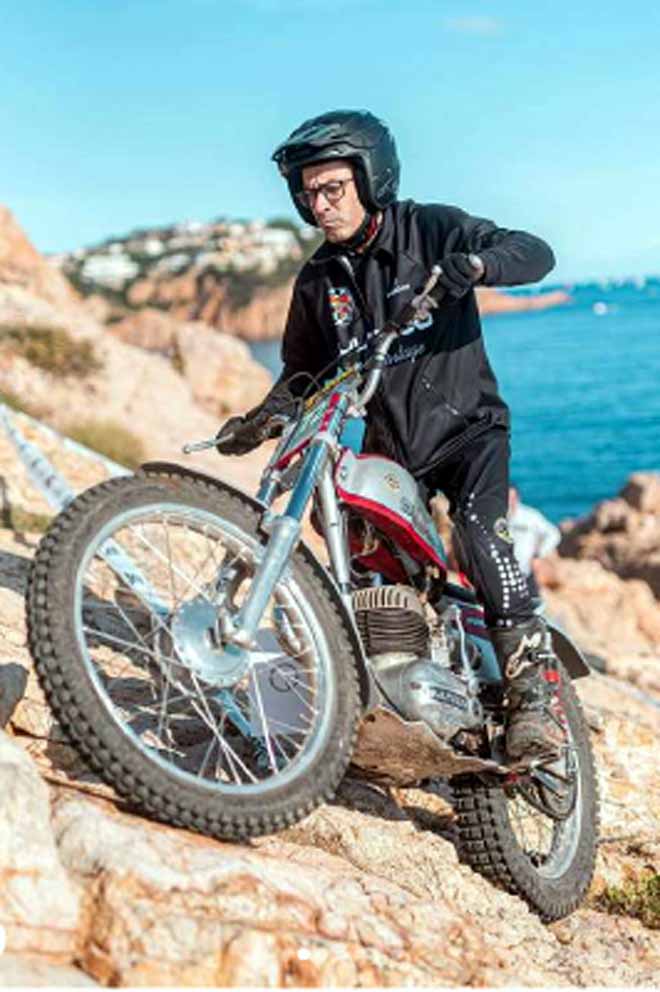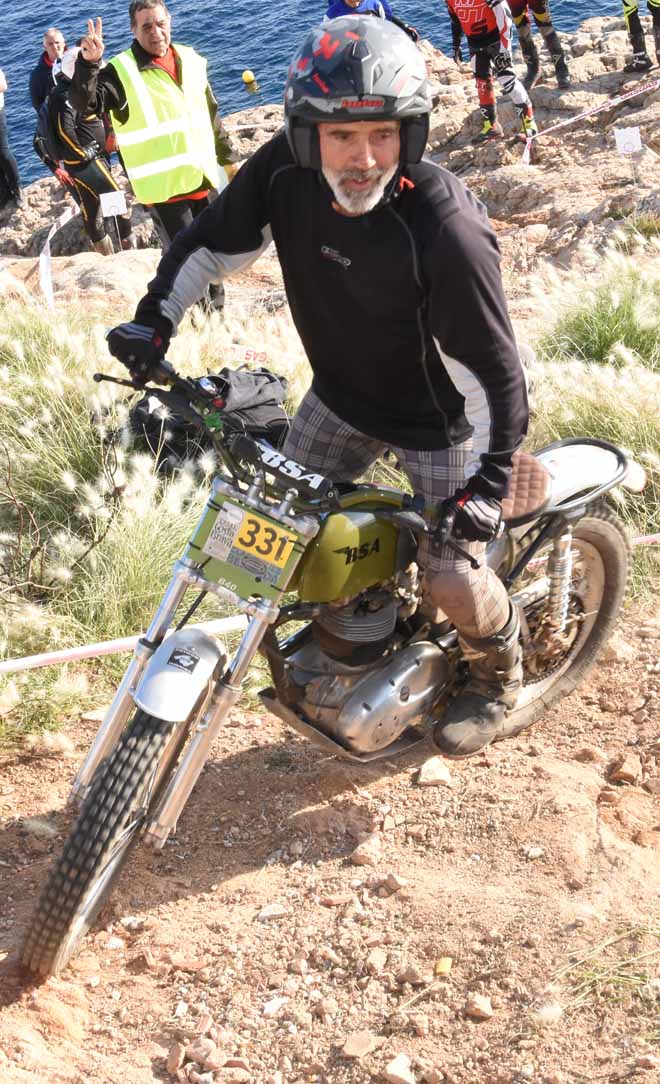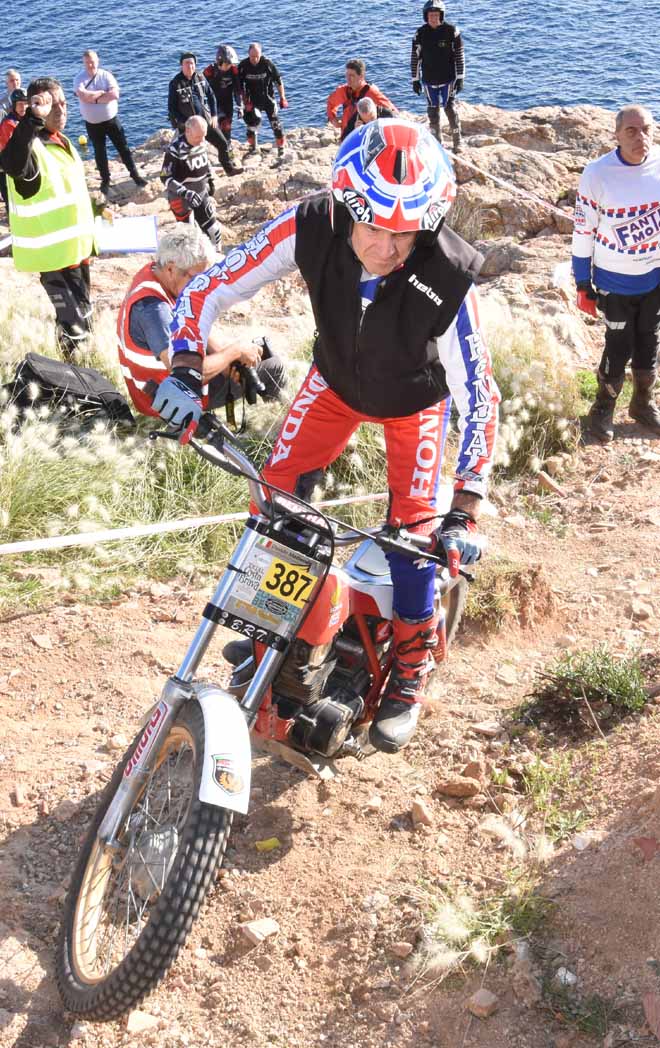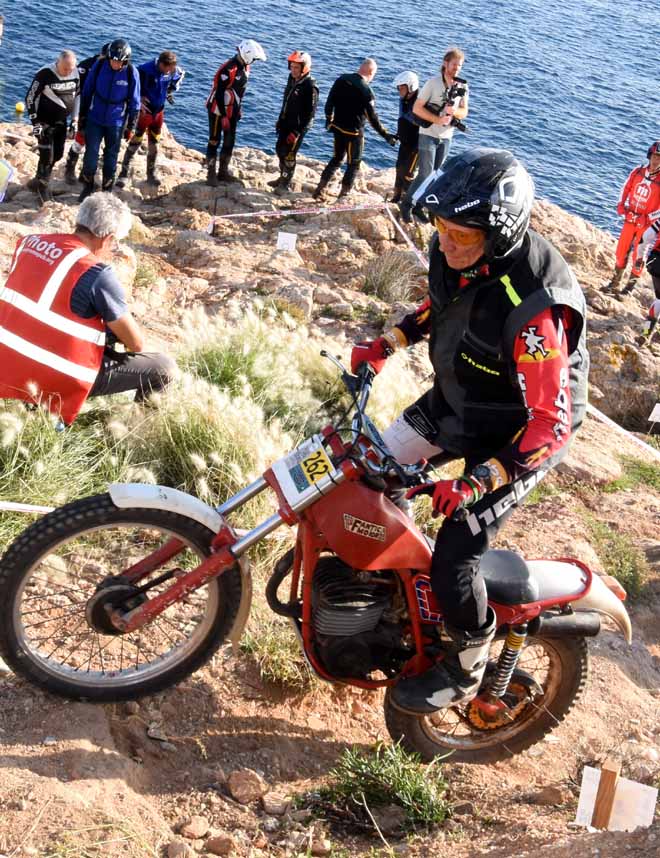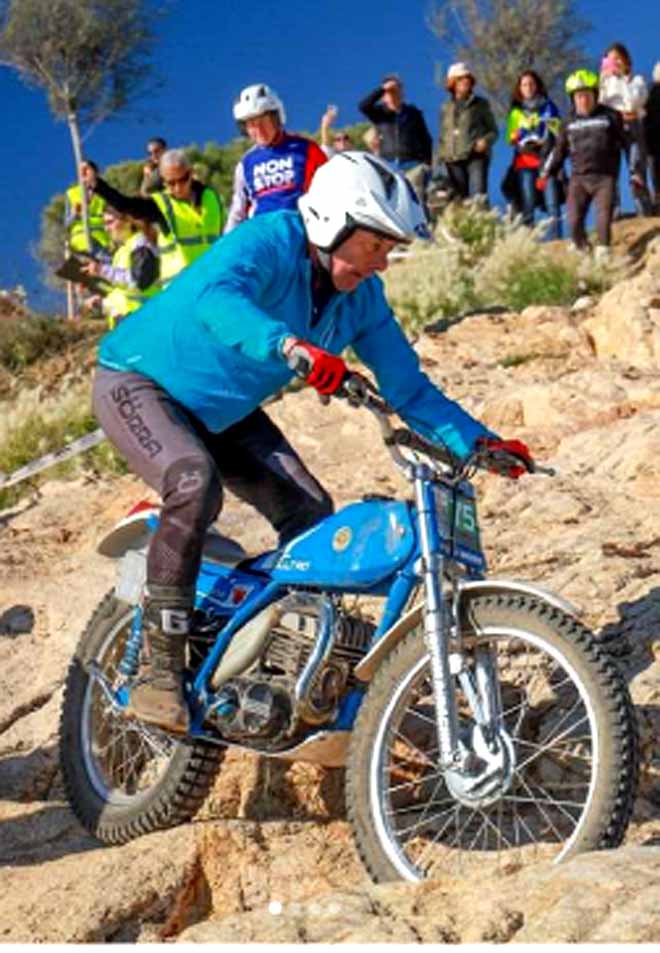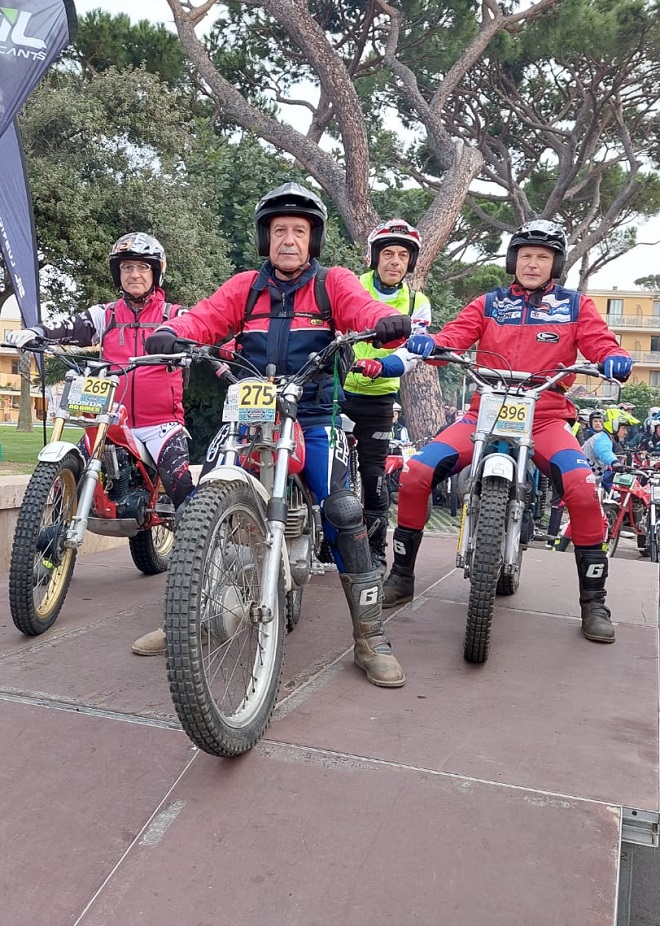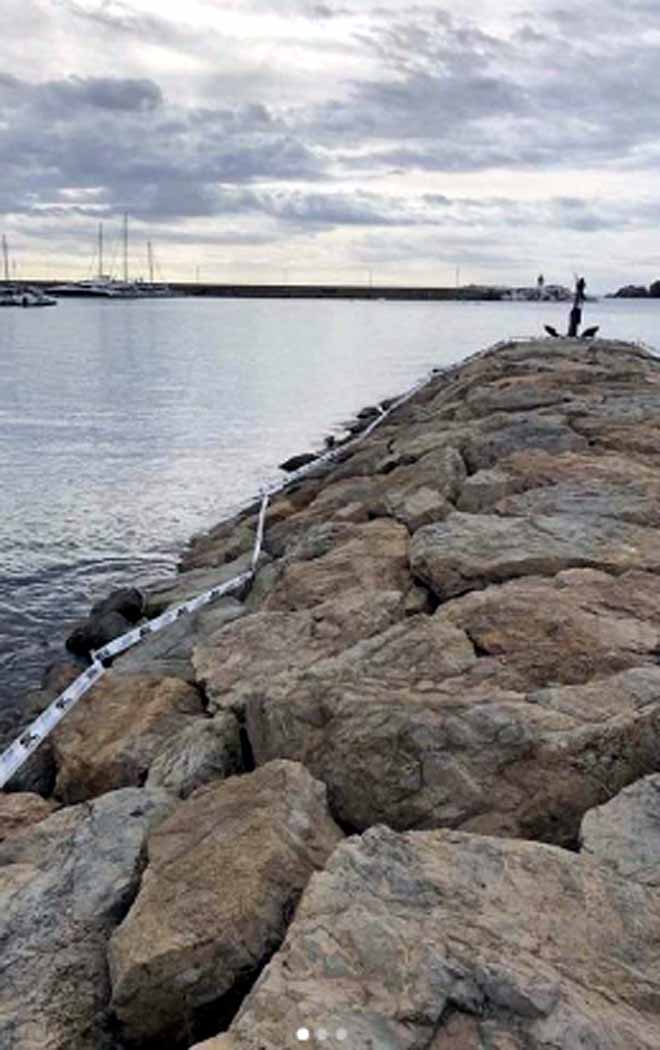 ---------------------------------------------------------------------------------------