11/06/22 - BUSTO BEAT BOU AT THE FIRST ROUND IN L'HOSPITALET DE L'INFANT, SPAIN

Based around 70 miles south west of Barcelona, the Tarragona venue hadn't seen top-flight trial action since the 2015 FIM Trial des Nations.

Defending champion Toni Bou (Montesa) hasn't lost an opening round since 2016 but the record-breaking champ – who's looking for his 16th straight title this year – had to settle for second after a sensational performance by fellow Spaniard Jaime Busto (Vertigo).

In baking temperatures Busto recorded only his second career-win at the highest level – and the first-ever TrialGP victory for the Spanish manufacturer – to put himself on top of the world!

"Today has been incredible," said Busto, "and I'm so happy to start the season like this. The bike and the team have been incredible and I'm looking forward to tomorrow."

After an opening man-made section of logs and concrete pipes that took a shock maximum at the first attempt from Bou, the action was predominantly in and around a dry riverbed where super-steep bankings and huge rocks provided a serious challenge for the best riders in the world.

Following a high-scoring opening lap with plenty of time penalties that ultimately had no bearing on the podium positions, Miquel Gelabert (GASGAS) was leading on 22 followed by Busto and Gelabert's younger brother Aniol (Beta) – who was riding out of his skin after graduating to the TrialGP class this season – on 24. Bou was next best on 25 with Adam Raga (TRRS) completing the all-Spanish top five on 27.

Ultimately, two sections decided the outcome of the trial – section four set under a viaduct with precipitous bankings and imposing boulders and section eight in the riverbed with its series of massive rock steps.

Bou couldn't get to grips with either and picked up maximums at each attempt while Busto added just eight to his total as he ran out winner with 25 on observation and four time penalties giving him a six-mark advantage as Bou parted with 32 and picked up further three on time.

Gelabert was a career-best equalling third on a total of 45 which put him six clear of his brother as Raga came home in fifth on 51 with his four time penalties costing him a position.

With last year's TrialGP Women champion Laia Sanz absent, the premier female class followed the form book with Britain's Emma Bristow (Sherco) – who won seven straight crowns from 2014 to 2020 – quickly getting into her stride.

A single mark lost on section three on the opening lap put her at an initial disadvantage when Naomi Monnier (GASGAS) from France, Andrea Sofia Rabino (Beta) from Italy and Norway's Huldeborg Barkved (GASGAS) all went clean to share the early lead in this truly international class.

Bristow, however, is a master at dealing with pressure and she quickly regrouped to lose just two further marks on the remainder of the 12-section lap to tie for the lead at the halfway point with her Spanish rival Berta Abellan (Scorpa) as Monnier and Rabino shared third position on nine marks apiece.

It was a high-pressure start to lap two with Bristow and Abellan going toe-to-toe until section six when the 31-year-old Brit pulled clear to complete the lap having added just a single mark to her score as Abellan racked up an addition six penalties to end the day with a total of nine.

"Obviously, I'm pleased to come away with first," said Bristow. "It's a great way to start the championship. Hopefully tomorrow the sections will be a little bit more difficult but I'm happy with the way I feel on the bike and the team is really good."

Completing the podium after a second lap of 12, Monnier's score of 21 put her two ahead of Rabino and five in front of Barkved.

With Toby Martyn (TRRS) and Aniol Gelabert – first and third last season – both moving up to TrialGP and Britain's Jack Peace (Sherco) and Italy's Lorenzo Gandola (Beta), who finished 2021 in second and fourth, both having a bad day the door in Trial2 was left open for some fresh talent to shine.

It was rising Spanish star Pablo Suarez (Montesa) who produced an almost faultless performance. After ending last year's series in seventh, the 21-year-old has clearly been working hard over the off-season and he dropped just two marks, his second coming on the very last section of the trial!

His compatriot Arnau Farre (Sherco) was tied with him for the lead at the halfway mark but a maximum on section six on lap two ruined his chances and he ended the day on a total of seven which was still 10 clear of third-placed Sondre Haga (Beta) from Norway.

"Today has been great for me," said Suarez. "There was some pressure because Arnau was also riding really well. I'm very happy with the result."

With electric motorcycles competing against conventional petrol-engined machines for the first time in the series' history, French rider Gael Chatagno (Electric Motion) showed just how competitive these bikes can be and was only three marks away from the podium.

For 2022 the old Trial125 class has been rebranded as Trial3 and Harry Hemingway (Beta) got his campaign off to the best possible start with a conclusive win – although it wasn't all plain sailing for the young British rider who ended last year as runner-up.

A comfortable six marks clear of Adria Mercade (Scorpa) following his incredible clean opening lap, a maximum on section six second time around caused a few nervous moments but he held it together and his total of seven saw him finish five marks ahead of his talented Spanish rival to top the 28-strong field.

"It's the ideal way to start the year," said Hemingway. "I set off great with a perfect first lap but I got a bit tired in the heat on the second lap and made a mistake but I'm still very happy with a score of seven."

The Czech Republic's David Fabien (Beta) started the day as one of the pre-event favourites but a disastrous opening lap total of 18 dropped him out of contention. However, the 16-year-old – fourth overall in 2021 – showed his class and parted with just three marks on lap two to snatch the final podium position from class newcomer Jamie Galloway (TRRS) from Britain.

The action resumes tomorrow with the first rider away at 9am.


---------------------------------------------------------------------------------------

BUSTO BATTE BOU ALLA PRIMA IN SPAGNA

Situato a circa 120 km a sud-ovest di Barcellona, L'Hospitalet de L'Infant aveva già ospitato il Trial delle Nazioni nel 2015.

Il campione in carica Toni Bou (Montesa) aveva vinto tutti i round di apertura dal 2016 ma stavolta, pur inseguendo il suo 16° titolo consecutivo, si è dovuto accontentare del secondo posto, a causa di una grande prestazione del connazionale Jaime Busto (Vertigo).

A temperature altissime, Busto ha registrato la sua seconda vittoria in carriera ai massimi livelli e la prima vittoria in assoluto nel TrialGP per la casa spagnola, con anche la testa provvisoria nel mondiale!

"Oggi è stato incredibile", ha detto Busto, "e sono felicissimo di iniziare la stagione così. La moto e il team sono stati incredibili e non vedo l'ora che arrivi domani."

Dopo un'apertura con zona indoor in cui Bou ha sottovalutato una discesa su tronchi che gli è costato subito un pesante cinque , l'azione si è svolta principalmente all'interno e intorno al letto di un fiume asciutto dove argini super ripidi e enormi rocce hanno rappresentato una seria sfida per i migliori trialisti del mondo.

Dopo un primo giro ad alto punteggio con un sacco di penalità di tempo che alla fine non hanno influito sulle posizioni del podio, Miquel Gelabert (GASGAS) era in testa con 22, seguito da Busto e dal fratello minore di Gelabert, Aniol (Beta), perfettamente a suo agio, fresco del passaggio alla classe TrialGP in questa stagione, con 24. Bou dietro a 25, mentre Adam Raga (TRRS) ha completato la top five tutta spagnola con 27.

In definitiva, due sezioni hanno deciso l'esito della prova: la zona quattro, posta sotto un viadotto con argini scoscesi e massi imponenti e la zona otto nell'alveo del fiume con la sua serie di alti gradini di roccia.

Bou non è riuscito a capirle entrambe e ha ottenuto il massimo dei punti ad ogni tentativo, mentre Busto se l'è cavata con otto punti al suo totale ed è uscito vincitore con 25 penalità, più quattro penalità di tempo. Un vantaggio di sei errori su Bou che ha finito a 32 più altri tre per il tempo.

Miquel Gelabert ha fatto il miglior terzo posto in carriera con un totale di 45, sei punti davanti a suo fratello Aniol, mentre Raga è giunto quinto con 51.

Putroppo per il nostro Matteo un magro decimo posto, trovatosi a corto di tempo nel finale e conseguente forzatura di zone "bucate" cinque per non arrivare fuori tempo massimo.

Esordio nella Trialgp per Luca Petrella, dove transitare fra i primi non ha giovato. Un'esperienza che si aggiunge al suo carnet, questo dodicesimo posto.

Con l'assenza della campionessa TrialGP Women dell'anno scorso Laia Sanz, la classe regina ha seguito il vechio standard, con la britannica Emma Bristow (Sherco) – forte di sette corone consecutive dal 2014 al 2020 – che ha subito imposto il suo credo.

Un solo punto perso nella sezione tre nel primo giro l'ha messa in svantaggio iniziale quando Naomi Monnier (GASGAS) dalla Francia, Andrea Sofia Rabino (Beta) dall'Italia e la norvegese Huldeborg Barkved (GASGAS) sono andati tutti "puliti" a condividere il vantaggio iniziale in questa classe davvero internazionale.

Bristow, tuttavia, è una maestra nell'affrontare la pressione e si è rapidamente riorganizzata perdendo solo altri due punti nel resto del giro di 12 sezioni per condividere il comando a metà percorso con la sua rivale spagnola Berta Abellan (Scorpa), metre Monnier e Rabino hanno condiviso la terza posizione con nove punti ciascuno.

È stato un inizio ad alta pressione per il secondo giro con Bristow e Abellan in punta di piedi fino alla sezione sei, quando la 31enne britannica si è allontanata per completare il giro dopo aver aggiunto una sola penalitò al suo punteggio mentre Abellan ha accumulato altri sei errori per concludere la giornata con un totale di nove.

"Ovviamente, sono lieta di partire con una vittoria", ha detto Bristow. "È un ottimo modo per iniziare il campionato. Spero che domani le sezioni siano un po' più difficili, ma sono contenta di come mi sento sulla moto e il team è davvero bravo".

Ha completato il podio, dopo un secondo giro di 12, per un totale di 21, la Monnier, di due davanti a Rabino e di cinque davanti a Barkved.


------------------------------------------------------------------------------------------
------------------------------------------------------------------------------------------
1. Jaime BUSTO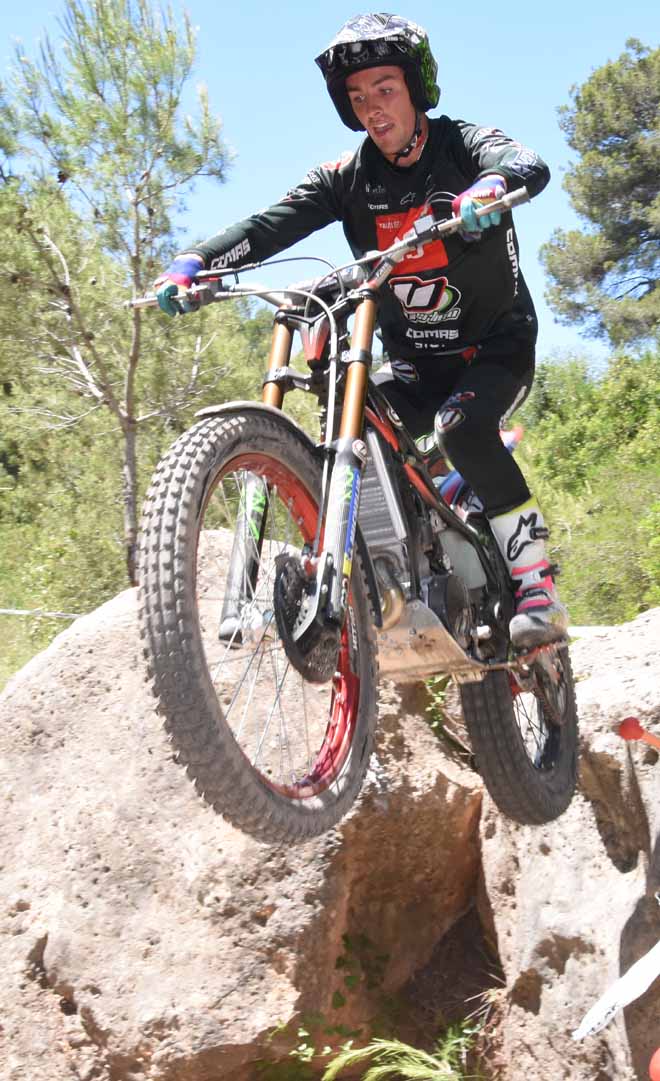 2. Toni BOU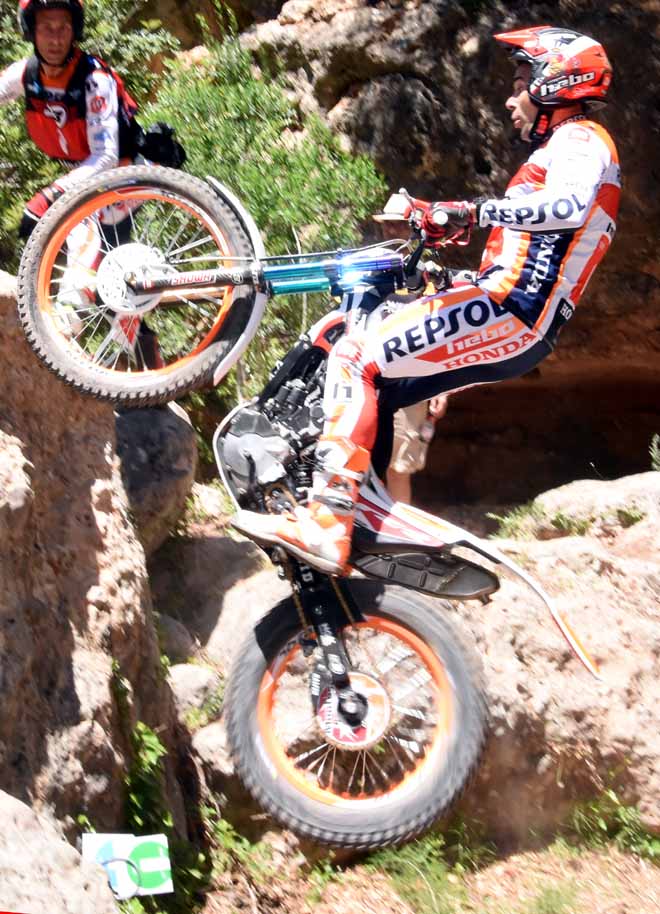 3. Miquel GELABERT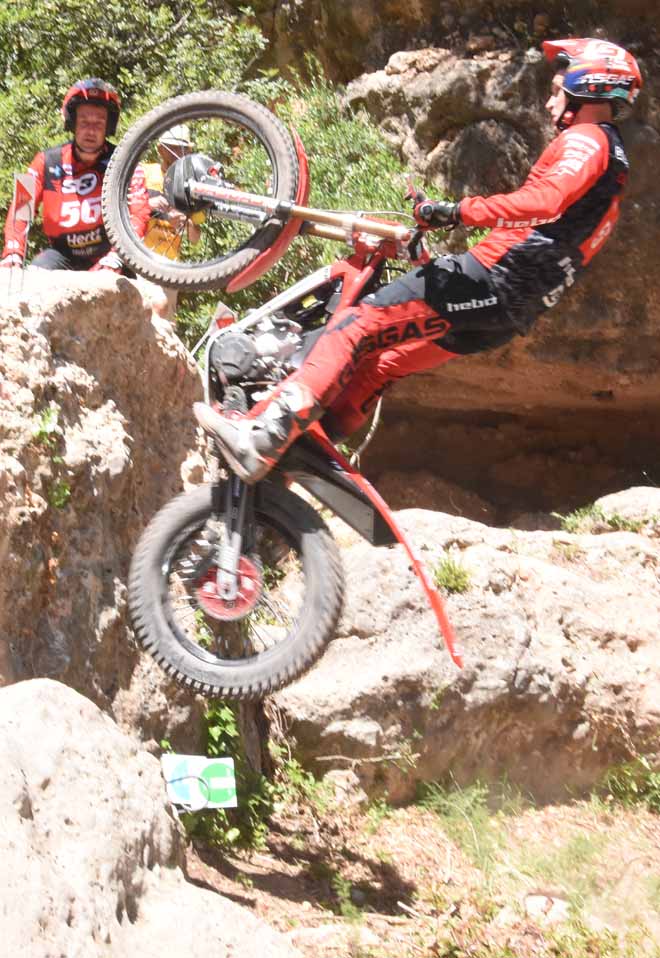 4. Aniol GELABERT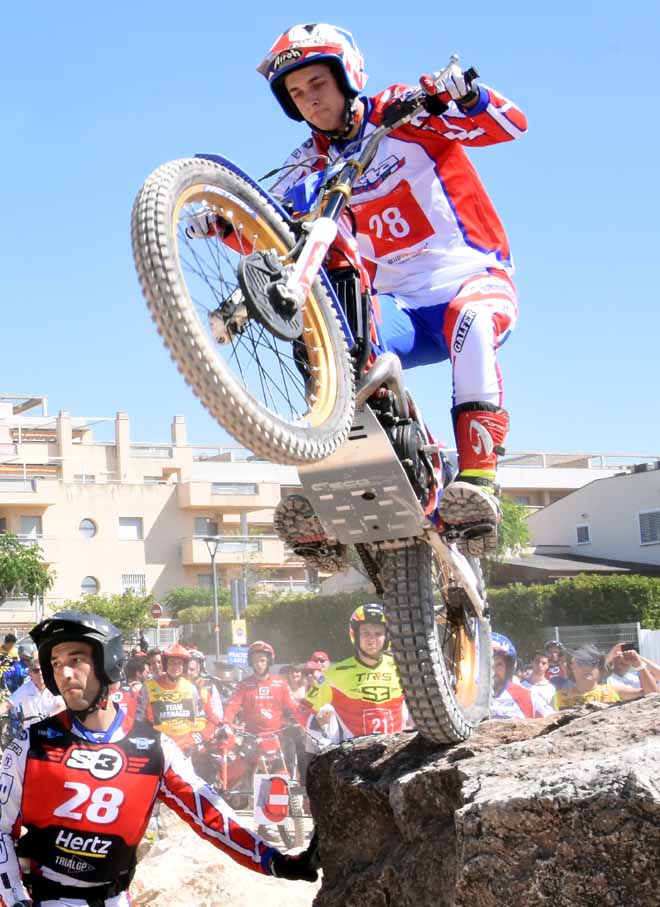 5. Adam RAGA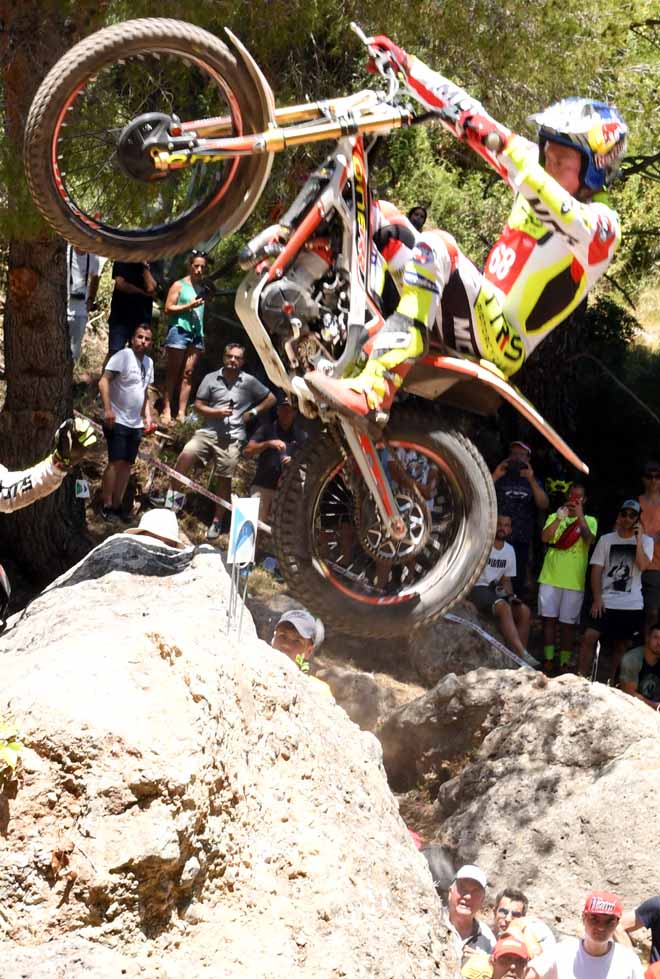 10. Matteo GRATTAROLA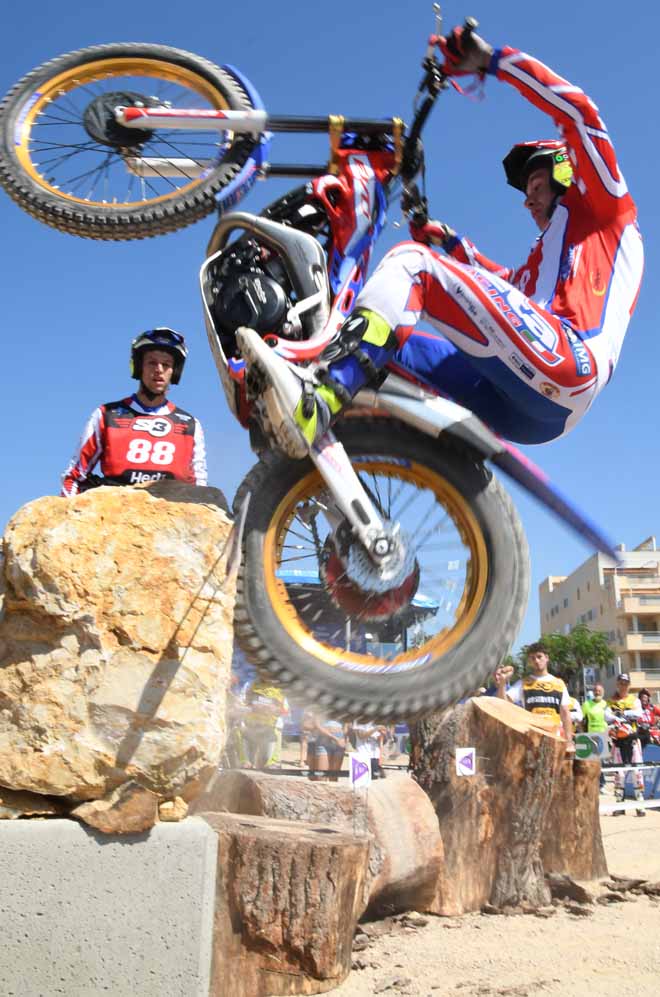 12. Luca PETRELLA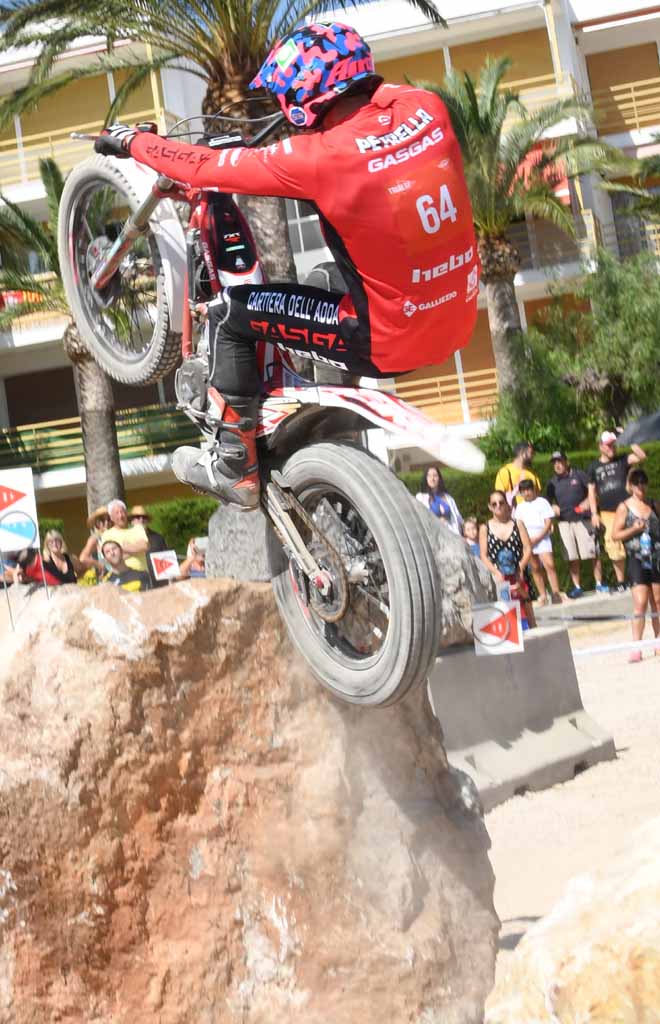 ------------------------------------------------------------------------------------------
1. Emma BRISTOW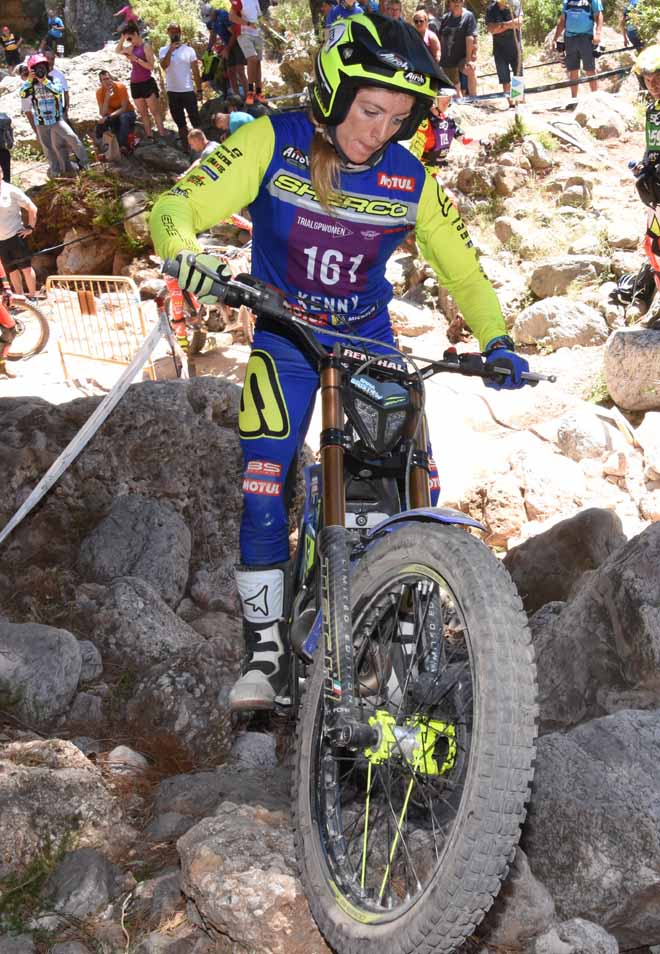 2. Berta ABELLAN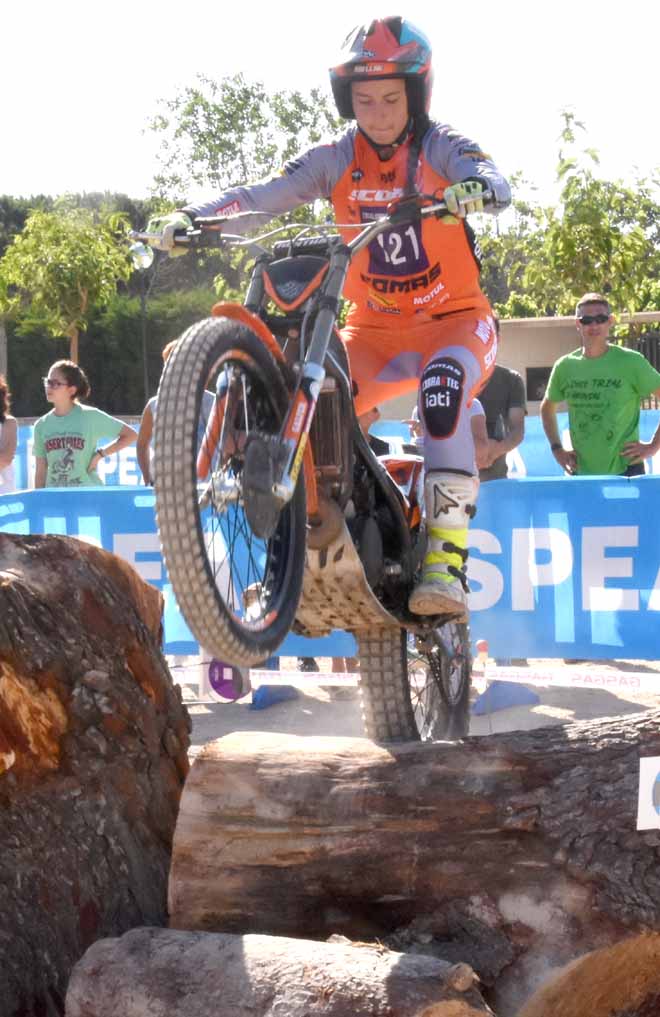 3. Naomi MONNIER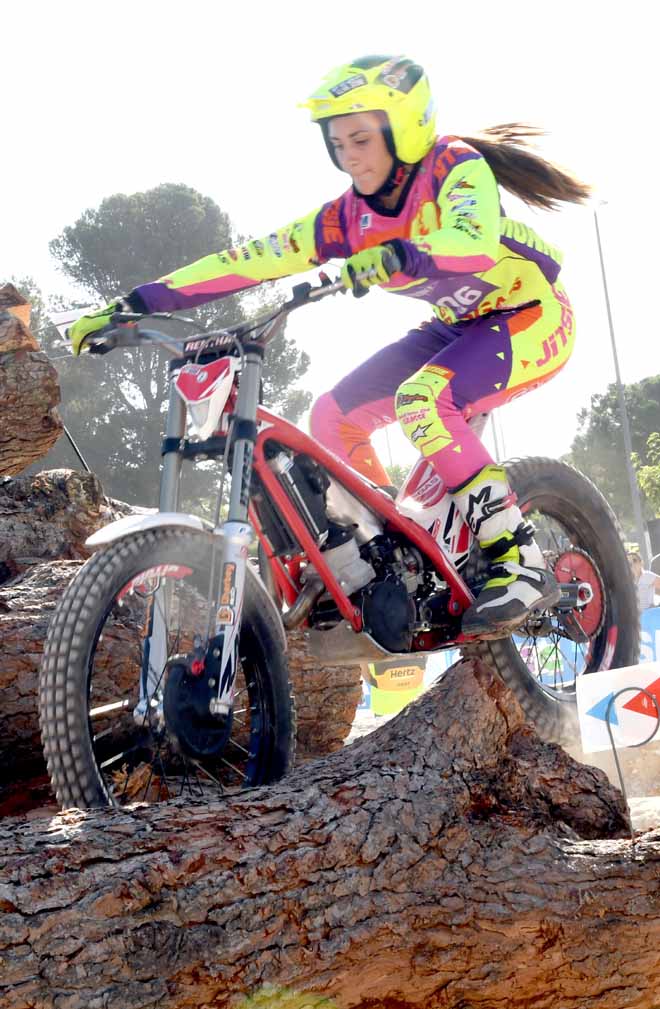 4. Andrea Sofia RABINO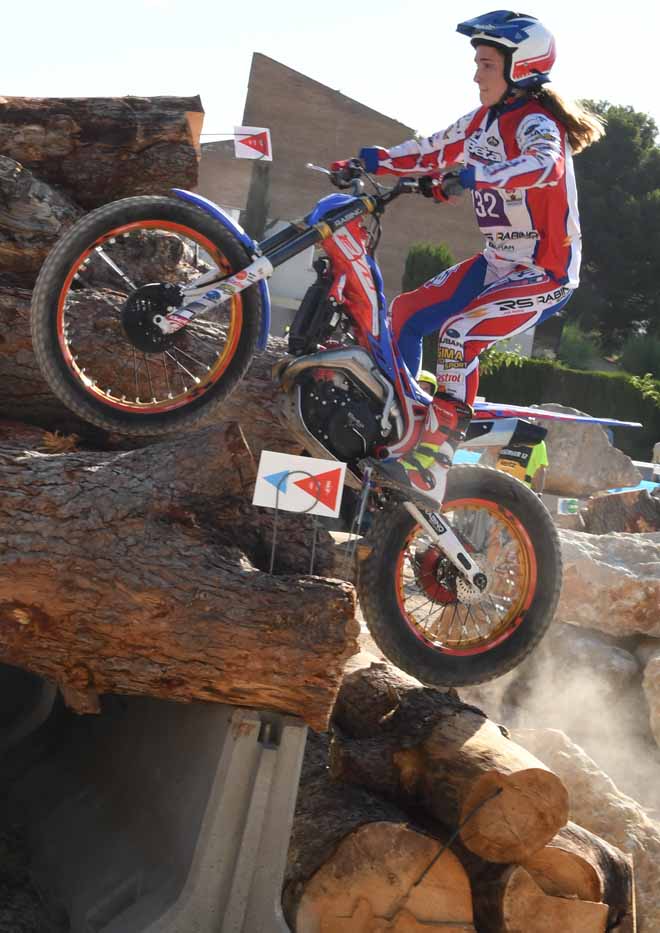 5. Huldeborg BARKVED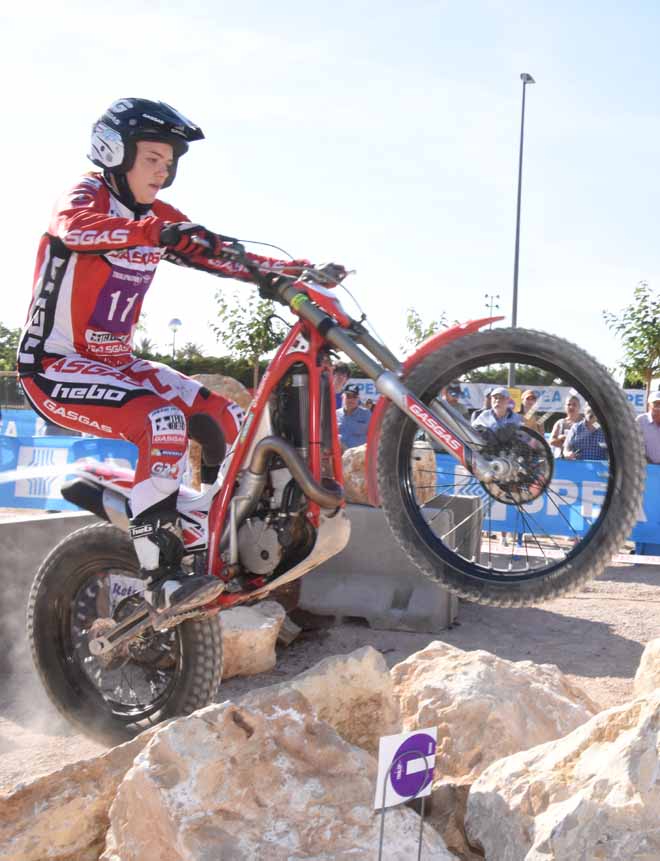 9. Martina GALLIENI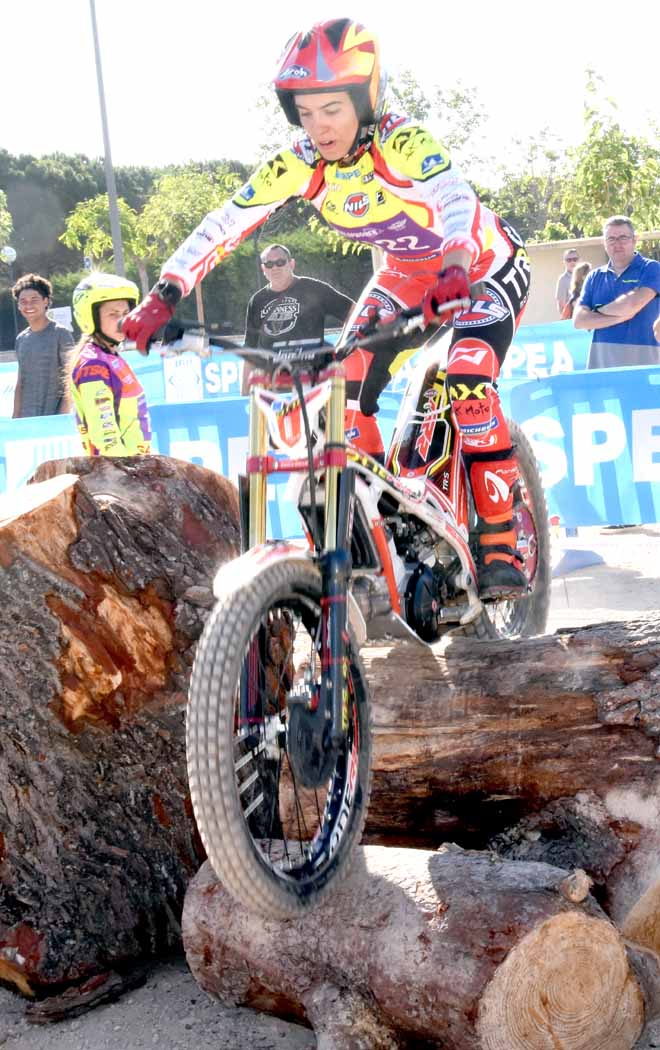 10. Alessia BACCHETTA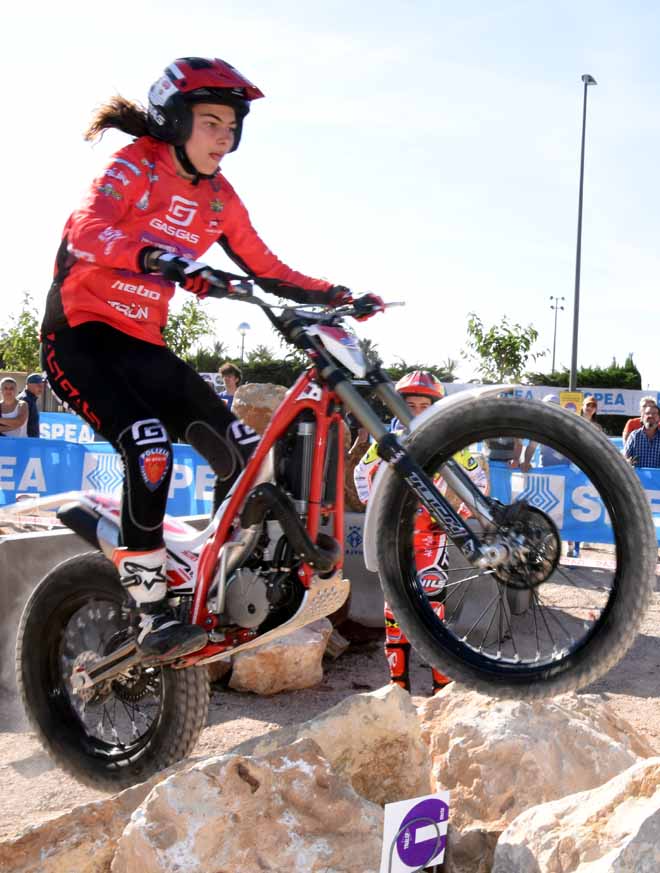 ------------------------------------------------------------------------------------------
1. Pablo SUAREZ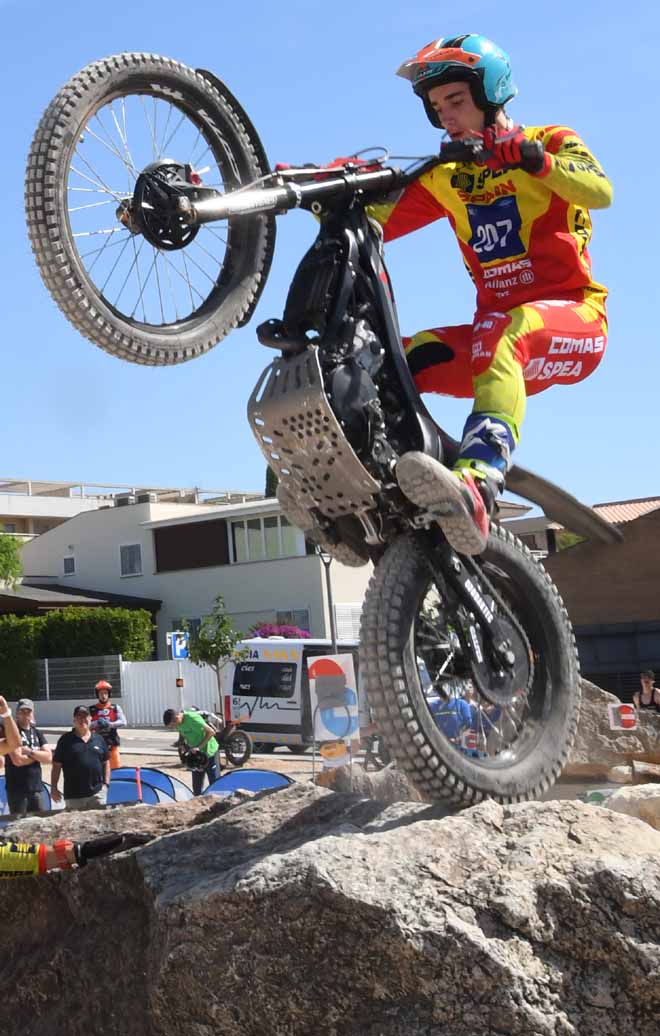 2. Arnau FARRE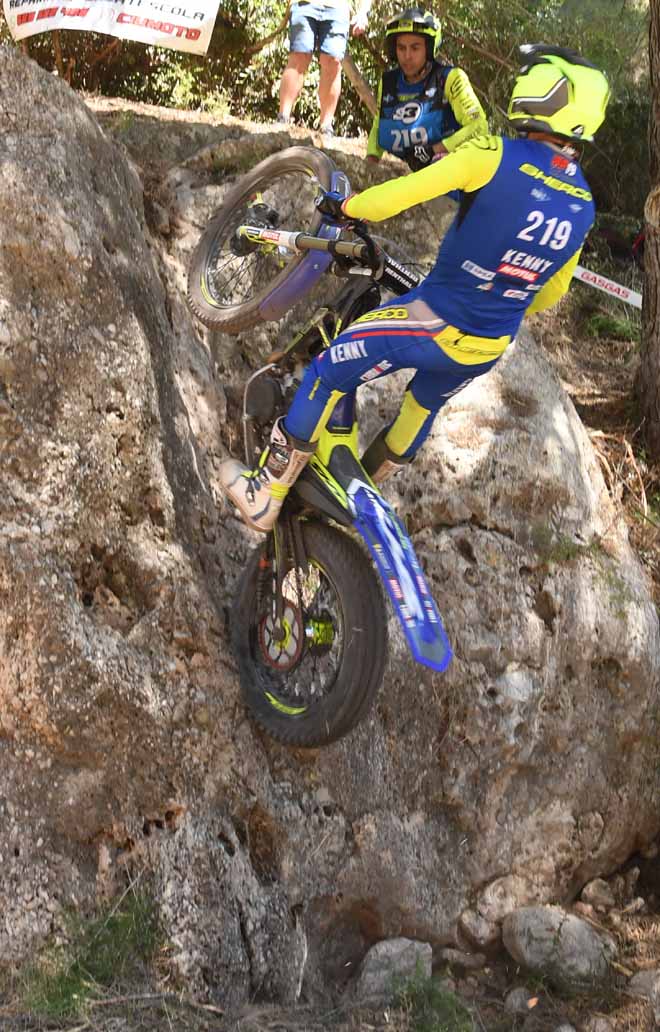 3. Sondre HAGA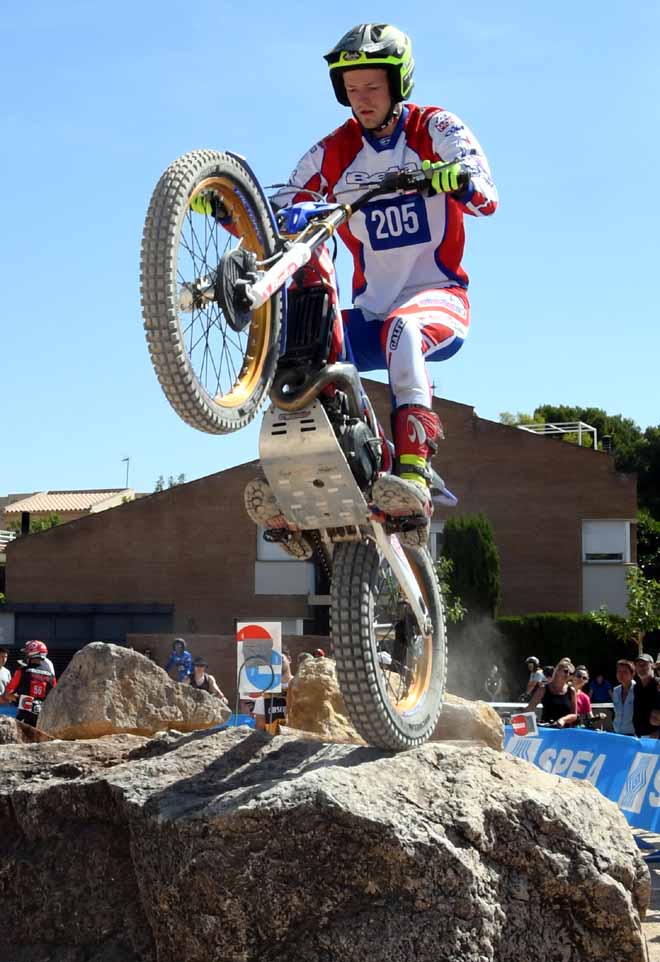 6. Gianluca TOURNOUR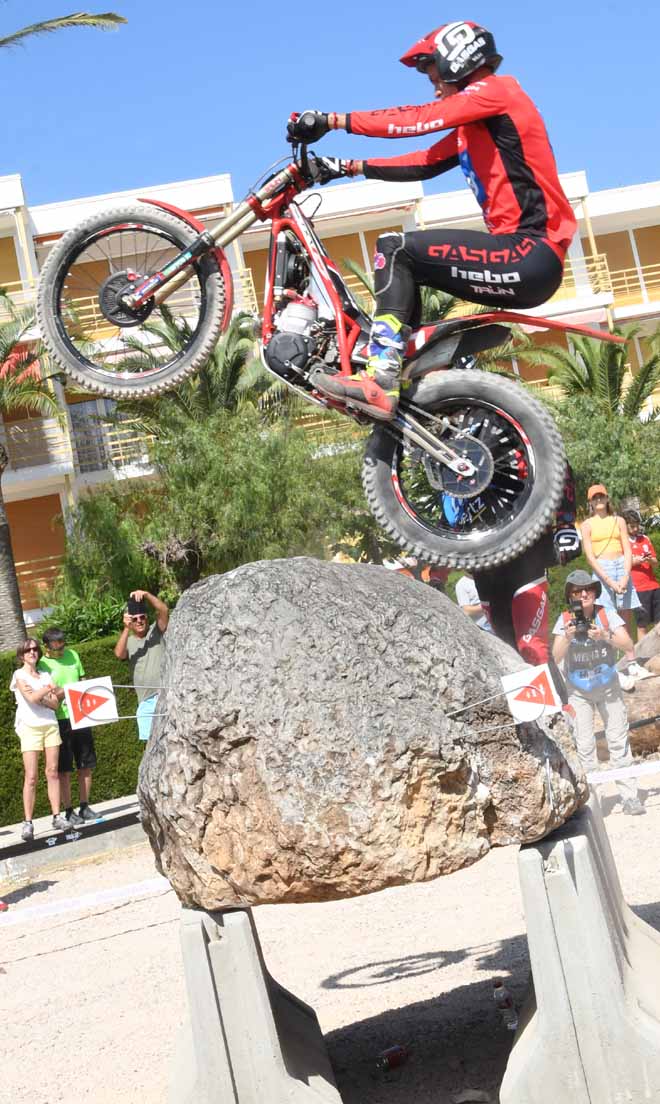 7. Lorenzo GANDOLA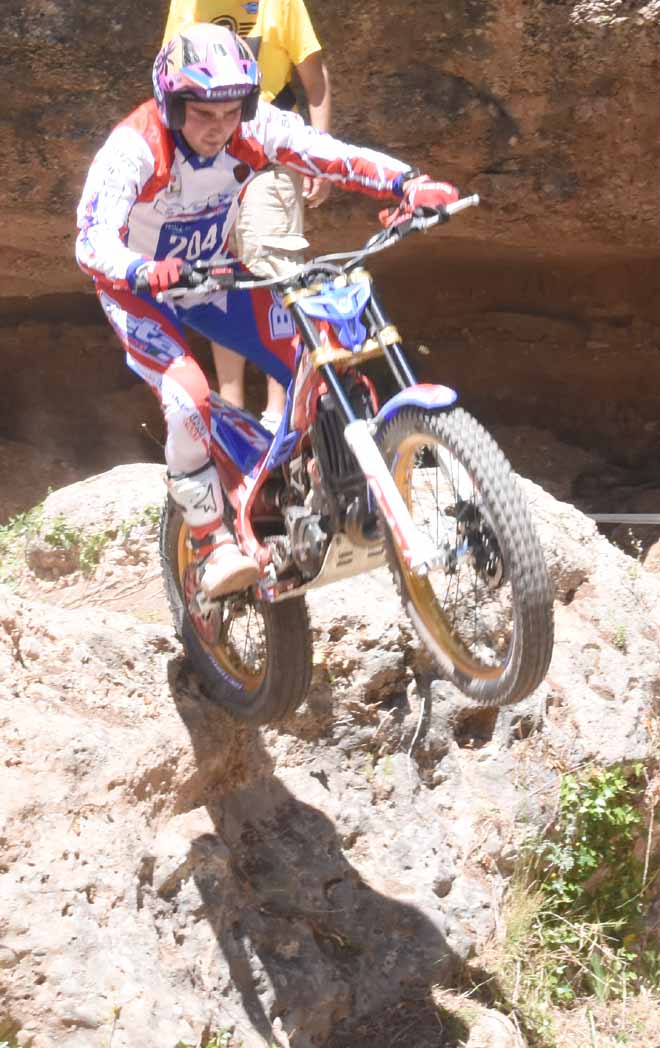 ---------------------------------------------------------------------------------------
press releases ---- comunicati stampa
---------------------------------------------------------------------------------------