18/06/22 - RAGA TOPPED THE FIRST DAY OF ANDORRA GP IN SANTA JULIA

High altitude, even higher temperatures and super-challenging sections made today's Hertz FIM TrialGP of Andorra – round two of this year's world championship – the toughest event so far this season.

At its highest point a lofty 1600 metres above sea level, bikes and bodies were pushed to the absolute limit at Sant Julià de Lòria as the best trial riders on the planet fought it out in the Pyrenean principality.

The first four sections were plotted on the side of a steep-sided valley with big rocks set into loose ground before the focus shifted to a partially dry riverbed where grip was in short supply.

The premier TrialGP class is proving to be incredibly competitive this year and we saw our third winner from the first three events as Adam Raga (TRRS) emerged on top with a dominant 10-mark winning ride ahead of defending champion Toni Bou (Montesa).

Sitting third in the championship heading into Andorra, the Spaniard's ninth win in the Pyrenees ties Bou's record and sets up a dramatic encounter on day two as both riders push to get their win total here into double figures.

Following a high-scoring opening lap, Raga led the 15-time champ by seven marks before sealing the deal with a second-lap total of 12 that was easily the best of the trial.

"I'm very happy because I rode my best and had a very good second lap and pushed to the end to take the victory," said Raga. "I have a good feeling now after not a perfect result at the first round."

Jeroni Fajardo (Sherco) was a distant third after winning a tie-break with fellow Spanish rider Jorge Casales (Scorpa) as Gabriel Marcelli (Montesa) claimed fifth.

Jaime Busto (Vertigo), who shared the championship lead with Bou at the start of the day following his victory at the series' opener, came home a disappointing seventh.

A double winner last time out, Britain's Emma Bristow (Sherco) was defeated by her long-time rival Berta Abellan (Scorpa) from Spain who claimed a career-first win in the TrialGP Women class.

Bristow, who's aiming for title number eight this year, led after the opening lap with a comfortable cushion of four but Abellan battled back on lap two and added just a further eight compared to Bristow's 13 which gave her the win by a single mark.

"I'm feeling excited," said Abellan. "This is incredible for me. I have been fighting for a lot of years and this is my first day at the top."

Another 27 marks behind, 2020 Trial2 Women champion Naomi Monnier (GASGAS) from France edged out Italy's 2021 Trial2 Women champion Andrea Sofia Rabino (Beta) by three with Norwegian Huldeborg Barkved (GASGAS) a further three behind.

In Trial2 it was 20-year-old British rider Billy Green (Scorpa) who claimed a career-first victory at this level. Green, the 2018 Trial3 champion, climbed another big step on the ladder with his total of eight giving him a five-mark winning margin over Norway's Sondre Haga (Beta).

"It was an emotional day," said Green. "It's been a good day and I've been riding well so I'm happy."

Green's result moves him ahead of compatriot Jack Peace (Sherco) in the championship standings but Spain's Pablo Suarez (Montesa) – a double winner last weekend – still leads the stacked 37-strong field in front of Haga after finishing third.

A hotbed of young talent, Trial3 saw its third different winner from three events with class rookie Jamie Galloway (TRRS) shading the win from fellow British rider Harry Hemingway (Beta)

. Hemingway, who went 1-2 at L'Hospitalet de L'Infant to take the series lead, held a slender one-point advantage at the halfway point but Galloway's second-lap total of six gave him the victory by a single mark.

"It's been a great day," said Galloway. "It was really tight but the bike worked mint at altitude so I can't complain."

Italy's Mirko Pedretti (Beta), following a pair of below-par performances in Spain, showed his class with a fine third ahead of the Czech Republic's David Fabien (Beta) – winner on day two in Spain – with George Hemingway, Harry's younger brother who's making his debut this season, rounding out the top five.

The action kicks off tomorrow with the first rider away at 9am.


---------------------------------------------------------------------------------------

RAGA SVETTA NEL PRIMO GIORNO DEL GP DI ANDORRA

Alta quota, temperature ancora più elevate e sezioni super impegnative hanno reso l'odierna Hertz FIM TrialGP di Andorra, il secondo round del campionato del mondo di quest'anno, l'evento più difficile di questa stagione.

Nel suo punto più alto, a 1600 metri sul livello del mare, moto e piloti sono stati spinti al limite a Sant Julià de Lòria mentre i migliori del pianeta si sono dati battaglia nel principato dei Pirenei.

Le prime quattro sezioni sono state tracciate sul lato di una valle ripida con grandi rocce incastonate in terreno smosso prima che l'attenzione si spostasse su un letto di fiume parzialmente asciutto dove l'aderenza era scarsa.

La classe regina TrialGP si sta rivelando incredibilmente competitiva quest'anno e abbiamo visto un terzo vincitore: Adam Raga (TRRS) è emerso soprattutto nel finale dopo un testa a testa per tutta la gara con Toni Bou (Montesa).

Terzo in campionato dopo a Andorra, la sua nona vittoria nei Pirenei eguaglia il record di Bou e aggiunge un motivo di sfida per domani, poiché entrambi cercheranno di portare il loro totale di vittorie in doppia cifra.

"Sono molto felice perché ho fatto del mio meglio e ho fatto un ottimo secondo giro e ho spinto fino alla fine per prendermi la vittoria", ha detto Raga. "Ora mi sento bene dopo un risultato non perfetto al primo round."

Jeroni Fajardo (Sherco) è arrivato terzo dopo aver vinto un tie-break con il compagno spagnolo Jorge Casales (Scorpa) mentre Gabriel Marcelli (Montesa) ha conquistato il quinto.

Jaime Busto (Vertigo), che condivideva la leadership in campionato con Bou all'inizio della giornata dopo la sua vittoria all'apertura della serie, ha ottenuto un deludente settimo posto.

Doppia vincitrice l'ultima volta, la britannica Emma Bristow (Sherco) è stata sconfitta dalla sua rivale di lunga data Berta Abellan (Scorpa) dalla Spagna che ha ottenuto la prima vittoria in carriera nella classe TrialGP Women.

Bristow, che quest'anno punta al titolo numero otto, era in testa dopo il primo giro con un vantaggio di quattro punti, ma Abellan ha compiuto un secondo giro eccezionale, aggiungendo solo altri otto rispetto ai 13 di Bristow, che le hanno dato la vittoria per un solo punto.

"Sono al settio cielo", ha detto Abellan. "Questo è incredibile per me. Gareggio da molti anni e questo è il mio primo giorno al vertice."

Altri 27 punti dietro, la campionessa francese di Trial2 2020 Naomi Monnier (GASGAS) dalla Francia ha superato di tre la nostra campionessa Andrea Sofia Rabino (Beta) e la norvegese Huldeborg Barkved (GASGAS) con altri tre punti dietro.

In Trial2 il ventenne britannico Billy Green (Scorpa) ha ottenuto la prima vittoria in carriera a questo livello. Green ha lasciato dietro di 5 punti il norvegese Sondre Haga (Beta).

"È stata una giornata emozionante", ha detto Green. "È stata una buona giornata e ho guidato bene, quindi sono felice."

Il risultato di Green lo porta davanti al connazionale Jack Peace (Sherco) nella classifica del campionato, ma lo spagnolo Pablo Suarez (Montesa) – due volte vincitore lo scorso fine settimana – è ancora in testa al gruppo di 37 persone davanti ad Haga, nonostante sia arrivato terzo.

Fucina di giovani talenti, Trial3 ha visto il suo terzo vincitore diverso in tre eventi con il debuttante di classe Jamie Galloway (TRRS) che ha oscurato la vittoria del collega britannico Harry Hemingway (Beta)

. Hemingway, che è andato 1-2 a L'Hospitalet de L'Infant per prendere il comando della serie, aveva un leggero vantaggio di un punto a metà, ma il totale di sei di Galloway al secondo giro gli ha dato la vittoria di un solo punto.

"È stata una grande giornata", ha detto Galloway. "Eravamo davvero vicini, ma la moto funzionava come nuova in quota, quindi non posso lamentarmi."

Ottimo Mirko Pedretti (Beta),che è riuscito a raggiungere il podio davanti al ceco David Fabien (Beta) – vincitore della seconda giornata in Spagna – che con George Hemingway, il fratello minore di Harry debuttante in questa stagione, hanno completato i primi cinque.

L'azione riprende domani con il primo pilota al via alle 9 del mattino.
------------------------------------------------------------------------------------------
------------------------------------------------------------------------------------------
------------------------------------------------------------------------------------------
1. Adam RAGA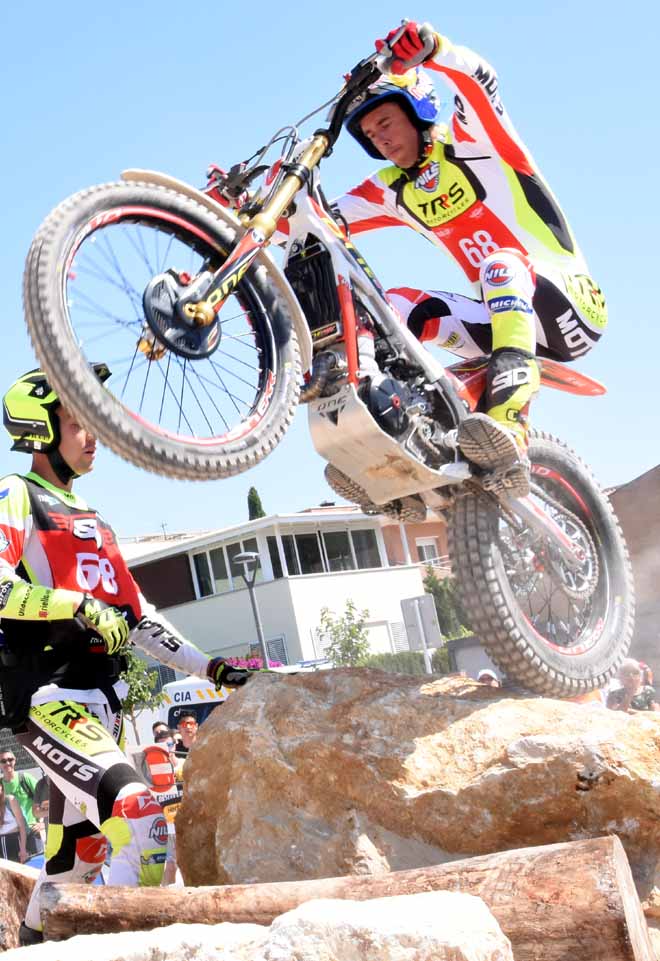 2. Toni BOU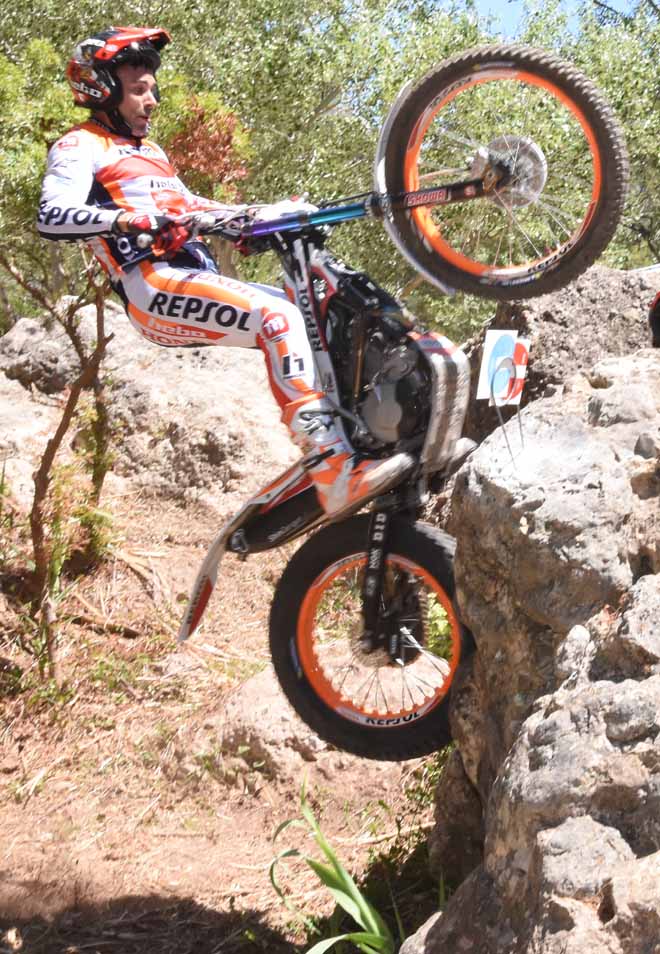 3. Jeroni FAJARDO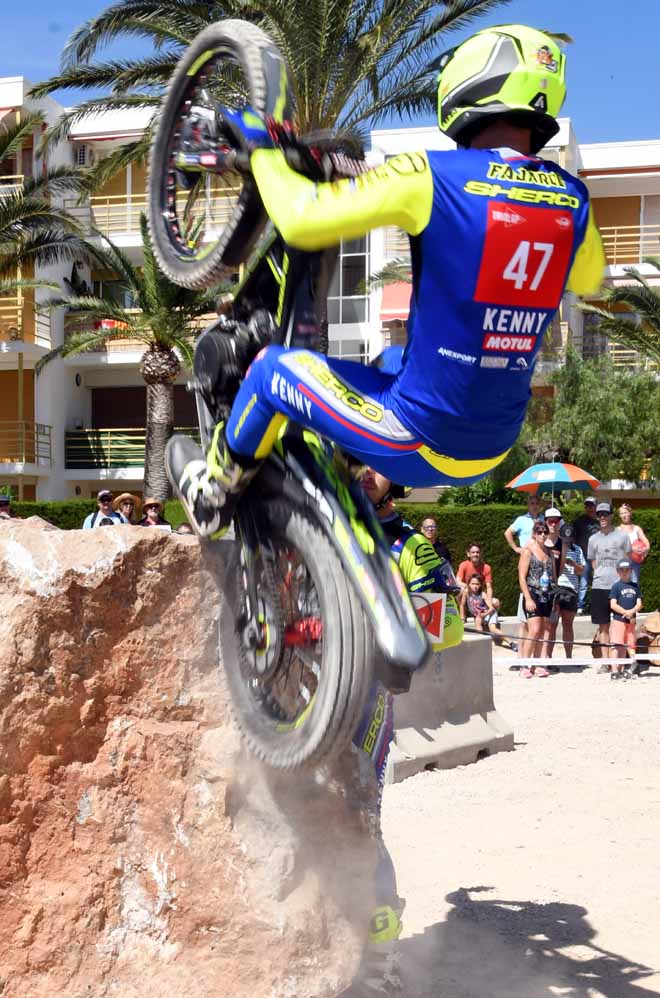 4. Jorge CASALES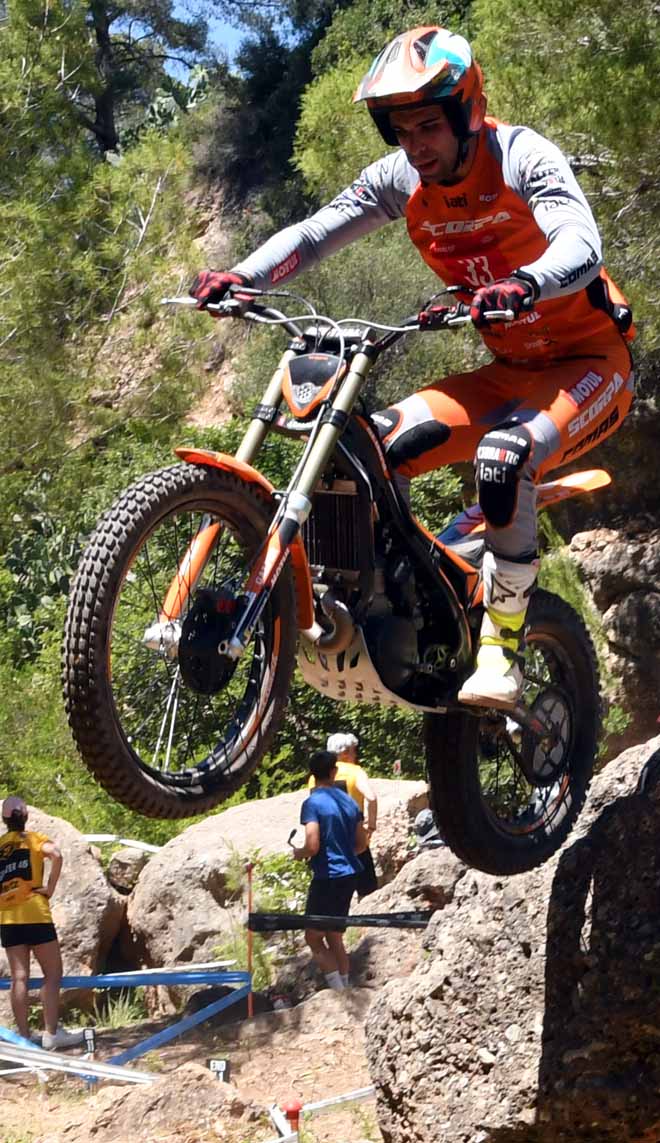 5. Gabriel MARCELLI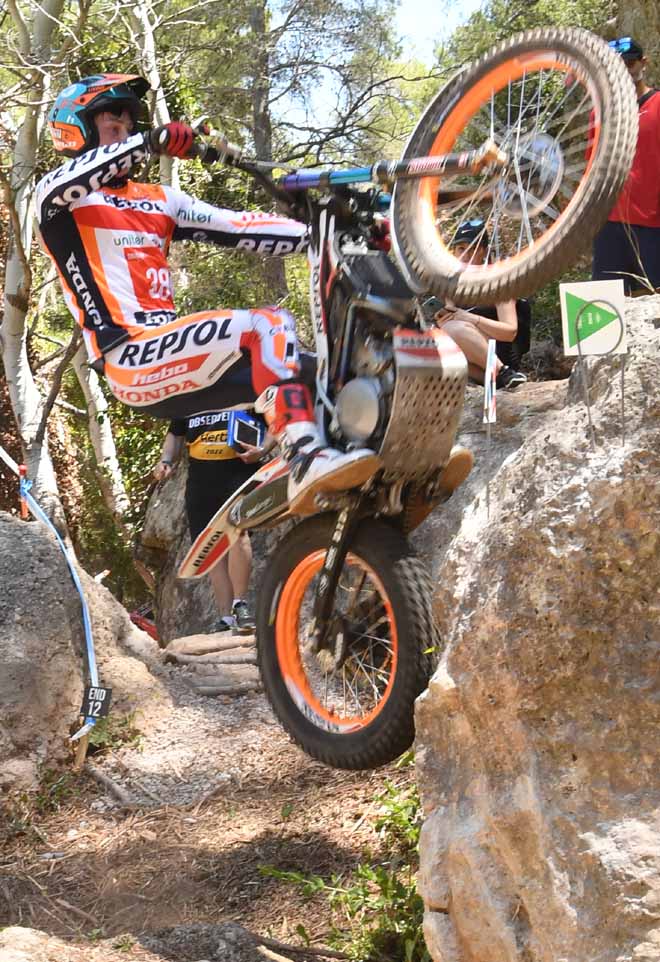 ------------------------------------------------------------------------------------------
1. Berta ABELLAN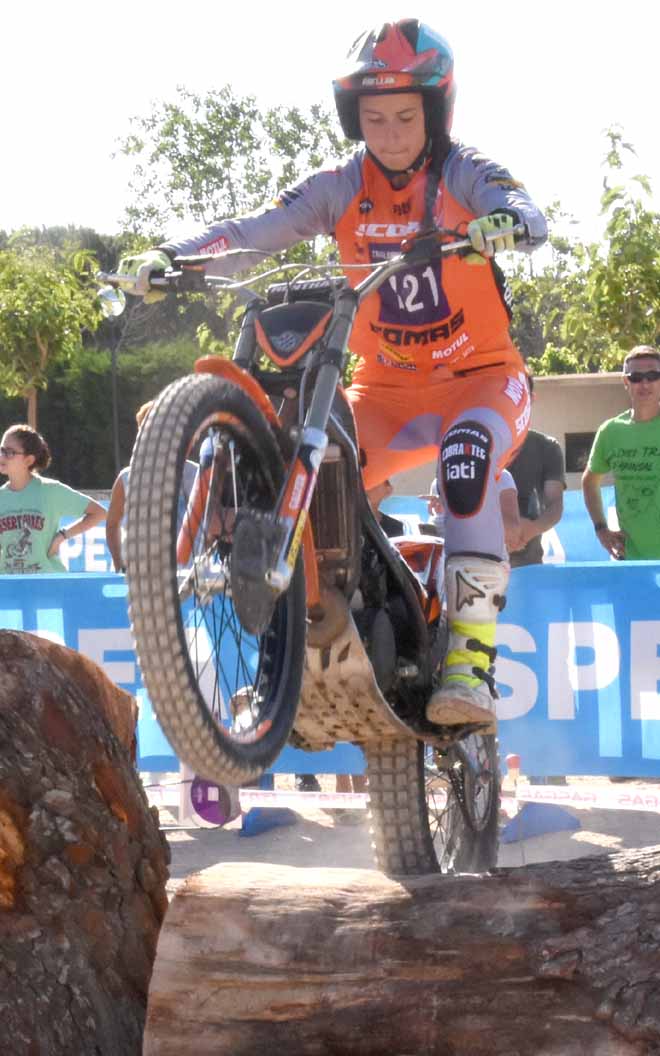 2. Emma BRISTOW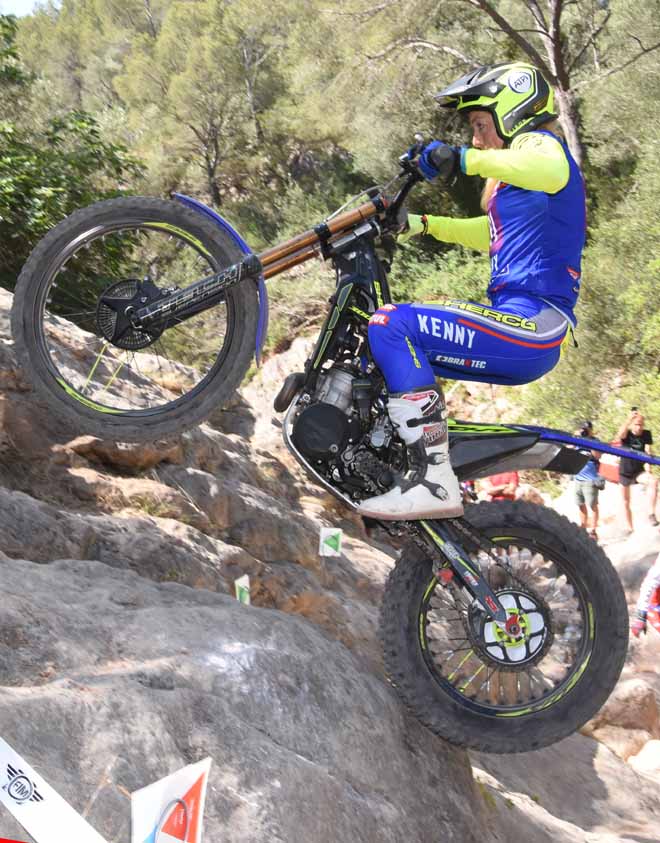 3. Naomi MONNIER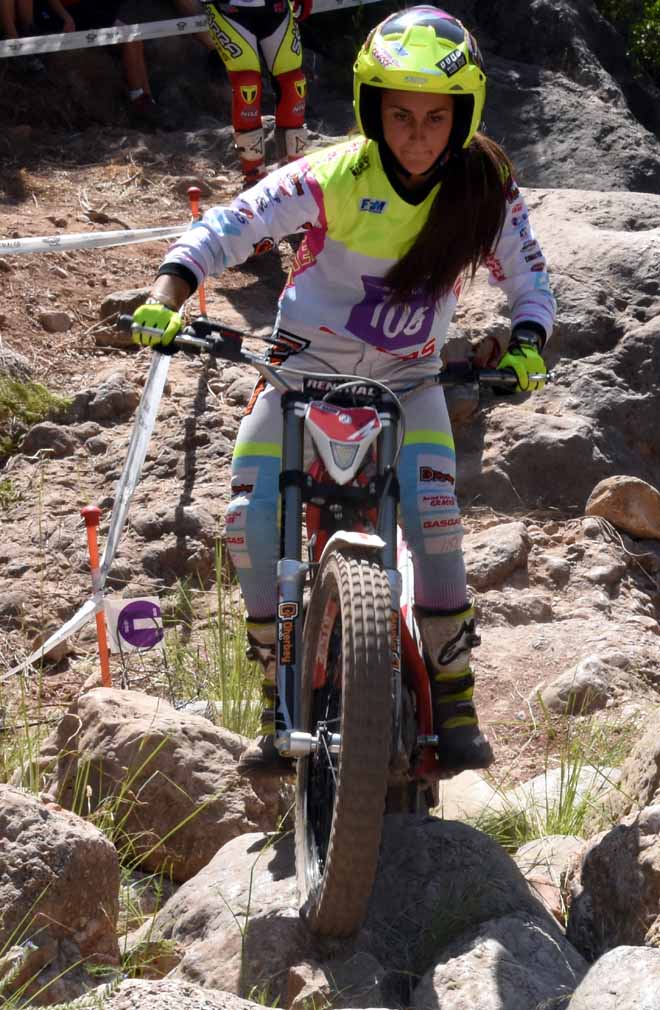 4. Andrea Sofia RABINO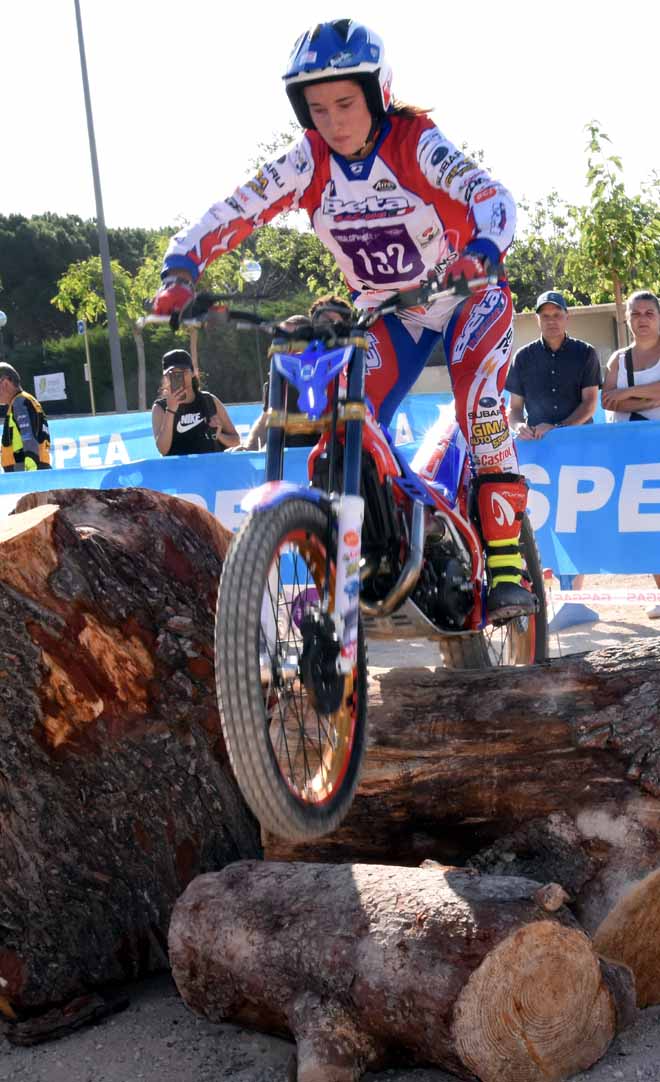 5. Huldeborg BARKVED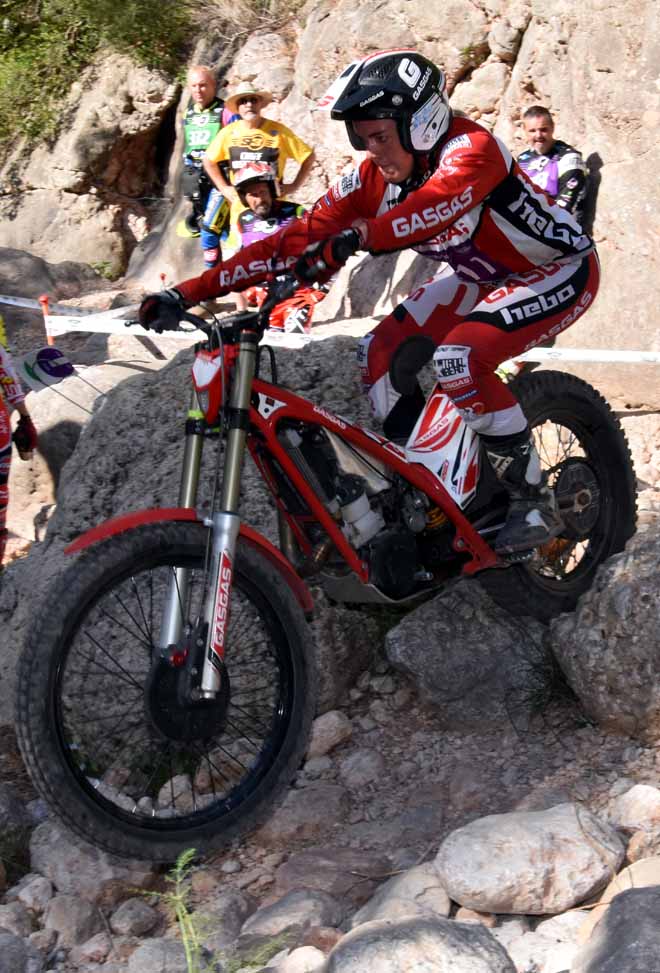 ---------------------------------------------------------------------------------------
press releases ---- comunicati stampa
---------------------------------------------------------------------------------------