22/03/22 -2022 CALENDAR FINALISED ...

The FIM is pleased to announce the calendar for the Hertz FIM Trial World Championship which could be finalised thanks to the support of the organisers and the national Federations and it is now all systems go for the 2022 series.

The championship will kick off in Spain with two points-paying days over the weekend of June 10-12 at L'Hospitalet de l'Infant. A coastal suburb of Tarragona about 70 miles south of Barcelona, this area of Catalonia was last visited by the series in 2015 and will be fondly remembered by trial fans for its imposing rocks on the scenic shoreline of the Mediterranean Sea.

The following weekend two more scoring days will be staged at Sant Julia de Lòria with the Andorran Trial GP on June 17-19. A regular stop on the Hertz FIM Trial World Championship tour, the Pyrenean principality's high altitude tests both riders and their machines.

The third double-header event in a row takes place from July 8-10 with the German TrialGP at Neunkirchen that lies around 60 miles east of Cologne and marks the championship's first visit to the country since 2016.

After Germany the world's leading riders will get a six-week break before firing back into action at the Belgian TrialGP at Comblain au Pont with a single points-paying day held across the weekend of August 20-21.

A week later the action resumes at Cahors in the Lot region of southern France for a second consecutive one-day championship round over the weekend of August 27-28 before concluding with two scoring days at the Italian TrialGP at Ponte di Legno on September 16-18.

The premier TrialGP class will compete alongside Trial2 at all six rounds. TrialGP Women riders will be in action in Spain, Andorra, Germany and Italy and the Trial2 Women title will be decided in Germany and Italy.

The new FIM Trial3 World Championship - formally known as Trial125 - will be contested at the Spanish, Andorran, Belgian and French rounds.

The FIM Trial Vintage Trophy will be staged at Monza in Italy on September 23-24 over the same weekend as the Trial des Nations and International Trophy - scheduled for September 24-25 - which will include the new FIM Challenge des Nations competition.

As initially announced in November 2021, electric motorcycles will be allowed in all classes and therefore will evolve at the same level as two-stroke and four-stroke thermic engine motorcycles for the first time in the history of motorsports. It should be noted that the new Trial3 class will always welcome young riders, both 125cc motorcycles and electric motorcycles, the power of which will be limited on the basis of the FIM regulations of the Technical Commission.

All dates, events and the attendance of spectators are subject to the evolution of the pandemic and approval of the corresponding governments and authorities.


---------------------------------------------------------------------------------------

ECCO IL CALENDARIO 2022 DEFINITIVO ...

La FIM è lieta di annunciare il calendario per l'Hertz FIM Trial World Championship in versione finale: grazie al supporto degli organizzatori e delle Federazioni nazionali ora è tutto pronto per la serie 2022.

Il campionato prenderà il via in Spagna con due giornate di punteggio nel fine settimana dal 10 al 12 giugno presso L'Hospitalet de l'Infant. Un sobborgo costiero di Tarragona a circa 110 km a sud di Barcellona, ??quest'area della Catalogna è stata visitata l'ultima volta dalla serie nel 2015 e si ricorda con affetto dagli appassionati di Trial per le sue imponenti rocce sulla costa panoramica della Costa Dorada.
< BR /> Il fine settimana successivo andranno in scena altre due giornate di gara a Sant Julia de Lòria con l'Andorra Trial GP dal 17 al 19 giugno. Tappa regolare del tour Hertz FIM Trial World Championship, l'alta quota del principato dei Pirenei mette alla prova sia i piloti che le loro moto.

Il terzo evento di due giorni consecutivo si svolgerà dall'8 al 10 luglio con il TrialGP tedesco a Neunkirchen, che si trova a circa 90 km a est di Colonia. Ritorno in Germania che non si verificava dal 2016.

Dopo ci sarà una pausa di sei settimane prima di tornare in azione al TrialGP del Belgio a Comblain au Pont con un'unica giornata di gara nel fine settimana dal 20 al 21 agosto.

Una settimana dopo si riprende a Cahors, nella regione del Lot, nel sud della Francia, per il secondo round consecutivo di campionato di un giorno, quindi nel periodo 27-28 agosto, prima di concludersi con due giornate di gara al TrialGP d'Italia a Ponte di Legno dal 16 al 18 settembre.

Il FIM Trial Vintage Trophy andrà in scena aMonza in Italia dal 23 al 24 settembre nello stesso fine settimana del Trial des Nations e del Trofeo Internazionale - in programma dal 24 al 25 settembre - che includerà la nuova competizione FIM Challenge des Nations.

Come inizialmente annunciato nel novembre 2021, le motociclette elettriche saranno ammesse in tutte le classi e quindi alla pari delle motociclette con motore termico a due e quattro tempi per la prima volta nella storia degli sport motoristici. Da notare che la nuova classe Trial3 accoglierà sempre giovani piloti, sia moto 125cc che moto elettriche, la cui potenza sarà limitata sulla base del regolamento FIM della Commissione Tecnica.

Tutte le date, gli eventi e la partecipazione degli spettatori sono soggetti all'evoluzione della pandemia e all'approvazione dei governi e delle autorità corrispondenti.


------------------------------------------------------------------------------------------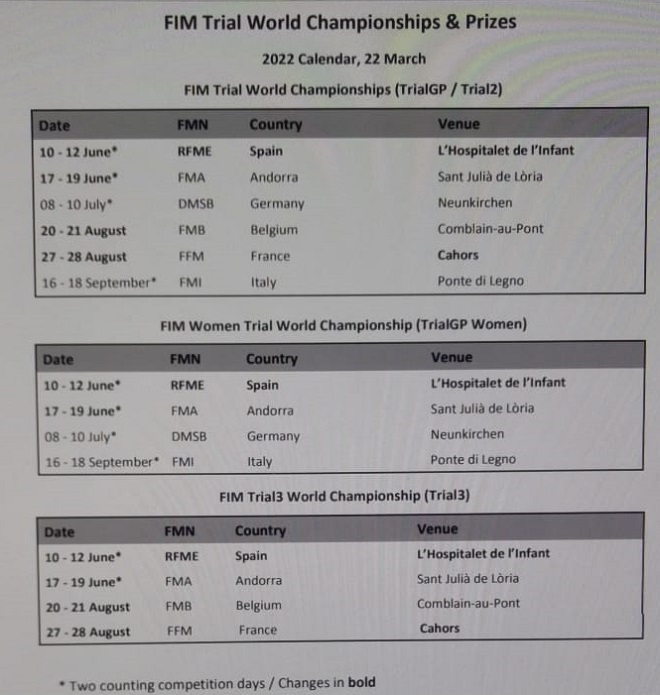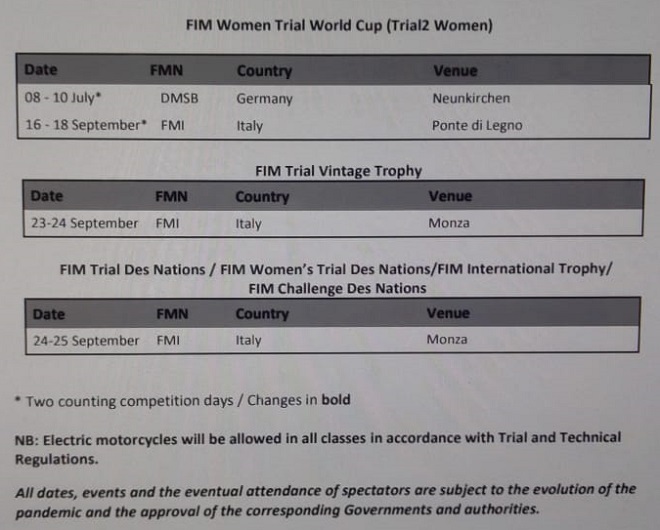 ---------------------------------------------------------------------------------------