17/07/23 - A school of Trial Vintage was born

The news of a two-day Trial school may go unnoticed: there are many around the world, but here is a Vintage Trial school in preparation for a super classic of this specialty, the Two Days of Ventoux.

Undoubtedly, the fact that the riding style in Trials has undergone a great evolution over the years is evident and beyond dispute. Often, from a pedagogical point of view - especially for those starting from scratch - we have insisted on what we could define as "fundamental", such as the position, or the movements of its weight.

Well, even those have been surprisingly modified, especially if the approach involves what we call "hops" instead of a harmonic curve. Without going into the merits of which is the best technique – whoever cleans the zone is always right – it is a fact that we are in the presence of two completely different Trials.

Anyone who has the opportunity to compete in both modern and vintage trials, changing mounts, will see how difficult it is to switch from one bike to another and therefore from one way of riding to another. .

Global data - France, Spain and Great Britain are the leading nations - show a growing trend of the vintage world at the expense of the modern world.

So here is the justified and appreciable idea of ??the reigning TdN Vintage world champion, the former pilot of the twenty best years of the world championship, Philippe Berlatier who invents a specific Trial school for this sector of the speciality.


---------------------------------------------------------------------------------------

Nasce una scuola di Trial Vintage

La notizia di una scuola di Trial di due giorni può passare inosservata: ce ne sono talmente tante in giro per il mondo, ma qui si tratta di una scuola per il Trial Vintage in preparazione di una super classica di questa specialità : la Deux Jours du Ventoux.

Indubbiamente che lo stile di guida nel Trial abbia subito negli anni una grande evoluzione è lampante e non in discussione. Spesso si è insistito dal punto di vista docenti – soprattutto per chi comincia da zero – su quelli che potremmo definire "fondamentali" , come la posizione , o i movimenti del proprio peso.

Bene anche questi sono stati sorprendentemente stravolti, soprattutto se l'approccio prevede quelli che chiamiamo "spostamenti" in luogo di una curva armonica. Senza entrare nel merito su quale sia la tecnica migliore – chi esce dalla zona a zero ha sempre ragione – è un dato di fatto che siamo in presenza di due Trial completamente differenti.

Chi ha la fortuna di correre sia nel trial moderno sia in quello d'epoca, cambiando cavalcatura, può confermare quanto sia difficile saltare da una moto all'altra e quindi da un modo di guidare all'altro.

I numeri a livello mondiale - Francia, Spagna e Gran Bretagna nazioni trascinatrici – mostrano un trend in crescita del mondo vintage a discapito di quello moderno. Ecco dunque giustificato e apprezzabile l'idea del campione mondiale in carica del TdN Vintage, l'ex-pilota del ventennio migliore del campionato del mondo, Philippe Berlatier che si inventa una scuola di Trial specifica per questo settore della specialità.
------------------------------------------------------------------------------------------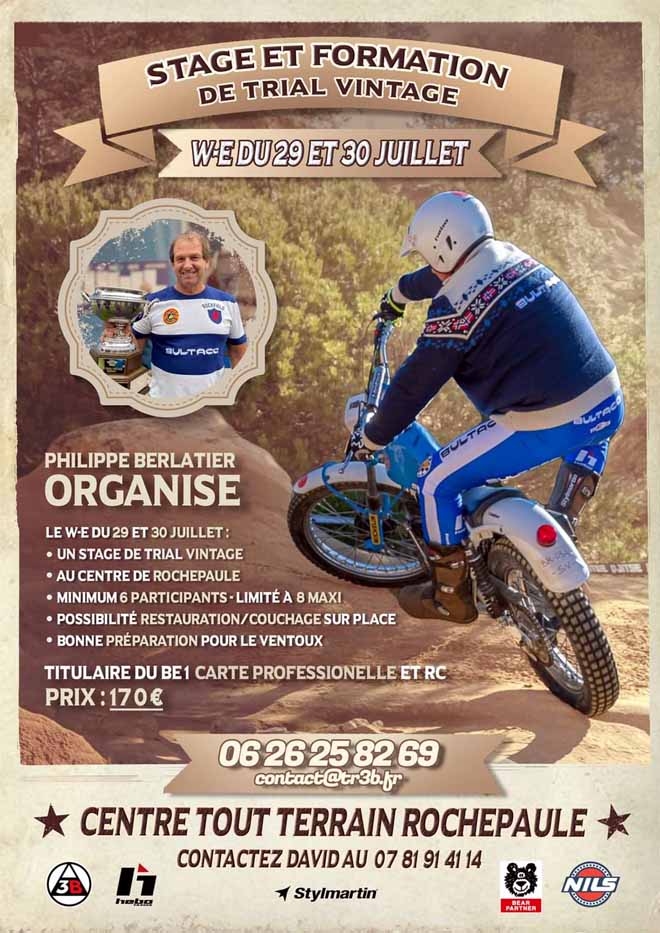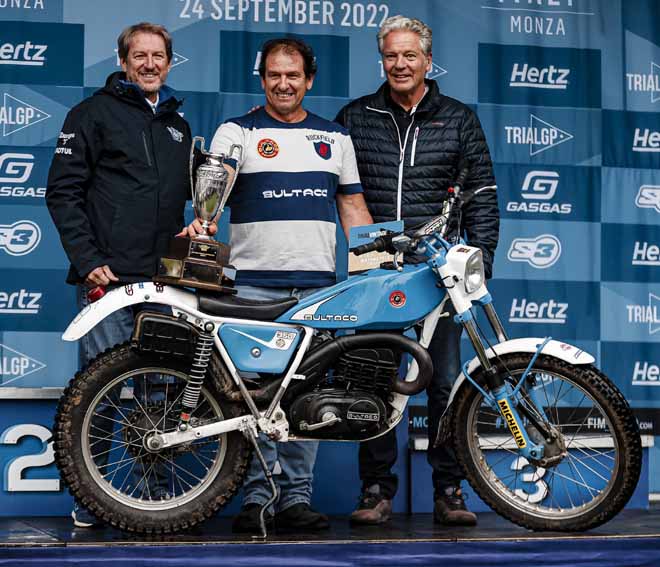 between, Giovanni Copioli (FMI chairman) and Bernie Schreiber at lately TdN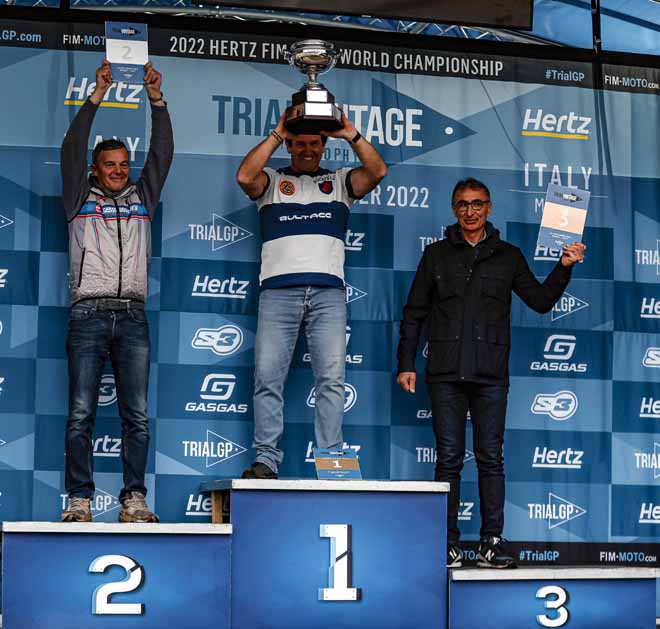 podium of lately TdN Vintage
---------------------------------------------------------------------------------------