11/03/23 - Busto takes X-Trial Wiener Neustadt

Jaime Busto claimed his first victory back with Gas Gas at the factory's home Round.

X-Trial made a triumphant return to Wiener Neustadt for the first time since 2017 with a spectacular night of entertainment and with a new winner. Previously unbeaten at the Arena Nova, Toni Bou (Repsol Honda Trial Team) succumbed to Jaime Busto (Gas Gas), the Basque youngster claiming only the third victory of his career.

A crucial pair of errors from Championship leader Bou in Section Two of the Final left him chasing Busto throughout, and under pressure a further failure in Section Four dropped him into a fight for second with Adam Raga (TRRS). Busto, seven marks ahead two sections from the finish, was able to wrap up his first win of the 2023 season with a ride to spare. Bou, meanwhile, held his nerve with a sensational Section Six performance to end the night on a relative high and exercise some damage limitation in the Championship Standings.

Bou also claimed both available bonus points for topping the opening two Rounds of the night. In Round One, Gabriel Marcelli (Repsol Honda Trial Team) and Aniol Gelabert were the closest to matching him, falling just a single mark short.

It was a tough night, meanwhile, for Toby Martyn (Montesa), with six fiascos from ten sections leaving him seventh. Matteo Grattarola (Vertigo) failed four of his first five sections to end another disastrous night eighth. And local Wild Card Marco Mempör impressed on his debut, finishing Round One in seventh, but he dropped back from the pace to finish at the back of the pack.

Jaime Busto (1st): "I am very happy with this win and to have done it here in Austria, the home of Gas Gas. In the first couple of Rounds I made a few mistakes that thankfully weren't too costly, but in the Final I really concentrated and rode at a high level, so it was almost perfect."

Toni Bou (2nd): "It isn't a bad result in terms of the Championship, the first two Rounds I rode at a high level and then I was able to get second thanks to a clean in the last section. Obviously the Final wasn't one of my best, my failures in Sections Two and Four may have cost me the win."

Adam Raga (3rd): "I am happy to be back on the podium. It was a difficult X-Trial but third place is a good result. In the first Round I felt very at ease, but the second was tougher, and then in the Final I had a mixture of strong rides and a few errors. I need to keep following this path to be even more competitive next time."

The X-Trial World Championship now moves on to Round Three of the 2023 campaign with a first visit to Pamplona and the Navarra Arena on 25th March.



news and photos by X-trial.com

---------------------------------------------------------------------------------------

Busto fa suo l'X-Trial Wiener Neustadt

Jaime Busto ha ottenuto la sua prima vittoria con Gas Gas nel round di casa dell'Industria.

L'X-Trial è tornato trionfante a Wiener Neustadt per la prima volta dal 2017, con una stupenda notte di spettacolo e con un nuovo vincitore. Precedentemente imbattuto all'Arena Nova, Toni Bou (Repsol Honda Trial Team) ha ceduto al giovane basco alla sua terza vittoria della carriera.

Un paio di errori cruciali del leader del campionato Bou nella seconda zona della finale, lo hanno costretto ad inseguire Busto. Sotto pressione, dopo un ulteriore fallimento nella quarta zona si è trovato a lottare per il secondo posto con Adam Raga (TRRS). Busto, sette punti di vantaggio a due zone dal traguardo, ha bene amministrato il suo vantaggio e si aggiudicata la sua prima vittoria nella stagione 2023 con una zona d'anticipo. Bou, nel frattempo, ha tenuto i nervi saldi e con una prestazione sensazionale nella Sezione Sei ha concluso la serata con onore e limitato i danni nella classifica del campionato.

Bou ha anche rivendicato entrambi i punti bonus disponibili per aver superato i primi due round della notte. Nel primo round, Gabriel Marcelli (Repsol Honda Trial Team) e Aniol Gelabert sono stati i più vicini a eguagliarlo, perdendo solo un punto.

Jaime Busto (1°): "Sono molto contento di questa vittoria e di averlo fatto qui in Austria, la casa di Gas Gas. Nei primi due round ho commesso alcuni errori che per fortuna non sono stati troppo gravi, ma in finale mi sono concentrato davvero e ho corso ad un livello elevato, quindi è stato quasi perfetto."

Toni Bou (2°): "Non è un brutto risultato in termini di Campionato, i primi due Round ho corso ad alto livello e poi sono riuscito ad arrivare secondo grazie a uno zero nell'ultima zona. Ovviamente la finale non è stata delle migliori, i miei "5" nelle sezioni due e quattro mi sono costati la vittoria."

Adam Raga (3°): "Sono felice di essere tornato sul podio. È stato un X-Trial difficile ma il terzo posto è un buon risultato. Nel primo Round mi sono sentito molto a mio agio, ma il secondo è stato più duro, e poi in Finale ho avuto un misto di bei passaggi e qualche errore. Devo continuare su questa strada per essere ancora più competitivo la prossima volta."

L'X-Trial World Championship ora passa al terzo round della stagione 2023 con una prima visita a Pamplona e alla Navarra Arena il 25 marzo.


------------------------------------------------------------------------------------------
----> RESULTS
------------------------------------------------------------------------------------------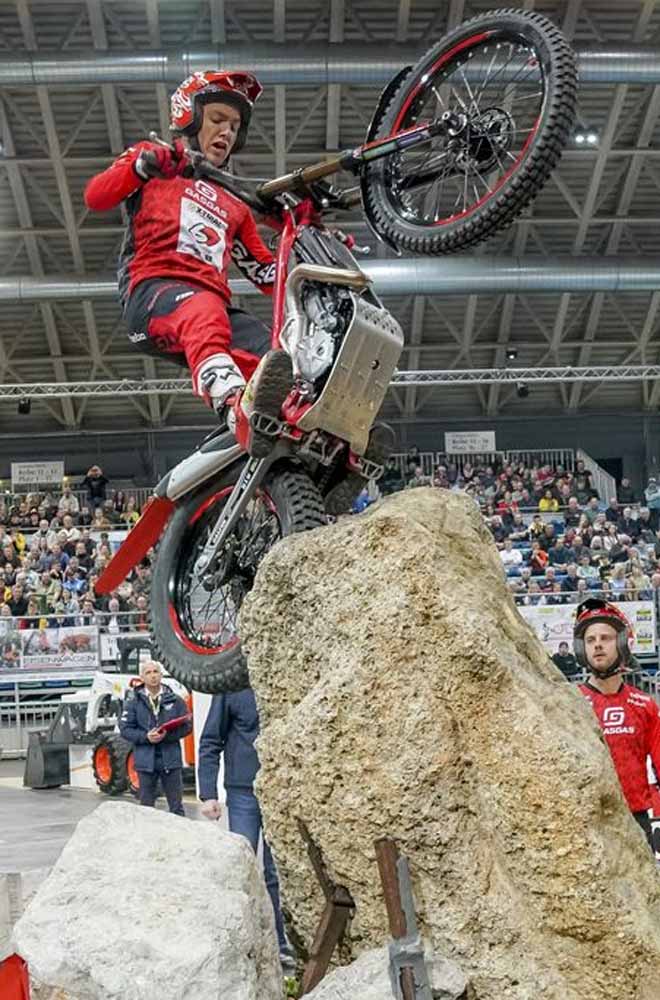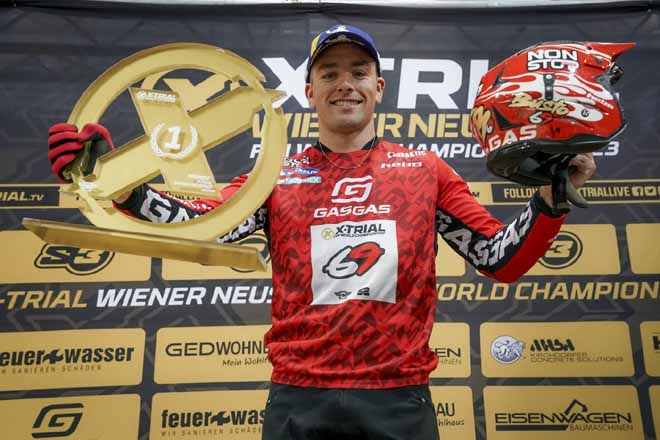 1. Jaime Busto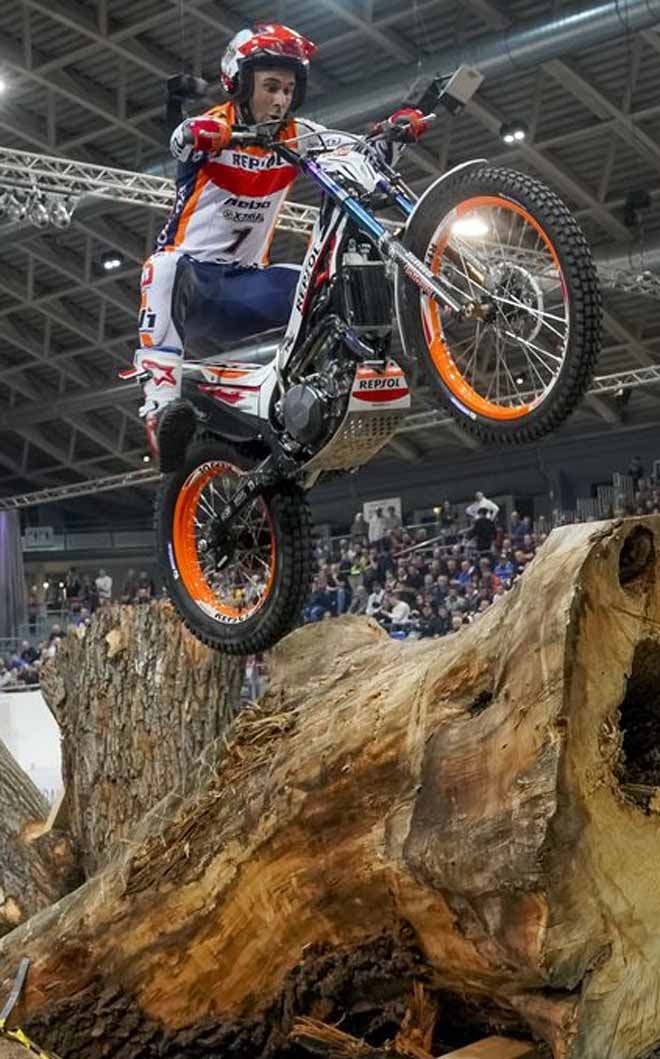 2. Toni Bou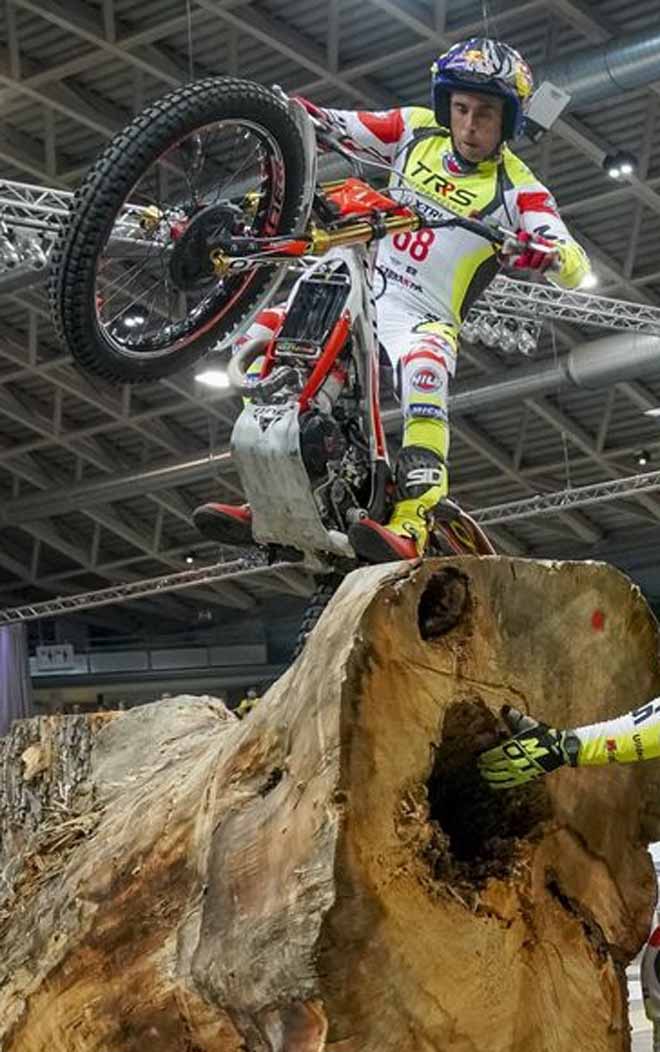 3. Adam Raga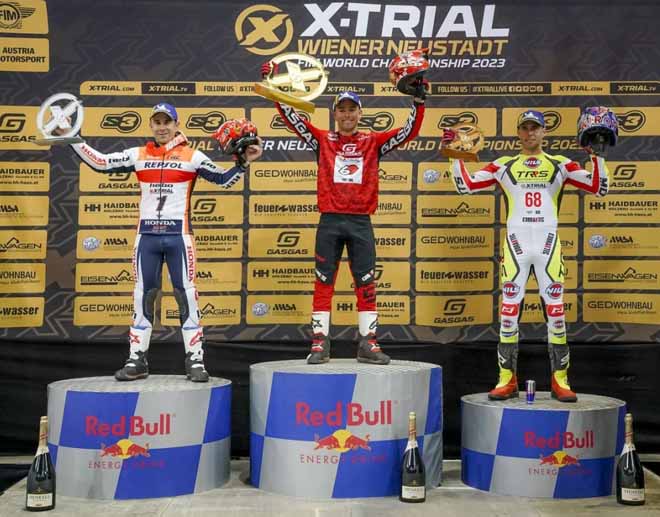 ---------------------------------------------------------------------------------------