18/06/23 - BOU REPEATED THE SAME CLICHE' IN DAY 2

Toni Bou (Montesa) continued to pour the pressure on his rivals with victory on day two of the TrialGP of Andorra – round five of the 2023 Hertz FIM Trial World Championship – at Sant Julià de Lo`ria today and in the process extended his win-streak to four in a row.

The Spaniard has lived in the Pyrenean principality for a number of years so it is no wonder he looked completely at home over the huge boulders and up the super-steep climbs that comprised the testing and technical course and with two rounds and four scoring days to go he now leads by fourteen points.

Heavy rain following yesterday's opening day of competition eased today, but continued into the morning which made conditions slippery and increased the flow of water through section two in the river – not that Bou appeared to be too bothered.

The sixteen-time champion's sole maximum on lap one came on section nine, but with only Spain's Aniol Gelabert (Beta) and his brother Miquel (Vertigo) managing to get through at the first attempt it had no impact on the lead and Bou reached the halfway point on eleven which put him thirteen clear of second-placed Matteo Grattarola (Beta).

Perhaps easing back on the intensity on lap two, Bou added a further fourteen marks to his score which still ensured a comfortable margin of victory for the thirty-six-year-old who signed off with the only clean of the day on section twelve's imposing rocks.

"I am super-happy with the weekend," said Bou. "The feeling is good and yesterday and today I feel have been the best moments of the season."

Just like yesterday, the real drama was unfolding behind him with Grattarola and Jaime Busto (GASGAS) engaged in a fierce fight for second position.

The Italian veteran once again led Busto after the first lap with a healthy nine-mark advantage and once again the twenty-six-year-old Spaniard picked up the pace through the second half of the Trial.

With no sun to dry out the sections, unlike yesterday conditions did not ease on lap two, but Busto rose to the occasion and he posted the best lap of the Trial with an additional ten added to his score which in the end saw him claim a clear second place with a ten-mark cushion over Grattarola.

Spain's Jorge Casales (Scorpa) continued his run of fine form and matched yesterday's performance with another solid fourth-placed finish to beat Gabriel Marcelli (Montesa) on a tie-break as his twenty-three-year-old compatriot again struggled with consistency.

In an incredibly close Trial2 class, Britain's Jack Dance (GASGAS)dropped just four marks including a lap-two score of one to claim his second win of the campaign to go with victory on day two last time out in San Marino.

"I'm so happy," said Dance. "On lap one I saw that I was tied in second position, but I knew that if I really pushed on the second lap the win could be there."

Billy Green (Scorpa) parted with five marks on his opening lap which put him fourth behind early leader Alex Canales (Sherco), day one winner Pablo Suarez (Montesa) and Dance. On lap two the twenty-one-year-old upped his game for a final score of seven which elevated him to second and, with his fellow British rider and championship leader Jack Peace (Sherco) finishing a lowly eighth, ensured he regained the series lead.

Suarez's second lap total of five for a total of eight was good enough to take third on a tie-break with Canales which allowed him to close to within five points of Peace.

With low scores the order of the day, the slightest stray mark proved costly and defending champion Sondre Haga (GASGAS) had to settle for sixth on a total of nine after losing a tie-break with Harry Hemingway (Beta).

In Trial2 Women it was France's Alycia Soyer (TRRS) who repeated her victory yesterday to open up a healthy championship lead, but it was too close to call for most of the day.

Spain's Laia Pi Ramirez (Beta) led after the first lap on thirteen, one ahead of Soyer and two clear of Alessia Bacchetta (GASGAS) from Italy, but a maximum on section five – which she had cleaned at her first attempt – turned out to be a very expensive mistake.

Soyer also picked up a maximum on her second lap, but despite taking five on the final section the seventeen-year-old's total of thirty-one gave her a one-mark victory ahead of Pi Ramirez who claimed second on a tie-break from Bacchetta before a ten-mark gap back to fourth-placed Marine Aurieres (Beta) from France.

"It has been an amazing weekend," said Soyer. "Today has not been easy because of the rain, but I did the best I could and I am very happy with first place."

For the second time this season there was an all-British podium in Trial3 where Jamie Galloway (TRRS) produced two super-consistent laps of six to take his first win of the season from championship leader George Hemingway (Beta).

"Today has been really good," said Galloway. "I was very consistent on both laps so I can't complain and it feels great to win."

Coming into Andorra on the back of four consecutive wins, Hemingway had slipped to third on Saturday, but looked odds-on to return to the top step of the podium with an outstanding clean first lap. However, he failed to maintain his form in the second half of the Trial and ended the day in second on sixteen to finish two clear of Alfie Lampkin (Vertigo).

Norway's Jone Sandvik (Sherco) won yesterday to take five points out of Hemingway's series lead, but fourth today on twenty-two means he now trails the British rider by seven points with two rounds left to run.

Next up on the Hertz FIM Trial World Championship calendar is the TrialGP of Italy at Sestriere on 21-23 July which will be streamed LIVE on FIM-MOTO.TV.

photos by Future7Media

---------------------------------------------------------------------------------------

BOU RIPETE IL MEDESIMO CLICHE' NEL SECONDO GIORNO

Toni Bou (Montesa) ha continuato a mettere sotto pressione i suoi rivali con la vittoria nella seconda giornata del TrialGP di Andorra – quinta prova del Campionato Mondiale Hertz FIM Trial 2023 – oggi a Sant Julià de Lòrial, estendendo la sua serie di vittorie a quattro di fila.

Lo spagnolo ha vissuto nel principato dei Pirenei per un certo numero di anni, quindi non c'è da meravigliarsi se sembrava completamente a suo agio sugli enormi massi e sulle salite super ripide che comprendevano il percorso tecnico e di prova e con due round e quattro giorni di punteggio al termine ora è in vantaggio di quattordici punti.

La pioggia battente dopo la giornata di apertura della gara di ieri si è attenuata oggi, ma è continuata fino a tarda mattinata, il che ha reso le zone scivolose e aumentato il flusso d'acqua attraverso la seconda zona del fiume, ma per Bou nessun fastidio.

L'unico cinque del sedici volte campione al primo giro è arrivato nella sezione nove, ma con solo lo spagnolo Aniol Gelabert (Beta) e suo fratello Miquel (Vertigo) che sono riusciti a passare al primo tentativo non ha avuto alcun impatto sulla sua leadership. Bou ha raggiunto il giro di boa a undici punti, tredici davanti al secondo classificato, il nostro super campione, Matteo Grattarola (Beta).

Forse riducendo l'intensità al secondo giro, Bou ha aggiunto altri quattordici punti al suo punteggio, ma si è comunque assicurato un comodo margine di vittoria, capace anche di essere l'unico a passare a zero sulle rocce della dodici.

"Sono super contento del fine settimana", ha detto Bou. "La sensazione è buona e ieri e oggi sento che sono stati i momenti migliori della stagione."

Come ieri, la vera battaglia si stava svolgendo dietro di lui con Grattarola e Jaime Busto (GASGAS) impegnati in una feroce lotta per la seconda posizione.

Il nostro infaticabile veterano era davanti a Busto dopo il primo giro con un sano vantaggio di nove punti, ma ancora una volta il ventiseienne spagnolo ha aumentato il ritmo nella seconda metà della gara.

Senza il sole ad asciugare le sezioni, a differenza di ieri le condizioni non sono migliorate al secondo giro, ma Busto ha colto l'occasione e ha messo a segno il giro migliore del Trial con una decina in più che alla fine lo ha visto conquistare un netto secondo posto con dieci punti di vantaggio su Grattarola.

Lo spagnolo Jorge Casales (Scorpa) ha continuato la sua corsa in ottima forma e ha eguagliato la prestazione di ieri con un altro solido quarto posto battendo Gabriel Marcelli (Montesa) al tie-break.

In una classe Trial2 incredibilmente combattuta, il britannico Jack Dance (GASGAS) ha perso solo quattro punti, incluso uno al secondo giro, conquistando la sua seconda vittoria del campionato dopo la vittoria del secondo giorno di San Marino.

"Sono così felice", ha detto Dance. "Al primo giro ho visto che ero a pari merito in seconda posizione, ma sapevo che se avessi spinto davvero al secondo giro avrei potuto vincere."

Billy Green (Scorpa) ha chiuso con cinque punti nel suo primo giro, il che lo ha portato quarto dietro il primo leader Alex Canales (Sherco), il vincitore del primo giorno Pablo Suarez (Montesa) e Dance. Al secondo giro Green ha migliorato il suo score per un punteggio finale di sette che lo ha elevato al secondo e, grazie al modesto ottavo posto del suo collega britannico e leader del campionato Jack Peace (Sherco), si è assicurato la riconquista della vetta in campionato.



In Trial2 Women è stata la francese Alycia Soyer (TRRS) a bissare la sua vittoria di ieri per prendersi un buon vantaggio in campionato, ma i distacchi dalle altre due sul podio sono state di un solo punto.

La spagnola Laia Pi Ramirez (Beta) era in testa dopo il primo giro con tredici, uno davanti a Soyer e due davanti all'azzurra Alessia Bacchetta (GASGAS), ma un massimo nella sezione cinque – dove era passata a zero al primo tentativo – si è rivelato essere un errore molto costoso.

Anche Soyer ha ottenuto il massimo nel suo secondo giro, ma nonostante abbia preso cinque nella sezione finale, il totale di trentuno della diciassettenne le ha dato una vittoria di un punto davanti a Pi Ramirez che ha ottenuto il secondo posto al tie-break da Bacchetta. Staccata di dieci punti la francese Marine Aurieres (Beta), quarta classificata.

"È stato un fine settimana fantastico", ha dichiarato Soyer. "Oggi non è stato facile a causa della pioggia, ma ho fatto del mio meglio e sono molto contenta del primo posto."

Per la seconda volta in questa stagione c'è stato un podio tutto britannico in Trial3, dove Jamie Galloway (TRRS) ha prodotto due giri super costanti con sei per ottenere la sua prima vittoria della stagione sul leader del campionato George Hemingway (Beta).

"Oggi è andata davvero bene", ha detto Galloway. "Sono stato molto costante in entrambi i giri, quindi non posso lamentarmi ed è fantastico vincere."

Il prossimo appuntamento del calendario Hertz FIM Trial World Championship è il TrialGP d'Italia a Sestriere (TO) dal 21 al 23 luglio, da non perdere!


------------------------------------------------------------------------------------------
------------------------------------------------------------------------------------------
------------------------------------------------------------------------------------------
1. Toni BOU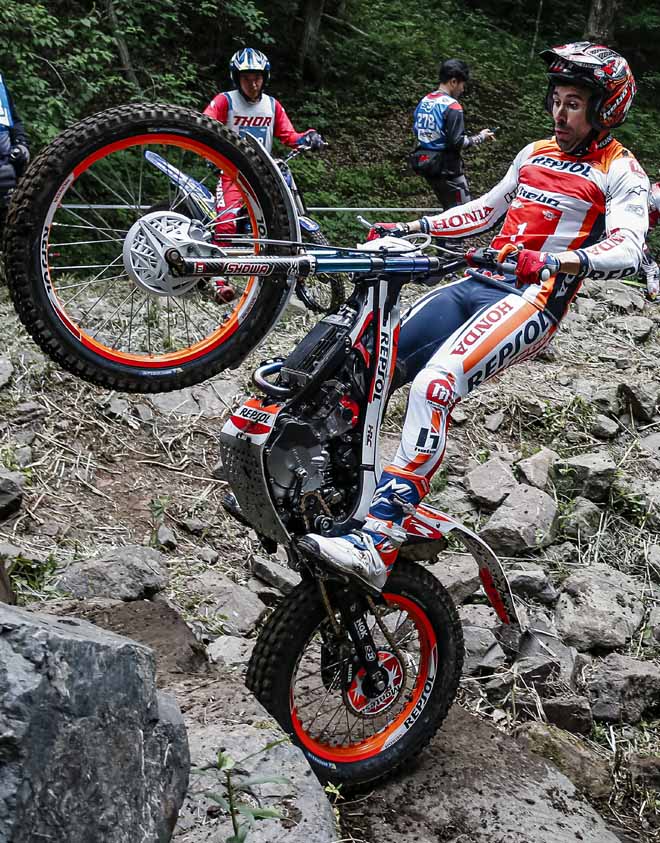 2. Jaime BUSTO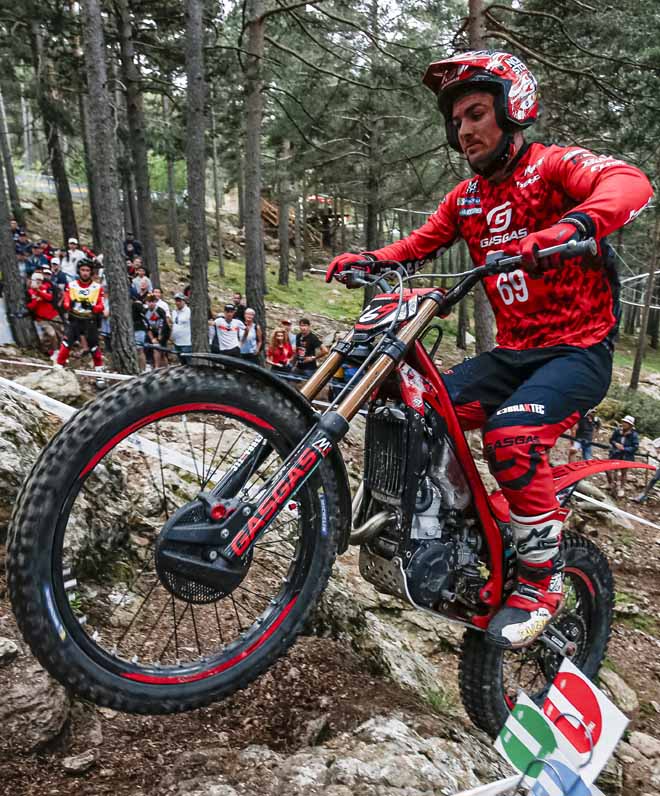 3. Matteo GRATTAROLA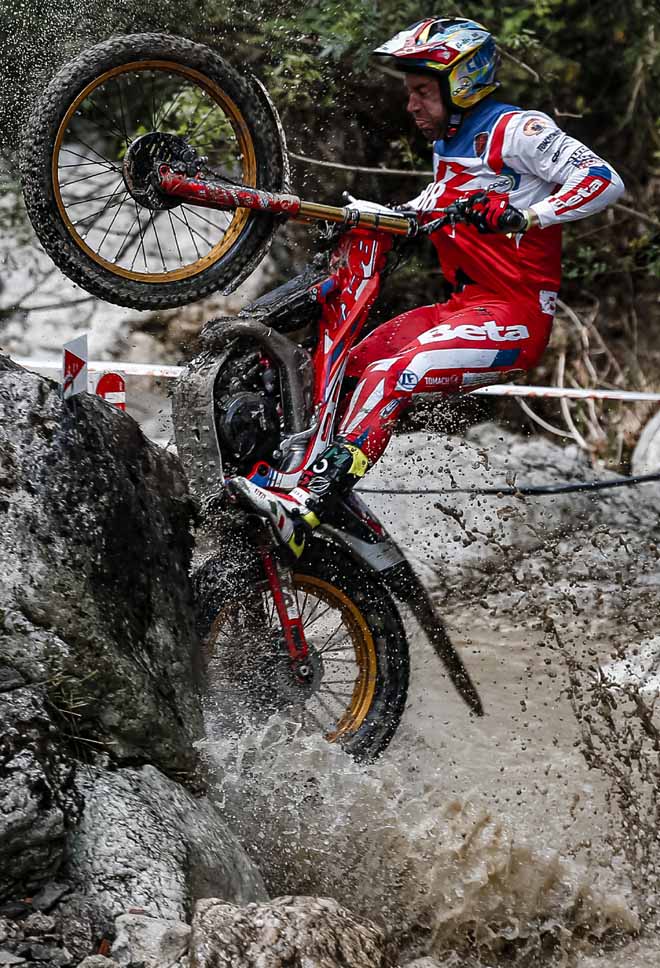 4. Jorge CASALES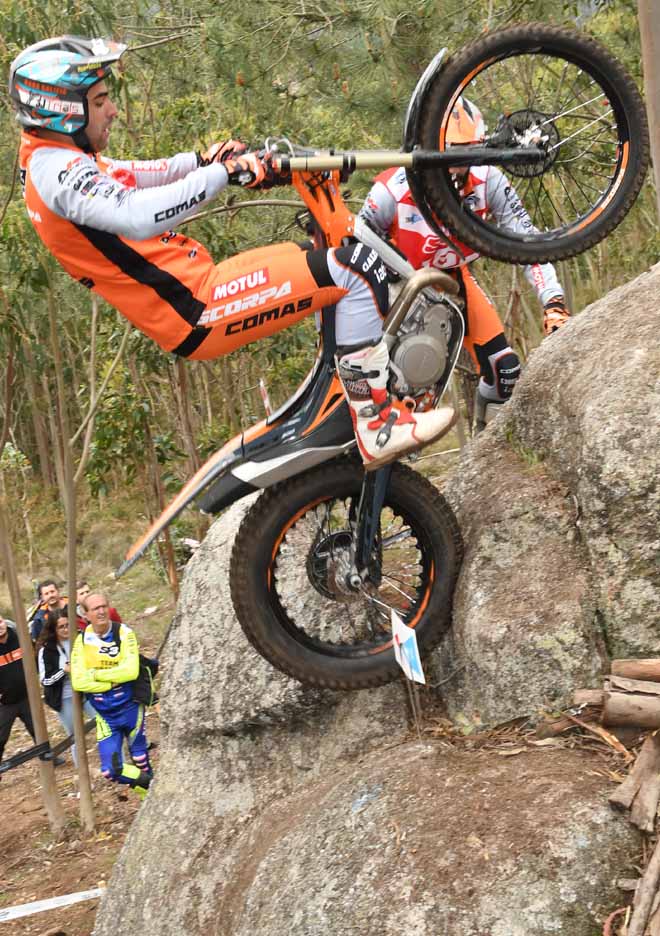 5. Gabriel MARCELLI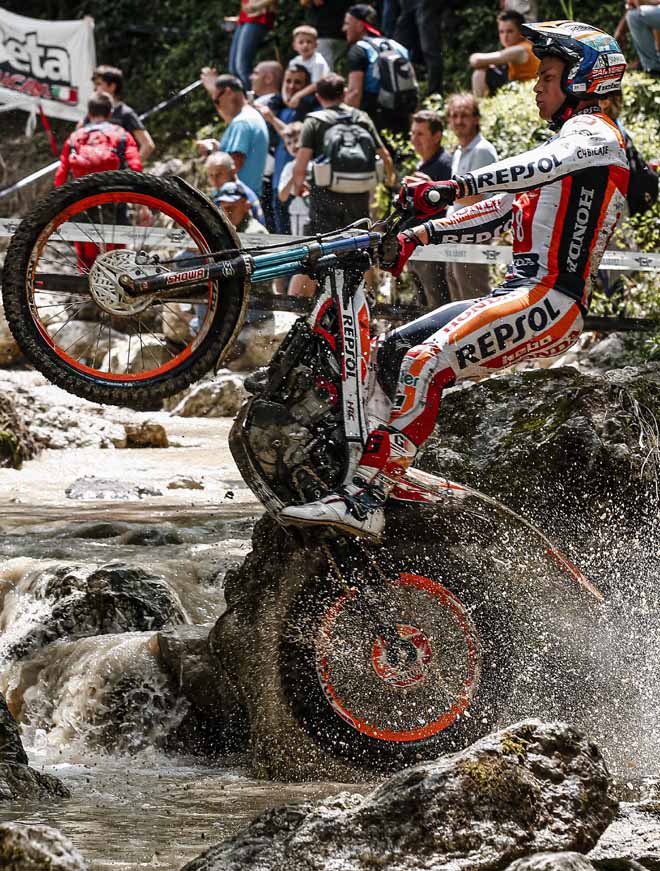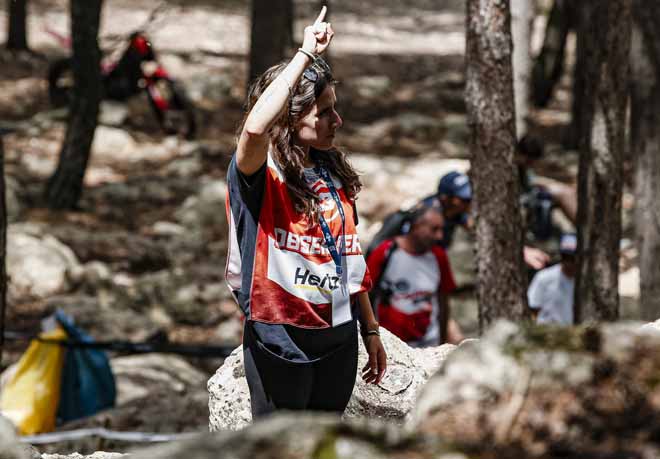 ---------------------------------------------------------------------------------------
press releases ---- comunicati stampa
---------------------------------------------------------------------------------------