22/07/23 - BOU EXALTS THE CROWD IN SESTRIERE

Reigning champions Toni Bou (Montesa) in TrialGP and Emma Bristow (Sherco) in TrialGP Women produced peak performances today in Sestriere on day one of the TrialGP of Italy, the sixth and penultimate round of the 2023 Hertz FIM Trial World Championship.

Competing at over two-thousand metres above sea level, the shortage of oxygen at this altitude has a big impact on both bikes and bodies which made the already challenging and mostly natural sections comprising big rocks on the steep mountainside even tougher, but Bou and Bristow took it all in their stride as they extended their championship leads at the famous ski resort.

Conditions were warm, dry and a little dusty and the big crowd and even bigger Alpine skies made for a great atmosphere in an incredibly picturesque setting that helped to showcase the sport at its best.

With a record-breaking seventeenth successive TrialGP title in his sights, Bou seized an immediate lead with the only first-lap clean on the sizeable concrete slabs that formed the man-made opening section before cruising clear of the chasing pack.

The thirty-six-year-old Spanish superstar parted with just four single dabs on his first lap to open up a fourteen-mark lead ahead of home hero Matteo Grattarola (Beta) at the halfway stage with Adam Raga (TRRS), returning to action after missing the previous round following knee surgery, another mark behind.

Jaime Busto (GASGAS), Bou's main rival for the title, was all the way back in fifth on twenty-four before staging a dramatic comeback.

Bou continued his masterclass on lap two and even a run of three fives on the final three sections could not put his victory in jeopardy as he ran out winner by ten marks on a total of twenty and extended his championship lead to nineteen points.

"I am super-happy with my day," said Bou. "I started with a very good feeling and was riding really well all day apart from some little mistakes in the last three sections. This is a very important result for the championship."

Grattarola usually performs well in front of his home fans and today was no exception as he added an extra twelve to his score on lap two for a comfortable second-placed finish, but the day's drama centred around the battle for third between the Spanish pairing of Raga and Busto.

Having pulled ahead of compatriot Gabriel Marcelli (Montesa) into fourth on lap two, Busto arrived at the final section of the day – a steep climb twisting over imposing rocks – just one behind Raga who scrambled through for a three.

Keeping his cool under instense pressure, Busto then sealed third place with the loss of a single mark to maintain his one-hundred-per-cent podium record this season.

Winner of the last four days of competition, Bristow continued her progress towards a ninth TrialGP Women title in ten years with a champion's performance.

Her miserly total of just five on the first lap gave her an eleven-mark lead over Spain's Berta Abellan (Scorpa) and with the hard work taken care of and the pressure off she simply maintained her focus to eventually win by ten on a total of seventeen.

"I felt like I was riding really well," said Bristow. "I had a bad five on the first lap and two fives on the second, but my riding was really good. If I can cut out those mistakes tomorrow it will be fantastic."

Cheered on by the home fans, Andrea Sofia Rabino (Beta) chased Abellan throughout the second lap to secure third on thirty-one before a big gap back to Denisa Pechackova (GASGAS) from the Czech Republic – who was making her 2023 series debut – and France's Naomi Monnier (GASGAS).

Defending Trial2 champion Sondre Haga (GASGAS) claimed his second victory of the season with his total of seven marks seeing the Norwegian sign off six clear from Britain's Jack Peace (Sherco).

The pair were tied for the lead after lap one on three apiece and although Peace lost ground on lap two his final score still left him three ahead of France's Hugo Dufrese (GASGAS) with Italy's Gianluca Tournour (Sherco) pushing Billy Green (Scorpa) back to fifth following a tie-break, a result that sees the British rider's championship lead slashed to just one point.

"It has been an almost perfect day," said Haga. "I felt really comfortable on the bike. The sections are really technical which suits my riding style and I am very happy for myself and for the team."

The opening round of competition in the Trial2 Women class in Andorra saw French rider Alycia Soyer (TRRS) claim a double victory, but home favourite Alessia Bacchetta (GASGAS) – joint second in the series heading into Sestriere – turned the tables today with a clear win.

Just one mark ahead of a two-way tie for second between Italy's Martina Brandani (Sherco) and Seline Meling (Beta) from Norway after the opening lap, Bacchetta's second lap score of just seven saw her sign off on a total of twenty-seven which gave her a winning margin of fourteen over Soyer. "It feels amazing to win," said Bacchetta. "My first lap was not so good, but I am very happy with my second lap. The sections were very good today."

Laia Pi Ramirez (Beta) from Spain – who was tied on points with Bacchetta at the start of the day – was third after losing out on a tie-break for second with Soyer with Brandani and Meling completing the top five.

In Trial3 championship leader George Hemingway (Beta) from Britain took control in the early stages of lap one as he extended his advantage at the top of the points table.

The fifteen-year-old was matched clean for clean through the opening four sections by Mirko Pedretti (Beta), but the Italian was unable to maintain his form and slipped back to third at the halfway stage on ten marks, two behind Poland's Pawel Ryncarz (GASGAS) as Hemingway completed his first lap without loss.

A maximum at his second attempt at section six followed by a single dab on the hill climb of section seven prevented Hemingway from recording a perfect score, but he still ended the day ten clear of his main championship rival Jone Sandvik (Sherco) from Norway who lost just one mark on lap two to fight his way back from sixth following a disappointing start.

"It has been pretty ideal today," said Hemingway. "I went clean on the opening lap and tried to do the same on the second, but did not quite manage it. It is still very good for the championship."

Ryncarz stayed consistent on lap two to finish third on nineteen after winning a tie-break with Britain's Jamie Galloway (TRRS).
---------------------------------------------------------------------------------------

BOU ESALTA LA FOLLA A SESTRIERE

Sempre Toni Bou (Montesa)davanti a una folla straripante nel primo giorno di Sestriere, ma dietro c'è Matteo Grattarola (Beta) che contribuisce ad allontanare dalla lotta per il titolo Jaime Bustò (Gas Gas) , solo terzo.

Di fronte a un pubblico degno dei rimpianti anni 80, complice anche una stupenda giornata di sole e le temperature del tutto accettabili di una località turistica situata a 2000 metri, il super campione ha esibito una smagliante forma, tanto che dopo il cospicuo vantaggio accumulato nel primo giro (4 punti contro i 18 del Gratta), si è anche lasciato andare a qualche numero per gli spettatori nel secondo, come alla zona 11, dove ha palleggiato sulla ruota posteriore in impennata.

Anche con tre 5 nelle ultime tre zone è risultato vincitore con 10 punti di vantaggio sul nostro Grattarola. Busto, staccato di 8 punti ha preceduto Adam Raga (TRRS) prontamente ristabilitosi dopo l'operazione di un solo punto.

Tra le donne continua la supremazia della campionessa in carica Emma Bristow (Sherco) molto a suo agio in zone dove si deve "guidare" , più che affrontare ostacoli spettacolari. Con il primo giro a 5, contro i 16 della sua principale rivale, Berta Abellan (Scorpa) e i 19 di Andrea Sofia Rabino (Beta) ha messo un sigillo alla vittoria finale.

Più abbordabile nella seconda tornata con 12 errori alla pari con la Rabino, entrambe battute dalla Abellan di un punto. Posizioni del podio che sono dunque rimaste invariate.

Seconda vittoria in campionato per il norvegese Sondre Haga (Gas Gas) la cui aria italiana sembra fare bene – l'altra vittoria l'ha riportata a San Marino. Girando a 3 ed a 4 è riuscito a staccare l'inglese Dan Peace (Sherco) che lo aveva appaiato al primo giro (3), salvo poi peggiorare (10) nella seconda metà.

Lascia fuori del podio per un solo punto il nostro Gianluca Tournour (Sherco), il francese Hugo Dufrese (Gas Gas) i cui punteggi sono 6 e 10 contro i 9 e 8 di Gianluca.

Bene Mattia Spreafico (Vertigo) al nono posto e primi punti mondiali per Francesco Titli (TRRS) al 13° posto.

Primo successo nella Trial2 Women per Alessia Bacchetta (Gas Gas) che ha letteralmente preso il largo nel secondo giro. A metà gara era comunque in testa forte di 20 penalità, ma precedeva un nutrito numero di concorrenti, tutte dietro di uno o due punti.Poi con un giro a 7 a messo tutti d'accordo su chi era la più forte.

Sulla piazza d'onore la leader del campionato, la francese Alycia Soyer (TRRS) davanti alla spagnola Laia Pi Ramirez (Beta). Sfiorato il podio per Martina Brandani (Sherco) per appena un punticino.

Domani secondo giorno di gare qui a Sestriere.


------------------------------------------------------------------------------------------
------------------------------------------------------------------------------------------
------------------------------------------------------------------------------------------
1. Toni BOU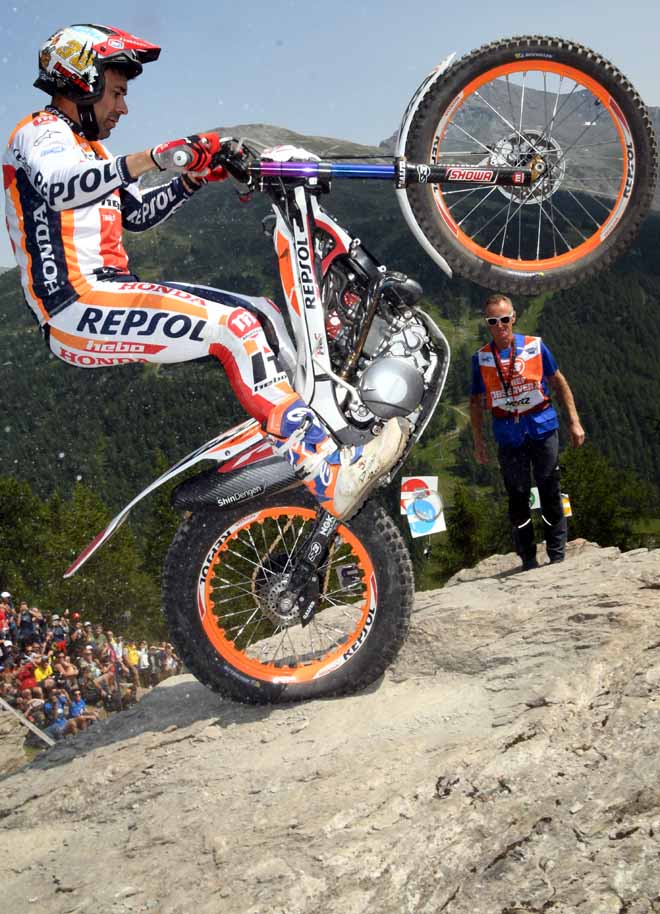 2. Matteo GRATTAROLA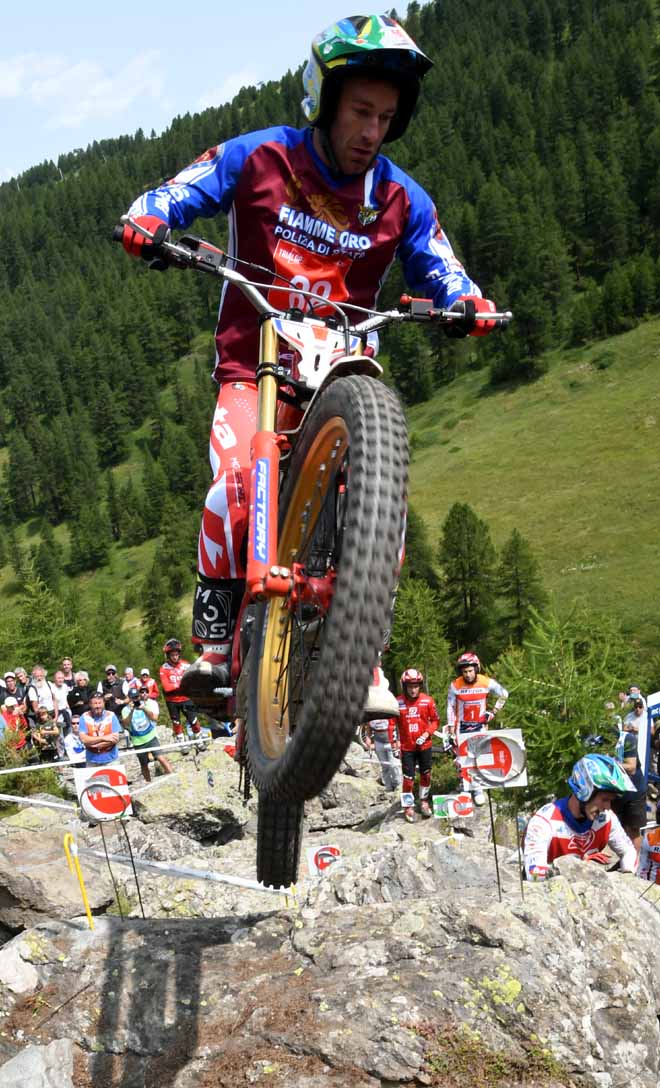 3. Jaime BUSTO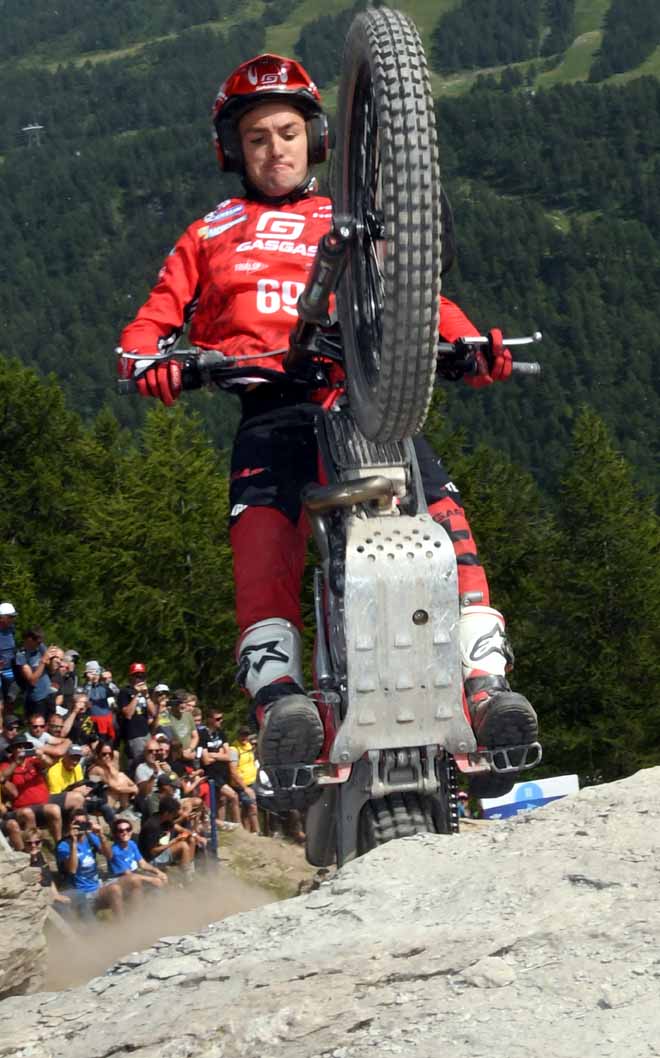 4. Adam RAGA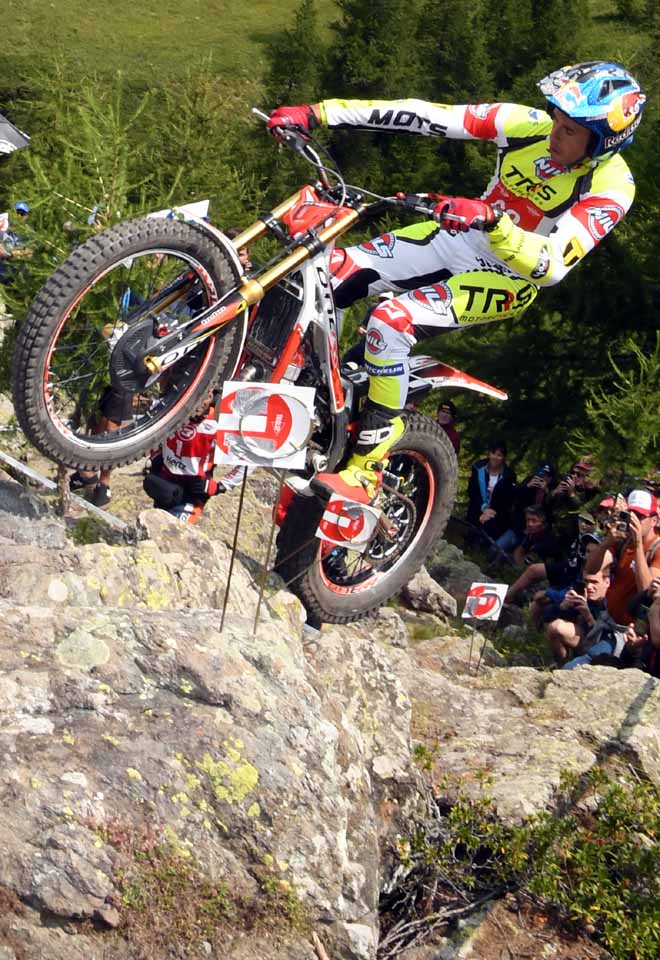 5. Gabriel MARCELLI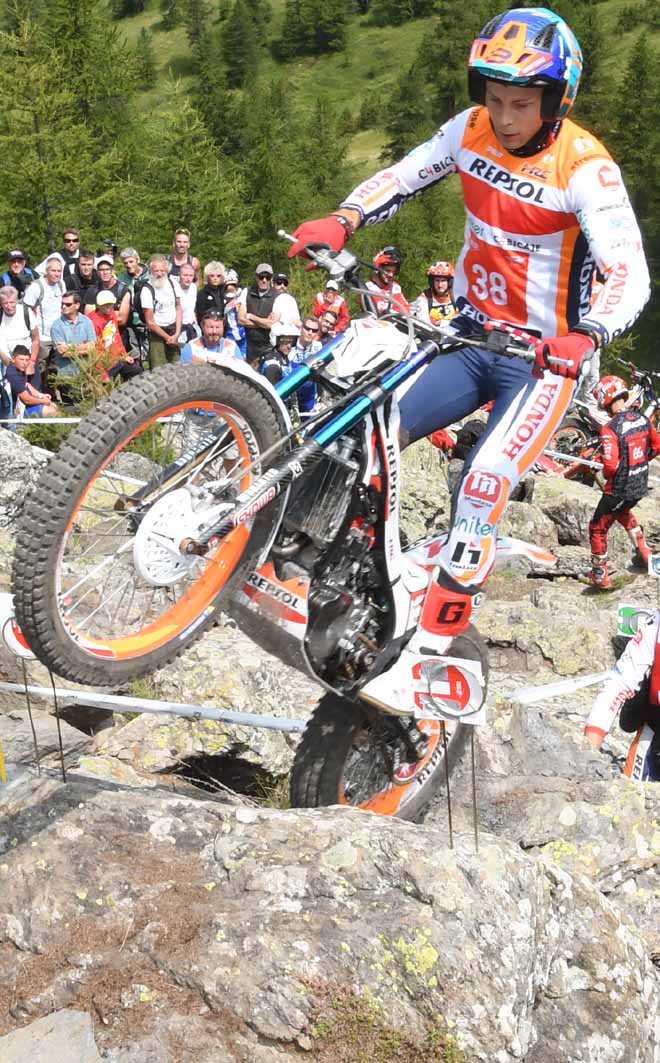 ------------------------------------------------------------------------------------------
1. Emma BRISTOW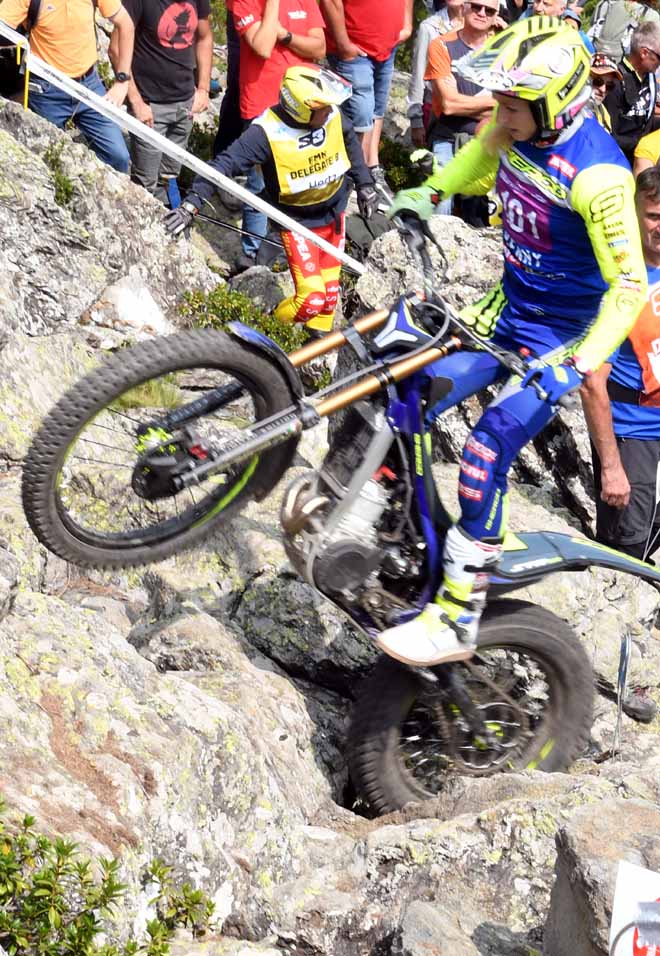 2. Berta ABELLAN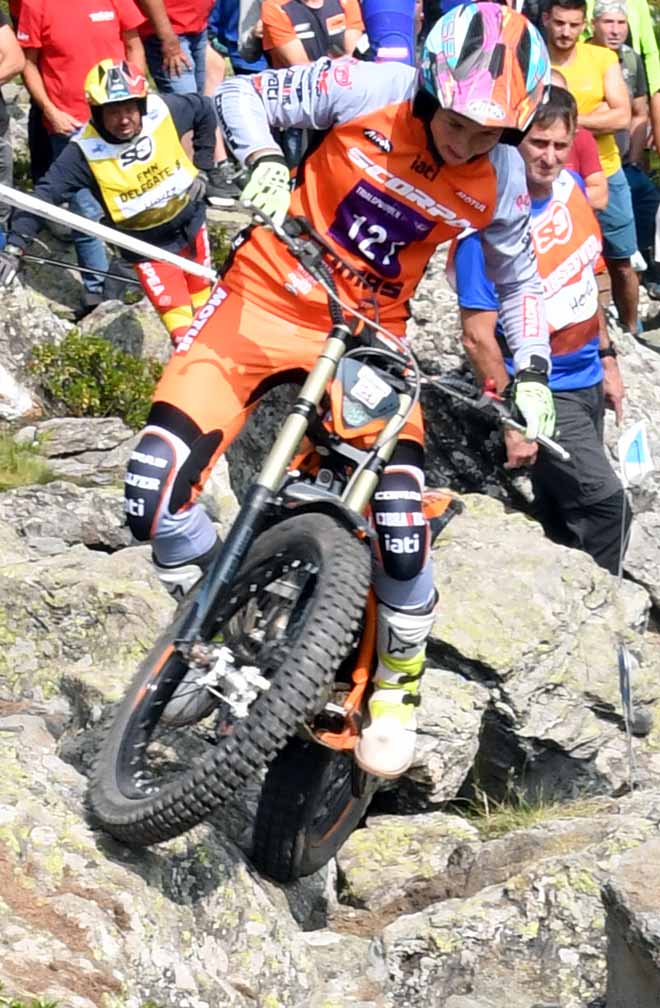 3. Andrea Sofia RABINO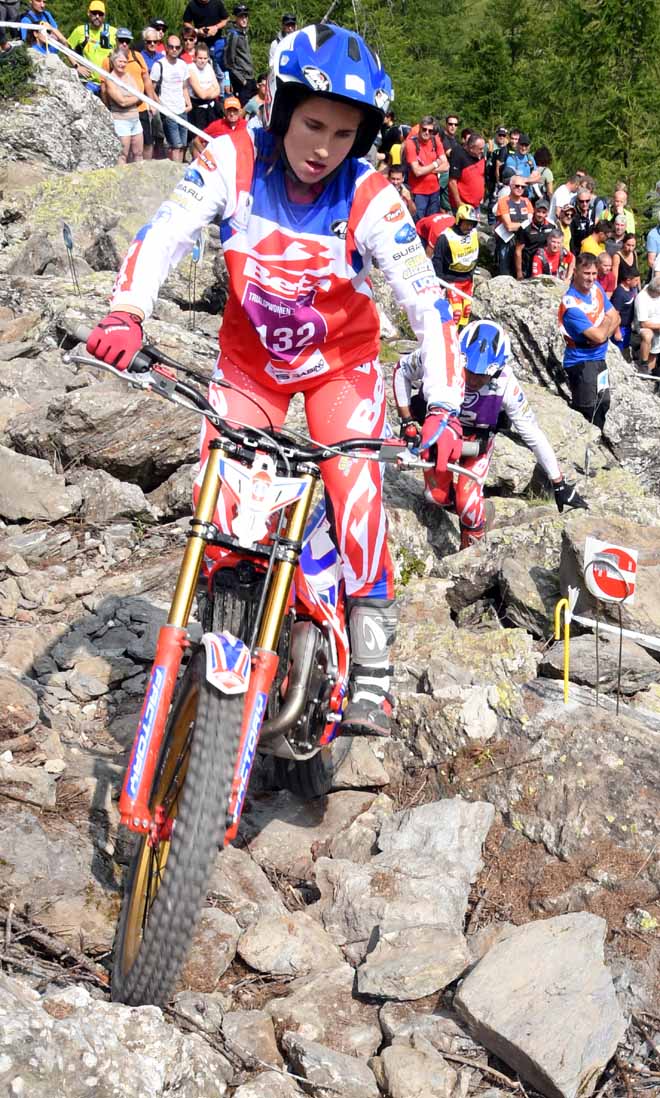 4. Denisa PECHACKOVA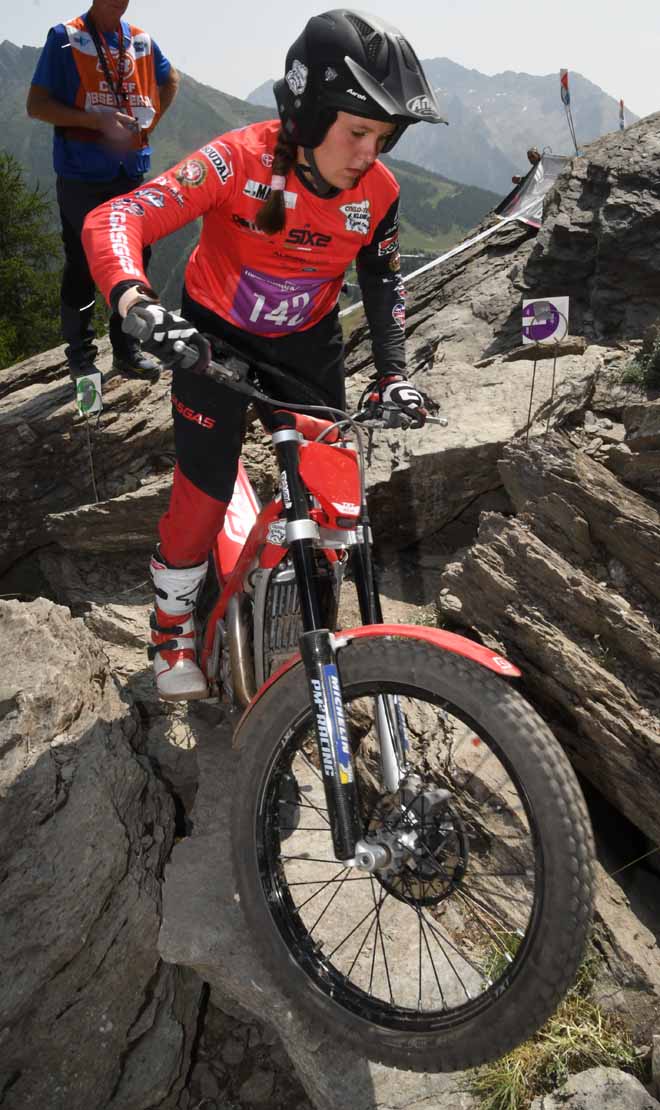 5. Naomi MONNIER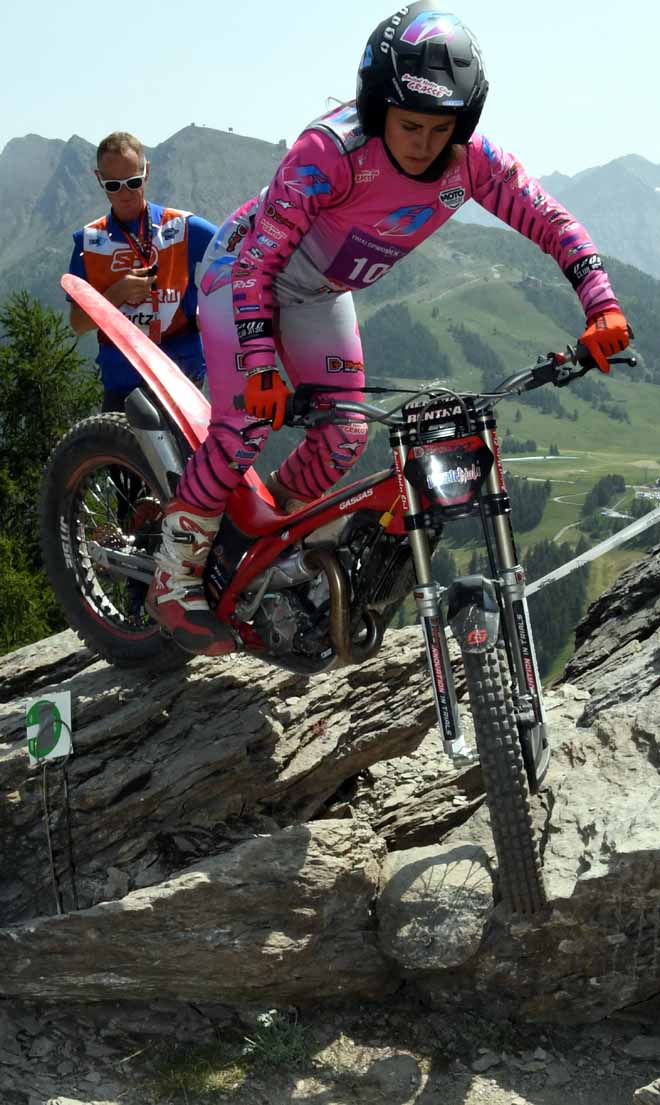 ------------------------------------------------------------------------------------------
1. Alessia BACCHETTA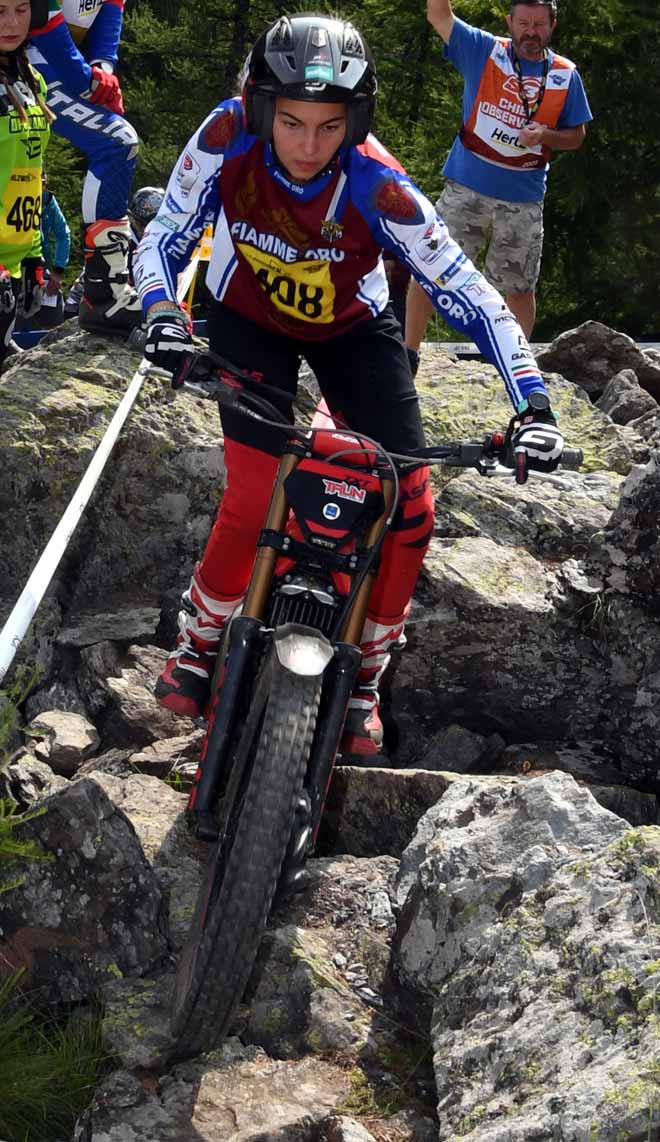 ---------------------------------------------------------------------------------------
press releases ---- comunicati stampa
---------------------------------------------------------------------------------------