23/04/23 - BUSTO, WHAT A RECOVERY! BOU BEATEN BY ONE POINT

Jaime Busto (GASGAS) returned to the top step of the podium in the premier class on the second day of the TrialGP of Portugal - second round of the 2023 Hertz FIM Trial World Championship - today in Gouveia after a super second lap while Emma Bristow (Sherco) took her second win of the weekend in TrialGP Women.

Conditions were drier than on Saturday, and there were also small changes to some zones, so scores were generally very low.

Just like yesterday, Toni Bou (Repsol Montesa) set the pace in the first lap: twelve sections in which the sixteen-time champion left just seven points, a good 5 points ahead of his Spanish colleague. However, just like yesterday, Busto improved significantly in the second lap. With just one foot in the second section, despite mechanical problems towards the end, he gifted himself a win by one point, as Bou had a heavy five on his last visit to section seven.

"I'm very happy with the win," said Busto. "I made a big mistake in the seventh section on the first lap, but recovered on the second lap."

The young Gabriel Marcelli (Repsol Montesa) was in contention halfway through the course, equal on points (twelve) with Busto, but his progression was not so clear in the second lap. He still took his third podium finish in the first four rounds.

The "veteran" Adam Raga (TRRS) was never able to fight with the top three and had to settle for fourth place, while Matteo Grattarola (Vertigo) is fifth for the second time this weekend.

It was also tough at the top of TrialGP Women, where defending champion Bristow won a battle of nerves with her Spanish rival and current series leader Berta Abellan (Scorpa) to end the day two points clear of a total of five .
< br /> Leading by two points after the first lap after dropping by three points, Bristow and Abellan went head-to-head in the second half of the test, with both failing to add another two to the total.

"It's been very close today but I knew I was riding better so I didn't feel the pressure quite as much as last weekend," said Bristow. "The bike was really good all weekend and I had a good feeling."

Today, the duo showed overwhelming supremacy over all the others: third placed Alice Minta (Scorpa) finished with thirty-four points, although the 19-year-old British rider was clearly happy with her first podium of her career in the class.

The top-five was completed by Italian Andrea Sofia Rabino (Beta) and the Norwegian Huldeborg Barkved (TRRS) who repeated yesterday's performance.

Trial2 saw a repeat of yesterday's top three with Britain's Billy Green (Scorpa) taking the win again over his compatriot Jack Peace (Sherco) and defending champion Norway's Sondre Haga (GASGAS) at third place.

In the largest class in the championship, which boasted forty starters, Green's total of eight, four runs ahead of Peace, who in turn scored half Haga's score. In the championship, Green leads with a 4-point lead.

"This weekend was not what I was expecting at all," said Green. "To have two wins is incredible – I'm over the moon and aiming to carry this form on into the season."

After taking the championship lead on home soil last weekend at the opening TrialGP of Spain, Pablo Suarez (Montesa) - who was fifth yesterday - lost further ground to the leaders in sixth position.

After yesterday's first career Trial3 win, Briton George Hemingway (Beta) kept up his momentum and finished in the lead again on Sunday.

The 15-year-old, whose older brother Harry was Trial3 champion last season, put up a halfway point score of two, before going clean on his second lap to dominate the class and scrape three points off the lead in the championship by the Norwegian Jone Sandvik (Sherco) who finished the day in second place out of fifteen.

"I like the sections here a lot," said Hemingway. "After yesterday I thought it might have been possible to stay clean but I made a couple of mistakes on the first lap. I'm very happy."

Alfie Lampkin (Vertigo), the son of seven-time TrialGP champion Dougie, continued his progression in the sport with a second podium of 2023 only three marks further back in just his second full-time season in the class, in fourth Italian Mirko Pedretti (Beta).

The action now moves over eleven-thousand kilometres east to the Mobility Resort Motegi for the TrialGP of Japan on 19-21 May.

photos by phototrial and Future7Media

---------------------------------------------------------------------------------------

BUSTO, CHE RECUPERO! BOU BATTUTO DI UN PUNTO

Jaime Busto (GASGAS) è tornato sul gradino più alto del podio della classe regina nella seconda giornata del TrialGP del Portogallo - secondo appuntamento del Campionato del mondo Hertz FIM Trial 2023 - oggi a Gouveia dopo un super secondo giro mentre Emma Bristow (Sherco) ha ottenuto la sua seconda vittoria del fine settimana nel TrialGP Women.

Le condizioni sono state più asciutte rispetto a sabato, e ci sono anche state piccole modifiche ad alcune zonee, così i punteggi sono stati in generale molto bassi.

Proprio come ieri, Toni Bou (Repsol Montesa) ha stabilito il ritmo nel primo giro: dodici sezioni in cui il sedici volte campione la lasciato appena sette punti, ben 5 punti di vantaggio ripetto al suo collega spagnolo. Tuttavia, proprio come ieri, Busto è migliorato notevolmente nel secondo giro. Con solo un piede nella seconda sezione, nonostante i problemi meccanici verso la fine, si è regalato una vittoria per un punto, dopo che Bou ha ottenuto un pesante cinque nella sua ultima visita alla sezione sette.

"Sono molto contento della vittoria," ha detto Busto. "Ho commesso un grosso errore nella settima sezione al primo giro, ma ho recuperato al secondo giro."

Il giovane Gabriel Marcelli (Repsol Montesa) era in lizza a metà percorso, a pari punti (dodici) con Busto, ma la sua progressione non è stata così netta nel secondo giro. Ha comunque conquistato il suo terzo podio nei primi quattro round.

Il "veterano" Adam Raga (TRRS) non è mai riuscito a battagliare con i primi tre e si è dovuto accontentare del quarto posto, mentre Matteo Grattarola (Vertigo) è quinto per la seconda volta questo fine settimana.

È stato difficile anche al vertice della TrialGP Women, dove la campionessa in carica Bristow ha vinto una battaglia di nervi con la sua rivale spagnola e attuale leader della serie Berta Abellan (Scorpa) chiudendo la giornata con due punti di vantaggio su un totale di cinque.
< br /> In vantaggio di due punti dopo il primo giro dopo aver perso tre punti, Bristow e Abellan si sono affrontate testa a testa nella seconda metà della prova, con entrambe che ne hanno aggiunti altri due al totale.

"Oggi è stato molto incerto, ma sapevo che stavo guidando meglio, quindi non ho sentito la pressione così tanto come lo scorso fine settimana", ha detto Bristow. "La moto è andata davvero bene per tutto il fine settimana e ho avuto un buon feeling."

La coppia oggi ha mostrato una supremazia schiacciante su tutte le altre: la terza classificata Alice Minta (Scorpa) ha chiuso a trentaquattro punti, anche se la diciannovenne pilota britannica era chiaramente felice del primo podio in carriera nella classe .

La top-five è stata completata da Andrea Sofia Rabino (Beta) e dalla norvegese Huldeborg Barkved (TRRS) che hanno ripetuto le prestazioni di ieri.

Trial2 ha visto una ripetizione dei primi tre di ieri con il britannico Billy Green (Scorpa) che ha nuovamente vinto sul suo connazionale Jack Peace (Sherco) e il campione in carica il norvegese Sondre Haga (GASGAS) al terzo posto.

Nella classe più numerosa del campionato, che vantava quaranta partenti, il totale di otto di Green , quattro punti davanti a Peace, che a sua volta ha segnato metà del punteggio di Haga. In campionato Green guida con 4 punti di vantaggio.

"Questo fine settimana non è stato affatto quello che mi aspettavo", ha detto Green. "Avere due vittorie è incredibile: sono al settimo cielo e punto a mantenere questa forma per tutta la stagione."

Dopo aver preso il comando del campionato in casa lo scorso fine settimana al TrialGP di apertura della Spagna, Pablo Suarez (Montesa) - che ieri era quinto - ha perso ulteriore terreno sui leader in sesta posizione.

Dopo la prima vittoria in carriera di Trial3 di ieri, il britannico George Hemingway (Beta) ha mantenuto il suo slancio e ha chiuso nuovamente in testa domenica.

Il quindicenne, il cui fratello maggiore Harry è stato campione di Trial3 la scorsa stagione, ha messo a segno un punteggio al giro di boa di due, prima di andare "pulito" al suo secondo giro per dominare la classe e recuperare tre punti dal vantaggio in campionato dal norvegese Jone Sandvik (Sherco) che ha chiuso la giornata al secondo posto a quindici.

"Mi piacciono molto le sezioni qui", ha detto Hemingway. "Dopo ieri ho pensato che sarebbe stato possibile girare a zero, ma ho fatto un paio di errori nel primo giro. Sono molto felice."

Alfie Lampkin (Vertigo), figlio del sette volte campione di TrialGP Dougie, ha continuato la sua progressione nello sport con un secondo podio del 2023 solo tre punti più indietro nella sua seconda stagione a tempo pieno nella classe, quarto Mirko Pedretti (Beta).

L'azione si sposta ora per oltre undicimila chilometri a est verso il Mobility Resort Motegi per il TrialGP del Giappone dal 19 al 21 maggio.


------------------------------------------------------------------------------------------
------------------------------------------------------------------------------------------
------------------------------------------------------------------------------------------
1. Jaime BUSTO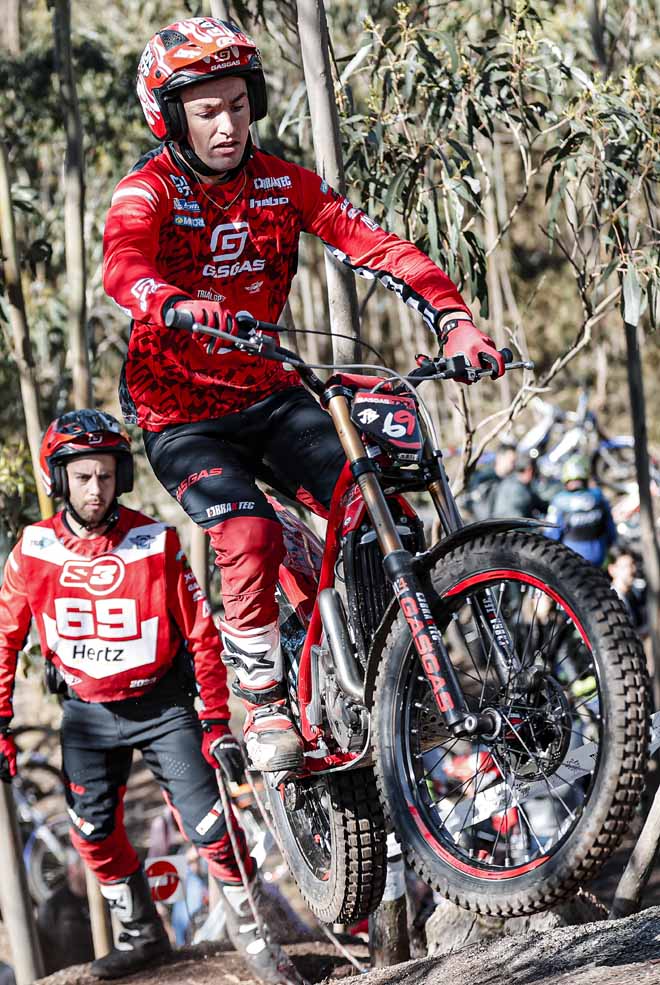 2. Toni BOU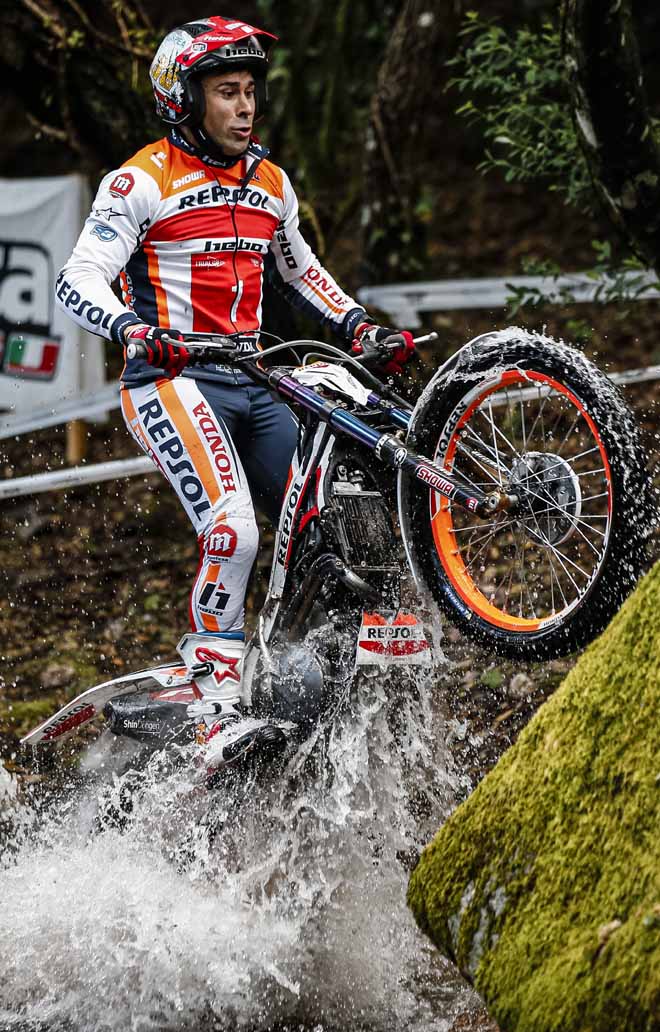 3. Gabriel MARCELLI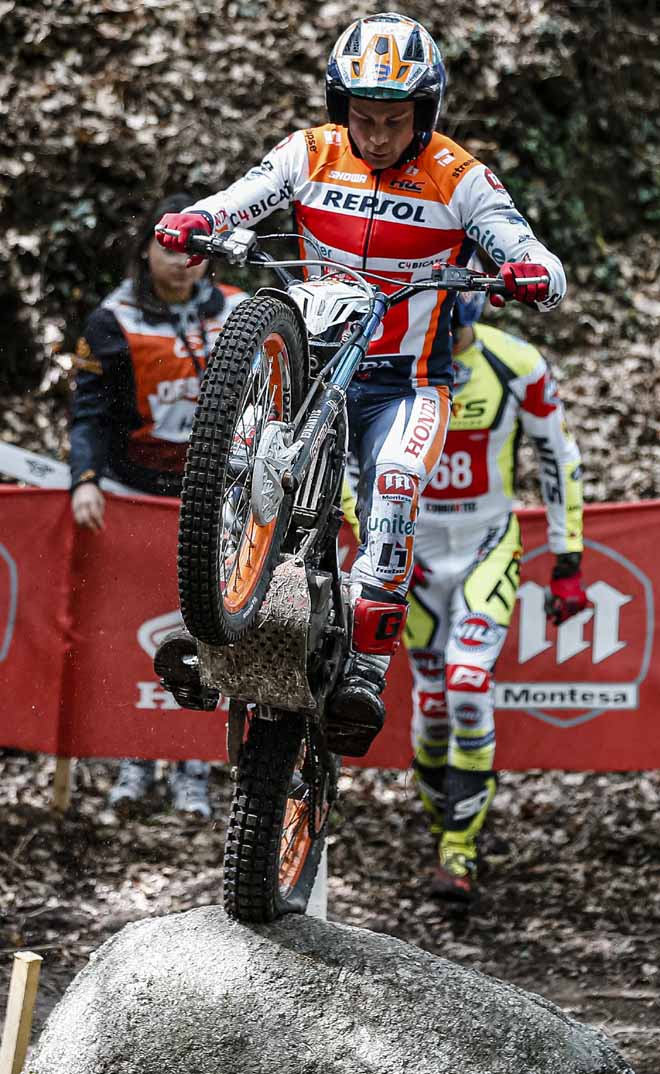 4. Adam RAGA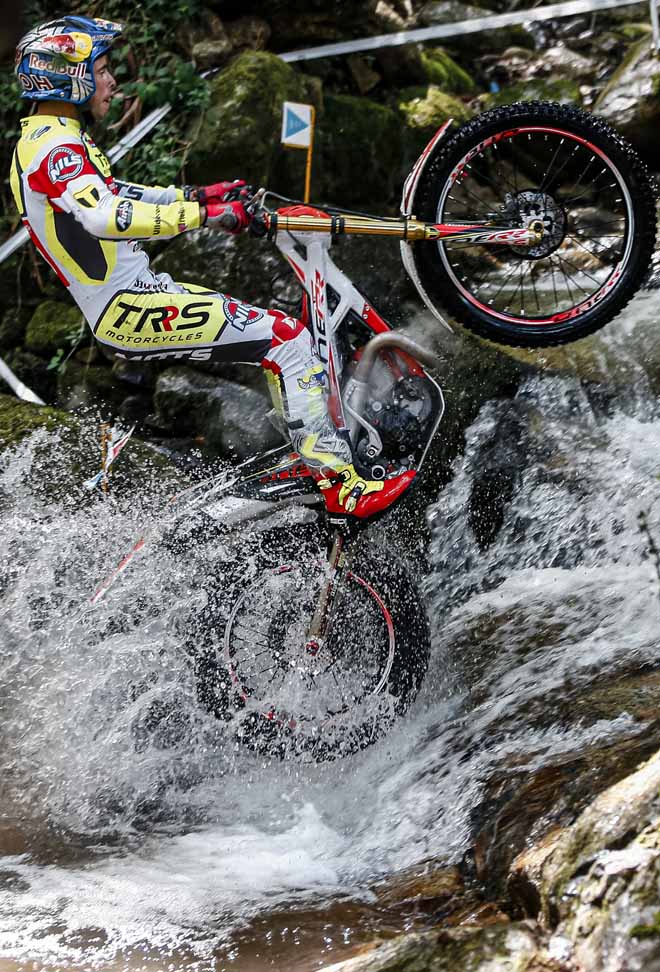 5. Matteo GRATTAROLA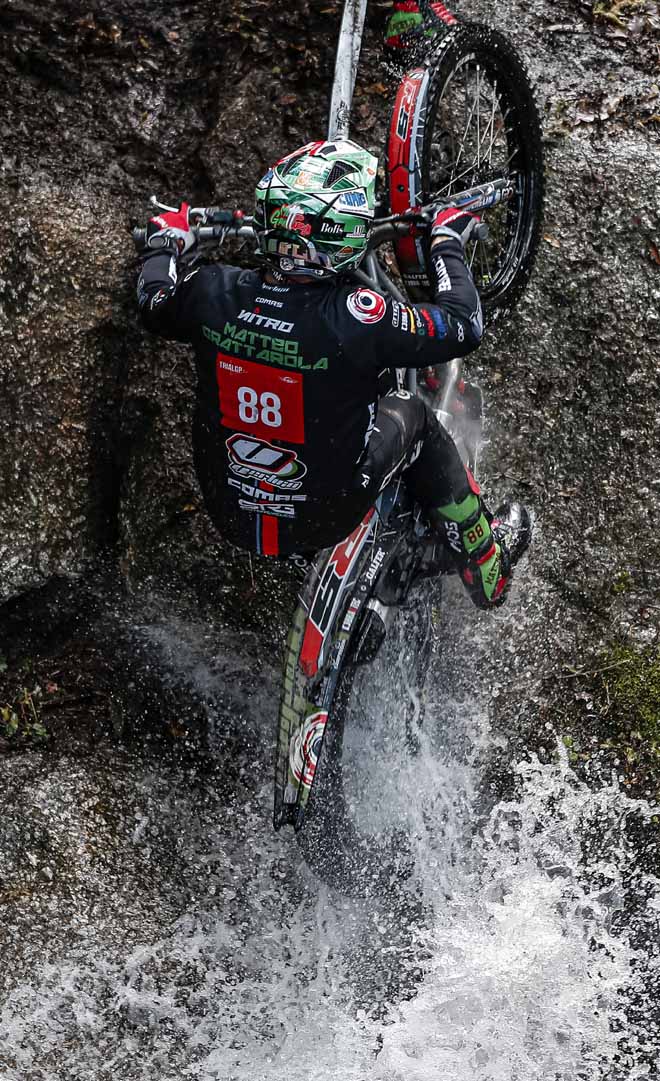 ------------------------------------------------------------------------------------------
1. Emma BRISTOW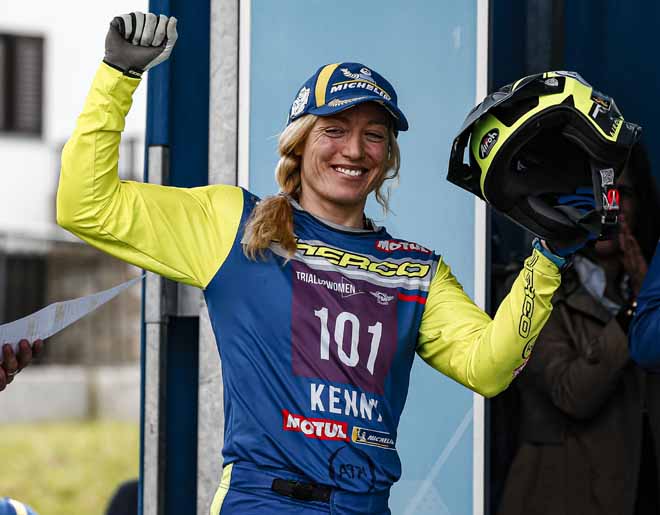 2. Berta ABELLAN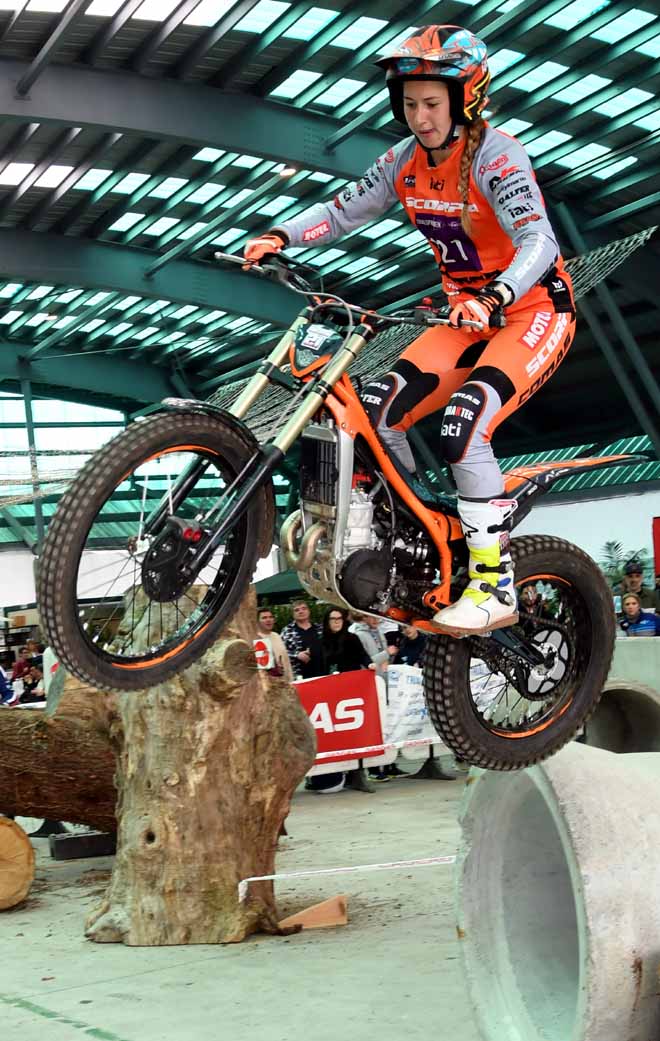 3. Alice MINTA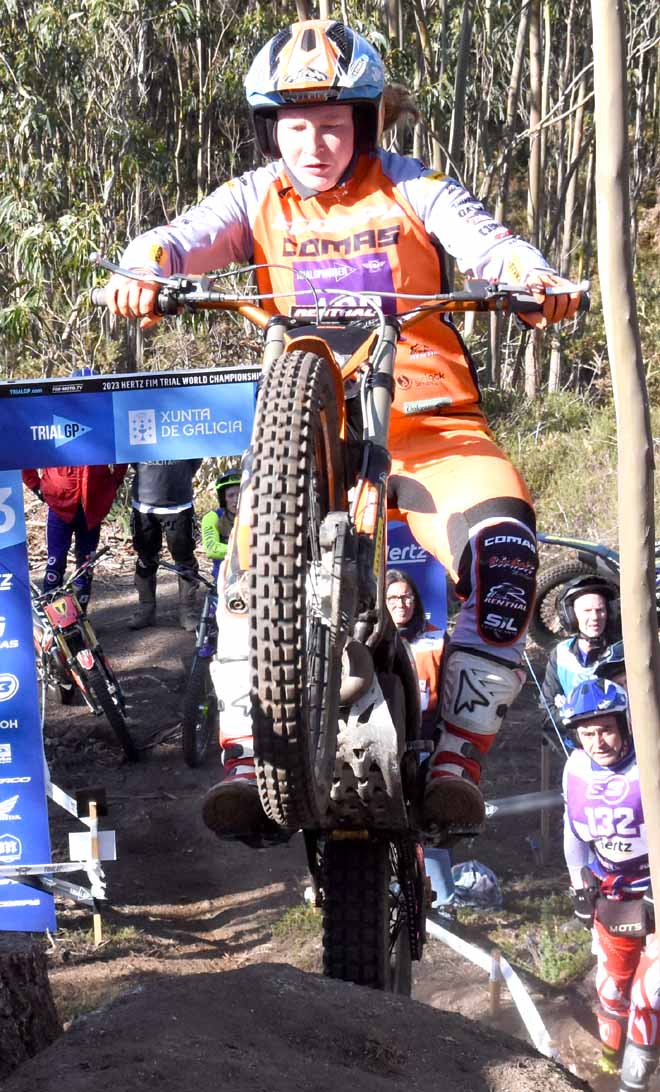 4. Andrea Sofia RABINO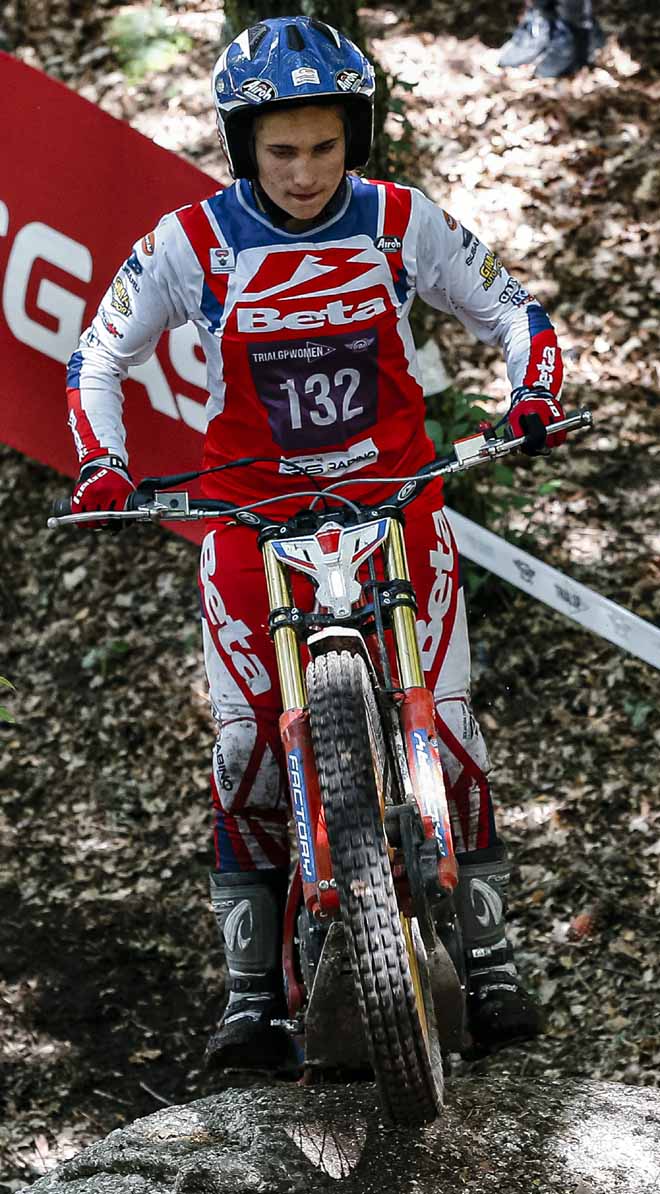 5. Huldeborg BARKVED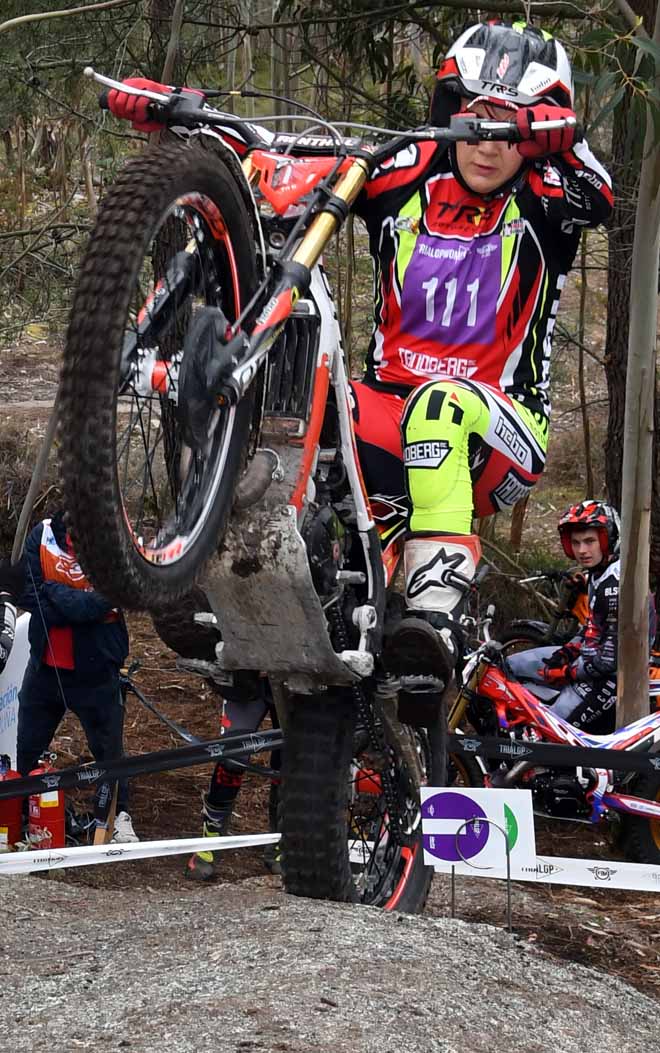 ---------------------------------------------------------------------------------------
press releases ---- comunicati stampa
---------------------------------------------------------------------------------------