10/06/23 - SUPERLATIVE BOU IN SAN MARINO

Defending champion Toni Bou (Montesa) bounced back to the top on the opening day of action at the TrialGP of San Marino – round four of the Hertz FIM Trial World Championship – and, thanks to his team-mate Gabriel Marcelli pushing Jaime Busto (GASGAS) back into third, moved into a five-point lead as the series reached the halfway point.

Bou and Busto have been locked together since the start of the season in a game of cat and mouse that has seen the pair exchange wins and second-placed finishes with neither being able to break free, but on a super-tough day at Baldasserona the sixteen-time champion put in a dominant performance.

The sections were in a steep dry riverbed where huge polished boulders provided a fitting challenge for the best Trial riders on the planet. Recent heavy rain – which meant the sections originally plotted near the paddock could not be used – ensured that there was some running water and no shortage of mud and when this was dragged onto the rocks the result was a severe shortage of grip. Fortunately, further heavy rain that was forecast did not materialise or scores would have been much higher.

In a pressure-cooker environment, Bou established a clear lead as early as section four on the opening lap and from then on the thirty-six-year-old looked in complete control.

With time tight towards the close of lap one Bou opted to take a maximum on section twelve, but even so his first-lap total of ten on observation was increased by an additional three time penalties. However, Busto, Marcelli and Adam Raga (TRRS) all had a further three on time added to their totals and at the halfway point Bou sat on thirteen with Busto and Marcelli neck and neck on twenty-seven and Raga one mark behind.

Firmly in the driving seat, Bou put in another consistent lap and added an extra eleven on observation plus one time penalty to run out a clear winner, but for once the focus was on the fight for second spot with Busto and Marcelli trading places throughout the final lap.

With a one-mark advantage heading into section twelve – a twisting route over imposing rocks before a super-steep exit up an almost gripless grass banking – Marcelli managed to scramble through for a three. This put the pressure firmly on Busto whose maximum relegated him to the final step of the all-Spanish podium as his younger rival recorded a career-best finish in the premier class.

"This was a very important win for me today," said Bou. "I had a very good first lap and was not so bad on the second lap and I'm very happy with this victory. Finally my team-mate Gabri is in the middle on the podium in second place and I think it is a very good day for the championship."

Having parted company with the Vertigo factory at the start of the month, Italy's Matteo Grattarola was back with Beta and back on form as he came home in fourth thanks to a three on section twelve where Raga's last-lap maximum dropped him to fifth.

Defending Trial2 champion Sondre Haga (GASGAS) produced his best form of the season to come out on top in a closely-fought contest.

Spain's Pablo Suarez (Montesa) led after the opening lap, but Haga's second lap total of just ten earned the Norwegian only his second victory at this level by a comfortable seven-mark margin.

"It felt good today," said Haga. "Everyone has been working hard so to take the win on the first day is a perfect feeling."

Lying second in the standings at the start of the day, Britain's Jack Peace (Sherco) recovered from an expensive opening lap to climb to the runner-up position and in the process take the championship lead after his compatriot Billy Green (Scorpa) slumped to eighth.

A maximum on the final section dropped Suarez to third, one behind Peace, as French Hugo Dufrese (GASGAS) and British Jack Dance (GASGAS) completed the top-five.

With a double win last time out in Portugal, Britain's George Hemingway (Beta) had momentum on his side and he kept the ball rolling to take victory in Trial3 and with it the championship lead.

Hemingway had a nine-mark advantage at the halfway stage and despite a number of mistakes on lap two he ended the day with a five-mark winning margin over Alfie Lampkin (Vertigo) as Jamie Galloway (TRRS) completed the all-British podium.

"It has been a very good day and it is nice to follow a win with another win," said Hemingway. "Towards the end I got a few fives for stopping, but I still rode well."

Norway's Jone Sandvik (Sherco) struggled to make an impact, ending the day in fifth behind Pawel Ryncarz (GASGAS) from Poland and surrendered his series lead.

photos by phototrial and Future7Media

---------------------------------------------------------------------------------------

UN BOU SUPERLATIVO A SAN MARINO

Il campione in carica Toni Bou (Montesa) è risalito al vertice nella giornata di apertura del TrialGP di San Marino – quarta prova del campionato mondiale Hertz FIM Trial – e, grazie al suo compagno di squadra, Gabriel Marcelli ha lasciato Jaime Busto (GASGAS) al terzo posto, portandosi a cinque punti di vantaggio quando la serie ha raggiunto la metà del percorso.

Bou e Busto sono stati legati insieme dall'inizio della stagione in un gioco al gatto col topo che ha visto i due scambiarsi vittorie e secondi posti senza che nessuno dei due sia riuscito a liberarsi, ma in una giornata super dura a Baldasserona il sedici volte campione ha messo a segno una prestazione dominante.

Le zone erano in un letto di fiume ripido e asciutto dove enormi massi levigati hanno rappresentato una sfida adatta per i migliori trialisti del pianeta. Le recenti forti piogge - che hanno reso inutilizzabili i tratti originariamente tracciati vicino al paddock - facendo sì che ci fosse anche un po' di acqua corrente e non mancasse il fango trascinato sulle rocce, con il risultato di una scarsissima aderenza. Fortunatamente, l'ulteriore forte pioggia prevista non si è vista, altrimenti i punteggi sarebbero stati molto più alti.

Bou ha stabilito un chiaro vantaggio già nella quarta zona del primo giro e da quel momento in poi il trentaseienne ha avuto il controllo completo.

Con il tempo tirato verso la fine del primo giro, Bou ha deciso di prendere il massimo nella zona dodici, ma anche così al suo totale di dieci sono state altre tre penalità. Tuttavia, Busto, Marcelli e Adam Raga (TRRS) hanno tutti avuto altri tre punti di tempo. Dunque al giro di boa Bou guidava con tredici con Busto e Marcelli pari a ventisette e Raga un punticino in più.

Saldamente in testa, Bou ha messo a segno un altro giro costante e ha aggiunto undici penalità sulle zone più una penalità di tempo per ottenere un chiara vittoria. Questa volta l'attenzione è passata sulla lotta per il secondo posto con Busto e Marcelli che si sono scambiate le posizioni per tutto l'ultimo giro.

La zona dodici - un percorso tortuoso su imponenti rocce prima di un'uscita super ripida su un banco erboso quasi privo di aderenza - è stata decisiva: Marcelli è riuscito ad arrampicarsi a tre, mettendogli a Busto sufficiente pressione per indurlo a sbagliare. Podio tutto spagnolo con prima volta per Marcelli sulla piazza d'onore.

"Questa è stata una vittoria molto importante per me oggi", ha detto Bou. "Ho fatto un ottimo primo giro e non sono stato così male nel secondo giro e sono molto contento di questa vittoria. Finalmente il mio compagno di squadra Gabri è al centro del podio al secondo posto e penso che sia un'ottima giornata per il campionato."

Dopo essersi separato dalla Vertigo per tornare in Beta, Matteo Grattarola è tornato in forma, arrivando quarto grazie a un tre alla sezione dodici dove invece Raga ha sbagliato ed è sceso al quinto posto. br />
Il campione in carica di Trial2 Sondre Haga (GASGAS) ha messo a segno la sua forma migliore della stagione vincendo una gara molto combattuta.

Lo spagnolo Pablo Suarez (Montesa) era in testa dopo il primo giro, ma il secondo giro totale di Haga di appena dieci è valso al norvegese la sua seconda vittoria a questo livello con un comodo margine di sette punti.

"Mi sono sentito bene oggi", ha detto Haga. "Tutti hanno lavorato sodo, quindi vincere il primo giorno è una sensazione perfetta."

Secondo in classifica all'inizio della giornata, il britannico Jack Peace (Sherco) si è ripreso da un costoso primo giro per salire al secondo posto e nel frattempo prendere il comando del campionato dopo che il suo connazionale Billy Green (Scorpa) è crollato all'ottavo.

Un cinque nella sezione finale ha fatto scendere Suarez al terzo posto, uno dietro a Peace, mentre Hugo Dufrese (GASGAS) e Jack Dance (GASGAS) hanno completato la top-five.

Con una doppia vittoria l'ultima volta in Portogallo, l'inglese George Hemingway (Beta) ha sfruttato l'inerzia favorevole incamerando un'altra vittoria in Trial3 e con essa la testa della classifica.

Hemingway aveva un vantaggio di nove punti a metà gara e, nonostante una serie di errori al secondo giro, ha concluso la giornata con un margine di cinque punti su Alfie Lampkin (Vertigo) mentre Jamie Galloway (TRRS) ha completato il podio tutto britannico.

"È stata una giornata molto positiva ed è bello seguire una vittoria con un'altra vittoria", ha detto Hemingway. "Verso la fine ho ricevuto qualche cinque per essermi fermato, ma ho comunque guidato bene."

Il norvegese Jone Sandvik (Sherco) ha faticato a lasciare la sua impronta, chiudendo la giornata al quinto posto dietro a Pawel Ryncarz (GASGAS) dalla Polonia e perdendo la testa della classifica.


------------------------------------------------------------------------------------------
------------------------------------------------------------------------------------------
------------------------------------------------------------------------------------------
1. Toni BOU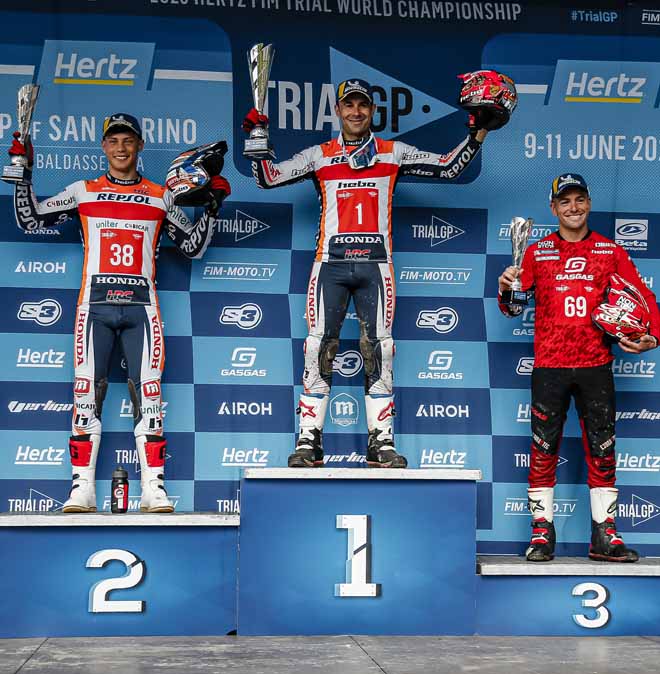 2. Gabriel MARCELLI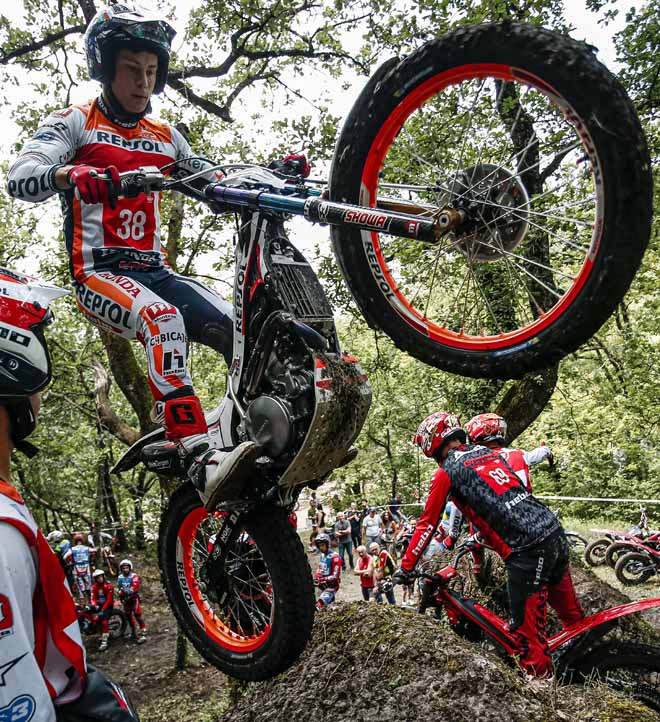 3. Jaime BUSTO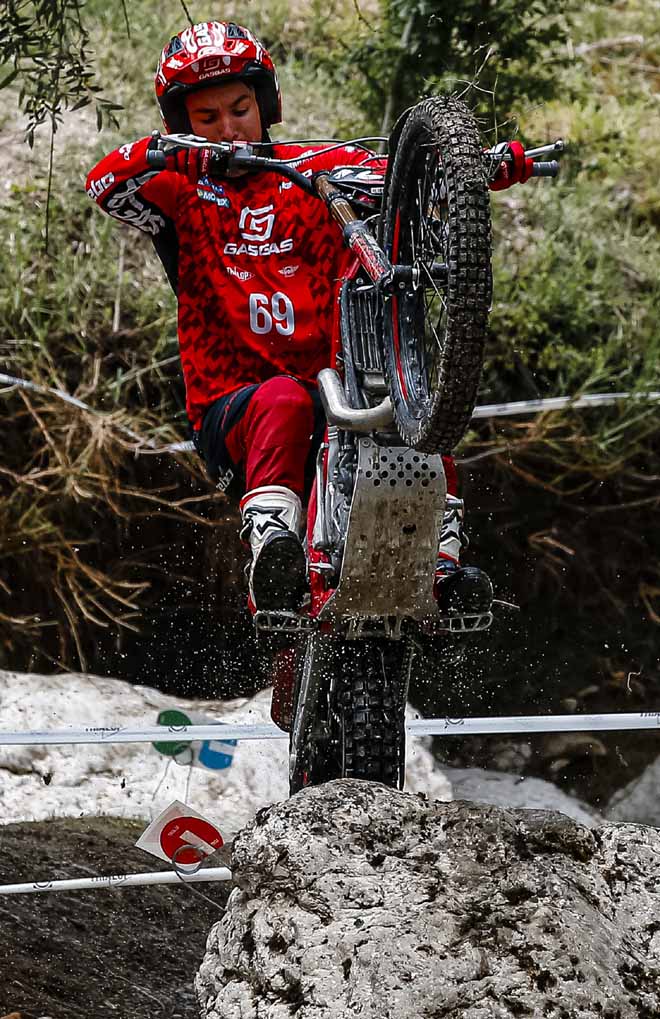 4. Matteo GRATTAROLA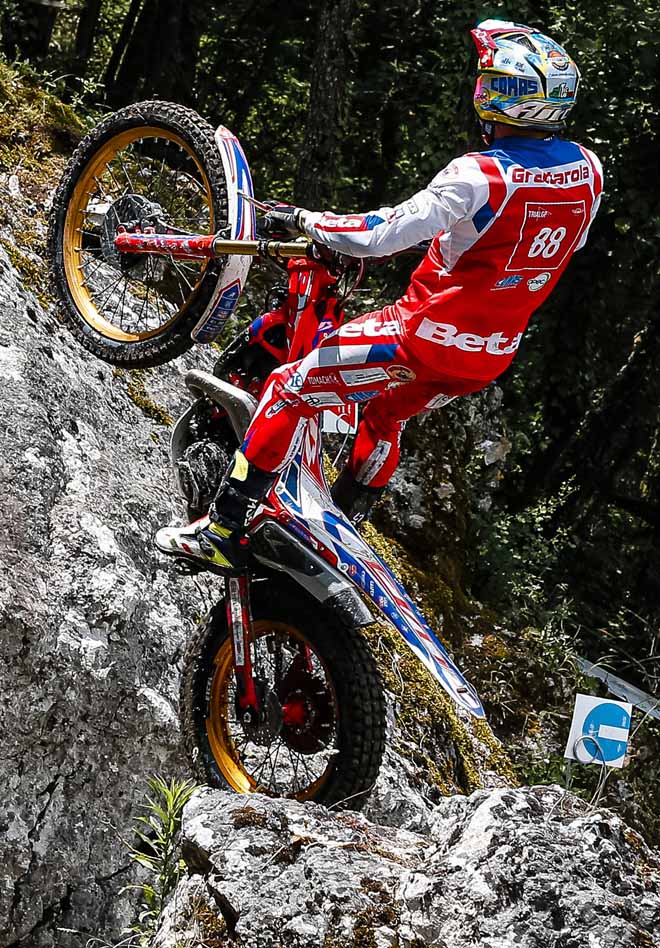 5. Adam RAGA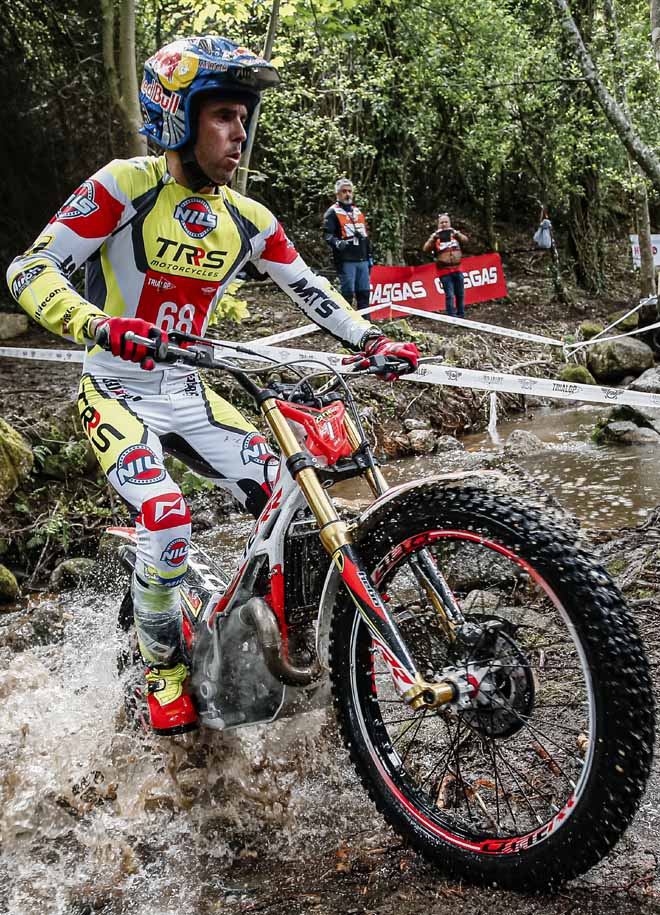 ------------------------------------------------------------------------------------------
1. Sondre HAGA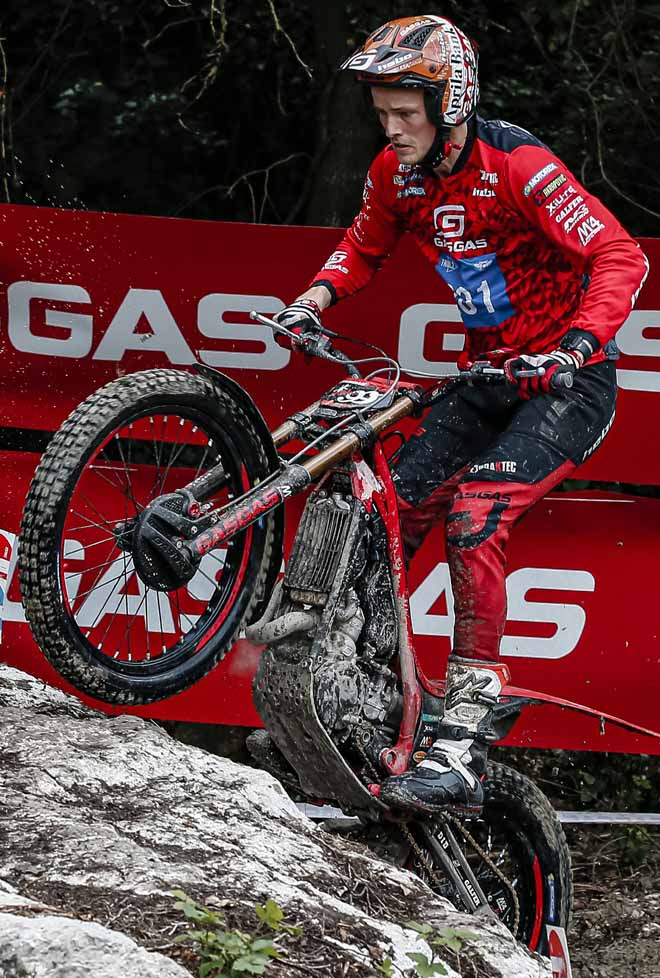 ------------------------------------------------------------------------------------------
1. George HEMINGHWAY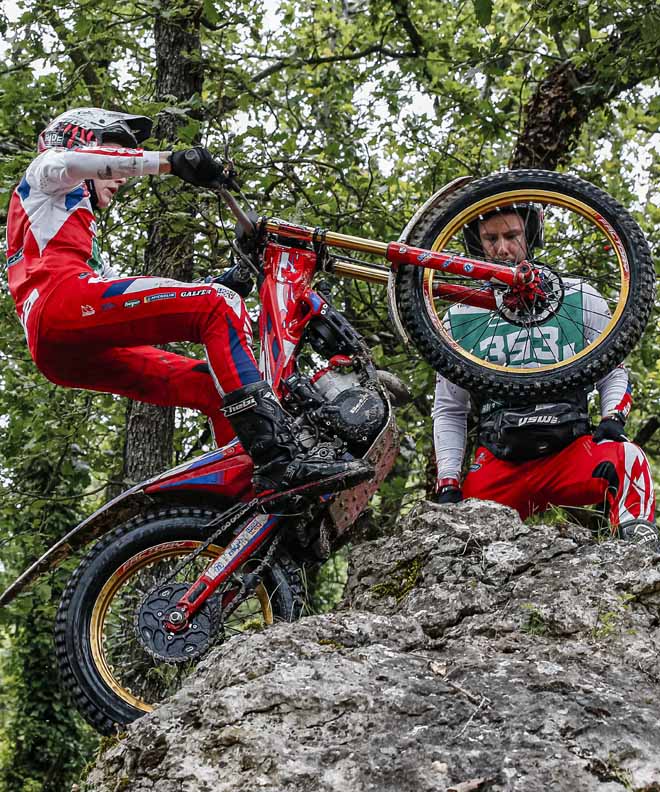 ---------------------------------------------------------------------------------------
press releases ---- comunicati stampa
---------------------------------------------------------------------------------------