17/06/23 - BOU UNBEATABLE IN ANDORRA DAY ONE

Superstar Spaniard Toni Bou (Montesa) produced a textbook display of motorcycle mastery to record a clear victory on the opening day of the TrialGP of Andorra – round five of the 2023 Hertz FIM Trial World Championship – at Sant Julià de Lo`ria, high in the Pyrenees.

With its twenty-fifth edition the TrialGP of Andorra was celebrating a silver anniversary, but the defending champion – who is bidding to claim a seventeenth consecutive crown in the elite TrialGP class – was more concerned with striking gold and his rivals simply could not match the thirty-six-year-old's sublime skills.

"Today has been super-important for me," said Bou. "I was riding well and had a good feeling. I made some mistakes at the end of the first lap, but I had a very good second lap."

With the majority of sections comprising huge rocks on the side of a steep, wooded hillside, Bou established an early lead which he never looked likely to relinquish and he remained clean until section seven where he parted with his first mark of the day.

The final three sections were the toughest of the Trial and Bou added an additional fifteen marks to his score here, but despite this a total of nineteen gave him a twelve-mark lead ahead of Italy's Matteo Grattarola (Beta) at the halfway point with Jaime Busto (GASGAS) – Bou's main title rival – a further three off the pace and tied with Aniol Gelabert (Beta).

Underlining his dominance today, Bou recorded a meagre second-lap total of four, but it was the battle for the remaining podium positions that produced the day's real drama.

Locking horns in their fight for the second step of the podium, Grattarola and Busto went head-to-head on lap two. A series of small slips by Grattarola at the start of the lap handed the advantage to Busto before a maximum by the Spaniard on section seven allowed the veteran Italian to move ahead once again.

Busto then parted with a mark on section eight where Grattarola dropped a five as the pendulum once again swung back in favour of the twenty-six-year-old.

With rain threatening and riders rushing to finish, Busto put the result beyond doubt with single dabs on the final two sections leaving him nine marks clear of Grattarola who ended his day with a pair of maximums.

Jorge Casales (Scorpa) recorded his best finish of the season in fourth from a disappointed Gabriel Marcelli (Montesa), although the young Spaniard strengthened his hold on third in the title chase after Adam Raga (TRRS) – who is waiting for knee surgery – did not start.

Trial2 winner on the opening day of the championship in Spain in mid-April, Pablo Suarez (Montesa) finally returned to the top step of the podium with a confident performance as his two main title rivals struggled.

Leading France's Gael Chatagno (Electric Motion) by a single mark at the halfway stage on a total of five, the Spaniard then kept his cool to record a second-lap total of three.

"It has been a good day," said Suarez. "The first lap was a little bit slippery, but I managed to have some good rides. On lap two I was under pressure so it was good to win again."

Flying the flag for electric motorcycles, Chatagno was in contention right until the end and he matched Suarez's second-half score to miss out by a single mark. Britain's Harry Hemingway (Beta), last year's Trial3 champion, jumped to a career-best third with an amazing second-lap score of just one for a total of thirteen to win a tie-break with compatriot Jack Dance (GASGAS).

On a low-scoring day, Britain's Jack Peace (Sherco) and Billy Green (Scorpa) maintained their one-two in the championship despite Peace finishing back in ninth, three places behind Green and two behind Norway's defending champion Sondre Haga (GASGAS).

Springing into action for the first time this season, Trial2 Women saw France's Alycia Soyer (TRRS) come out on top – although the seventeen-year-old came close to throwing the win away in the closing stages.

Soyer has posted solid results contesting the first two rounds of the TrialGP Women championship this season and after dropping down to her chosen class in Andorra she looked in control on the opening lap with her score of three giving her a six-mark lead.

However, mistakes started creeping in during the second half of the Trial and a maximum on the final section meant her victory was by a single mark from Italy's Alessia Bacchetta (GASGAS) who took second on a tie-break ahead of Laia Pi Ramirez (Beta) from Spain.

"I am very happy," said Soyer. "I made some mistakes, but I am very happy to win and tomorrow I will try to do the same again."

A double winner at the opening round, Jone Sandvik (Sherco) came out on top of an incredibly close Trial3 competition with all three podium positions decided on a tie-break.

The Norwegian teenager led after lap one on a score of five from Britain's Alfie Lampkin (Vertigo) on six and Romeo Piquet (Beta) on seven, but it was all-change on lap two.

A maximum on section eleven cost Sandvik a clean lap and almost cost him the victory as Lampkin and Piquet slipped off the pace and Poland's Pawel Ryncarz (GASGAS) and championship leader George Hemingway (Beta) came on strong.

Ryncarz completed his second lap with the addition of just two more marks and Hemingway dropped a solitary dab as the first three all ended the day on ten with Sandvik taking the tie-break from Ryncarz and Hemingway.

The action from Andorra gets under way tomorrow at 09:00 CET and will be streamed LIVE on FIM-MOTO-TV.

photos by Future7Media

---------------------------------------------------------------------------------------

BOU IMBATTIBILE NEL PRIMO GIORNO DI ANDORRA

La superstar spagnola Toni Bou (Montesa) ha dato una grande prova di forza girando a metà del punti del più vicino rivale nella giornata di apertura del TrialGP di Andorra – quinto round del Campionato Mondiale Hertz FIM Trial 2023 – a Sant Julià de Lòria, in alto sui Pirenei.

"Oggi è stato molto importante per me", ha detto Bou. "Stavo guidando bene e avevo un buon feeling. Ho commesso degli errori alla fine del primo giro, ma ho fatto un ottimo secondo giro."

Con la maggior parte delle sezioni che comprende enormi rocce sul lato di una collina ripida e boscosa, Bou ha stabilito un primo vantaggio che non sembrava probabile abbandonare ed è rimasto a zero fino alla sezione sette, dove ha lasciato con il suo primo piede della giornata.

Le ultime tre sezioni sono state le più dure della prova e Bou ha aggiunto altri quindici punti al suo punteggio qui, ma nonostante questo un totale di diciannove punti gli ha dato un vantaggio di dodici punti davanti al nostro Matteo Grattarola (Beta) a metà percorso con Jaime Busto (GASGAS) – il principale rivale di Bou per il titolo – altri tre in meno rispetto a Aniol Gelabert (Beta).

A conferma del suo stato di grazia di oggi, Bou ha registrato un misero totale di quattro al secondo giro, relegando la battaglia per le rimanenti posizioni del podio all'unico interesse della giornata.

In lotta per il secondo gradino del podio, Grattarola e Busto si sono scontrati al secondo giro. Una serie di piccole scivolate di Grattarola all'inizio del giro ha portato il vantaggio a Busto prima che un cinque dello spagnolo nella settima sezione consentisse al veterano nostrano di portarsi nuovamente in vantaggio.

Busto ha poi segnato il parziale all'ottava sezione, dove Grattarola ha perso un cinque mentre il pendolo tornava ancora una volta a favore del ventiseienne.

Con la pioggia minacciosa e i corridori che correvano verso il traguardo, Busto ha messo al sicuro il risultato con singoli tocchi nelle ultime due sezioni lasciandolo nove punti di vantaggio su Grattarola che ha concluso la sua giornata con un paio di cinque.

Jorge Casales (Scorpa) ha registrato il suo miglior piazzamento stagionale al quarto posto davanti a un deludente Gabriel Marcelli (Montesa), anche se il giovane spagnolo ha rafforzato la sua posizione al terzo posto nella corsa al titolo dopo che Adam Raga (TRRS) – in attesa di intervento al ginocchio – non è partito.

Vincitore di Trial2 nella giornata di apertura del campionato in Spagna a metà aprile, Pablo Suarez (Montesa) è finalmente tornato sul gradino più alto del podio, mentre i suoi due principali rivali per il titolo hanno faticato.< br />
A metà gara, precedeva il francese Gael Chatagno (Electric Motion) di un punto su un totale di cinque, lo spagnolo ha poi mantenuto la calma per registrare un totale di tre al secondo giro.

"È stata una buona giornata", ha detto Suarez. "Il primo giro è stato un po' scivoloso, ma sono riuscito a fare dei buoni giri. Al secondo giro ero sotto pressione, quindi è stato bello vincere di nuovo."

Battente bandiera delle moto elettriche, Chatagno è stato in lizza fino alla fine e ha eguagliato il punteggio di Suarez nella ripresa sbagliando di una sola marcatura. Il britannico Harry Hemingway (Beta), campione di Trial3 lo scorso anno, è balzato al miglior terzo posto in carriera con un incredibile punteggio al secondo giro di solo uno per un totale di tredici vincendo un tie-break con il connazionale Jack Dance (GASGAS).

In una giornata con punteggi bassi, i britannici Jack Peace (Sherco) e Billy Green (Scorpa) hanno mantenuto la loro doppietta in campionato nonostante Peace sia arrivato nono, tre posizioni dietro Green e due dietro il campione in carica della Norvegia Sondre Haga (GASGAS).

Entrando in azione per la prima volta in questa stagione, Trial2 Women ha visto prevalere la francese Alycia Soyer (TRRS) , anche se la diciassettenne ha richiato di perdersi la vittoria nelle fasi finali.

Soyer ha ottenuto ottimi risultati nelle prime due gare del campionato TrialGP Women di questa stagione e dopo essere scesa nella classe prescelta ad Andorra, è sembrata in controllo nel primo giro con il suo punteggio di tre che le ha dato un vantaggio di sei punti.

Tuttavia, gli errori hanno iniziato a insinuarsi durante la seconda metà della gara e un cinque nella sezione finale ha significato che la sua vittoria è stata per un solo punto sulla nostra Alessia Bacchetta (GASGAS), seconda al tie-break davanti a Laia Pi Ramirez (Beta) dalla Spagna.

"Sono molto felice", ha detto Soyer. "Ho commesso degli errori, ma sono molto felice di aver vinto e domani cercherò di ripetere lo stesso".

Vincitore per due volte nel round di apertura in Trial3, Jone Sandvik (Sherco) si è ripetuto dopo una lotta incredibilmente serrata con tutte e tre le posizioni sul podio decise al tie-break.

L'adolescente norvegese era in testa dopo il primo giro con un punteggio di cinque, col britannico Alfie Lampkin (Vertigo) a sei e Romeo Piquet (Beta) a sette, ma al secondo giro è stato tutto cambiato.

Un massimo nella sezione undici è costato a Sandvik un giro "pulito" e gli è quasi costato la vittoria quando Lampkin e Piquet hanno perso il ritmo e il polacco Pawel Ryncarz (GASGAS) e il leader del campionato George Hemingway (Beta) sono rientrati forte.

Ryncarz ha completato il suo secondo giro con l'aggiunta di appena altri due punti e Hemingway ha lasciato cadere un tocco solitario mentre i primi tre hanno concluso la giornata tutti a dieci con Sandvik vincente al tie-break su Ryncarz e Hemingway.

L'azione da Andorra prenderà il via domani alle 09:00 CET e sarà trasmessa LIVE su FIM-MOTO-TV.


------------------------------------------------------------------------------------------
------------------------------------------------------------------------------------------
------------------------------------------------------------------------------------------
1. Toni BOU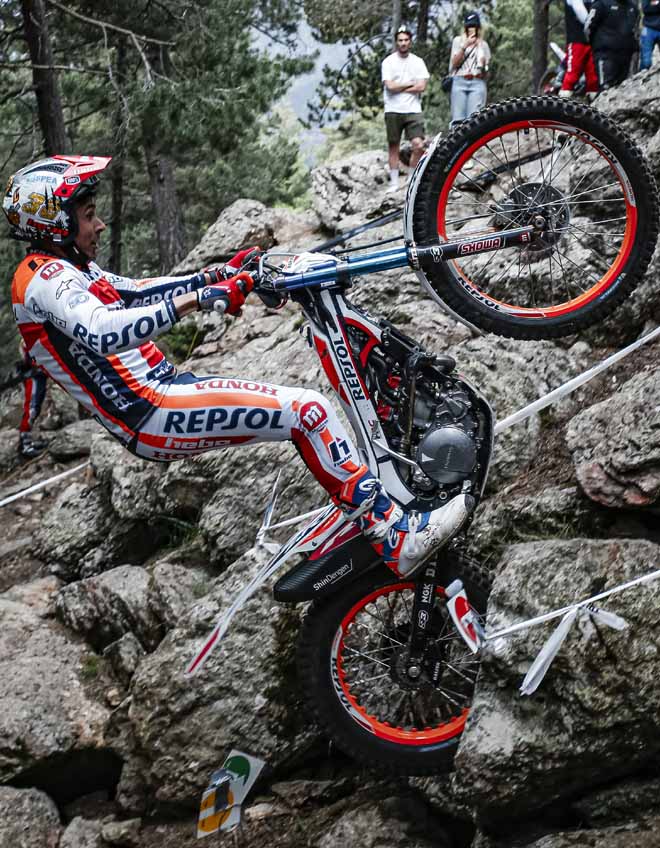 ------------------------------------------------------------------------------------------
1. Pablo SUAREZ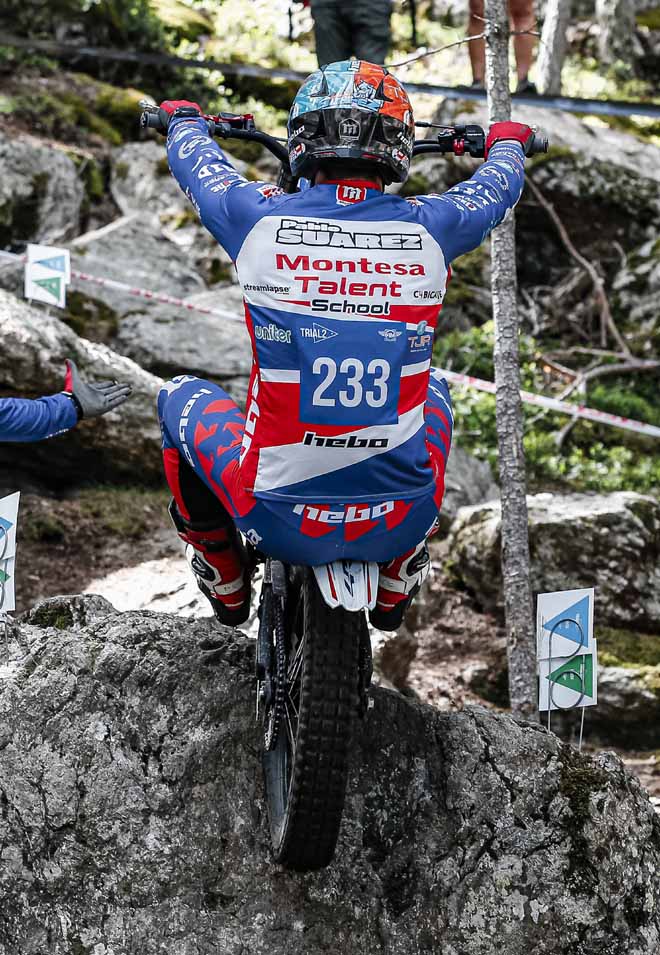 ------------------------------------------------------------------------------------------
1. Alycia SOYER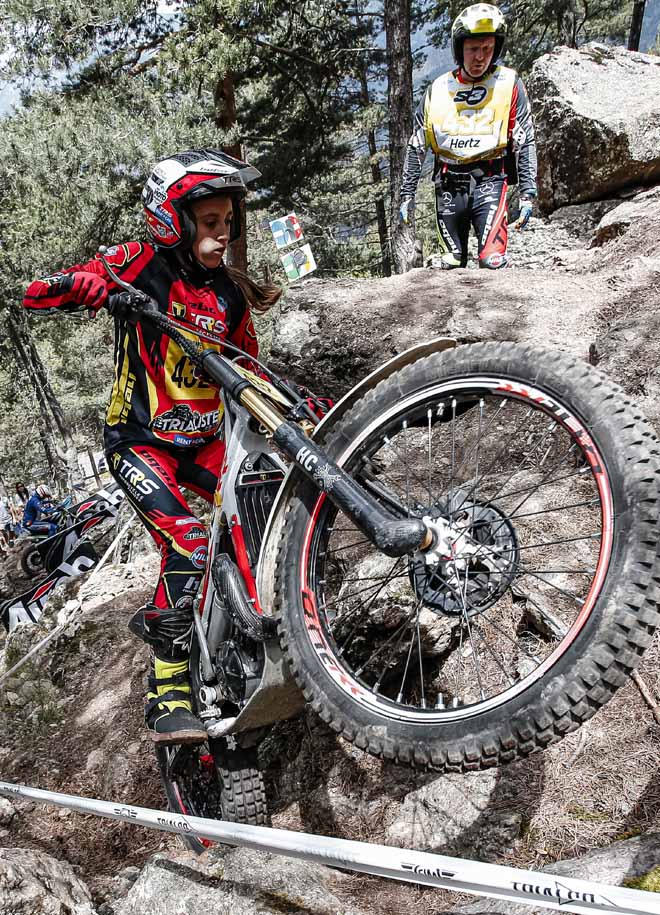 ------------------------------------------------------------------------------------------
1.Jone SANDVIK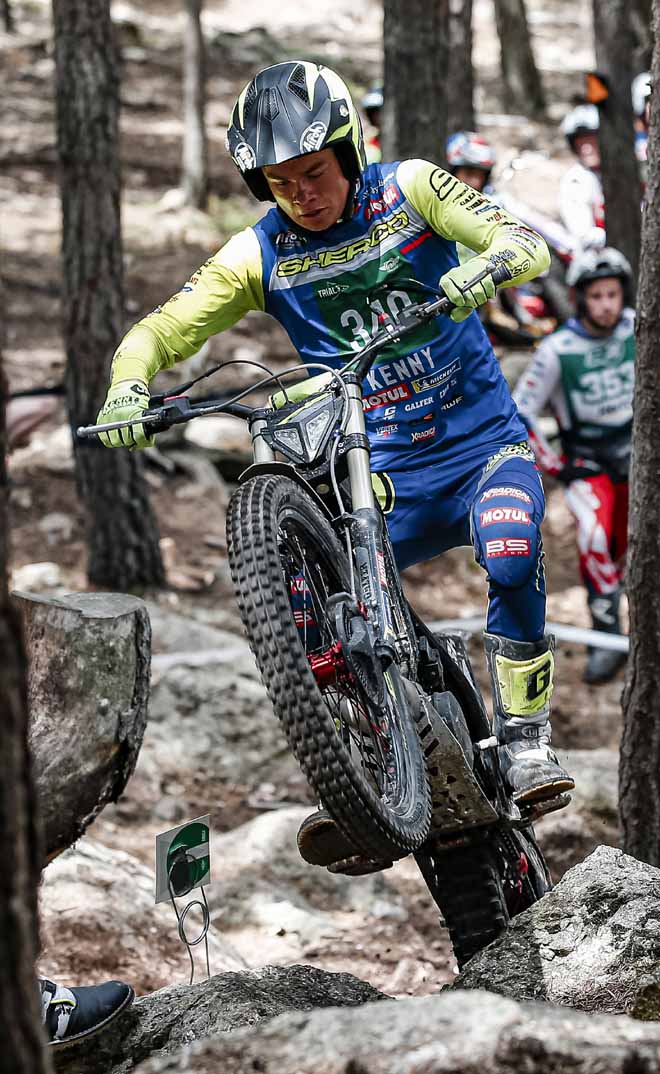 ---------------------------------------------------------------------------------------
press releases ---- comunicati stampa
---------------------------------------------------------------------------------------